"How I Went from" is an ongoing blog series that highlights our employees' different journeys to InterWorks. The results are pretty diverse, but each story is special in its own right.
For years, I had joked that hospitality was one of the best career fields to go into. The opportunity to live and find work in nearly any country in the world is an attractive thought. My reasoning was that people will always want to eat, lay their head to rest far away from home and travel the world. While those basic desires of people may not have changed, everything else has. I don't think anyone could have imagined the impact COVID-19 would have on all our lives in countless ways.
Let's Go Back to the Beginning
To understand my journey to InterWorks, we have to take a step back. Now, imagine: It's the year 2010. I've just arrived back home in Germany after a 10-month-long foreign exchange in Oklahoma. This exchange was the first time I had ever visited the United States and during my time here, I met a girl. We fell in love, and today I am incredibly lucky to call her my wife. We have a beautiful daughter, Ellie. If you were to tell 16-year-old me that 12 years later I'd be living in Stillwater, Oklahoma, I would have probably had a good laugh.
After my return home, I had three more years of school left to complete my Abitur (German "high school" degree). I took a job at a local bakery and café, washing dishes, refilling coffee, clearing tables and cleaning the restaurant. When I graduated in 2013, I was faced with a tough decision: stay in Germany for at least four or five more years, until I finish university, or save money now to move to the U.S.
Above: Working at Brauhaus Goldener Engel in Germany, before coming to the U.S.
Since I really wanted to be with my wife after so long apart, I decided on the latter. I found a job at a local brewery as a bar man. My previous experience at the bakery had helped me get the job there. This was my first genuine experience in hospitality. I quickly fell in love with the atmosphere, the fast-paced environment, the team, the guests and the feeling of making someone else's day. However, at the time of me moving to Oklahoma in 2014, I didn't see this as the best career path for me and wanted to become a teacher. It was only after finding out about the impressive hospitality program at Oklahoma State University that I ended up enrolling in the School of Hospitality and Tourism Management there.
Above: Working as a teaching assistant during the OSU Distinguished Chef event series
Four years down the road, a few months before graduation, I was lucky to have several great job offers to choose from. Once again, I was faced with a tough decision. Little did I know that just a few weeks later that decision was going to be made for me and many other May 2020 graduates.
Above: The team and I during the OSU Wine Forum
An Unexpected Turn of Fate
COVID-19 has impacted the hospitality industry more negatively than any disasters, even wars in the past. American hotels had higher occupancy during World War II than during the summer of 2020. Restaurants shut down, airplanes grounded, and cruise ships were stranded. To call last year's events unprecedented in our lifetime (and many people have) would be an understatement.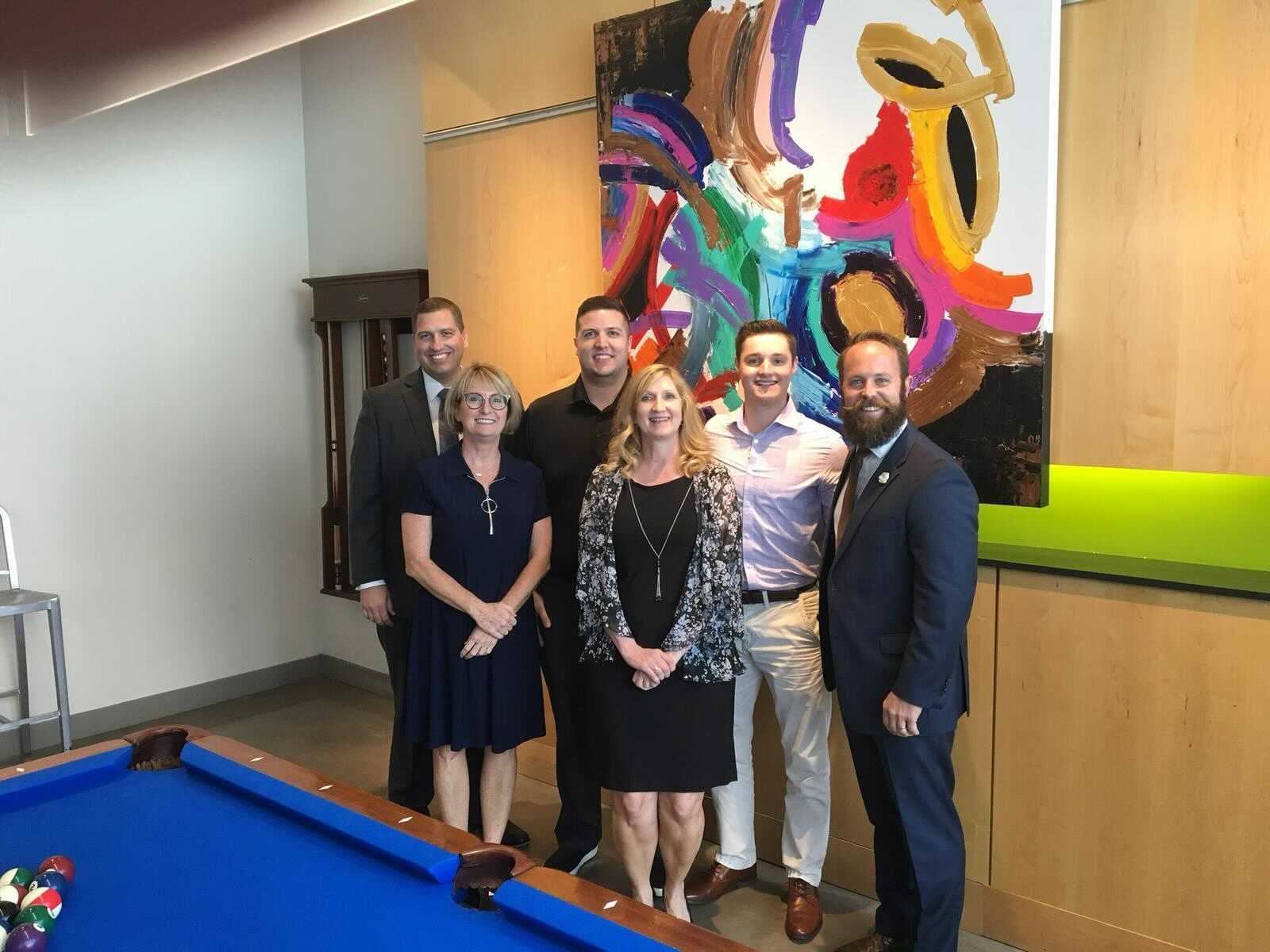 Above: During my internship with New Century Hotels in Oklahoma City 
Things quickly changed for our family, and I was given the opportunity to think outside the box and consider alternative career paths to the one I originally envisioned. I had to take a critical look at what other options were available to me. For someone like me, who is wired for service, it is natural to have a people- and customer-first mentality, so it was difficult to picture myself in any other industry. When you think of a job where you can be hospitable and supportive of others, the hospitality industry is kind of a no-brainer, right? But then my mother-in-law told me about this technology company called InterWorks. As I was looking into InterWorks, one of the first things I read was our CEO's blog post about the origins and the mission of the company. While reading Behfar's blog, I found that the InterWorks' principles, culture of inclusion, passion for great service and focus on people were all things that deeply resonated with me. I was beginning to realize that maybe hospitality wasn't the only industry where I could explore and put to use my love of service for others.
Consulting was a new world to me, and even though many of my core interests overlapped with InterWorks', I didn't see how I could possibly fit in. However, when digging a little deeper, it became clear that this was not your average technology company. Taking care of people and making sure they have a great experience had been my singular focus for years, and the InterWorks mantra of providing great experiences for clients was an idea that I could see myself in.
Even in light of the professional upheaval I was experiencing, it was still out of the question for me to work with a team or join a company that I didn't believe in and align with, personally. The InterWorks culture and people-focused approach is exactly what drew me here, so I decided to apply.
Uncharted Territory, Exciting Opportunities
Since you are reading this post from me on the InterWorks blog, it is obvious that things worked out and InterWorks believed me to be a good fit for the company as well! My one-year anniversary just passed, and I can say that even during the last year, which has been an incredibly challenging time for every company out there, the people at InterWorks have been nothing but welcoming and warm-hearted to me. I've been able to form relationships with team members and clients from across the globe, and my team has enabled me to continuously grow throughout my first year here, even in spite of its challenges. Whether it is professional development such as internal trainings, company or team meetups, or simply hanging out virtually together on a scorching summer day for a ice cream social, InterWorks' culture is one of fun and belonging. Even during such a crazy year as this past one.
Any company is only as strong as its people, and InterWorks has some of the best people I've ever worked with. The first year flew by, and I'm pretty sure that means I'm having a blast.
A Community to Grow in
One thing that's been clear over the past year is that I am far from finished in my personal and professional growth journey. InterWorks is a fountain of knowledge, and everyone here is unafraid to share what they know and help me grow. I work with some incredibly talented and smart individuals, and everyone's shared passion to provide world-class work and service to our clients is something that continues to drive me. Here's to a bright future ahead!