"How I Went from" is an ongoing blog series that highlights our employees' different journeys to InterWorks. The results are pretty diverse, but each story is special in its own right.
Ever since I was a little girl, I was determined to live in New York City. The buildings, the lights, the shows … but I also think the grit that one had to have in order to live there drew me to The Big Apple. I always thought to myself, as Frank Sinatra eloquently sang, "If I can make it there, I'll make it anywhere." So, during my time in school at the University of Missouri, I pursued any leads I could to get me to the city "that never sleeps."
The YMA Fashion Scholarship Fund did just that. Each year, it supports students in every sector of the fashion industry, such as design, marketing and sales, by donating scholarships to winners of their proposed case studies. It also offers great opportunities for mentorship and networking, and the best part of all is a trip to New York City to accept the award for your winning case study. I knew that this was my shot. Sophomore year of college, I worked for months on my case study, staying up at all hours of the night perfecting and tweaking it. Upon finding out that my case study had won the scholarship, I'm pretty sure I already had the dress picked out that I would wear to the awards ceremony; I was elated.
Empire State of Mind
The trip to the city was magical. I went with two of my professors and one other student that had won the scholarship as well. We got to do all the touristy things: visit Central Park, Rockefeller and see Aladdin on Broadway. I remember standing in the middle of Times Square thinking that this organized chaos of people and buildings would soon be my home. Now, to find a job that allowed me to live in this concrete jungle was another story.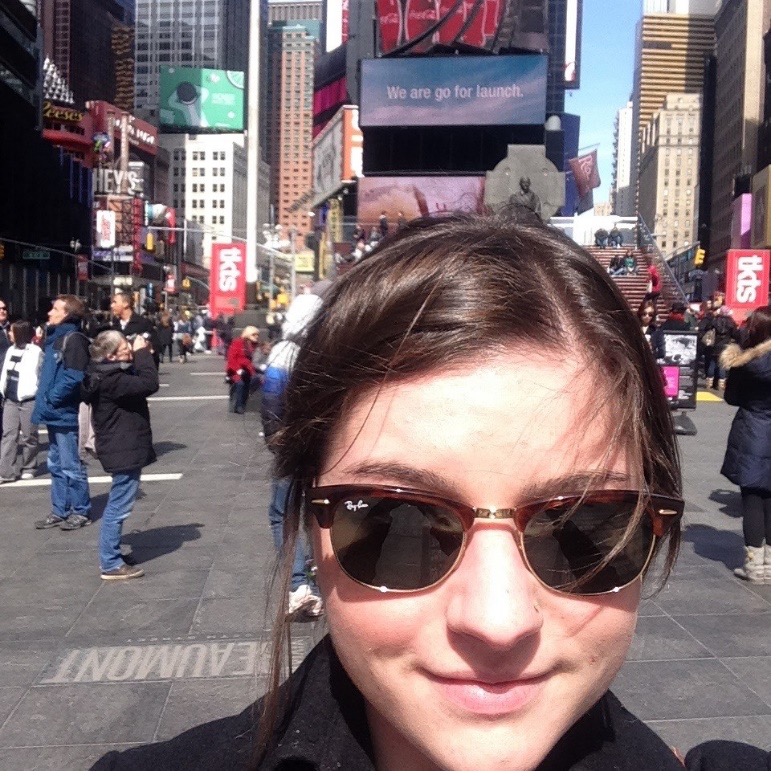 Above: Me in Times Square 
I probably sent out over 50 applications and cover letters to different fashion companies in New York City my senior year of college in hopes of landing something when I graduated. I got nothing. Zip. Zero. Nada. I was getting desperate and beyond frustrated. Nobody wanted someone that was not already living in the city. So, I came up with a plan. I had heard of a luxury ready-to-wear company needing a showroom manager and pounced at the opportunity. My Missouri address was a dead giveaway that I was out of town, so I used one of my contact's addresses on my cover letter – and it worked! I got a call asking if I could come interview the next day and "since I lived in New York," I had to say yes, right? So, following that call, I booked a flight to NYC to rush to the interview.
Start Spreading the News: I'm Leaving Today
About a week after my same-day flight stunt, I received the amazing news that I had gotten the job! Now, the only problem was that they wanted me to start a week after graduation and I had nowhere to live. With the money I received from the scholarship fund, I moved myself to New York with two suitcases, my first month's rent for an Airbnb and a dream.
But it was not all as glamorous as it sounds. Market started right away at work, which is essentially New York Fashion Week, followed by high-end buyers like Saks, Barney's and Bergdorf Goodman coming in to see the collection. There were many days I would come into work at 7:00 am and leave at midnight. You would have models running around the showroom, seamstresses rapidly trying to fit the models, salespeople pitching to the buyers, the designer deciding the flow of the runway show and then there was me, coordinating it all and making sure everything ran smoothly. It did not take me very long to get burnt out by this lifestyle. Of course, the perks were great, like being able to attend Fashion Week and receiving clothing as gifts, but at the end of the day, I was losing sight of myself and the whole reason I came to New York.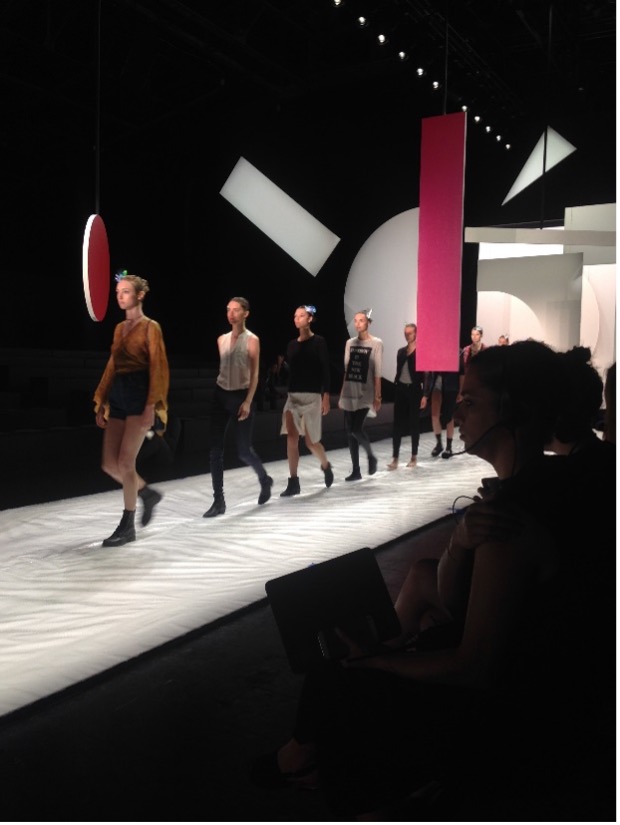 For the next 5 years, I worked in jewelry along with a major American clothing brand as an account executive, mainly selling to department stores. In both positions, my role was to accelerate the women's and men's accessory business year over year by implementing self-constructed seasonal and yearly financial plans. I really enjoyed the opportunity to work alongside my clients and strategically plan, merchandise and sell product that mutually benefited both our businesses.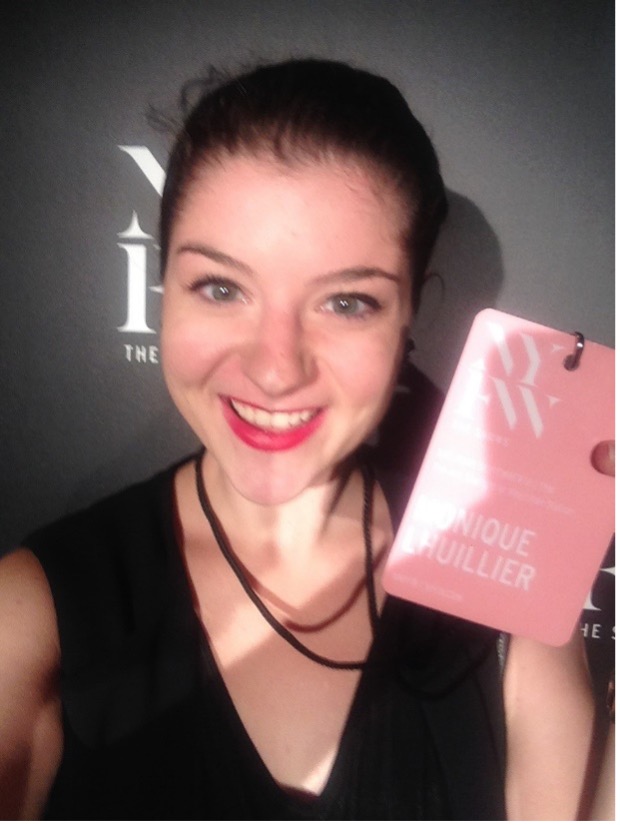 Above: During New York Fashion Week
During these five years, I got engaged to my now husband, Andrew, and we eventually made the mutual decision that it was time to move back to family. Moving to Oklahoma was quite a transition. I had no contacts or prospects out there and was worried where my next role would lead me. I did not really picture Oklahoma as "the fashion capital of the world." But as time went by, I adjusted and became more comfortable with our new relaxed lifestyle.
Above: My husband and me
I had been poking around a bit on LinkedIn one day and landed on a company that looked promising called InterWorks, and the best part was they were hiring! Reviewing blog posts and videos, I became even more excited about the company, especially seeing how its culture was so valued by the individuals working there. I thought to myself that it seemed way too good to be true. No one was that happy in their job. Nonetheless, I was intrigued and decided I would still reach out for an Account Executive role that had been posted.
There's No Place Like InterWorks
Since landing the job, I can proudly say that I have never been so happy to call a company home. From the day I started, everyone has made me feel like I belong. It is a place where you are supported, respected and celebrated for your uniqueness. Because I came from a completely different industry, I was a bit anxious about coming on board, but I am so happy I did. After a few months, my role expanded into supporting clients that have been working with InterWorks for over six months, thus I switched to the Client Manager title. In this role, I get to look beyond a client's initial interaction with InterWorks and strategize on opportunities that could develop in the future. I have always worked in Business-to-Business sales and truly appreciate the time I get to spend with clients.
My time in the fashion industry helped me adapt to this role in many ways, but I think the most important are the ability to think on my feet to develop creative solutions and the understanding that the client always comes first, no matter what. I cannot wait to continue to learn more, and I have a deep gratitude for everyone that has taken me under their wing, showing me the ways of business intelligence!