"How I Went from" is an ongoing blog series that highlights our employees' different journeys to InterWorks. The results are pretty diverse, but each story is special in its own right.
When I was young, everyone always told me to pick something you're good at and make a career out of it. I always responded with, "what if you're good at many things?" If any kid responds to you like this, most of the time, you would think they're arrogant. I just liked to question everything so I could learn more! You will find that the people who are successful in web development didn't just pick one thing to be good at doing. My experiences over the years gave me the tools I would need when I joined InterWorks as a Web Developer. 
My story is part of our ongoing "How I Went from _____ to InterWorks Consultant" blog series. Check out the original "Life as an InterWorks Consultant" post for more stories like, and others very much unlike, my own.
"I Was Born in a Small Town"
I grew up in the small town of Hugo, OK. I would joke that if you knew where it was, I would give you a dollar. So far, I have only had two people collect on that. Small towns are peaceful, but super boring. You had to find other things to do than listening to John Cougar Mellencamp all day. My Dad was heavily involved in ranching and would have me help out with the cattle. I quickly learned that ranching was not meant for me. When my dad found out I wasn't a fan of it, he thought I should spend my free time learning to do something else. That something else happened to be fixing and maintaining the family computer. Anything bad that happened to that computer I would take on as a challenge that I must overcome! This caused me to learn quickly that there are many ways to approach a problem in order to get to a solution.
Above: Downtown Hugo (left) and part of my family's ranch (right).
The College Years
By the time I was finishing up high school, I decided I wanted to learn to program. What better way to take what I learned from computers and go on to the next level? I believed the best way to do this was to go to college and learn from the best. I decided that the University of Oklahoma's computer science program was the best place for me to do this. When I got there, it was quite the culture shock for me. My only reference for college life had been what I had seen on "Saved by the Bell." Obviously, it's not the best reference for what college life is. I had to adapt rapidly to my new surroundings and not get overwhelmed. One of the biggest things I learned from college was how to adapt to change and not fear it.
Changing of the Guard
Throughout my college career, I have seen people change their major more often than Buckingham Palace has changed guards. I thought there must be something wrong with me since I hadn't changed mine once by the end of junior year. I didn't want to graduate college with the thought that maybe there was another field I would enjoy more than computer science. So, I decided to try out the fields of psychology, philosophy, music and history. I enjoyed many things about these fields, but none of them seemed to top computer science. By the time I graduated from OU, I had a degree in multidisciplinary studies with a focus on programming. It seemed like the best way to show my studies in other fields while highlighting my main focus.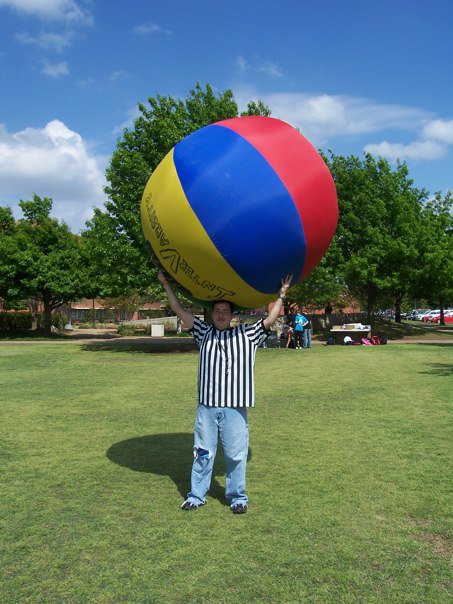 Above: Balancing an Earthball.
Order 66
My first job out of college was as a web developer for a company called Onesite. I was super nervous since the amount of web development experience I had was only half a semester's worth. Luckily for me, the company had some pretty talented people who were more than happy to take me on as their Padawan. I learned things pretty quickly and started taking on bigger tasks every day. I eventually took on the responsibilities of a project manager along with my development duties. I would hear what the client wanted and would then program them up a solution. One day, out of nowhere, the CEO gave us an order that fired some people and left the others in a position where leaving was the best option. Balance was eventually brought back to the Force, but I decided that it was best for me to look for greener pastures.
Moving on Up
I took a two month break before I started looking for a new job. I needed a rest after the fallout of what happened at Onesite. After two months of solid gaming, I started to apply for jobs. Many of the jobs were ok, but none seemed to be the place I wanted to call home. Then, one Sunday night, I remembered my previous supervisor had told me about this place called InterWorks. I found their site and was instantly blown away. I had never seen such an awesome place to work at before. My only let down was there weren't any job openings for a programmer in OKC. I figured I would apply to InterWorks anyway, and maybe sometime on down the line something might open up. I got a call shortly thereafter and was brought into the InterWorks family. It was the deluxe apartment in the sky that I was waiting for.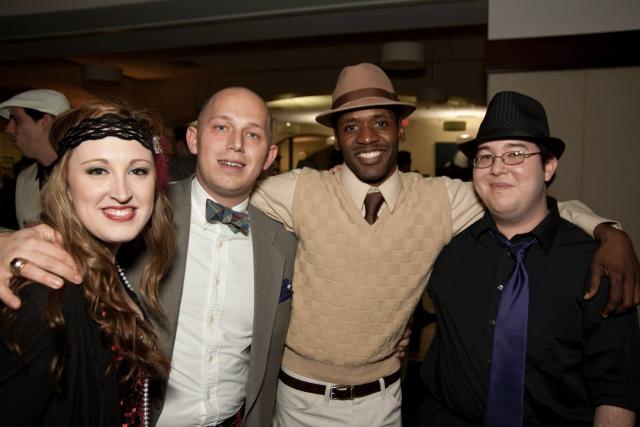 Above: (Left to right) Chelsie Wilson, Cory Jez, Clinton Fields and myself at the IW holiday party.
I now get to work with super-talented individuals who didn't just shape their career around one thing they're good at doing. My ability to adapt to change and learn new things has helped me to do a lot here at InterWorks. Currently, we are working on projects that take Tableau visualizations to the next level! Projects like these have allowed me to learn many things such as Drupal, Python, Tableau and more. It is so refreshing and inspiring to work for a company that cares more about doing what is right for the customer than how to make a quick buck. InterWorks is great at seeing the potential in people and giving them the tools they need to get the job done. They have shaped me into the developer I am today, helping me to utilize my full potential.