"How I Went from" is an ongoing blog series that highlights our employees' different journeys to InterWorks. The results are pretty diverse, but each story is special in its own right.
It has always been interesting to ask people what they wanted to be when they were a kid and compare it to the career they actually embraced as an adult. Growing up, hands down, I was going to be a fireman. Putting out fires and being able to use all the cool equipment, saving people and providing safety in a dangerous environment seemed to be a great job. However, time passes and your perspectives change. I do think everyone can compare the roots of their childhood dreams to their adult reality. As a Systems Administrator at InterWorks, I still see myself as a fireman. The flames are not real, but you have way cooler equipment, you save people and you provide a safe environment for their businesses. Who would have thought?
My story is part of our ongoing "How I Went from _____ to InterWorks Consultant" blog series. Check out the original "Life as an InterWorks Consultant" post for a full list of stories from other InterWorkers like and unlike myself.
Growing Up with Technology
I'm originally from East Texas, where I grew up learning to love technology. I was always the type of kid that wanted to take things apart whenever they broke. That way I could see how they worked and maybe even use the parts for another project. I started working on computers when I was about eleven. Our home computer broke. I was absolutely fascinated with the local computer repair man who repaired our computer and how he was able to fix things that I couldn't.
From that moment on, I began teaching myself. I was always helping family and friends with their computer issues. I even helped the computer teacher at my high school in Rusk, TX with a lot of the issues they weren't able to figure out. Basically, it was all trial by fire with no formal training on my part.
Above: Texas State Railroad Park – Rusk, TX
Moving to Stillwater
I graduated from Rusk High School in 1998 and moved to Stillwater, OK in 2001. I enrolled at Oklahoma State University with plans to get a business degree. As school went on, I found myself getting burnt out on business courses. In 2003, I was only about 16 hours shy of completing my major, but I decided to switch to a major more to my liking: Leisure Management and Recreation. In 2005, I graduated with my Bachelor of Science Degree in Recreation Management.
A Career in Recreation
During my time at OSU, I worked for the golf, softball and tennis teams. I did mostly office and clerical work, which lead into more IT functions. These functions included learning the full scope of Microsoft Office and helping local IT people with desktop issues in the Athletic Department. While as a student, I also informally helped teachers and other students with their PC-related issues. 
In 2004, I started a job at Karsten Creek Golf Club in Stillwater. I quickly found out that they were in definite need of someone with IT-related skills. This was due to all of the upcoming networking changes involved with moving from Server 2000 to Server 2003, including Active Directory, POS systems, email, wireless networks and golf technologies.
Above: Hole #11 – Karsten Creek Golf Club
I became an Associate Pro and handled all of the networking servers, HVAC, electrical efficiencies, point of sale systems and golf technologies for the clubhouse. For those who aren't familiar with golf technologies, these included things like swing cameras, motion sensors and launch monitors. I also took care of the lodge's wireless network and the OSU coaches environment, in addition to all of my golf-related and accounting duties. Anything that was technical in nature fell under my responsibility. I was known as the "GURU."
From Client to Employee
When things with Karsten Creek's IT would get out of hand, we would use an IT consulting firm called InterWorks as an additional resource. I worked in close proximity to them on many occasions and was completely fascinated with their business and culture. I learned around 70% of everything I know about networking and solution architecting by working with them. As time went on, I realized that I was more suited to a career in IT. I began applying for positions at InterWorks. It took me about three years of applying until the situation was right for me to join their team. In 2007, I was hired.
Above: (Clockwise) Jamie, Keith, Grayson, & Jackson.
It was quite a large decision to make in retrospect; not knowing if I had what took to be a full-time IT tech. I liken it to one of several major crossroads in my life. I worked at both Karsten Creek and InterWorks simultaneously for two weeks to allow time for the transition to take place. It went very smoothly. We still provide IT support for Karsten Creek and have a great relationship with them. My knowledge of their IT environment was paramount to my transition to InterWorks and helps us service them all the better today.
Life at InterWorks
I've now been at InterWorks for a little over six years. I started in our Alpha group but have since moved to our Delta group. I was made Team Lead of Delta Group this past December. My group covers clients within about a 50 mile radius around Stillwater. I manage four techs and oversee the day-to-day operations for area clients. The people I serve cover a wide range of industries, including medical practices, school systems, dental practices, law firms and various other local businesses.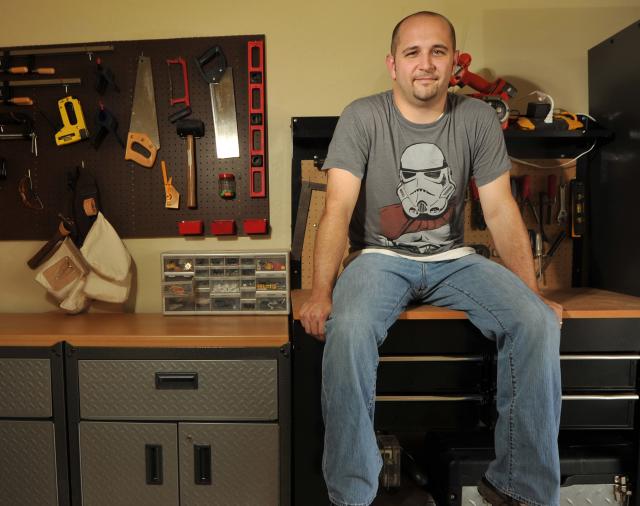 Working at InterWorks is truly rewarding each and every day. There are so many things that make working here amazing. The culture and style of work that we do distinguishes us in both how we interact with our clients and how we assist each other internally. Even though we have different teams and responsibilities, we all act as one functional unit. I have learned many different skill sets along the way and learn something new daily, which is truly rewarding for the future and beyond.