"How I Went from" is an ongoing blog series that highlights our employees' different journeys to InterWorks. The results are pretty diverse, but each story is special in its own right.
I never say no. I get bored easily. I'm an adrenaline junkie. My closet is a mess. And I've only finished about four books in my entire life. When I was young, I wanted to do whatever sounded exciting that day. I imagined becoming everything from a surgeon to a news anchor when I got older. Then in college, I changed my major four times before landing on business marketing for the sole reason that "it sounded general enough."
Always Looking for the Next Adventure
There are few things in my life that have retained my interest for longer than about three weeks. One of those things is track and field. I was drawn to the track and field universe where hard work directly produced results. In track and field, there are no gray areas: you train and you compete and you either cross the finish line first or you don't.
The 400m dash is one of those races that you love to hate. It's strategic to an extent, but it mostly just comes down to who has the most guts. I can't really describe the feeling of the last stretch in the 400m: a strange combination of both sheer pain and an overwhelming belief in yourself. It seemed to me that in every race in which I toed the line, I remember having to make the conscious decision to show up that day—to decide to be my best.
A Drive to Succeed
There is a universal track and field ideal centered around personal excellence. PRs, or personal records, are the most coveted honors in a race. Running a PR means you just completed the best performance of your life—you just ran faster than you ever have before. The moment right after you run a PR, you know you are the best version of yourself, and no one can deny it because the numbers show. The whole thing is really addicting: you run fast, you win, and you get excited to train to totally crush it again next time.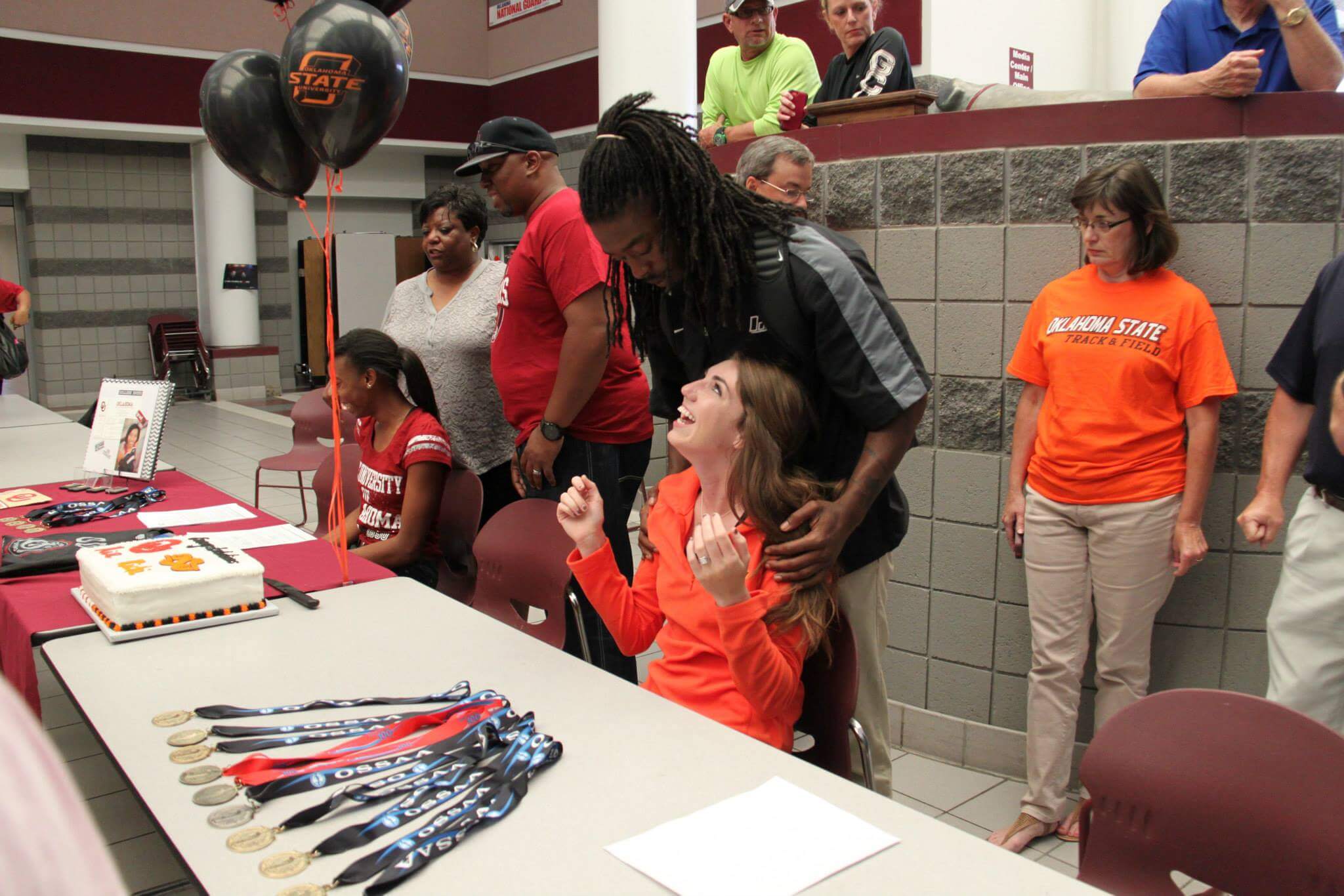 Above: My signing day when I committed to run track at Oklahoma State University
I had this obsession with competition that carried me through a successful high school and college track and field career. While I had a love affair with running, I also kept myself busy with plenty of other interests (remember the getting-bored-easily thing). I involved myself with everything and anything that sounded remotely interesting like art, sports, various internships, camp, student council, executive boards, odd jobs and photography. While all of those things were exciting and interesting, photography is the one that stuck with me.
I decided to purchase my first "fancy" camera when I was a sophomore in college from a close friend, Carter. Practicing photography for me was a mixture of being constantly terrified and always excited. There is a certain level of vulnerability that comes along with artistry: "What if they don't like my photos?" "What if I'm just another girl with a camera?" "What if I'm embarrassing myself?"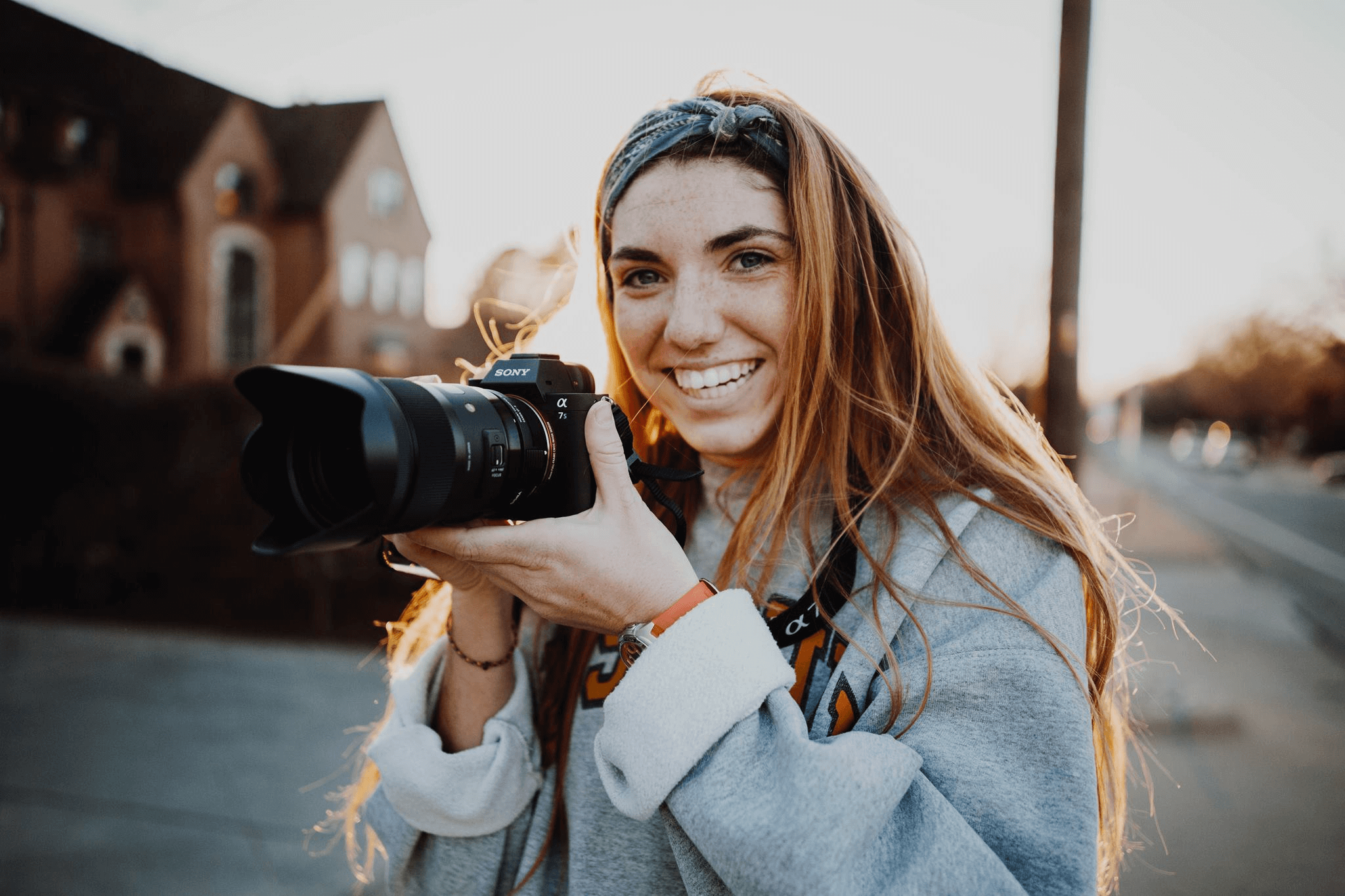 Above: The first day I got my videography camera
I found that creating in any capacity takes courage and belief in yourself. Media production is nearly entirely subjective to the viewer and artist respectively. It wasn't black and white; it was all of the colors and more. It wasn't long before I wanted to extend and challenge myself through taking on client work. Two years and a lot of mistakes later, I found myself as a senior in college with a wide scope of media clientele. I was contracting projects all the way from weddings to work for small businesses and non-profits. And I loved it.
Creativity, Going Corporate and Having Courage
As a senior, I had a decision to make: Do I pursue media full time, or do I seek out a corporate marketing job? I wasn't ever against doing corporate work, but I didn't feel like I had much personal connection to a lot of the places my friends were applying. Frankly, working for a corporation sounded dreadful—I just didn't know of very many people that genuinely enjoyed their full-time jobs. I was pretty skeptical. I wanted to do what I loved, and for me, that meant doing media work.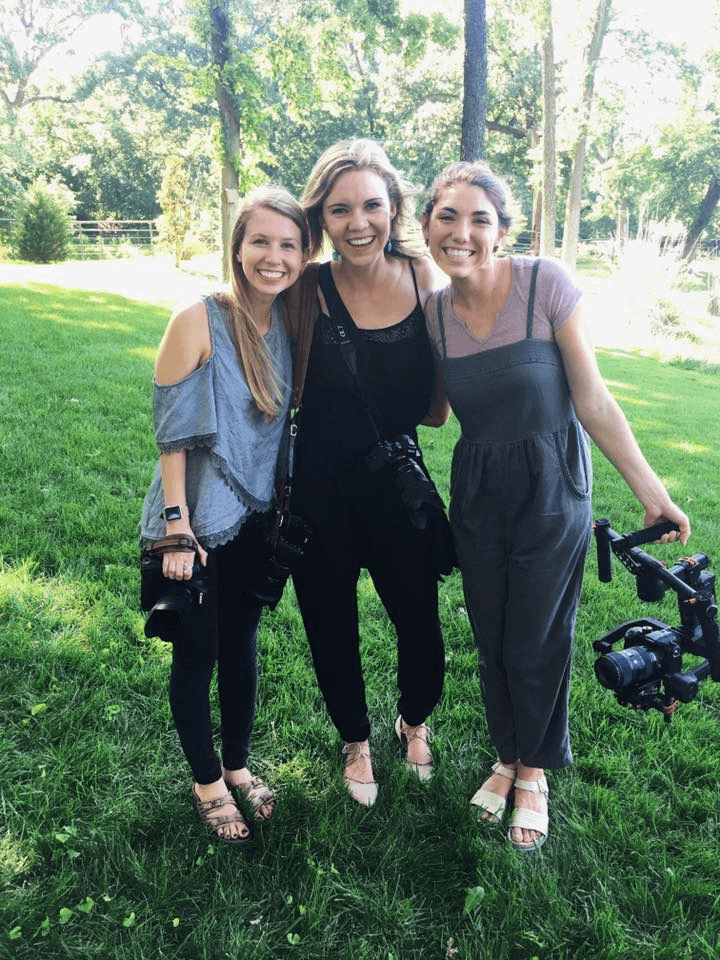 Above: Shooting a wedding
Finding InterWorks
It wasn't until April of my senior year that I heard about InterWorks. I ran into a close friend and had an impromptu dinner at a local Stillwater restaurant. Hadley, an InterWorks intern at the time, proceeded to talk so incredibly highly of this Stillwater tech company. Honestly, I was a little confused … A tech company … in Stillwater? Hadley and I were in a few on-campus clubs together. She drove a Land Cruiser and had this effortless excellence to her that was super fascinating. What I'm trying to say is she was a cool girl, and if InterWorks was cool enough to hire her, I was pretty sure I wanted in.
I would be surprised if the FBI had a more intensive hiring process than InterWorks. About halfway through my second round of interviews, I was undeniably sold. The Employee Experience Director had pink hair and a larger-than-life personality, the Global Marketing Manager was someone I would want to go to concerts with, and the CMO had this weirdly likable quirkiness that had me smiling as I walked out of my interview.
In my final interview with Behfar, we mostly talked about track and field. He told me that above skill, experience and status, he wanted to work with genuinely ambitious, kind people. People that have passion, courage and a drive for their craft. People that were curious about things, with an itch to solve problems and have fun in the process. I. Was. Sold. I wanted to work with these people more than anything—I wanted to be on this team.

Above: Taking my first "big" photo ever
Joining the Right Team
Waiting to hear back after my last interview reminded me of that really scary feeling before a race or the vulnerability of creating art for the world to see. I didn't know too much about InterWorks, but I knew I wanted to be a part of it. There was something about it that was honest to me.
I received my job offer while I was with my husband in Bed Bath and Beyond picking out curtains for our first apartment. One month later, I started as the Marketing Generalist for InterWorks, moved to Tulsa and became a part of this crazy family. I get to take photos, make videos and work on various projects on a marketing team of insanely talented graphic designers, event coordinators, content creators and managers.

Above: My husband, Gabe, who was testing pillows at the moment I got my InterWorks offer
The Constant of Change
I've been at InterWorks just over half a year now in a position that celebrates and demands my spastic interests and work ethic. I'm constantly moving from one medium of marketing to the next. I've developed skills like design, photography and media production, and I'm even a little better at ping pong. When I was young, I wanted to do whatever sounded exciting that day. It turns out that at InterWorks, I can.