"How I Went from" is an ongoing blog series that highlights our employees' different journeys to InterWorks. The results are pretty diverse, but each story is special in its own right.
I was born in New York City to two Chinese parents who emigrated from Hong Kong when they were kids. We bounced around different boroughs before my parents decided to set up in what I like to call, Good Ol' Dirty Jerz (that's New Jersey). This is where they popped out my little brother, Terrance.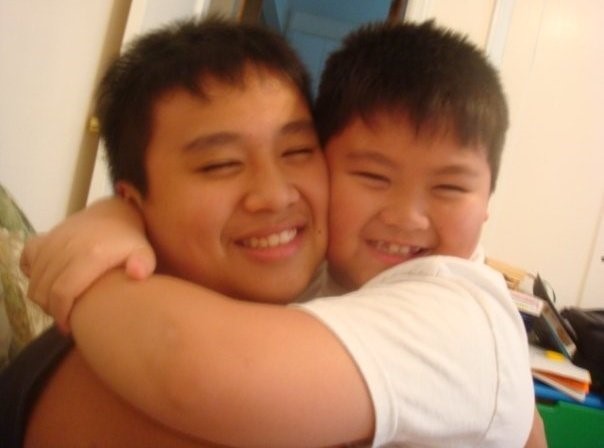 Above: Back in 2008, we stored our love in our cheeks.
Since I was in eighth grade, I realized I had a strong interest in the sciences and wanted to pursue a career in medicine, which my parents fully supported. It was a great way to combine science and the ability to care for people in a way that no one else could. For high school, I went to Academies at Englewood, which had five separate academies that students could choose from to focus part of their studies. I chose the Biomedicine Academy. Fast forward four years of high school drama (not drama classes) and another four years getting my B.S. in biology at George Washington University, and I started working as a healthcare consultant for Booz Allen Hamilton in Washington, D.C.
Above: Shout-out to the family for their love and support getting me through college. 😊
Medicine, Management, Cooking, Consulting
I still had the intention of going to medical school, so I took my MCAT my first year out of school in January 2015. After that, I dabbled with some of my other interests like cooking. This led me to partner with a friend for a food entrepreneur competition in which we planned to start our own restaurant. We ended up placing in the top five out of 50 and began pitching our idea to a panel of investors who would ultimately decide the winner of the competition.
We didn't win, but I ran some pop-ups in D.C. to try gaining more traction while balancing my full-time job at Booz Allen. Realizing that I could not balance both, and I wasn't in a financial position to drop my full-time work, I ended up dropping the restaurant idea. A year into my job, I started to realize that I wasn't a cultural fit with the company and it really hindered my motivation. I had also dropped my pursuit of medical school, realizing there was more to myself that I had to discover.
Above: One of my pop-ups back in the day.
I told myself I was going to change. I needed something that was going to give me the freedom to express myself and the work would have to align with my personality. I was always worrying about the future and trying to plan what to do next. This led me into thinking more along strategic consulting. However, a large foundation for strategy was data analytics. Coming from a scientific, non-technical background, I signed up for some online classes to learn SQL and Python to better position myself for these types of jobs.
Now that I had an idea of what my next job was going to be, I needed to figure out the right culture fit for me. It was the first priority I was looking for in a company as it would help me grow as both a professional and individual. In terms of what I was looking for, it was the opposite of everything I currently had. That's when I came across InterWorks on LinkedIn.
Taking a Chance on InterWorks
I had not heard about InterWorks until arriving at their LinkedIn page. Upon further research on Glassdoor, I saw there was a very high employee satisfaction – something I really valued in a company. It's ability to appreciate their employees. They were also big on data, a side of myself I was starting to feed more and more. Running off feelings of "let's give it a shot," I applied and got an email for the first-round interview.
I approached this with a fairly open mind, not expecting to stick with the entire process. I got to the stage where I had to create a dashboard. With zero experience in Tableau, I tried to learn everything I could through the InterWorks blog. Five rounds and three months later, I found myself sitting in a rental car in the parking lot outside of InterWorks HQ in Stillwater, Oklahoma, thinking "how did I end up here?" Some of my friends were like "what kind of company makes you go through this?" My parents thought it was kind of crazy!
The truth is, how many companies are willing to invest the time, energy and resources to really make sure that the person they hire is the right person? To coordinate potentially 10+ employees to interview one candidate and possibly still say no at the end of all is a serious commitment. I wanted to be surrounded by people who always approached their work and hobbies in their life with passion and energy, and I knew that going through this thorough interview process was to prove if I was that person.
If any of you have read InterWorks CEO Behfar Jahanshahi's "Hell Yes" post on this, you'll understand why the process is what it is. It's about more than whether a person can do the job. I interpret it as the person they want is going to bring the passion and energy to go beyond what the job description says. Are they someone I can count on when I need it? Are they someone I simply would want to grab a drink with? I can say there isn't one person in company with whom I wouldn't want to grab a drink.
Two days after my interview with Behfar, I got an email with an offer letter. I was in a meeting with co-workers and tried to hide my excitement. Pretty sure you know what my answer was.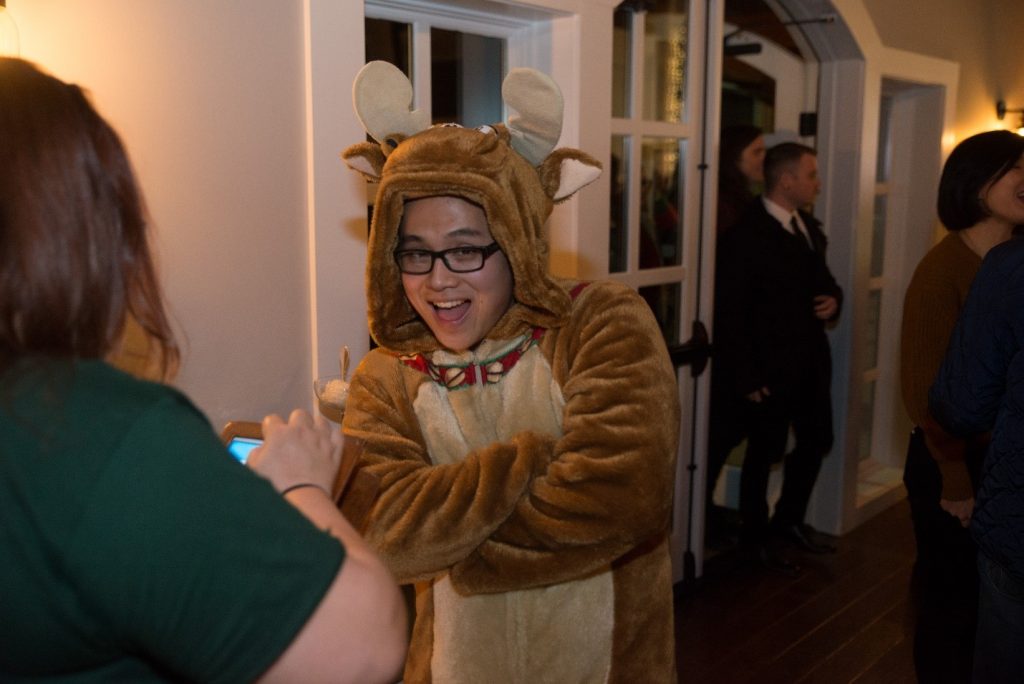 Above: Making first (and lasting) impressions at my first InterWorks Holiday Party.
Life as a Road Warrior
Having been at InterWorks for only eight months, it's actually insane to think of all the things I have done since I started back in September. I've traveled to New York, Boston, Chicago, San Francisco, Los Angeles, Atlanta, Knoxville, Richmond and back to my home city, Washington, D.C., to teach clients the capabilities of Tableau (hotel and airline points FTW).
I tell students and clients that I like to run my classes like a restaurant. I am the chef, waiter and host, and I'm looking to tailor the material to how they learn. Just like everyone has different taste in food, we have to appreciate the different ways in which people learn. I meet so many people of different ages, backgrounds and interests. What is interesting, and something I did not expect, is that as much as they learn from me about Tableau, I also learn about how different industries work.
The best is when I get to meet up with some of the other InterWorks fam in an area for work or in their home city. They are extremely welcoming and always ready to throw down for a good time to enjoy the unique foods and sights the city has to offer. I also get to fly back to visit my family back in New Jersey more often and share my road warrior stories with them. I may spend a great deal of my time on the road and working with Tableau, but my passion for food, cooking and sharing conversation with people hasn't gone anywhere. It's been intertwined with my work to the point where work doesn't just feel like work; it's an adventure.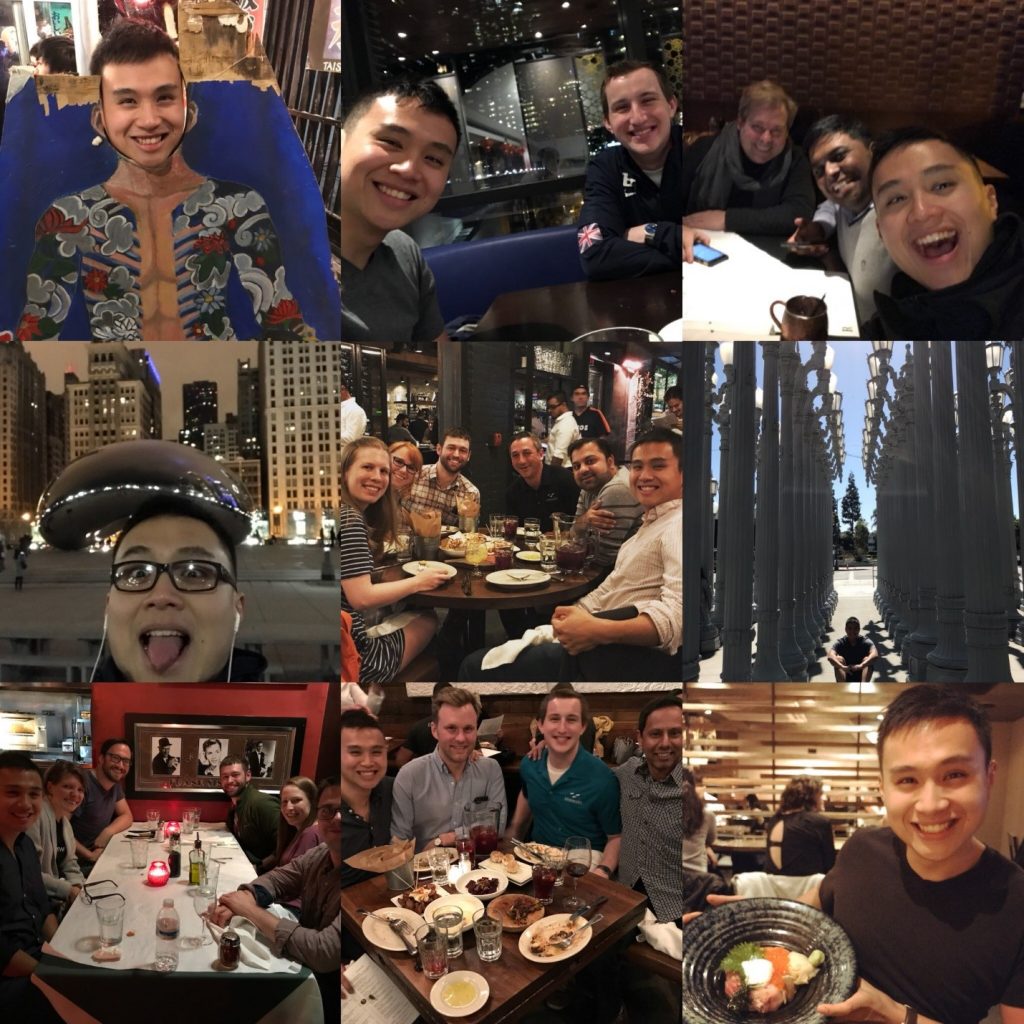 Above: Just a few of the good times from the past eight months at InterWorks.