Advance with Assist shares quick solutions to common challenges encountered by the InterWorks Assist on-demand team.
Question: I renewed my subscriptions in Tableau Server, but my licenses no longer show on the server following the old key expiring. However, I see the new key in my customer portal. What happened?
We've seen this question come across the Assist desk a few times now, so we wanted to write up a short post about what is happening and what you need to do for a smooth renewal.
The type of licenses in question are subscription licenses: Creators, Explorers and Viewers. Each renewal cycle, Tableau will issue a new expiration date and keys within your customer portal.
NOTE: Prior to your current subscription expiring, once your new keys and expiration show in your Tableau customer portal, you MUST perform a license refresh on the Tableau Server.
The Common Challenge We've Seen
Once you perform the refresh, if your current license key hasn't expired, it will remain the same on the server, but you'll notice your expiration date has updated. Once the current key expires, the product key will update to the new key since the refresh command was already submitted.
We have seen an uptick in requests where a server quits working shortly after a subscription expiration. All these events were a result of the refresh described above not being completed prior to the current key expiration date. Troubleshooting with these requests using a quick TSM licenses list showed zero (0) active licenses and confirmed quickly what may have happened. Since the licenses had expired, a TSM activate with the new key was needed to get the server back up and running.
Performing this refresh usually has two methods by which it can be accomplished.
Refresh Option 1: Using the TSM Interface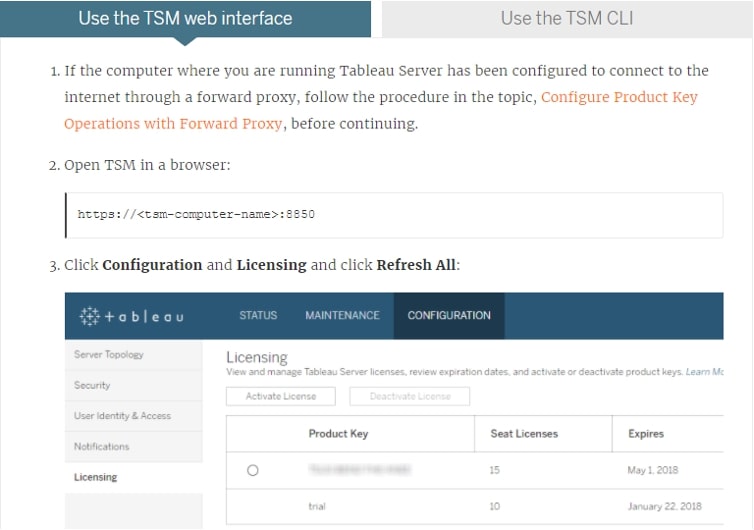 Refresh Option 2: Using TSM in Command Line

Explore the info for this solution on the Tableau website.
Options for Automating
We recommend performing cleanups and maintenance on your server environment periodically to help keep it clean and remove any unwanted files. The likelihood that this is scripted is also high. To make sure your licenses are refreshed and to avoid a possible failure as discussed above, we suggest adding this refresh command to that script. This will ensure that when any new keys post for your subscriptions, the refresh should automatically work as your script would run prior to the expiration.
InterWorks Is Here to Help
The Assist team is always here to help. To learn more about Assist by InterWorks, check out this blog post to see how Assist can help you with your data and tech challenges. Looking for more support around licensing? One of our recent posts documented the troubleshooting process for another licensing issue: shifting to a role-based licensing structure. Need something more? Don't hesitate to let our team know if there are other ways we can team up with you!