Advance with Assist shares quick solutions to common challenges encountered by the InterWorks Assist on-demand team.
Tableau 2019.2 is full of new features. To name a few, vector maps, parameter actions, show/hide dashboard containers and spatial calculations are now at your fingertips. The one I'm very excited for, but not seeing a lot of chatter about, is the ability to now swap sheets in a dashboard.
The application of this feature is easy as it's a simple icon available on the dashboard next to your Sheet names. Just select the sheet in the dashboard you want to switch, and click Swap Sheets next to the one you want to put in its place: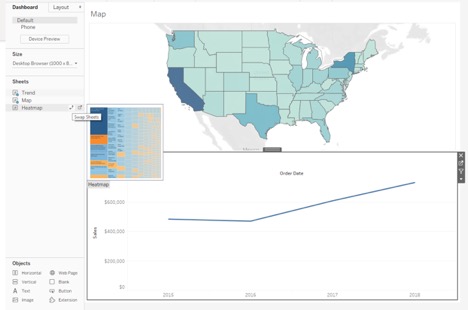 Sheet Swapping in Template Creation
This feature is also really useful when it comes to making template dashboards and layouts, something we're asked a lot about through Assist. For example, if you have a layout you like or need to adhere to, you can now begin with a dashboard in your desired layout and simply swap in the sheets you need for your new dashboard without starting from scratch.
You could even use a template layout with dummy sheets to send to all your users. Here's an example Layout template on the left from a design program. Mimicking this with dummy sheets in Tableau, I now have a template layout a user could employ, replacing the dummy sheets with actual sheets and following design standards: