Advance with Assist shares quick solutions to common challenges encountered by the InterWorks Assist on-demand team.
Question:
"I've published a report to Tableau Online, but I keep getting an error message on the refresh that I've scheduled with Tableau Bridge. Can you help me troubleshoot?"
Background
In many circumstances, Tableau Online doesn't have the ability to connect to your on-premise data within your servers. Tableau Online is not your company's system, although it may be linked in very seamlessly in your interactions with it from the server client feel. In order to keep data fresh, the Tableau Bridge client is an application or service you can use to push new data out to Tableau Online on a schedule.
The Problem
With this question, we know that the user can publish, but we aren't sure what is missing that is causing the Tableau Bridge client to fail here. Let's walk through publishing to Tableau Online and using the Tableau Bridge client for refreshes to uncover what was missing.
Once you publish to Tableau Online, you will be given a message regarding Tableau Bridge after publishing has been completed like the below. As with many of us, we get click happy, and more often than not, when the confirmation message starts to appear, we close it without thinking. This is an important step if using Tableau Online: Don't close it.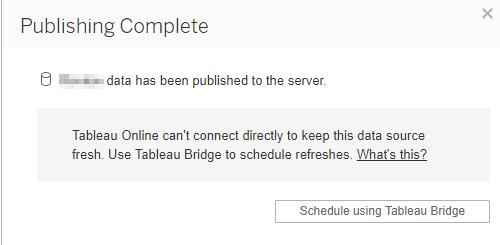 When you click to schedule, you'll see the Tableau Bridge client options which include where the Bridge will run (meaning what computer has the data), how often you want to run the refresh and at what time(s). After clicking Set schedule, you can test the connection and verify if it can connect and refresh: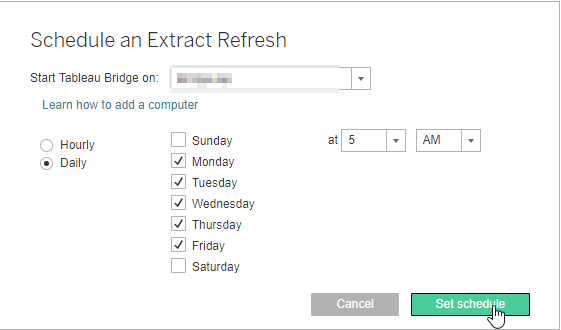 Here's where our issue starts. The requestor here had closed out the confirmation message, so the process for finished the update wasn't completed.
Now that it lives on the server, we go to Tableau Online to update the setting for refresh. When we log in to the server, we can go to the Datasources tab to see if we have any alert. This is where the client was seeing his alert for connectionless failure.

The Solution
Going into the Refresh Schedule for his extract, I immediately saw that since he exited out of the confirmation message too early, his refresh was attempting to use the local host computer for Tableau Online. His data exists on his computer, not the local server machine. So, the fix for this was to select the machine to run the bridge client to in order to get the new data.

Once he selected the correct machine, his refreshes then worked as expected.