Advance with Assist shares quick solutions to common challenges encountered by the InterWorks Assist on-demand team.
Question: I want to only connect to certain rows in my Excel file, but I'm not seeing how to do that from Tableau. Is there a way to do this?
Tableau connects to Excel as if it were a database. By default, it will connect and divide the data up into dimensions and measures based on every column in your Excel file because you are pulling in the entire spreadsheet. You can, however, use named ranges in Excel, as Tableau will recognize these, and only pull data within the named range:
Standard Connection to Excel Tab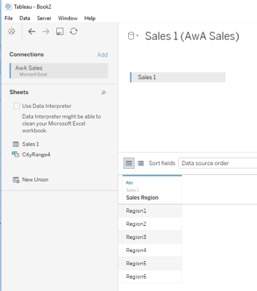 Named Range Connection and Difference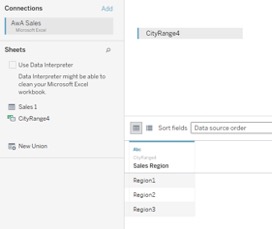 By creating a named range in Excel, I kept the first four rows, which resulted in only Region 1 through Region 3 being pulled into the data connection.
Creating a named range in Excel is under the Formulas menu once you highlight the range you desire. After you name it, connect the Excel file, and you should see the name in the Tableau data source screen as you can see below: