Lots of great ideas or discoveries come about by accident. A kite in the midst of a thunderstorm. Some errant mold finding its way to exposed Petri dishes. Follow-up questions to numerous quick-strike projects. While you may be familiar with those first two scenarios, the third may need a bit more unpacking.
The origins of our Assist practice date back to the 2016 Tableau Conference. At that time, a large portion of our consulting practice revolved around projects that were 40-80 hours. As soon as those projects were finished, consultants moved onto the next thing due to their busy schedules.
However, oftentimes, clients would have a handful of follow-up questions, but by that time, their point of contact would already have moved onto something different. We didn't have an established framework to field these questions, and we thought, "Wouldn't it be nice if we did?"
Thus, Assist was born.
What Is Assist by InterWorks?
Assist is an avenue through which anyone can receive InterWorks support. By visiting the Assist portal, clients can ask a question via chat, email or phone, and their inquiry is delegated to the appropriate person with the right expertise. Assist is really about taking care of users and supporting them with whatever kinds of issues they face.
Since InterWorks began as a tech company, our team of talented individuals can handle any issue you may be facing. We have experts deeply familiar with the network side of your business, the server side, the Tableau environment … You name it, we know it, and if we don't, we're ready and willing to dive in and learn the best answer to your question.
Furthermore, Assist is also a cornerstone of our Enablement practice. Once technology is rolled out within an organization, Assist is the primary way to facilitate continued growth and development of our clients' analytic communities. The goal of everything we do is to empower others with their data and technology, and the way that Assist and Enablement perfectly complement one another is an ideal illustration of that.
The Unique Value of Assist
Assist is uniquely positioned to fill gaps in the industry because our team can offer comprehensive technology support, covering everything from analytics to IT, backend to frontend. There is always someone available to respond to the questions that come through—a real living, breathing person, not an automated ticketing system or robotic phone menu.
If you have a question during business hours any day of the week, there is someone available to respond and help you out same day. These experienced consultants are seasoned in their field and continue to grow their skills and expand the scope of their knowledge because of the ask-me-anything nature of the questions they tackle through Assist.
"It's different every day. There is constant growth for me personally and professionally. I get to learn about so many new tools while working to help others." – Dustin Wyers, Assist Lead

Above: Dustin on an Assist call
What's Next for Assist?
Assist has experienced tremendous growth since its inception. Since it really took off in 2017, over 350 clients have been supported through over 3300 requests. Operating on a subscription model, Assist is now available to its subscribers on an essentially unlimited basis; there are no additional or hidden fees based on the number of times a person reaches out for assistance.
As InterWorks continues to strategically grow and expand its reach, we're introduced to more technologies and partners. The broader the breadth of our experience in tech, the more skills and expertise our team develops. This is a direct investment in our Assist practice as more and more of our consultants will have a wider and more expansive knowledge base to tap into when supporting customers, resulting in quicker support so customers can get back to work and attain their greatest success.
As with all things, growth and evolution occurs, so in this reintroduction of Assist, we decided it needed a newer, more polished brand look to more accurately reflect the practice's strength and longevity. To give you a glimpse into this process, here are what some of the design elements represent: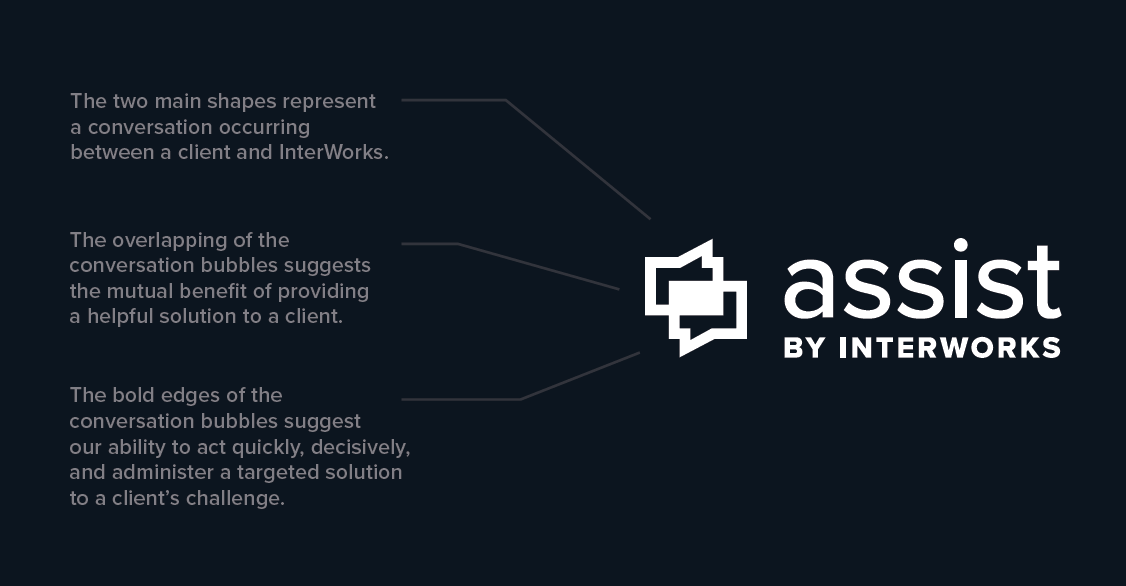 Get Your Questions Answered so You Can Get Back to Work
Equipping our clients with the tools they need to succeed is paramount to us. Assist allows us to not only provide those solutions to them, but it also creates a way for us to connect them with the right people who can support and guide them as they navigate current and forthcoming challenges.
Our Assist team has an eager attitude that's up for anything. If they've never dealt with your particular issue, they'll try it out and do the work so you don't have to. What's more is that this is just a microcosm of the InterWorks culture as a whole. Our company is made up of brilliant individuals who never shy away from hard work and who are always willing to get their hands dirty for the greater good.
To get connected with the right person to come alongside you in your journey with tech, hit us up! Whether it's through Assist or a more general inquiry, you'll be put in touch with the best person for the job.