"How I Went from" is an ongoing blog series that highlights our employees' different journeys to InterWorks. The results are pretty diverse, but each story is special in its own right.
For over six years, I worked in financial services. My first ever job was being a teller and an account specialist for a bank in my small town of Kremlin, OK. It still boggles my mind how I got that job. As a people-loving teenager with a penchant for spending money, how was I supposed to help people manage theirs every day? The irony was real here.
Putting People First
However, I learned to love banking, and that quickly turned into a passion for helping people solve their problems. I thrived off of people asking for help and seeing a customer's face light up when I helped them overcome a challenge, whether that person was a local farmer, a business owner or a mom trying to send her kid to summer camp.
Fast forward to college, and I was looking for a job in a new place. Being a people person, I don't really think I've ever met a stranger. Coffee shops, nail salons, elevators, planes, you name it—I like finding friends. I live for hearing people's stories and their visions. When my junior year came around, I found a new banking home in my college town. I loved the fast pace, the diverse group of people I served and the new stories I heard.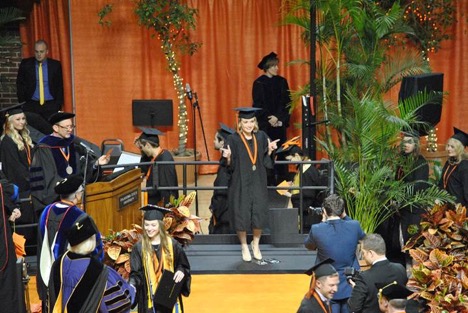 Above: Graduating from Oklahoma State University 
Graduation rolled around, and I earned dual degrees from Oklahoma State in marketing and management. But then came the inevitable "What now?" moment I think most recent grads feel at one point or another. I had no idea where I wanted to be, what I wanted to do or what I saw for myself. After some soul searching and patience, I landed a job at a whole new type of financial service firm: financial planning. I was offered an opportunity to be a campus recruiter, and it gave me a completely new set of challenges. It was my job to recruit, market and develop the college program, and it was still very fun for me. I still got to hear people's stories, help them achieve a goal, wear pretty shoes and much more.
Life throws you curve balls, though, and I went through a lot of growing pains. Even as I was settling into a good job, I felt a little lost all over again. I mean, I did what I was supposed to do after graduation. I got out of college as debt-free as possible, I moved to a bigger city, got a corporate job at a Fortune 500 … why did I feel so lost? It didn't make sense, and this frustrated me to death. I was pretty good at my job, liked where I lived and had a great support system, so what was the problem?
Something Different About InterWorks
In the midst of my recruiting responsibilities, I was lucky to meet Kelsey Lee, the InterWorks Recruiting Coordinator. She posted a link one day about InterWorks, and I was intrigued. Every time I saw the InterWorks crew on campus, they were the coolest, most genuine people in the room. You could tell they loved their jobs, loved people and loved their company culture—loved it all in a way that seemed different from how I enjoyed my job. My interest was piqued, and I wondered if they had found the thing I felt was eluding me. Pretty soon, I came across an opening for an account executive at InterWorks. I don't think I've ever applied for a job that quickly or fallen in love with a company like that before.
A Place That Felt Like Home
After my final interview, I walked out of the InterWorks office and was literally shaking with joy. I wanted the job so badly. It was closer to my family, I'd be back in my college town, and it would challenge me in a whole new way. What I loved about it was that I'd still get to be the people-loving connector I'm wired to be and work in a business and service context. InterWorks' culture was exactly what I wanted and needed. The next few days of waiting to hear were the longest days ever. I think I refreshed my email every fifteen minutes and made sure my phone was always near. When I received the offer, that confusion about life I felt before completely went away. All the pieces seemed to fall together, and I felt like I found a home.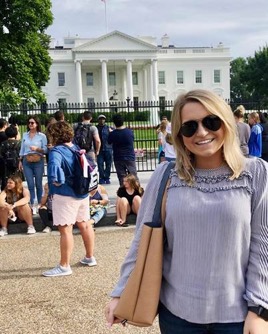 Above: My first InterWorks trip to Washington D.C.
As a history buff and IW enthusiast, this trip was extra special.
Since I joined the team, it's been a wild ride. From the day I walked in, I have been surrounded by people who genuinely care about everyone they come in contact with. Everything about InterWorks is different, from the way clients and colleagues are treated to the way work is approached. Everyone can be themselves, and no one apologizes for it. The people here are patient, the snacks are great, and the t-shirts are comfy. The amount of information I've learned so far has filled up a notebook or two already, and I've got a hunch I will never be bored again.
What I've Learned Along the Way
Through this journey, I've learned that if you feel like you're being called to change your life, do not ignore it. Making career moves isn't easy, and I've felt every bit of that, but when you find your right fit, it's all worth it. Ask a TON of questions during your interview process. Find a company whose culture makes you excited to go to work in the morning. Don't be afraid to be picky. Do not settle; this is your life! If you don't know where to start, ask your friends and family because there's a good chance they'll know what truly makes you happy. And most of all, check out InterWorks. Because of this company, I have never been happier.