Portals for Tableau 101 shares the basics of interacting with InterWorks' embedded analytics solution, Portals for Tableau.
Please note that Portals for Tableau are now officially known as Curator by InterWorks. You can learn more at the official Curator website.
You might look at Portals for Tableau and think, "Wow! These people must be geniuses with how many great features they keep coming up with!" (I wouldn't say we're all geniuses, but I also won't stop you from saying that). In actuality, we get a lot of great ideas from our users! This is common with many technologies, and Portals is no different.
Adding Content to Your Portals Homepage
A request we've received more than a few times is the ability to add content above the dashboard tiles on the homepage, and who are we to not give the people what they want? Hence, a new feature—the homepage insert: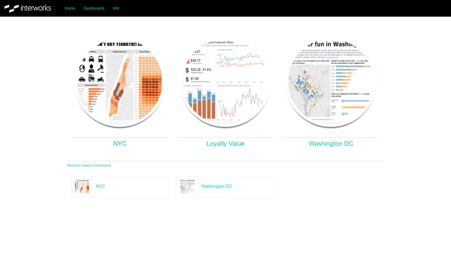 Client: "We'd like some text above those neat circles, please."
The first thing you need is some content to insert. Navigate to the portal backend > Content > Pages, then click the blue New Page button:

Next, give the page a title:

Give your homepage insert some substance:

Hit that Create button at the bottom of the page, and we're done!
Inserting the Homepage
Let's get this page inserted! Navigate to Settings > Portal Settings > Layout tab, and scroll to find the Homepage Insert Page setting:
Click the dropdown, choose your page and save the settings:

Navigate to the frontend of your portal and see the text in all its glory: