The Portals for Tableau New Features series is designed to keep users up to date with all the latest features being added to InterWorks' embedded analytics solution, Portals for Tableau.
Please note that Portals for Tableau are now officially known as Curator by InterWorks. You can learn more at the official Curator website.
If you've evolved to the point where your dashboards are crunching gobs of data and are powerful enough to warrant numerous filters and parameters to drill down for myriad uses, you may have been annoyed with waiting for each filter to be applied before being able to set the next one. Not only do we want to make your Portals for Tableau experience fun when you're first learning Tableau, we want it to stay that way as you gain mastery. This is where the filter and parameter Apply button comes in.
Instead of applying the filters and parameters as soon as you change them, there is now an option to wait until all of them have been set. Once you're ready to pepper your dashboard with all of your filter and parameter changes, you can click the Apply button. That will immediately send all of them to the dashboard at the same time so you only have to wait for your dashboard to refresh once.
To turn on this feature, log in to the backend of your portal and then navigate to Settings > Tableau Server Settings > General Tab and turn on the Filter and Parameters Apply Button option.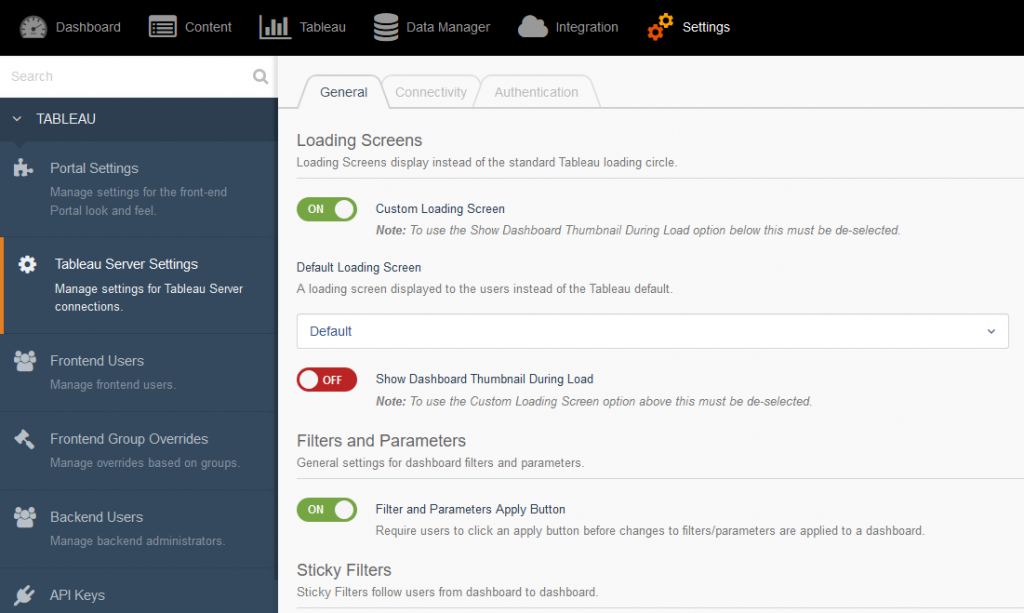 Once enabled, you'll now see the Apply button below your filters and parameters, just patiently waiting for you to click it.