InterWorks creates a culture that makes it feel like a small company: tightknit, authentic and unabashedly quirky. But in reality, we're a company of 250+ employees scattered throughout the globe! Recently, the annual InterWorks US Summit and Holiday Party were held in Stillwater, Oklahoma, and it was an awesome opportunity for our US, Australia and Singapore teams to gather together in celebration of 2018 and anticipation of 2019. There were tons of activities throughout the weekend to establish and deepen relationships with InterWorks (IW) team members we may not know or we may know only via Slack.
This year, everyone had the opportunity to express themselves through custom stickers for their name badges. This made initiating conversation with new friends easier: "Hey! You like dogs? Me, too!" Voila. Instant connection. It also provided the chance to learn things about our coworkers we may not have already known: "Is that a lightning bolt on your badge? I never knew you were a Potterhead!"
This fun, culture-building detail was a great jumping-off point for relationship that only flourished as the weekend festivities continued. Below is a sampling of name badges, carefully adorned with stickers, as well as a short blurb in that employee's words about why they chose the stickers they did.
Katie Wagner
Analytics Consultant / Training Lead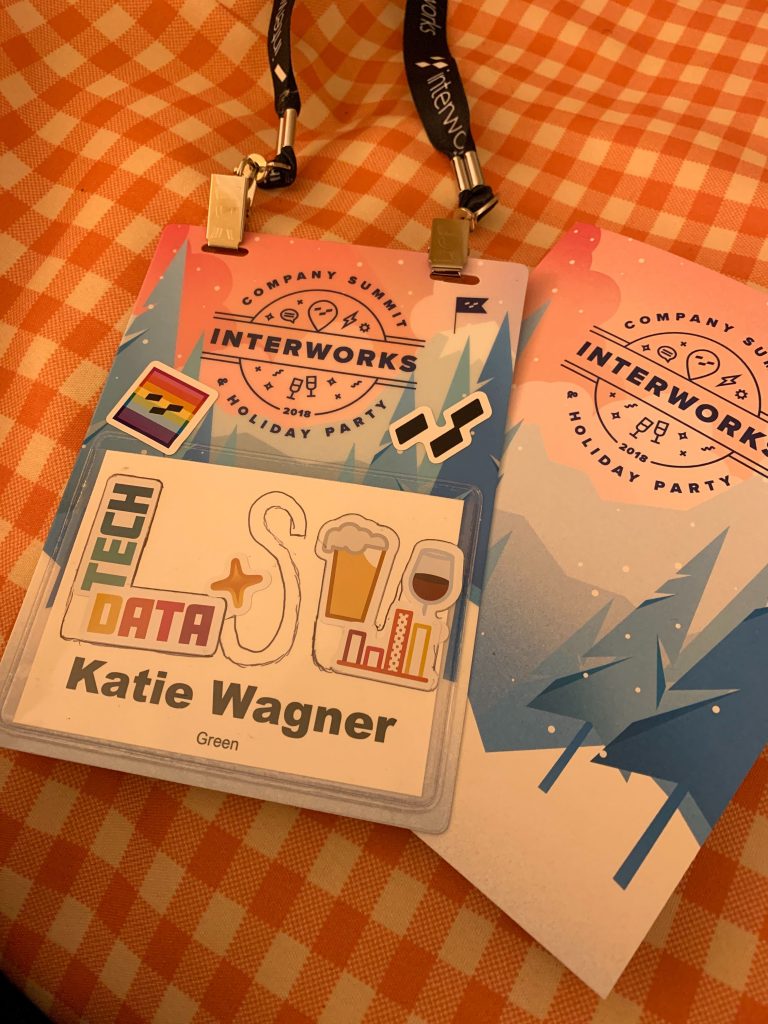 #GeauxTigers
Martin Plourde
Solutions Lead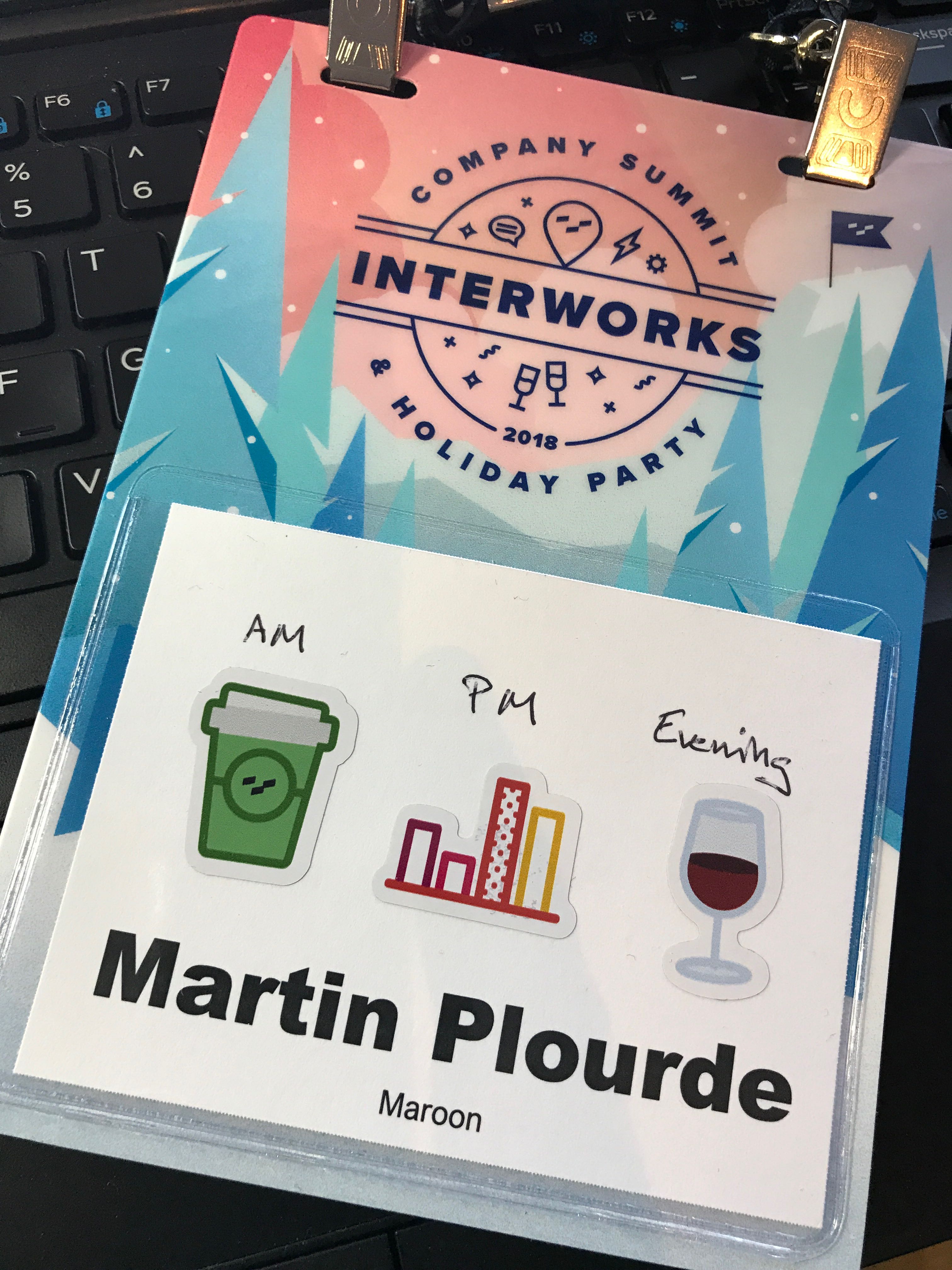 Self-explanatory 
Thomas Rudd
Account Executive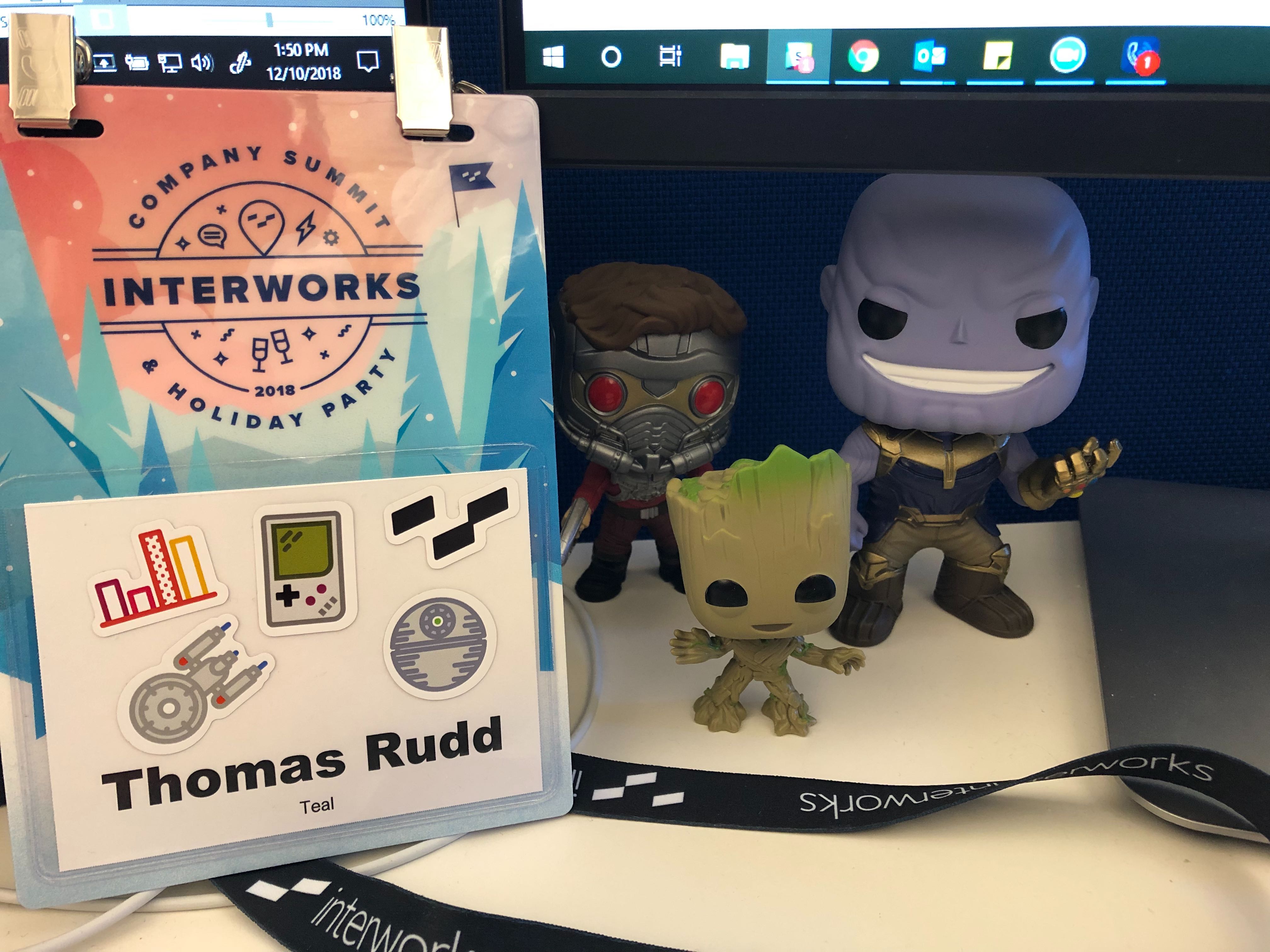 Sci-Fi junky!
Cody Ehlers
Account Executive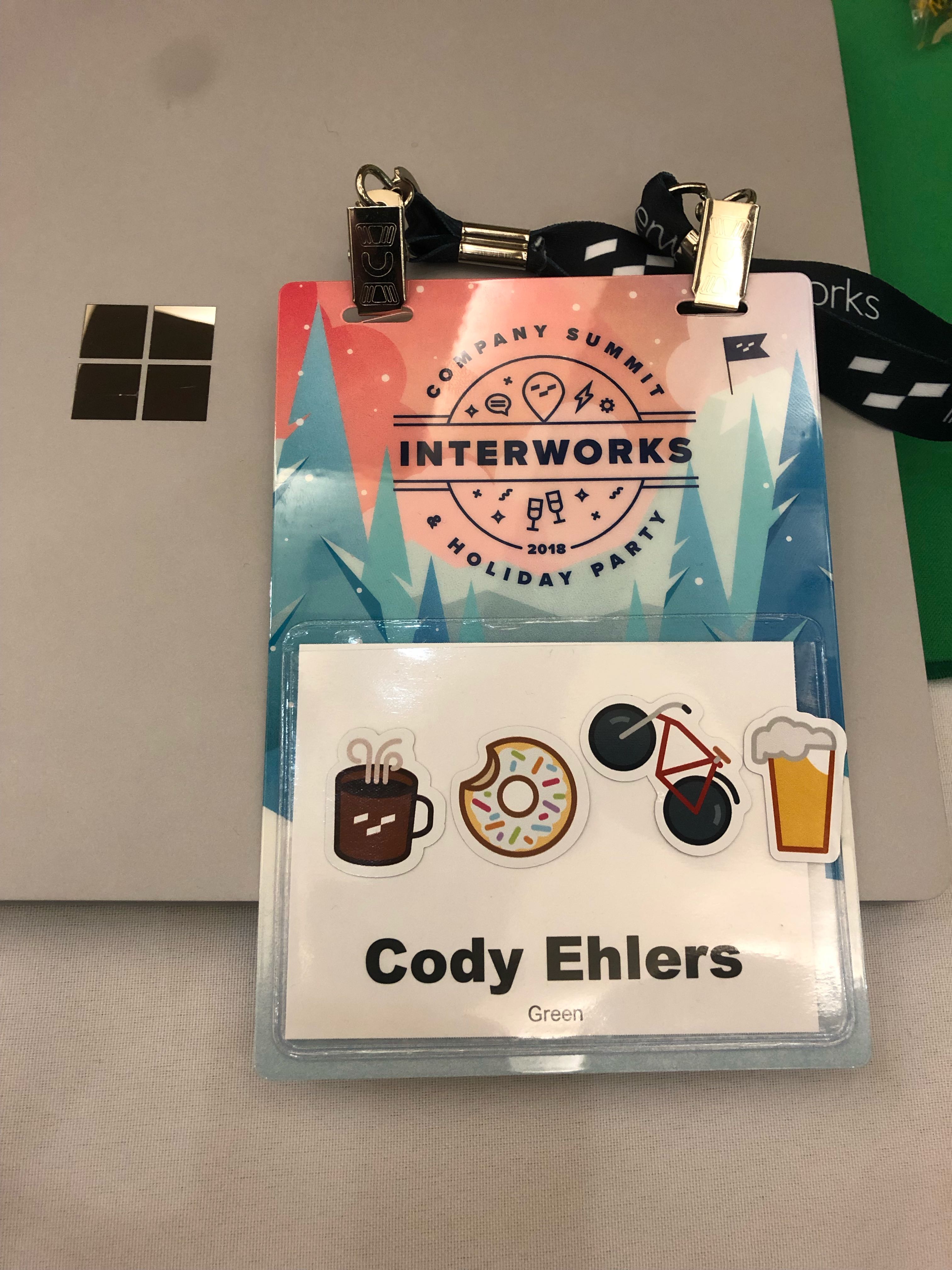 Eat—Sleep—Ride to InterWorks—Repeat
Rachel Kurtz 
Analytics Consultant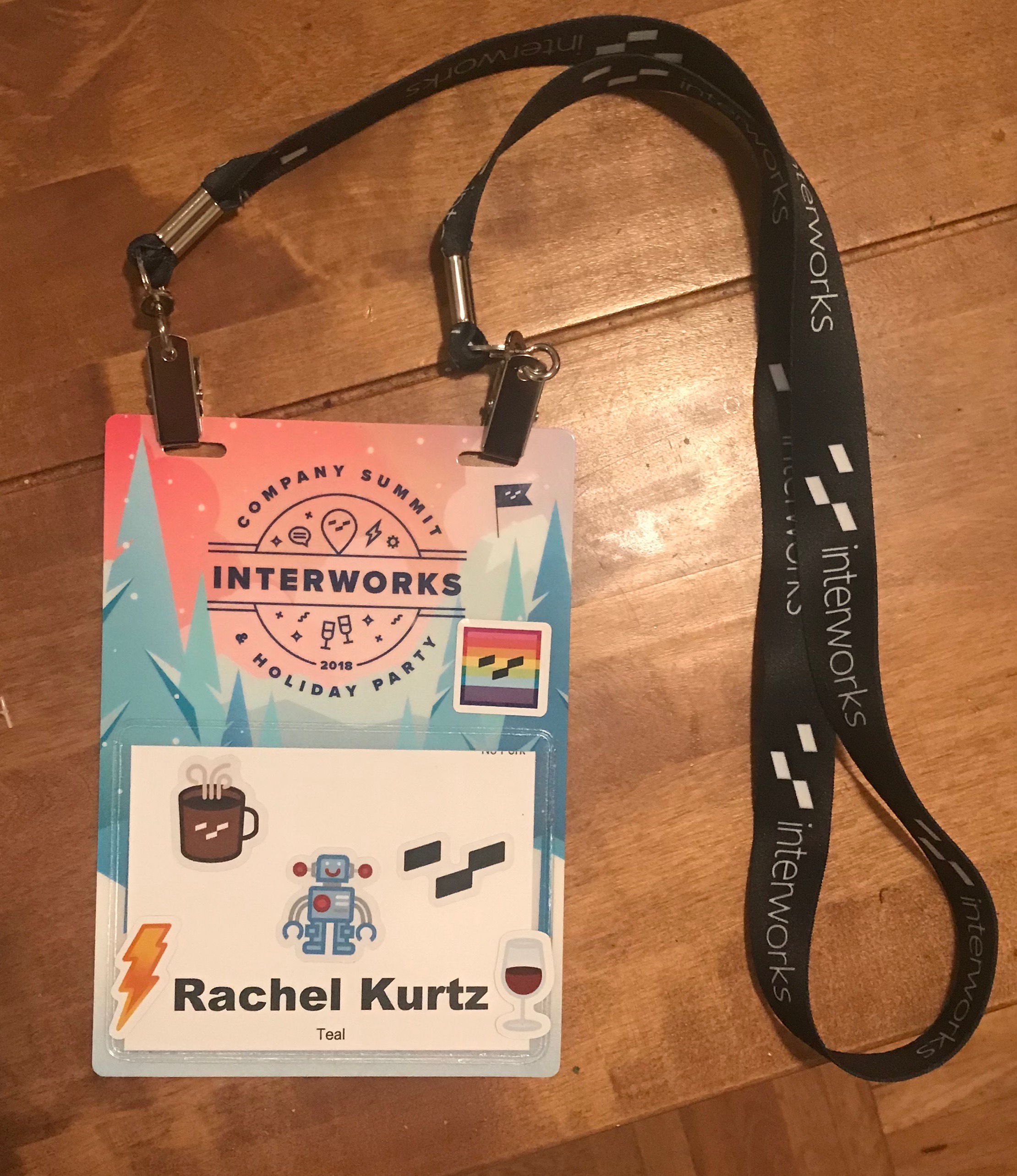 A lightning bolt was the closest thing I could find to Harry Potter. I actually stole the rainbow one from someone else because I put mine on my computer. Coffee and wine because those are my daytime and nighttime drinks of choice.
Justin Lyons
Analytics Consultant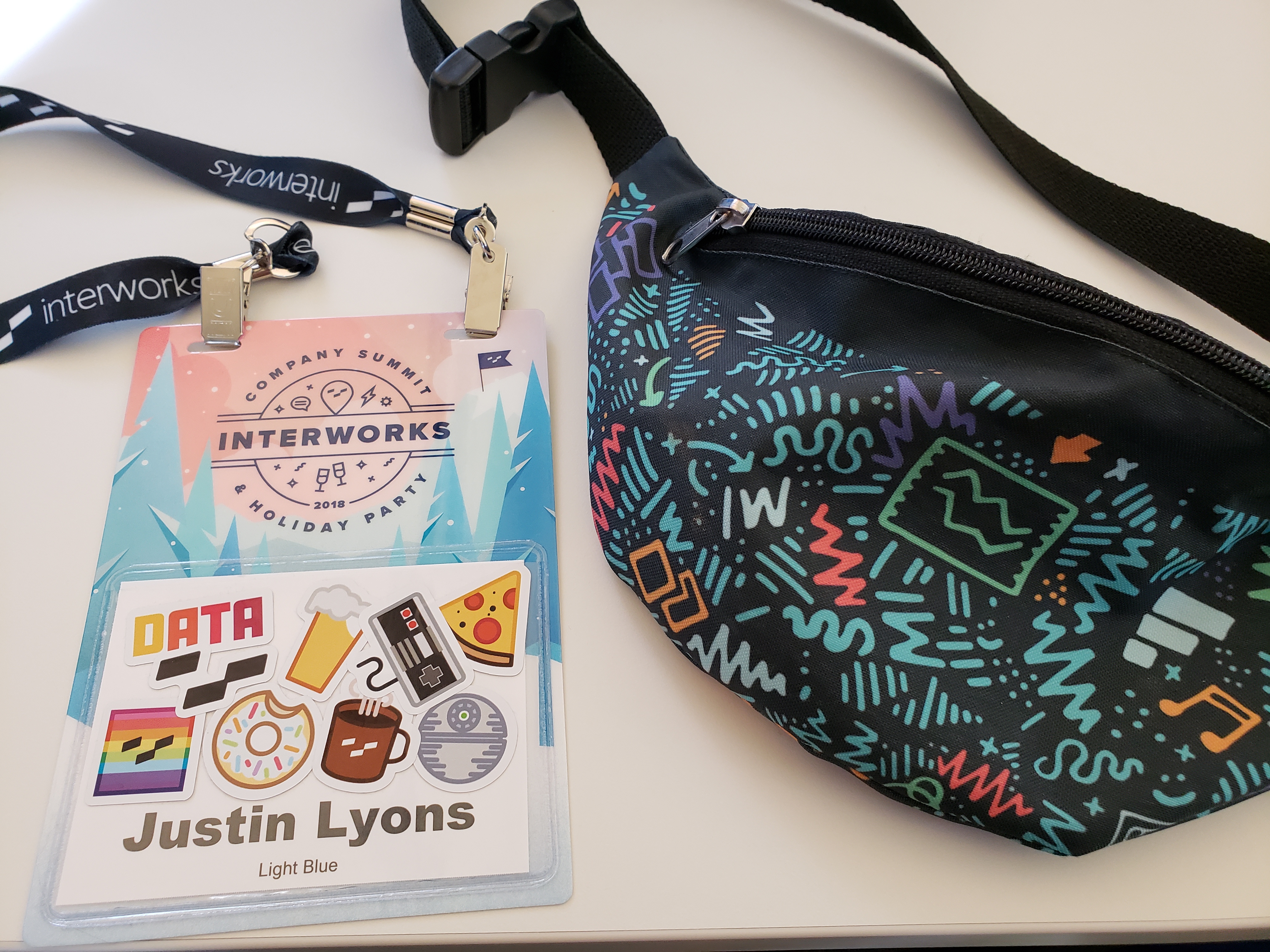 I wanted to be fully immersed in InterWorks culture, and I think I achieved that!
Sarah Dorfman 
Analytics Consultant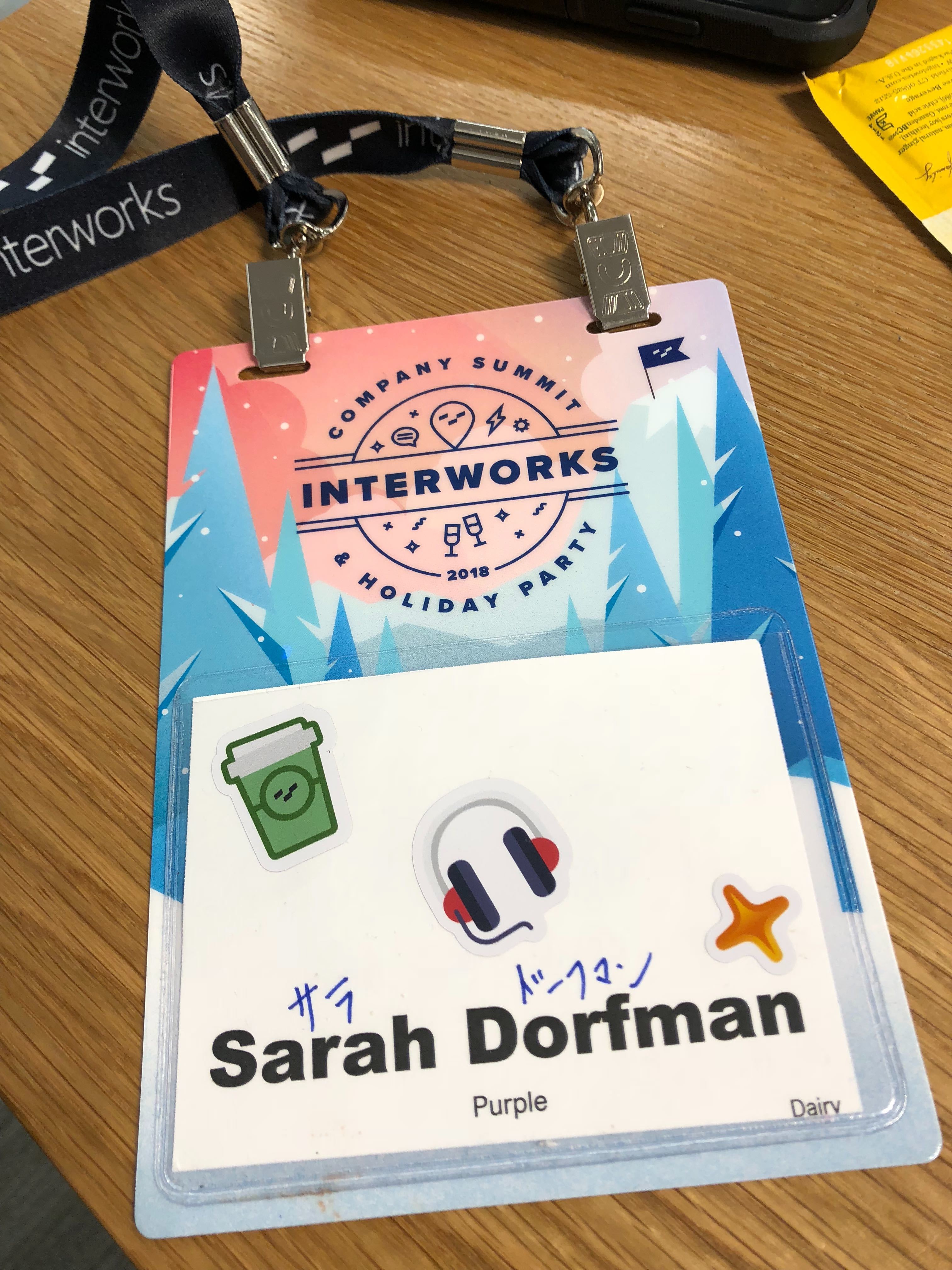 My travel survival guide: coffee, noise-canceling headphones and something sparkly (maybe?). I'm still not sure what that last one is. And I will also always find a way to talk about my love for Japan.
Marshall Roy 
Systems Engineer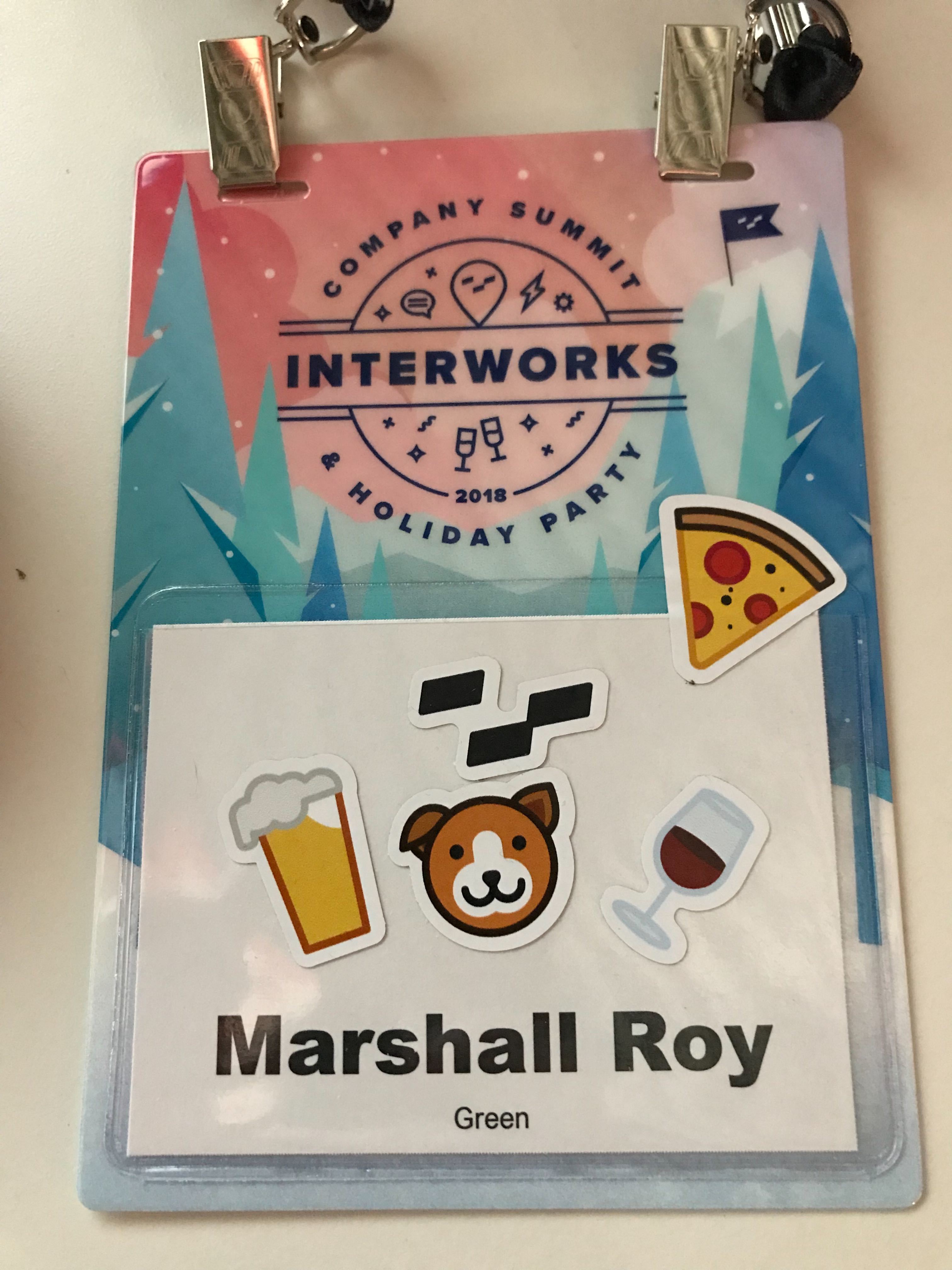 Pizza above everything; it's my kryptonite. I only had one dog sticker, but three run my life. Wine and beer for obvious reasons.
Robert Curtis 
Analytics Consultant / ANZ Practice Lead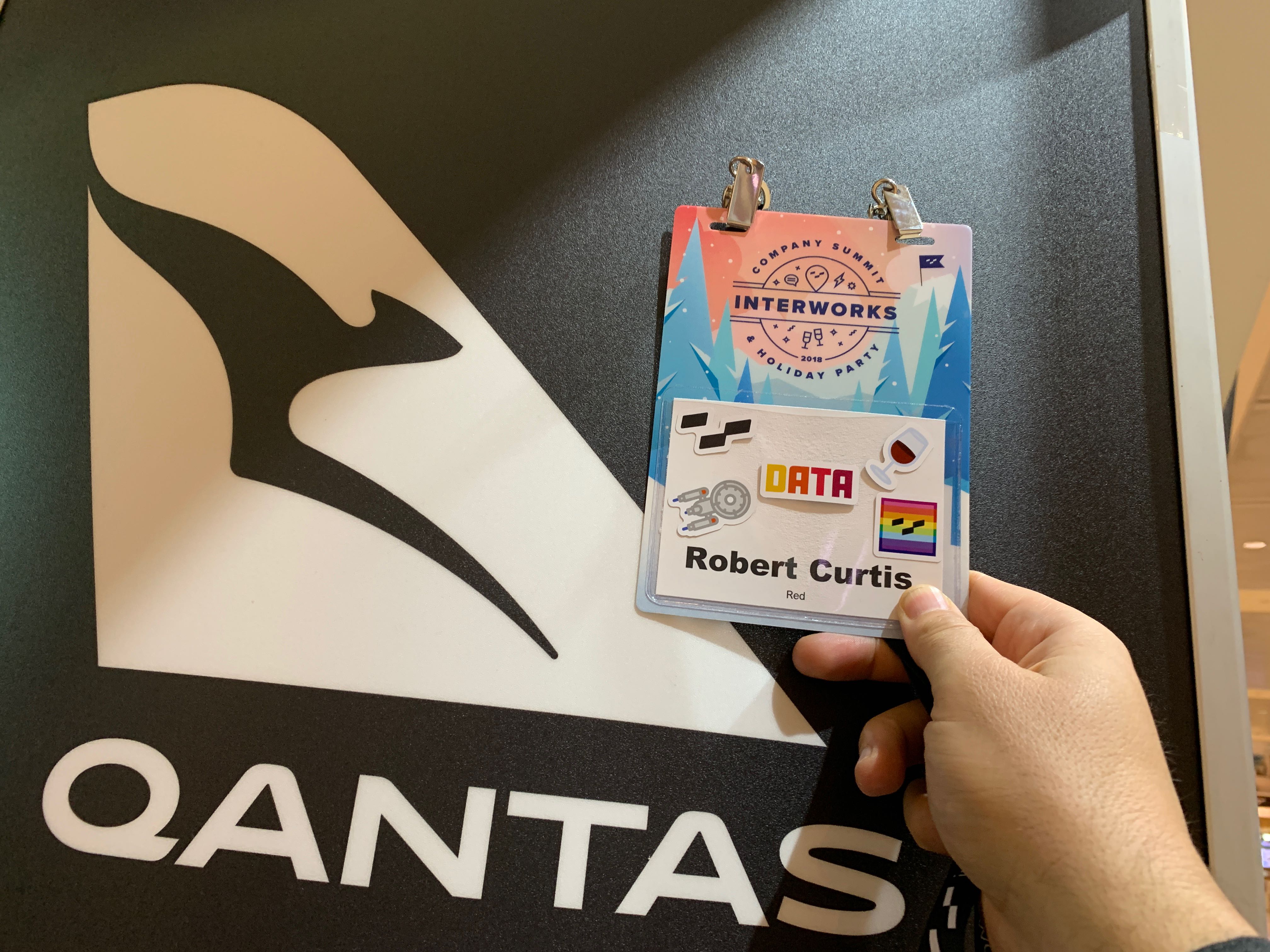 My stickers represent excellence in our work as a company, fun in our play, and drawing strength from brilliant people from all backgrounds to do cool sh*t, just like the USS Enterprise.
Kirsten Hoffman 
Business Intelligence Operations Manager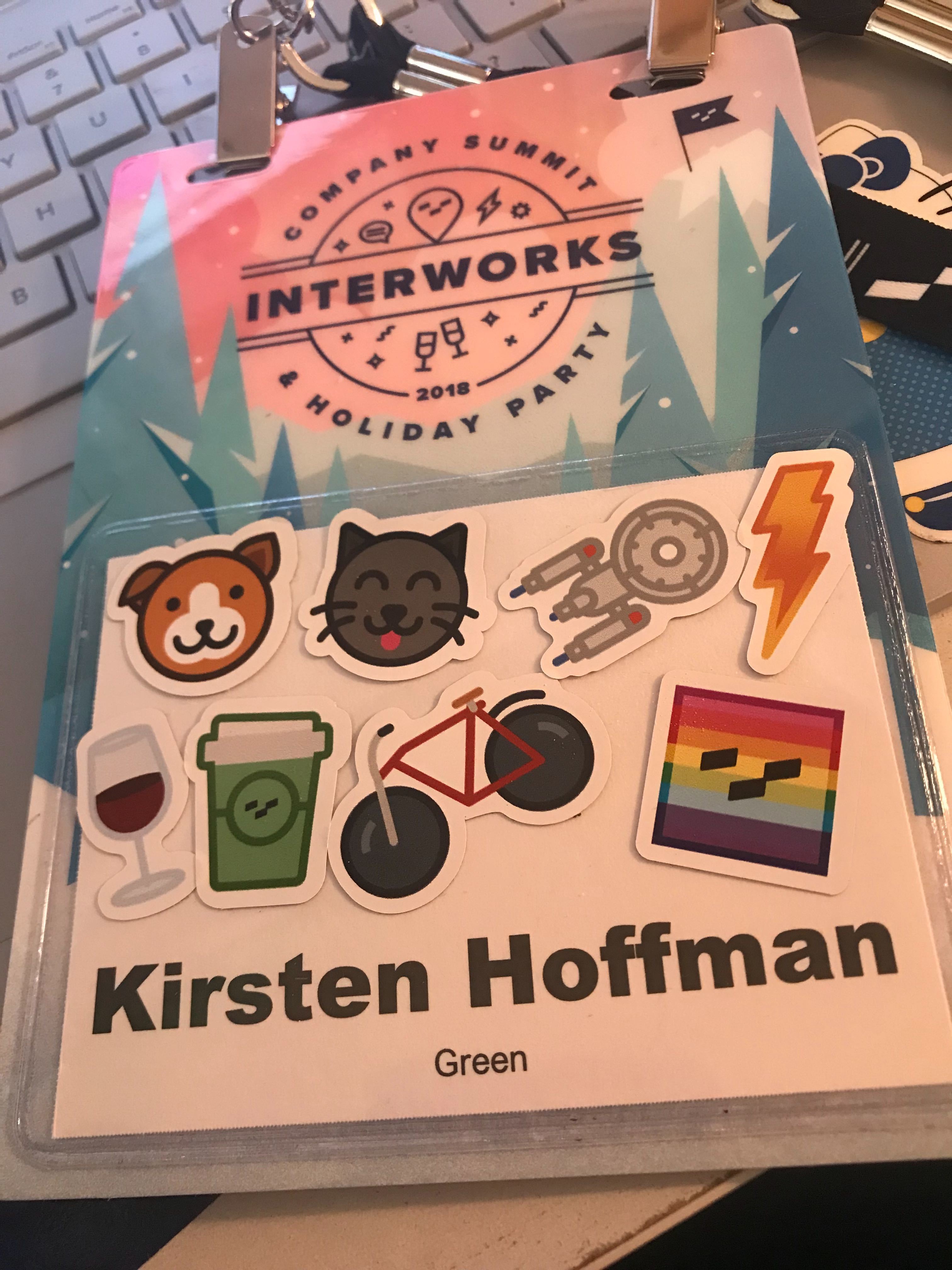 I have two dogs and two cats, and these stickers actually look like two of the animals. I went to a Star Trek convention when I was ten because I was obsessed with Next Generation. I used to coach a swim team called the Shockers (so … lightning bolt). I'm part of the secret society of IWers in Meiomi Homies, so that's the wine sticker. I drink probably one carafe of coffee at work a day, I've finished two Freewheels, and I am a fan of a diverse work environment.
Scott Matlock 
Regional IT Practice Lead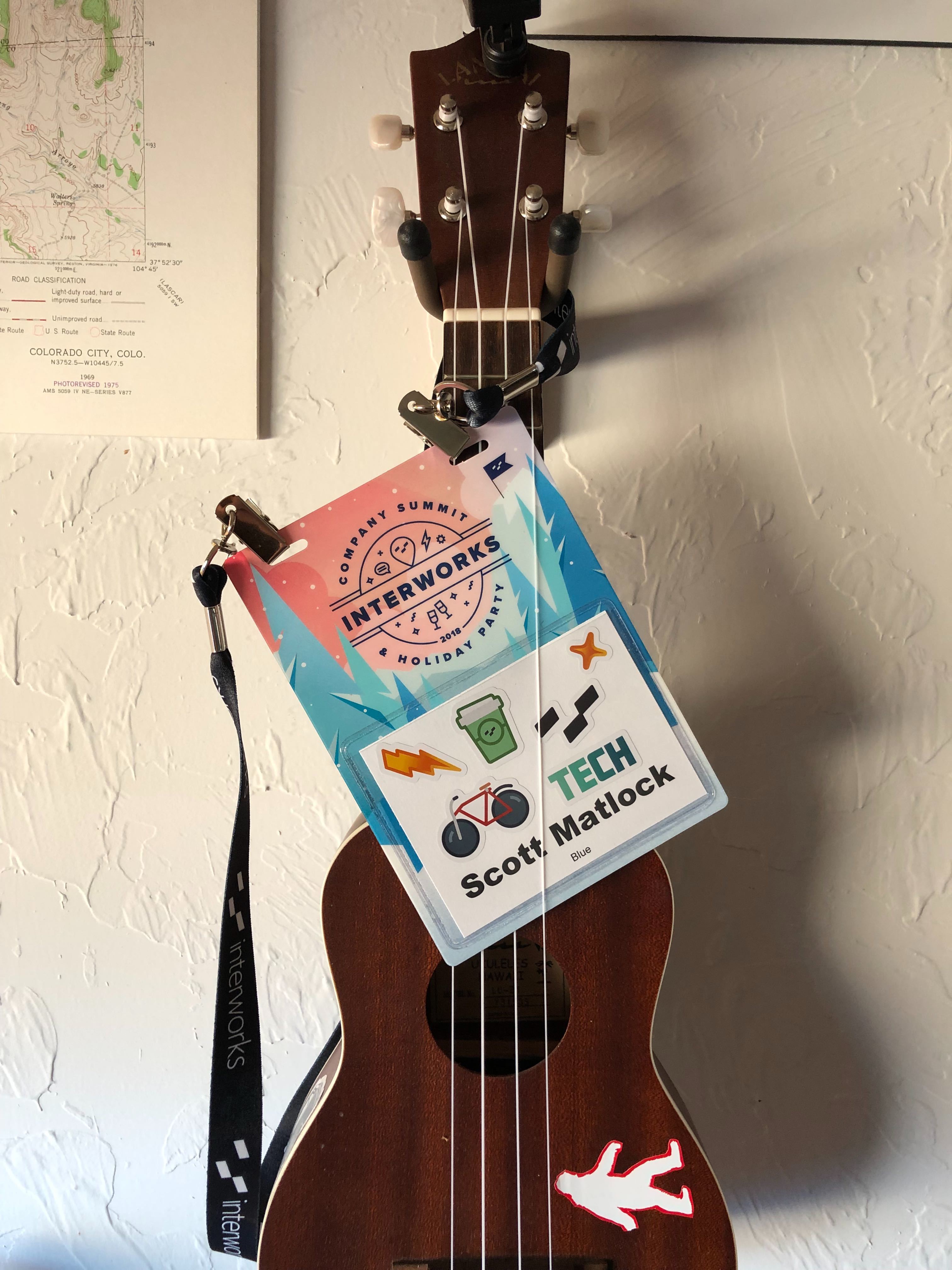 Not one of these can happen without the other. (Go blue team!)
Pam Teel 
Business Intelligence Accounts Coordinator
I love donuts and coffee, sometimes one needs noise-canceling headphones, and I love InterWorks.
Chris Armstrong 
Multimedia Manager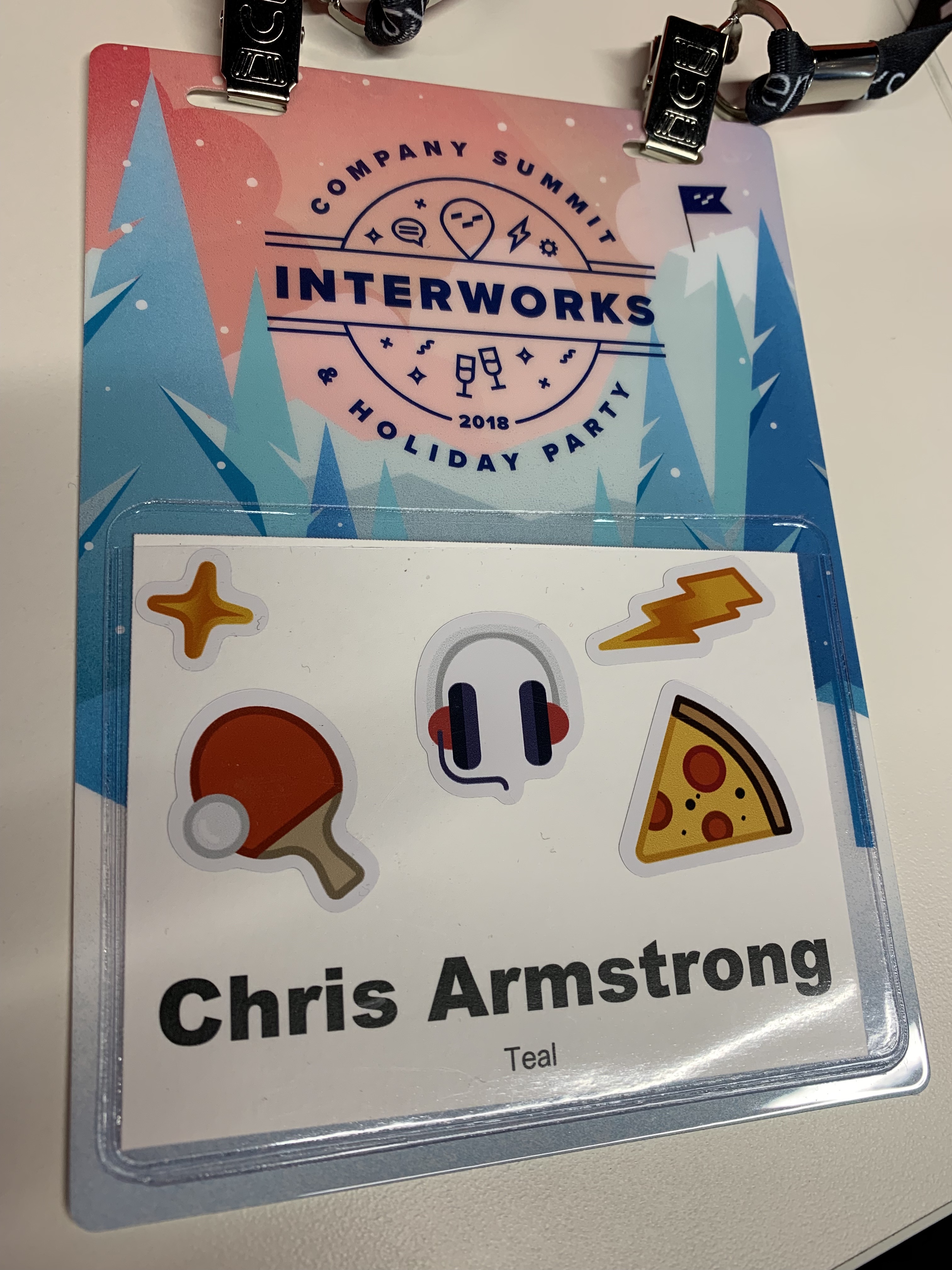 Life doesn't have background music, so you gotta have the headphones to make your own. The ping pong culture is strong in Tulsa. Pizza, duh. And I'm with Rachel—the lightning bolt is the closest Harry Potter thing on there (or OKC Thunder). Star/sparkle for balance. (Also, go teal team!)
Garrett Sauls 
Content Strategy Manager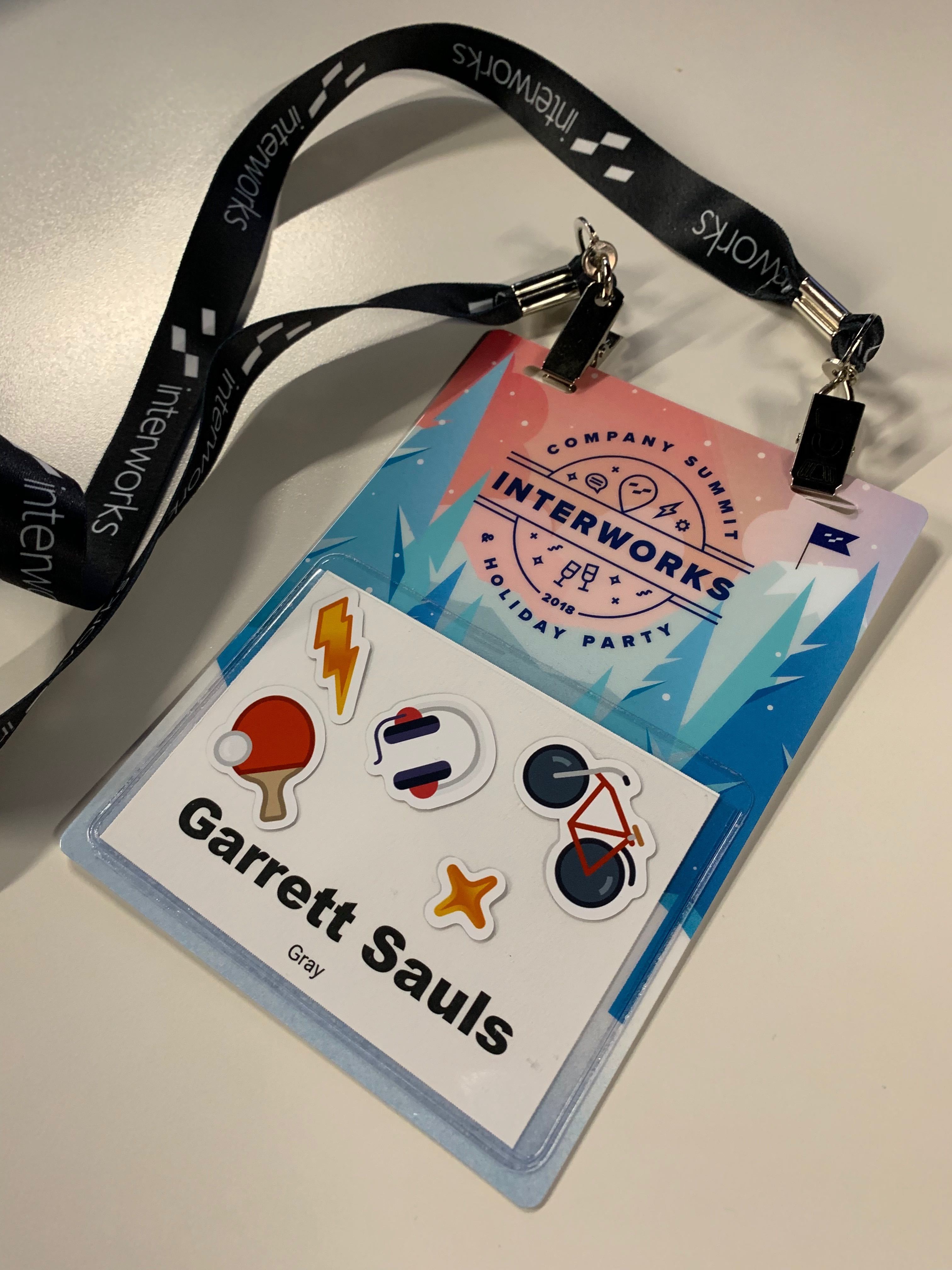 My name tag includes a ping pong paddle + ball as it is the official sport of the City of Tulsa. Headphones represent my love for music and avoiding conversations when I see fit. The bike is because I love cycling, especially when it involves touring Braum's establishments across the state of Oklahoma. Lightning is because I'm incredibly fast at tripping over myself and army-crawling to bases in company kickball tournaments. Finally, the sparkle represents the gleam in my eye anytime someone says the word ' blog.'
Daniel Holm 
Director of Enterprise Solutions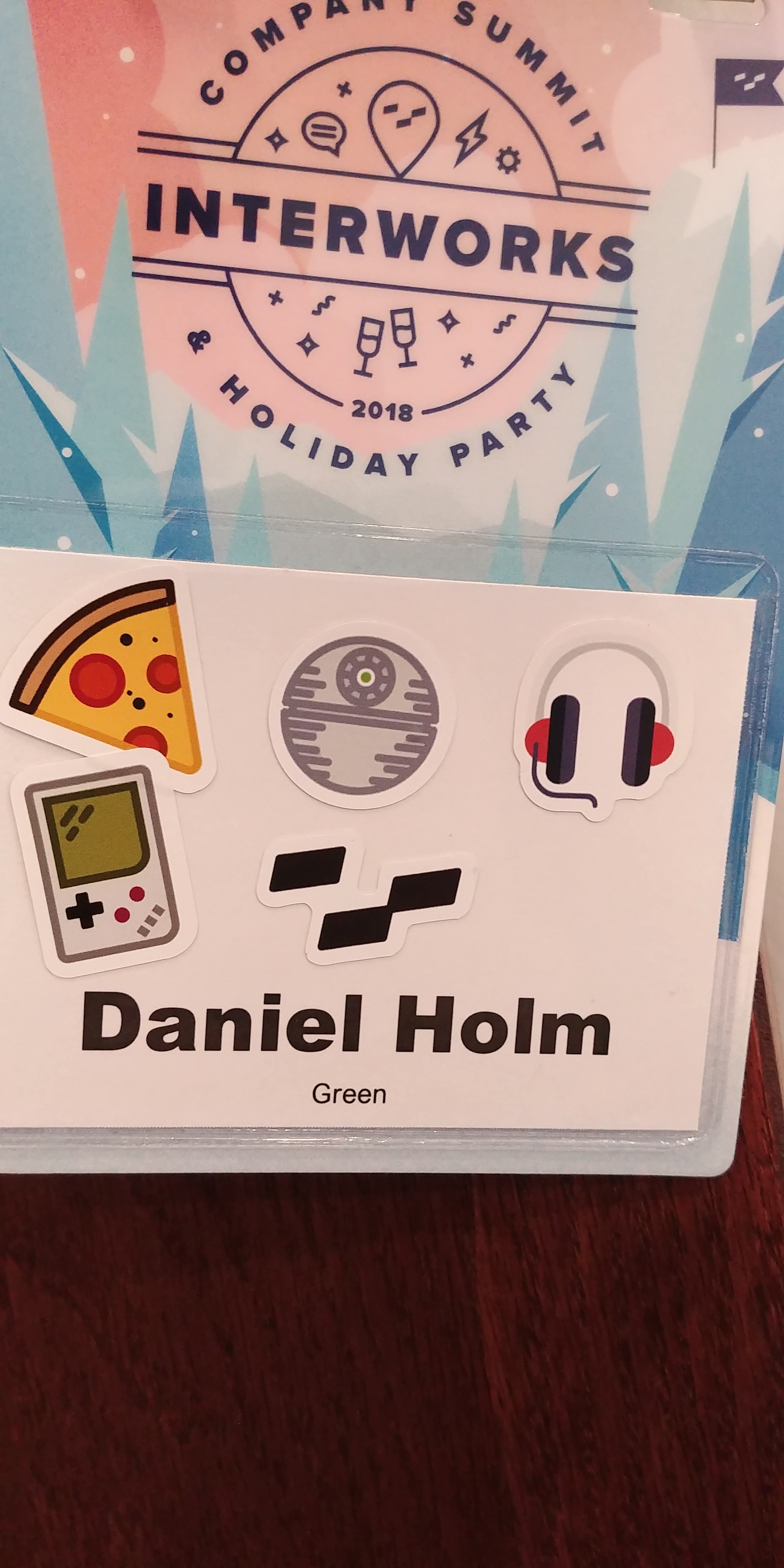 Pizza is the best food for a busy tech, Star Wars > Trek, music is essential, Game Boy was my first handheld, and we wrap up with the best place to work.
Timothy Adams 
Software Support and Quality Assurance Specialist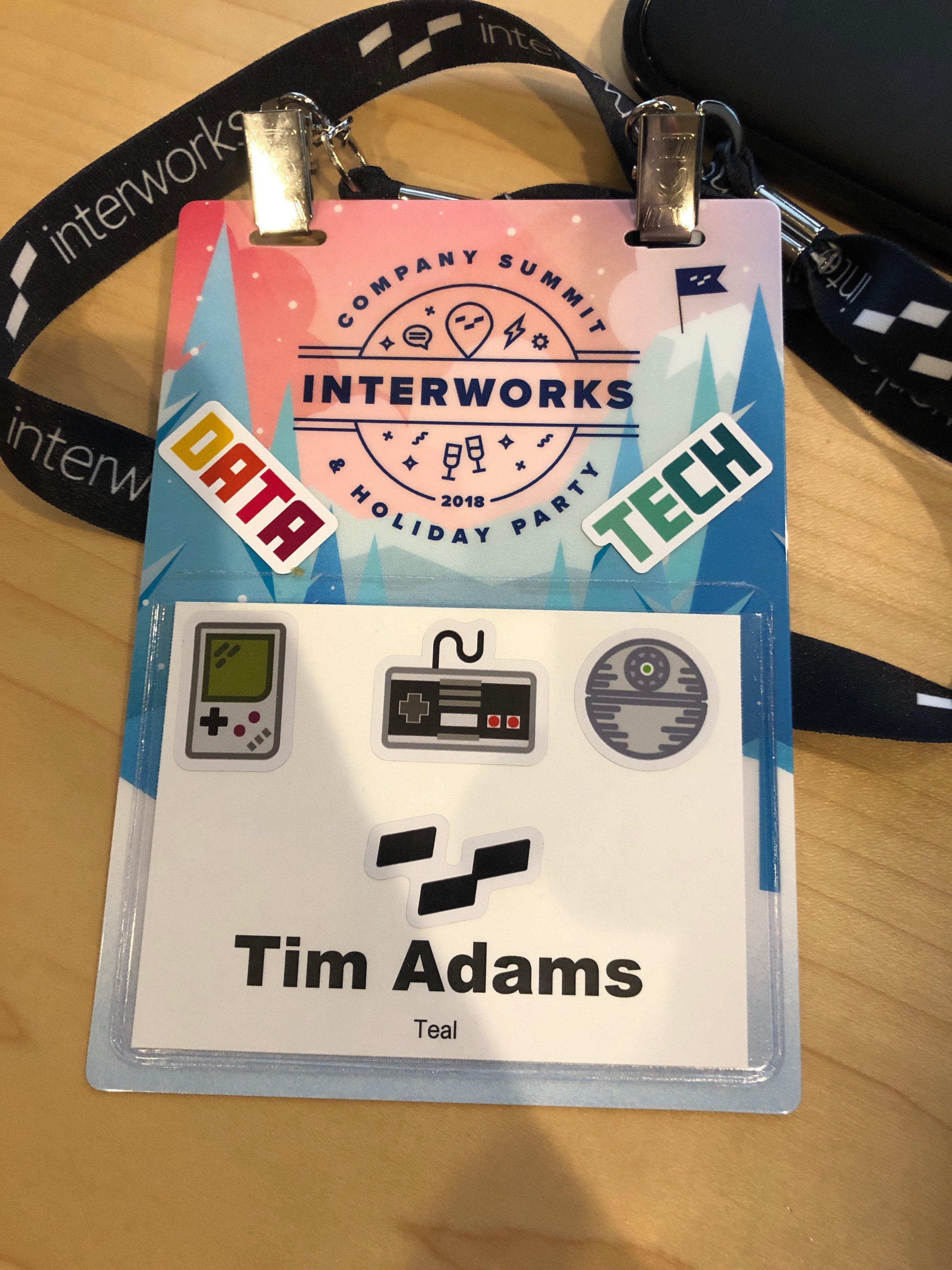 While the child in me (or the two of my own) wanted to put all the stickers in any spot possible, I chose the above to represent some of the qualities that first connected me to InterWorks and showed that I could fit into the company's culture. Tech and data have always been fun and interesting topics that have helped me stand apart from others. The other stickers show that my childhood was filled with Star Wars and any video game I could get the time to play … especially anything Nintendo.
Alex Suarez 
Data Architect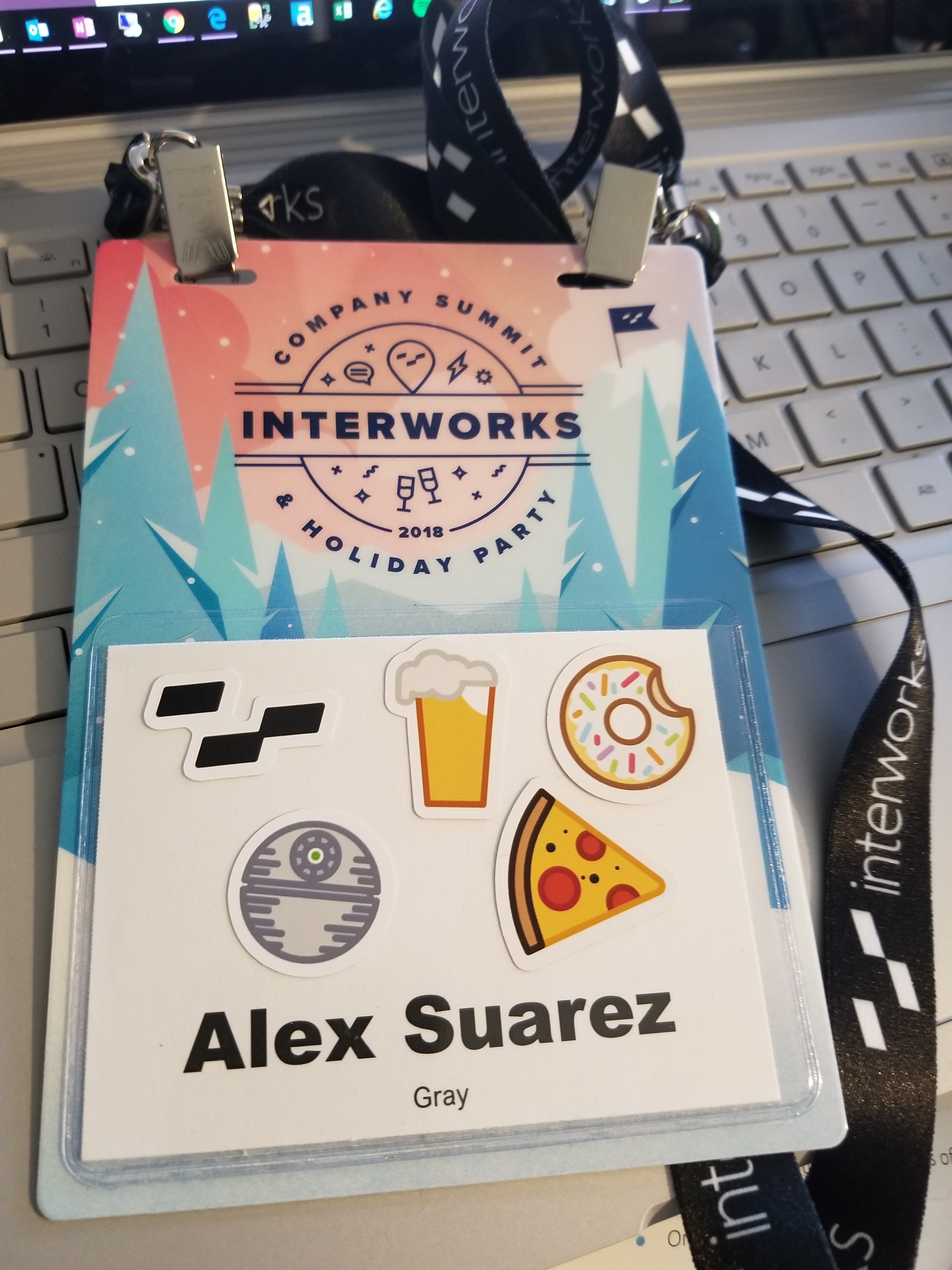 InterWorks logo, of course, before everything—immediately followed by beer, pizza and donuts to fuel such amazing work. And finally, the Death Star reminds me of my little girl (Darth Vader is her spirit animal), who I do all of this for.
Katie Bridges 
Analytics Consultant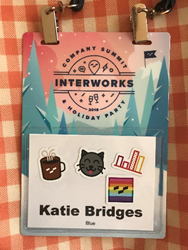 When I thing about the things I'm grateful for, three things that at the top of that list are community (data/tech, LGBTQ), coffee and my cat.
Karl Young 
Data Architect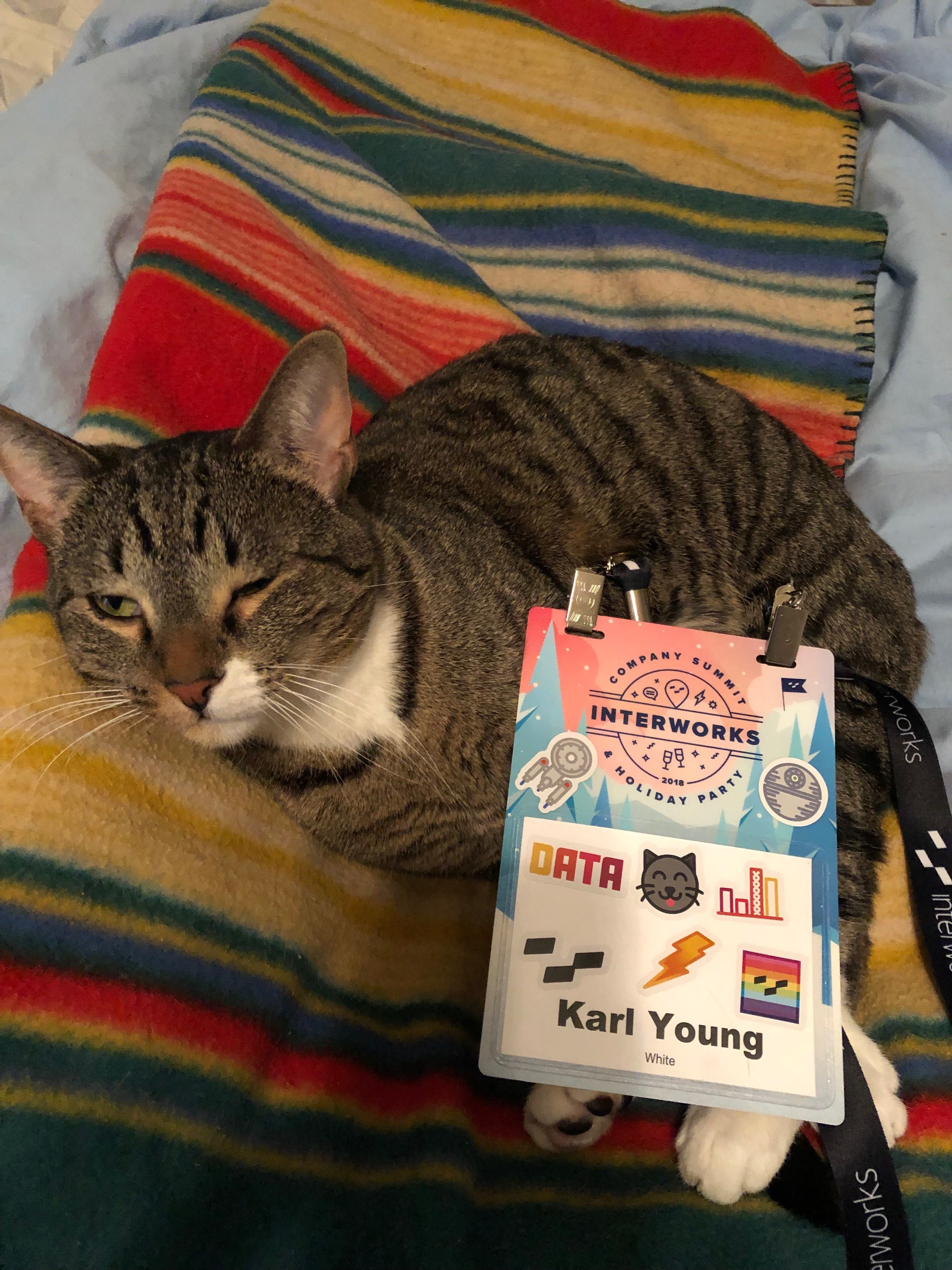 Data cat. I like InterWorks, and I like rainbows. 'Nuff said.
Jenny Parnell 
Global Marketing Manager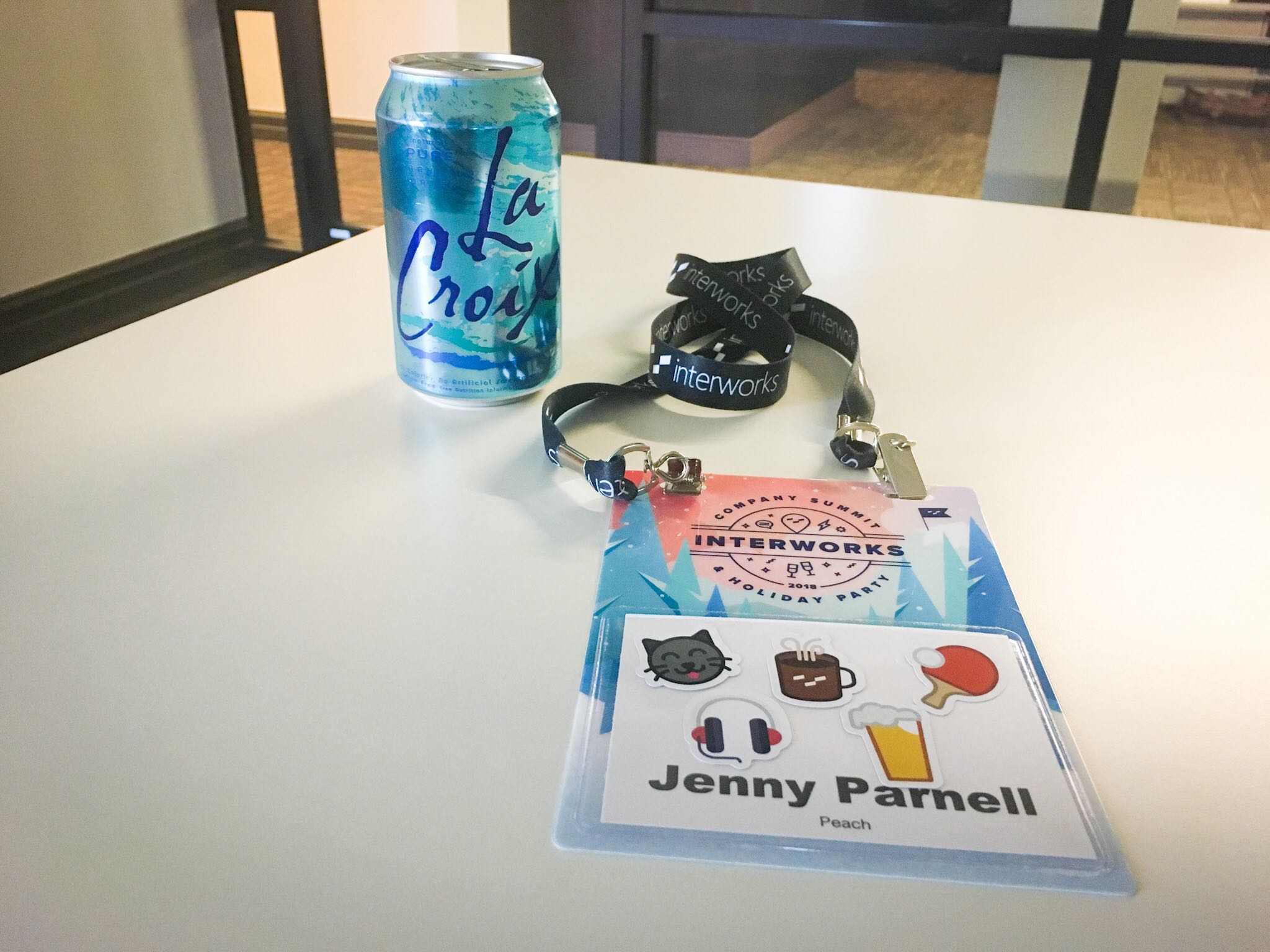 Who thought so much could be said about one person through just a few stickers? I have two cats and even a tattoo in memory of my soulmate-cat. I spent six years in the coffee biz, and that likely has something to do with me being hired at InterWorks in the first place. Ping pong: I can't beat Alex Gelmers, but otherwise I'd say I am pretty decent. Music is a big part of everyone's life and daily routine, right? What's playing in my headphones? Probably Radiohead. A favorite pastime of mine is doing yard work in the summer heat and rewarding myself with a cold beer. Plus, InterWorks has beer Fridays. And lastly, La Croix wasn't a sticker option this time around, but it made the photo cut.
Chelsie Wilson 
Human Resources Coordinator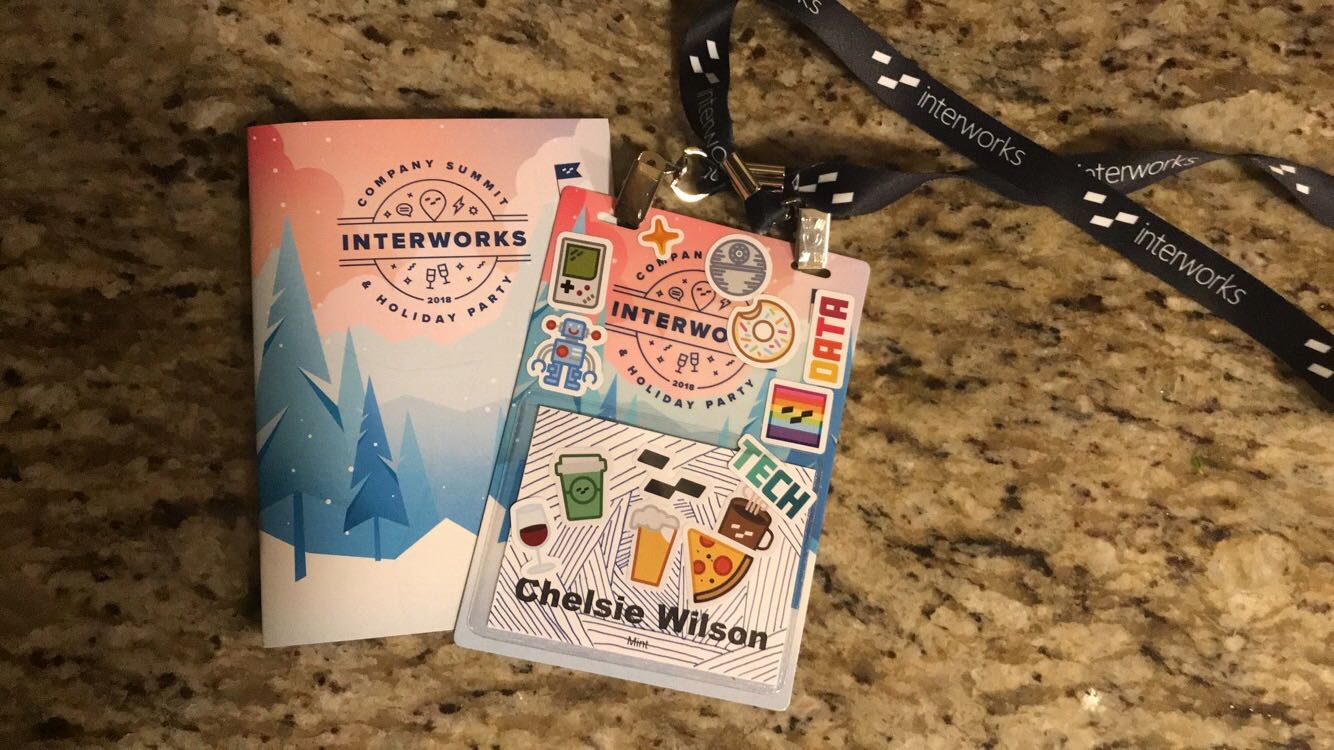 I decided to add ALL. THE. THINGS. And used it as my doodle pad. (keeping it cluttered just like my brain lol)
James Keel 
Systems Administrator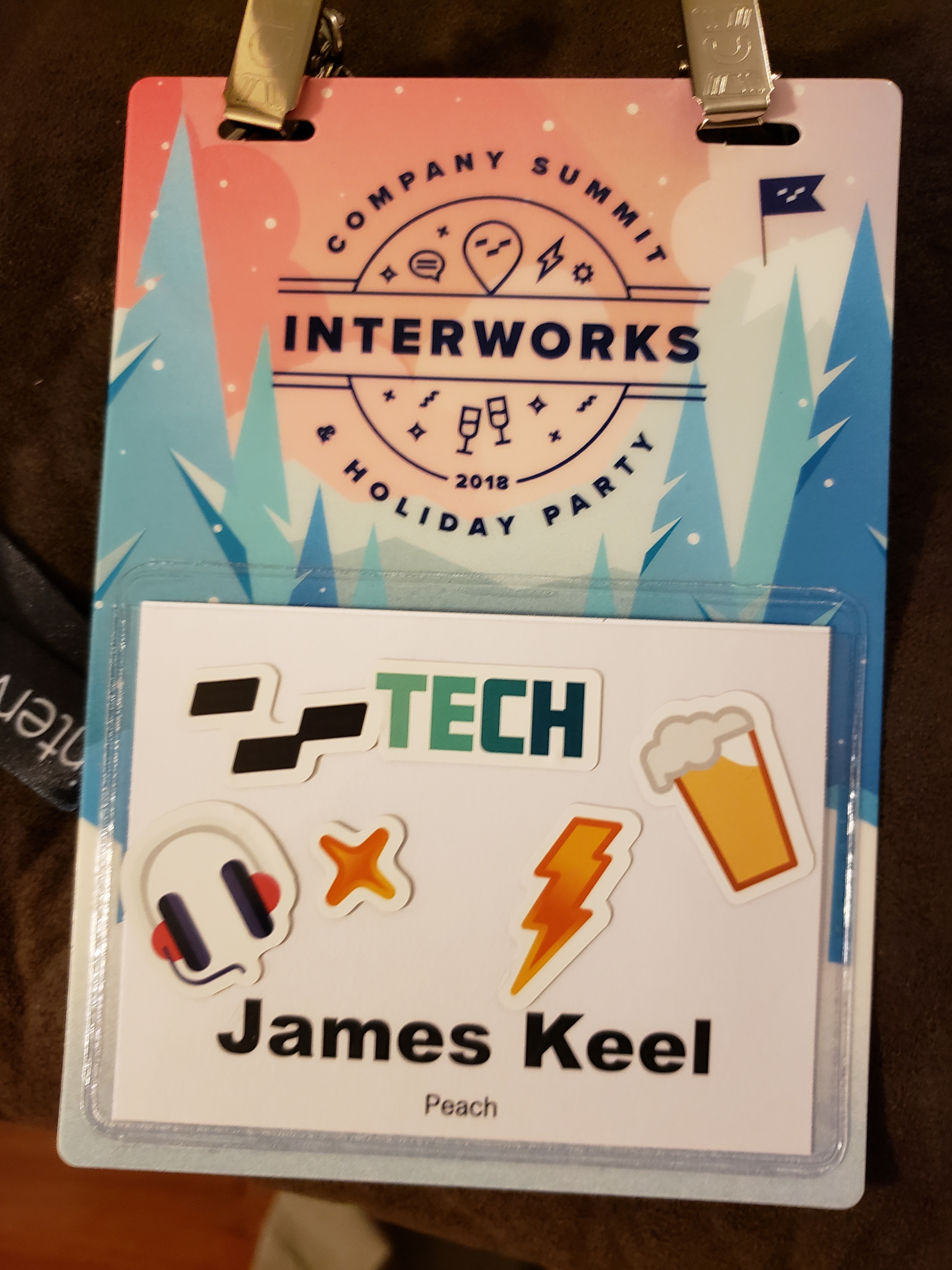 Team Peach + InterWorks + Tech + Headphones + Lightning + Beer + Ninja flair = James Keel
Justin Teague 
Systems Administrator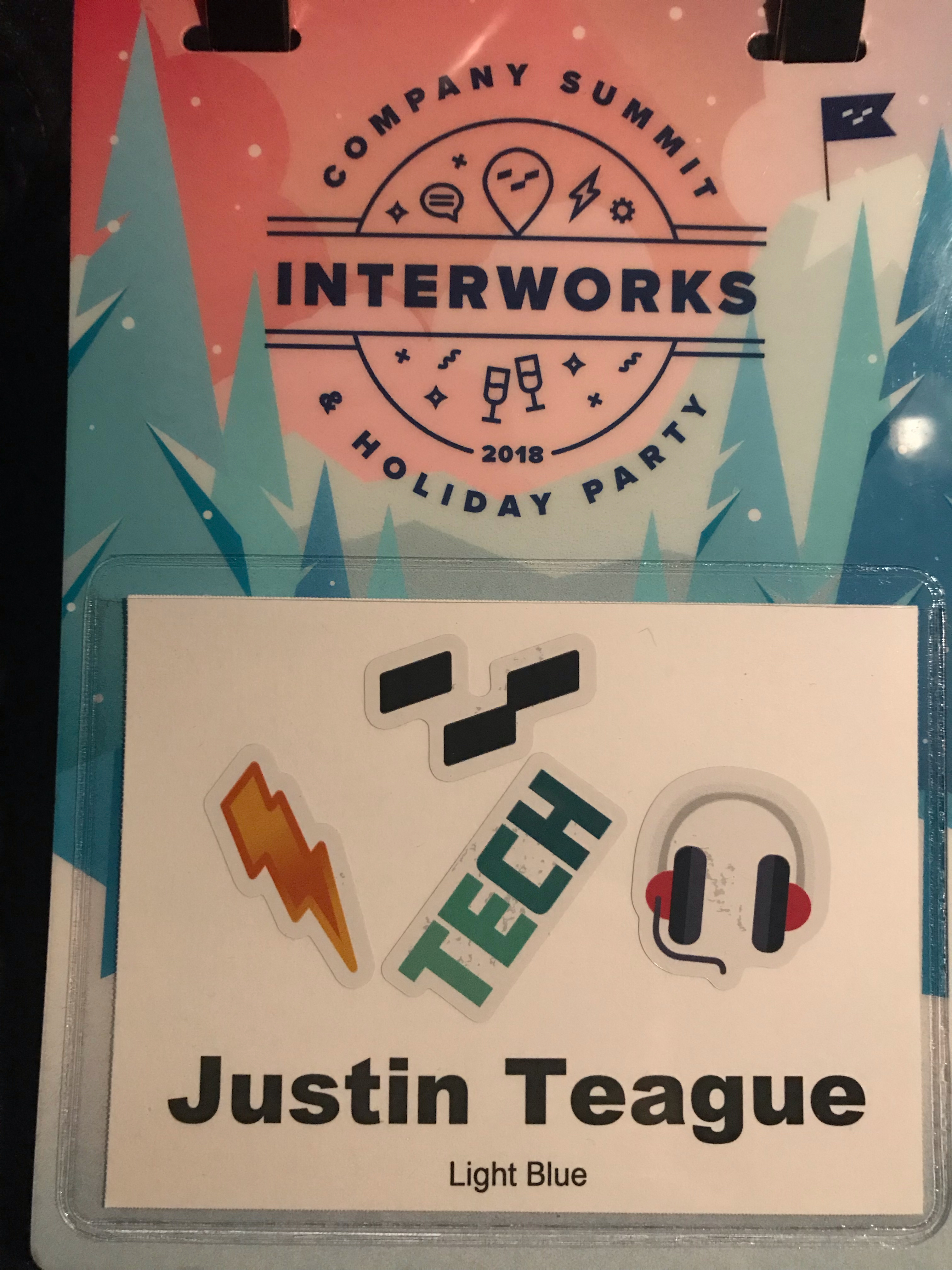 Tech is at the heart of who I am: A storm chaser.  A music lover.  An InterWorks ninja.
Debbie Yu 
Analytics Consultant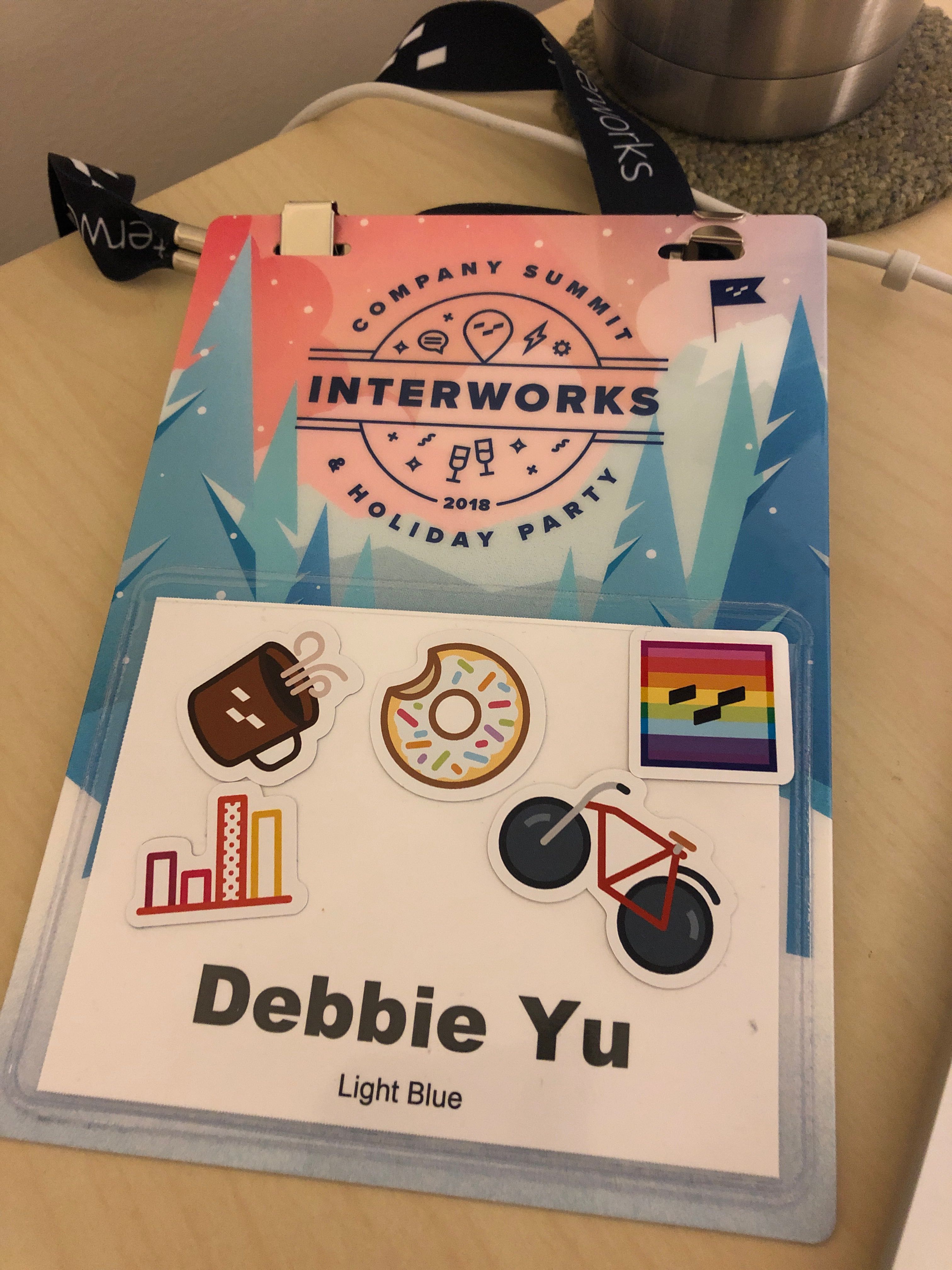 Chart because viz lab; bike, coffee and donuts because Portland in a nutshell; and rainbow sticker because allyship.
Tobiah McConnell 
Analytics Consultant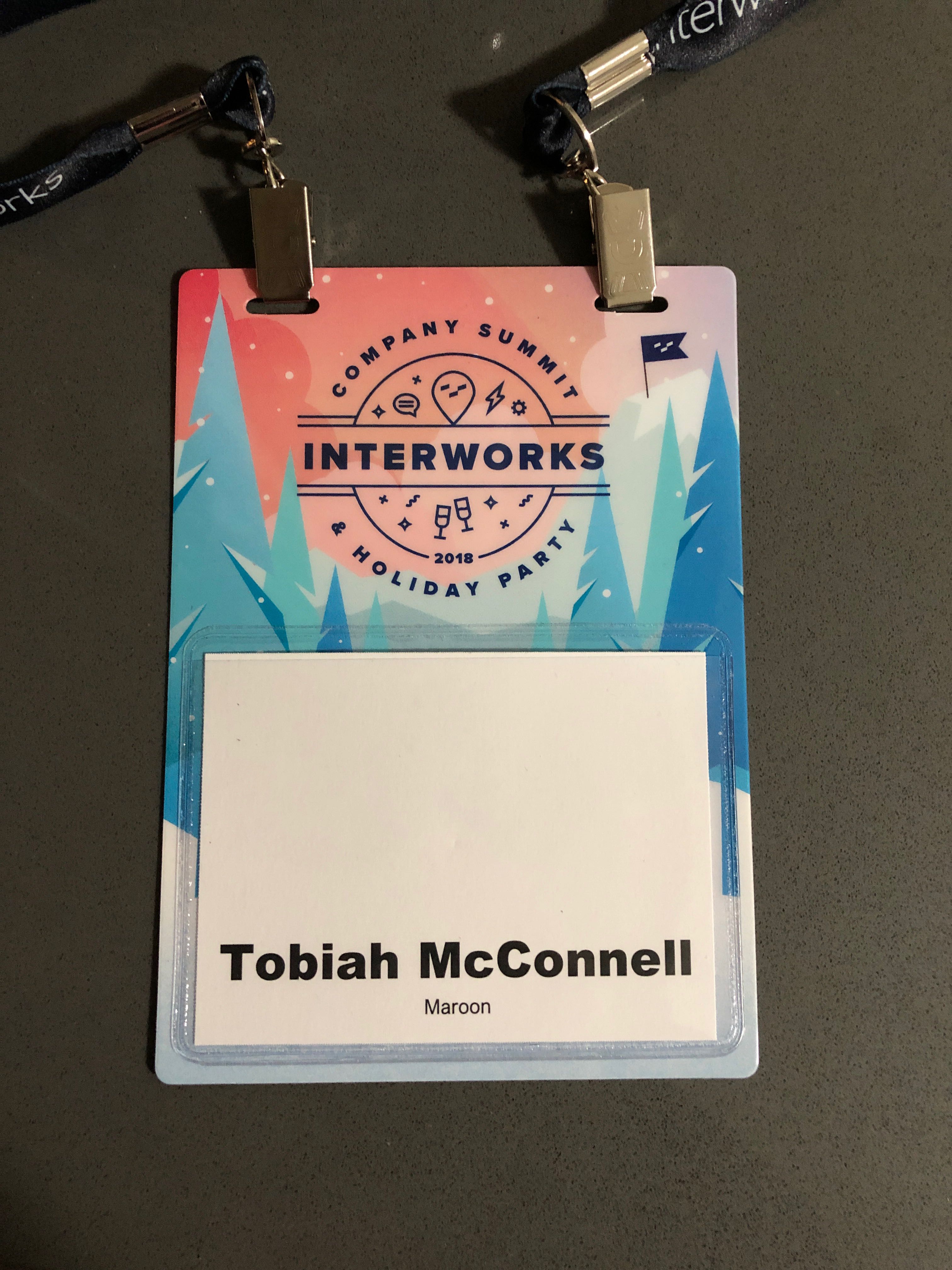 Minimalist
Darien Smith 
Systems Engineer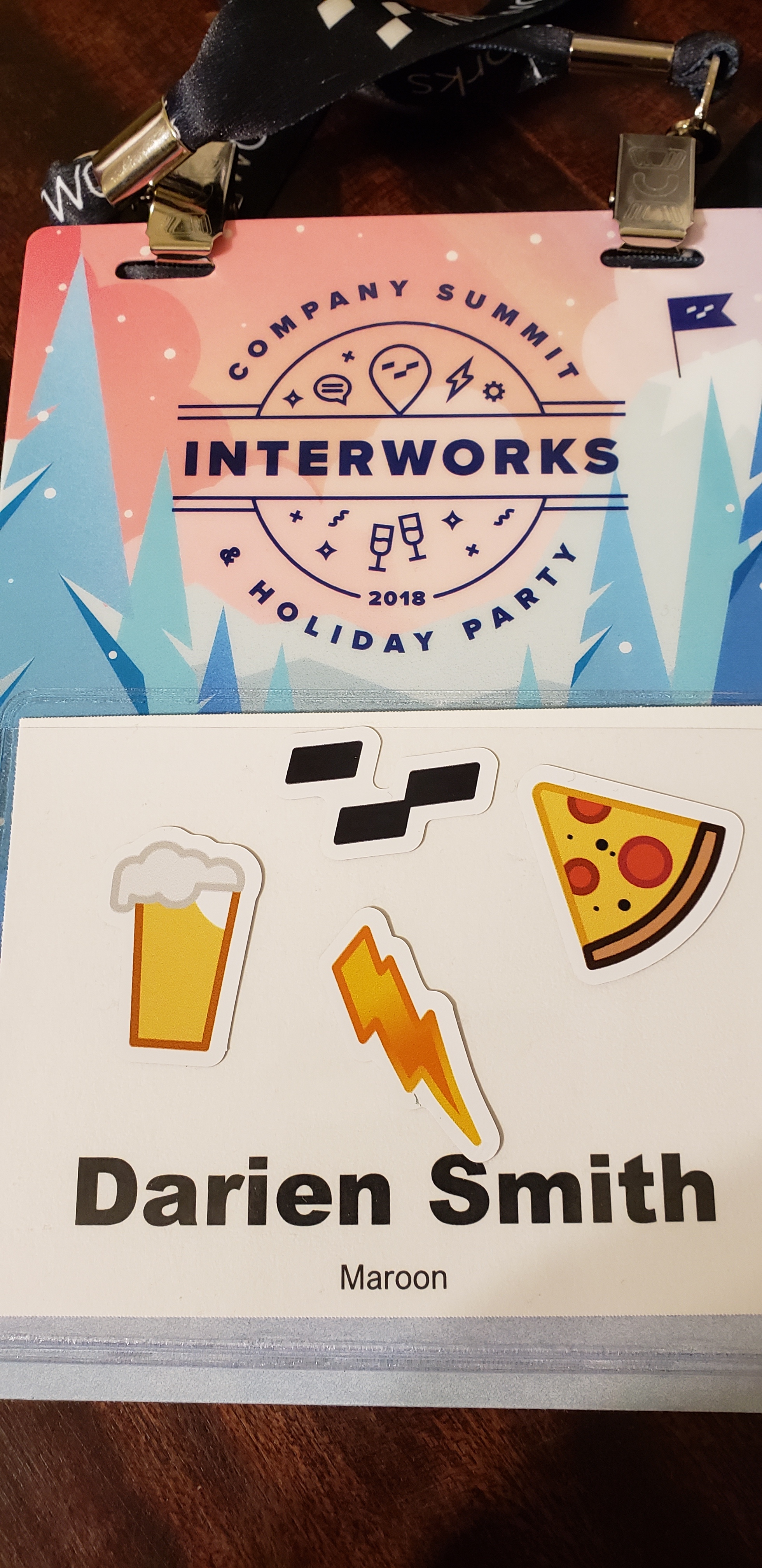 Beer, pizza, pizza, beer, InterWorks!
Brooks Barth 
Analytics Consultant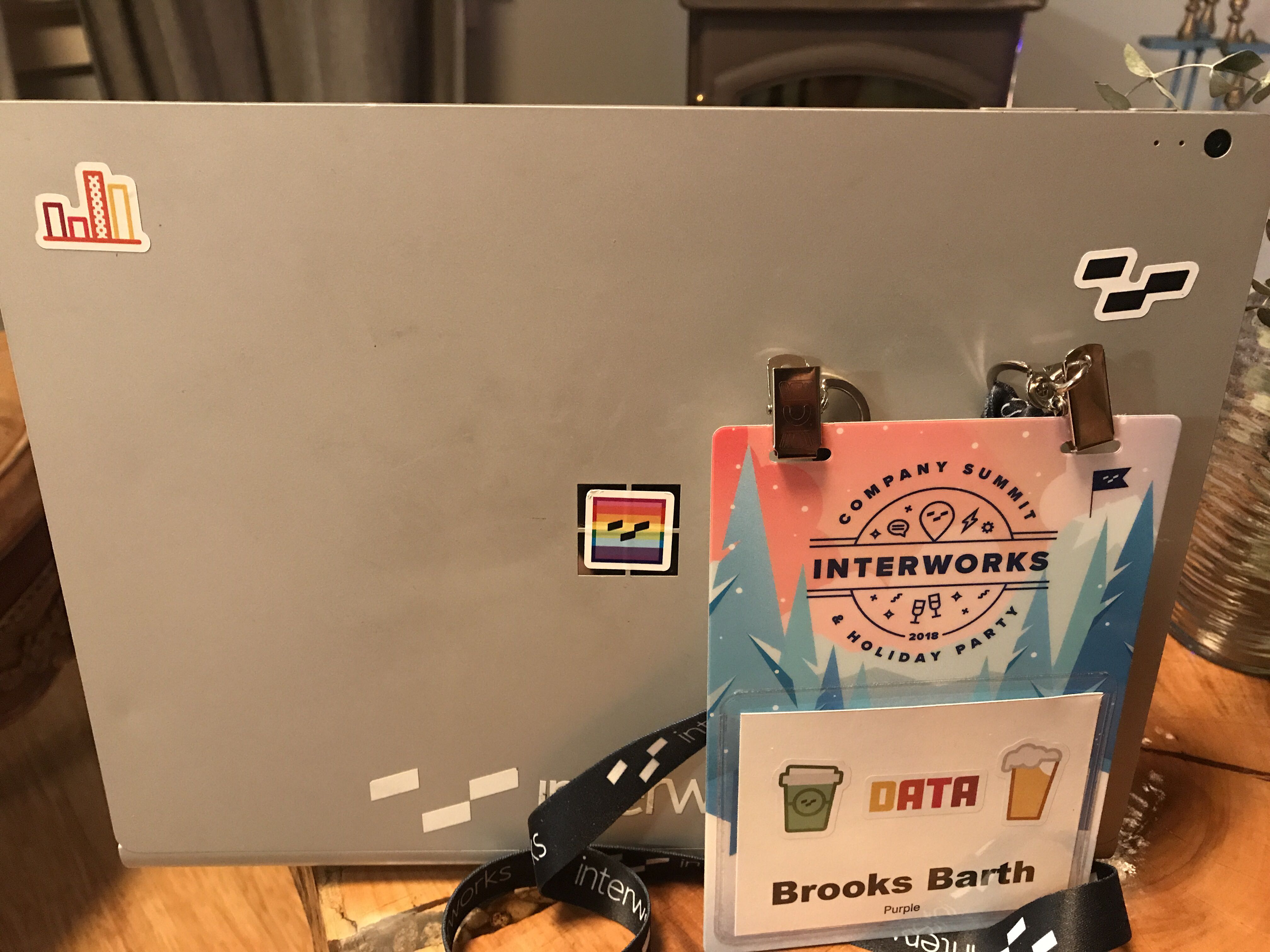 Coffee > Data > Hoppy beer (rinse and repeat).  I also saved my groovy new IW PRIDE sticker to proudly rep!
Eli Sprague 
Global IT Support Manager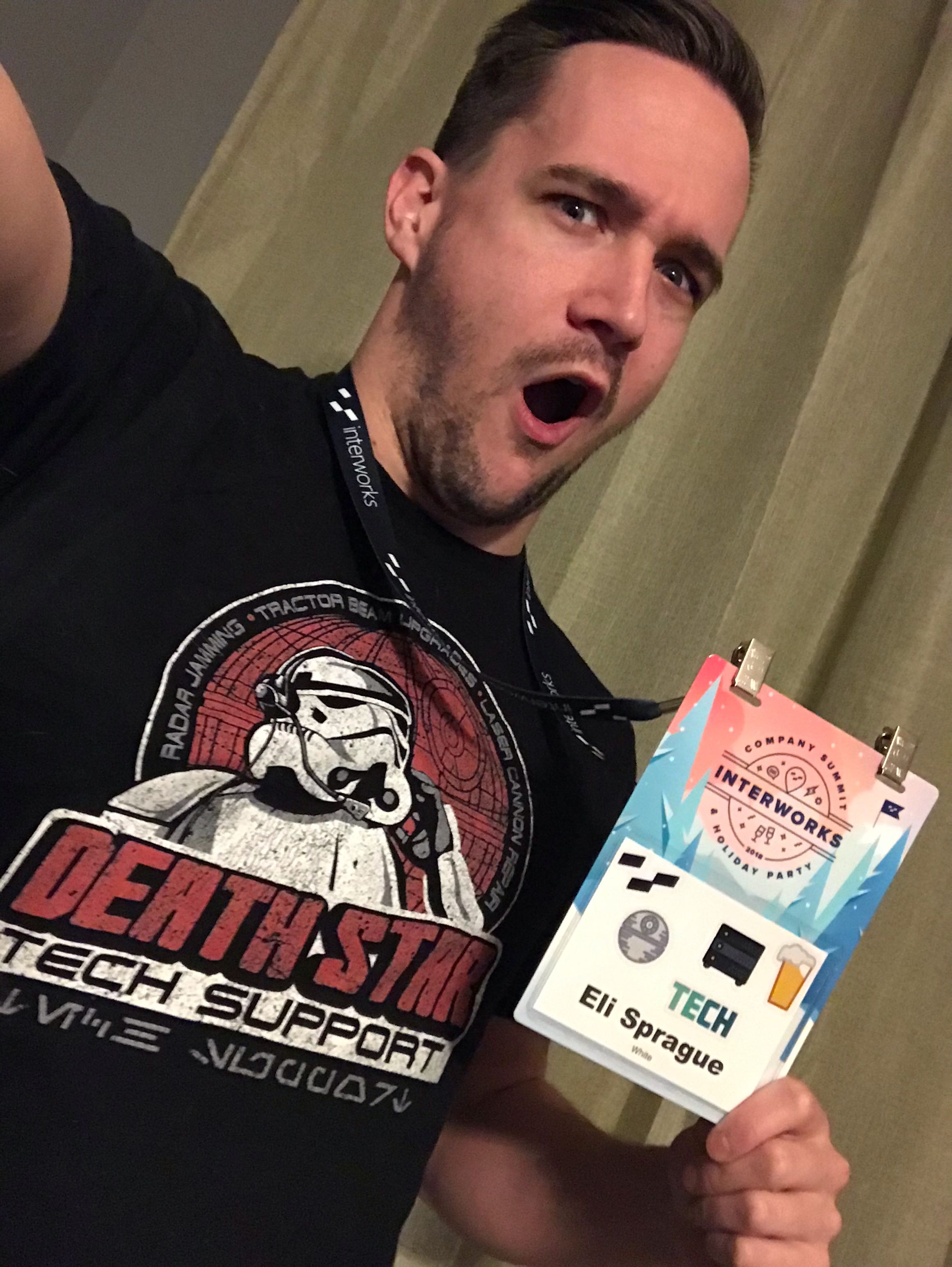 Yes, we have the Millennium Falcon as one of our company ships … but have I ever told what our mothership in Stillwater truly is?!
Tyler Palesano 
Software Engineer
The eternal question: Star Wars or Star Trek?
Morgan Edwards 
Marketing Events Coordinator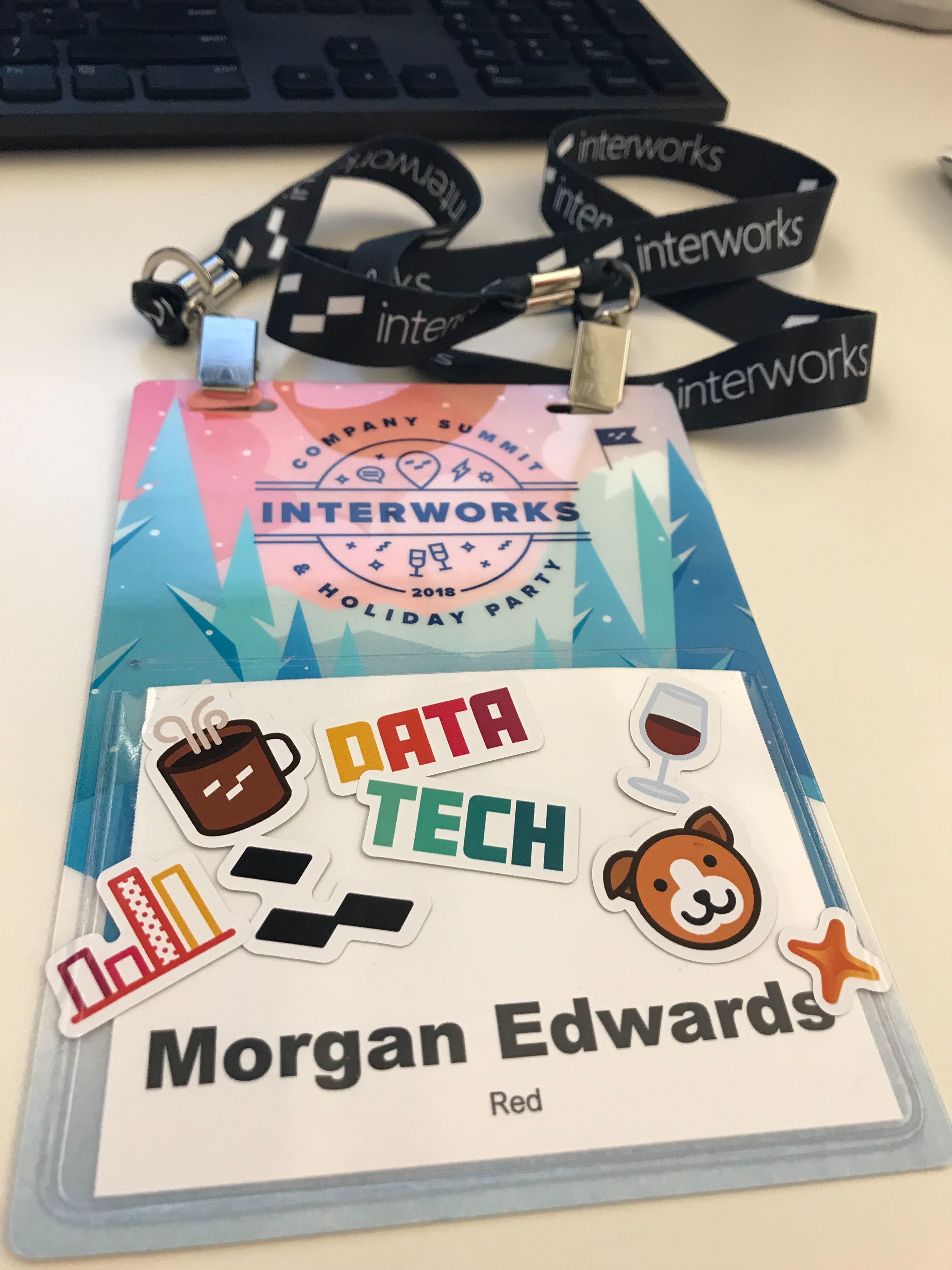 Morning: Coffee. Afternoon: Data and tech events at IW. Evening: My sweet puppy, Ellie, and a glass of wine.
Maxwell Croft 
Analytics Consultant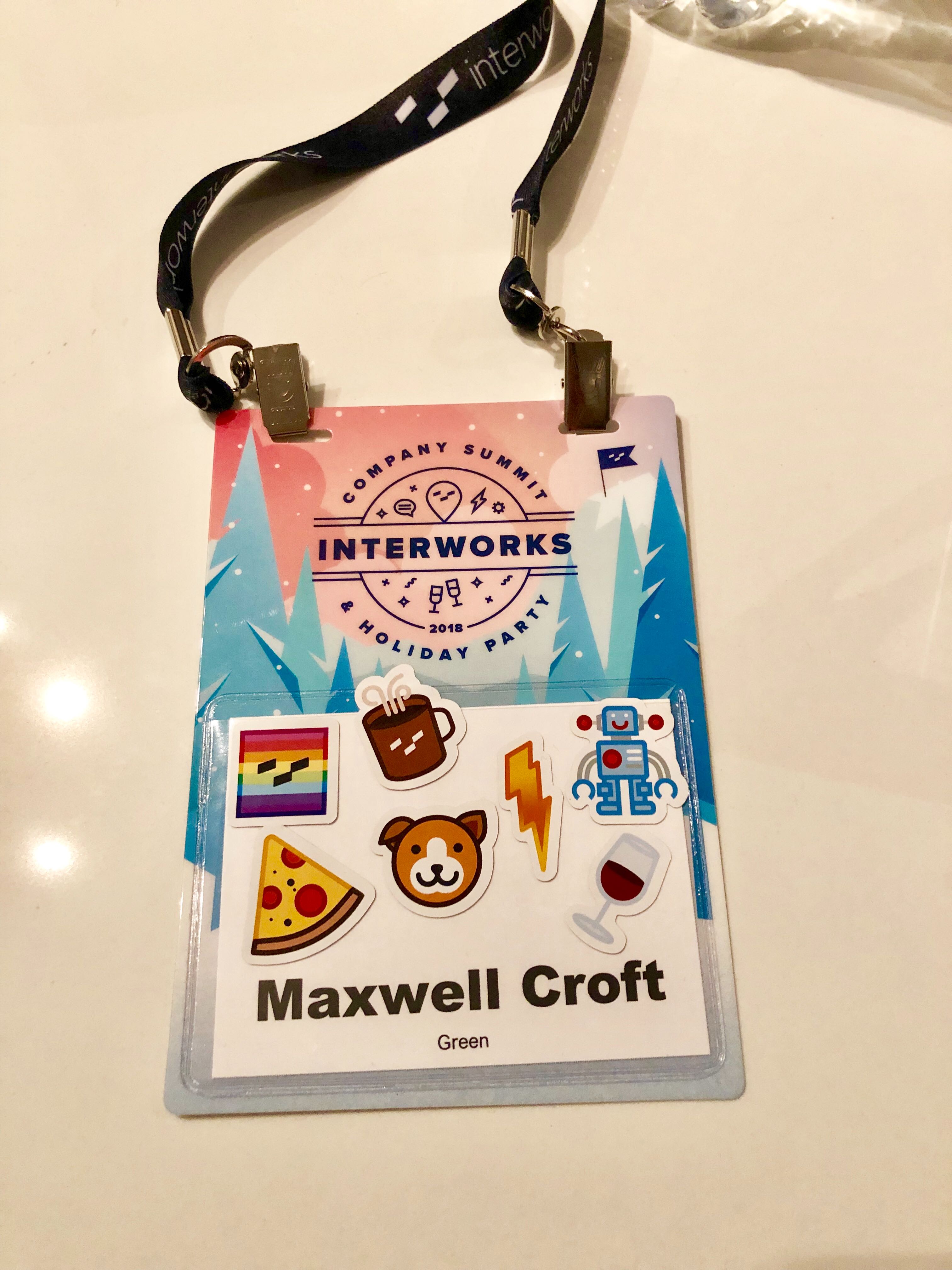 Coffee for life, robots keep my inner engineer alive, who doesn't love pizza, lightning bolt represents my personality 😊, wine always, and pride sticker because I love myself!
Ryan Callihan 
Analytics Consultant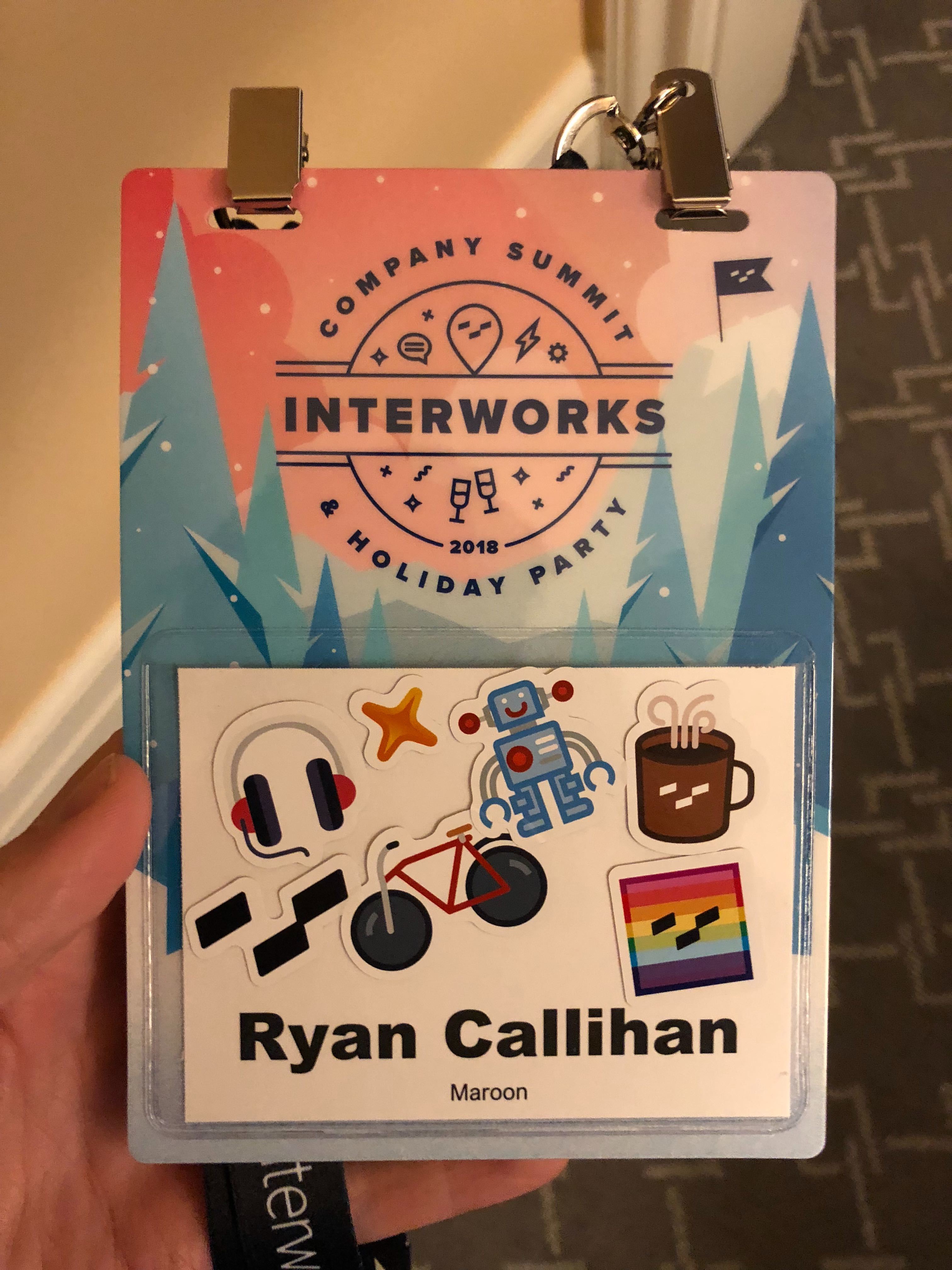 Coffee gives me the morning energy to ride my bike to the office and pretend I'm a robot while number crunching and creating visualizations for cool clients. Oh, and I love InterWorks!
Paul Field 
Analytics Consultant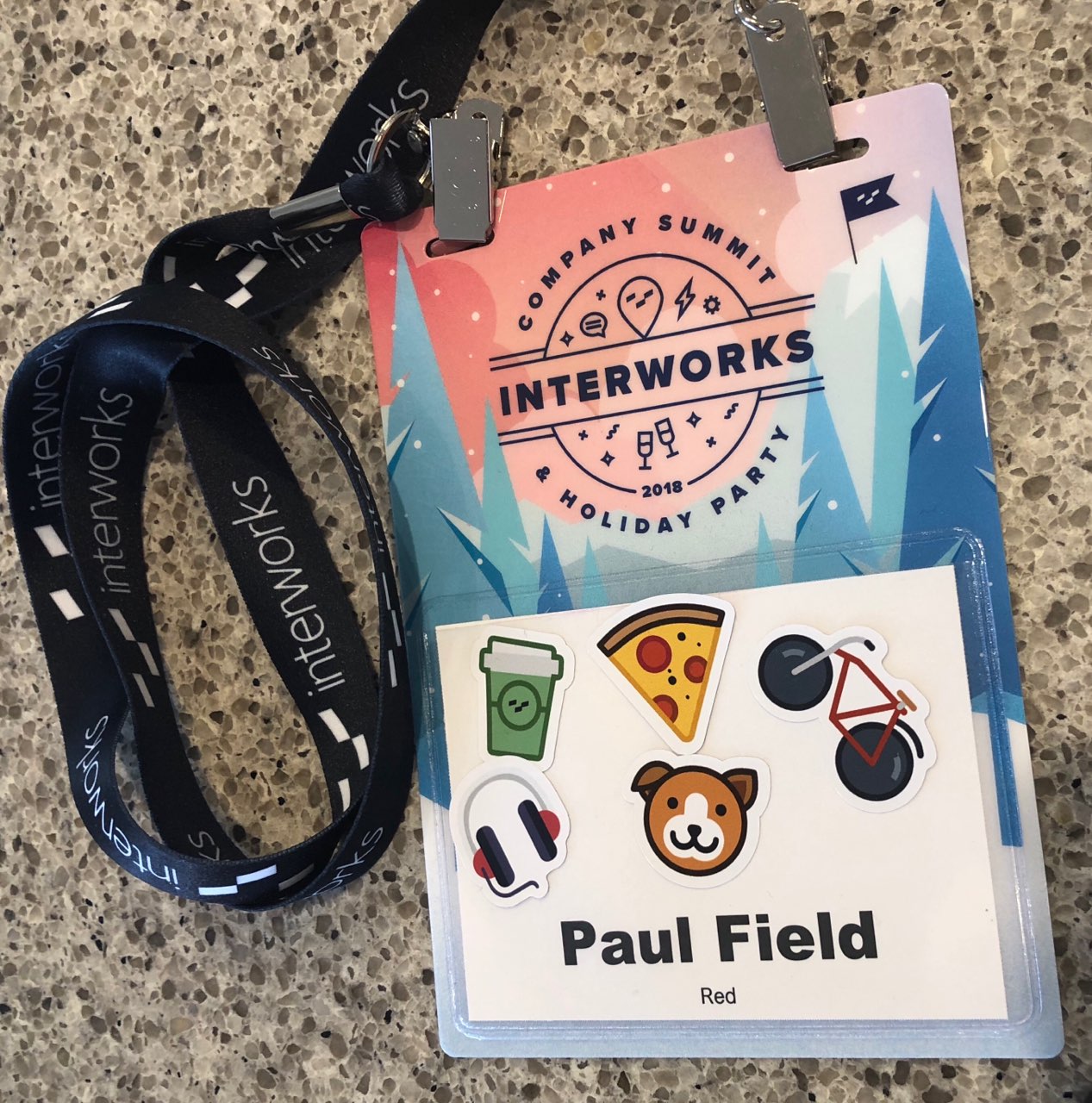 Paul's hierarchy of needs. I am surprised I didn't include alcohol. Oh well.
Grant Eisenmenger 
Analytics Consultant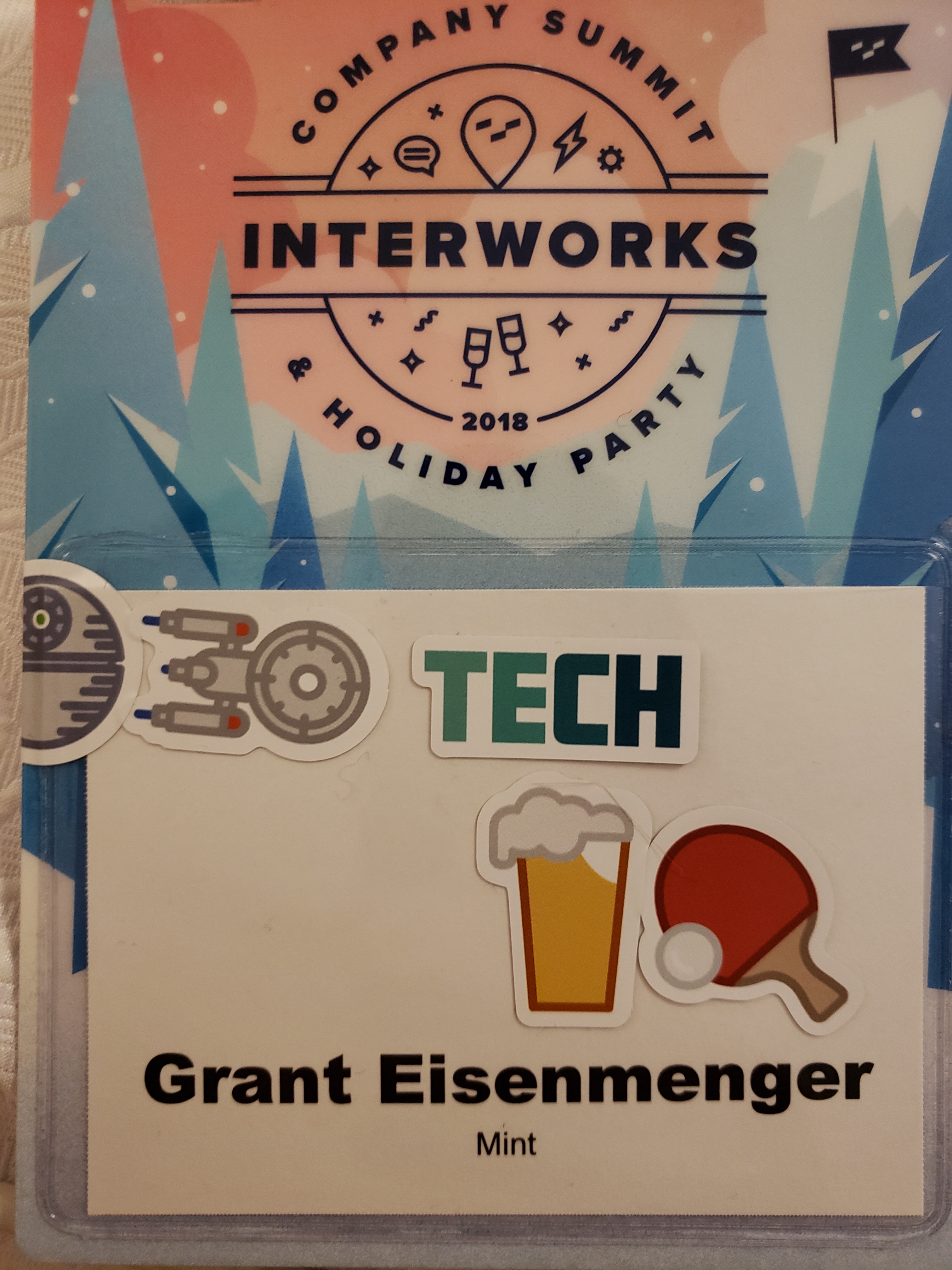 "Death Star/Star Trek/Tech" for no reason other than the alliteration. The other one is self-explanatory: foamy ginger ale pong.
Steph Kennedy 
Analytics Consultant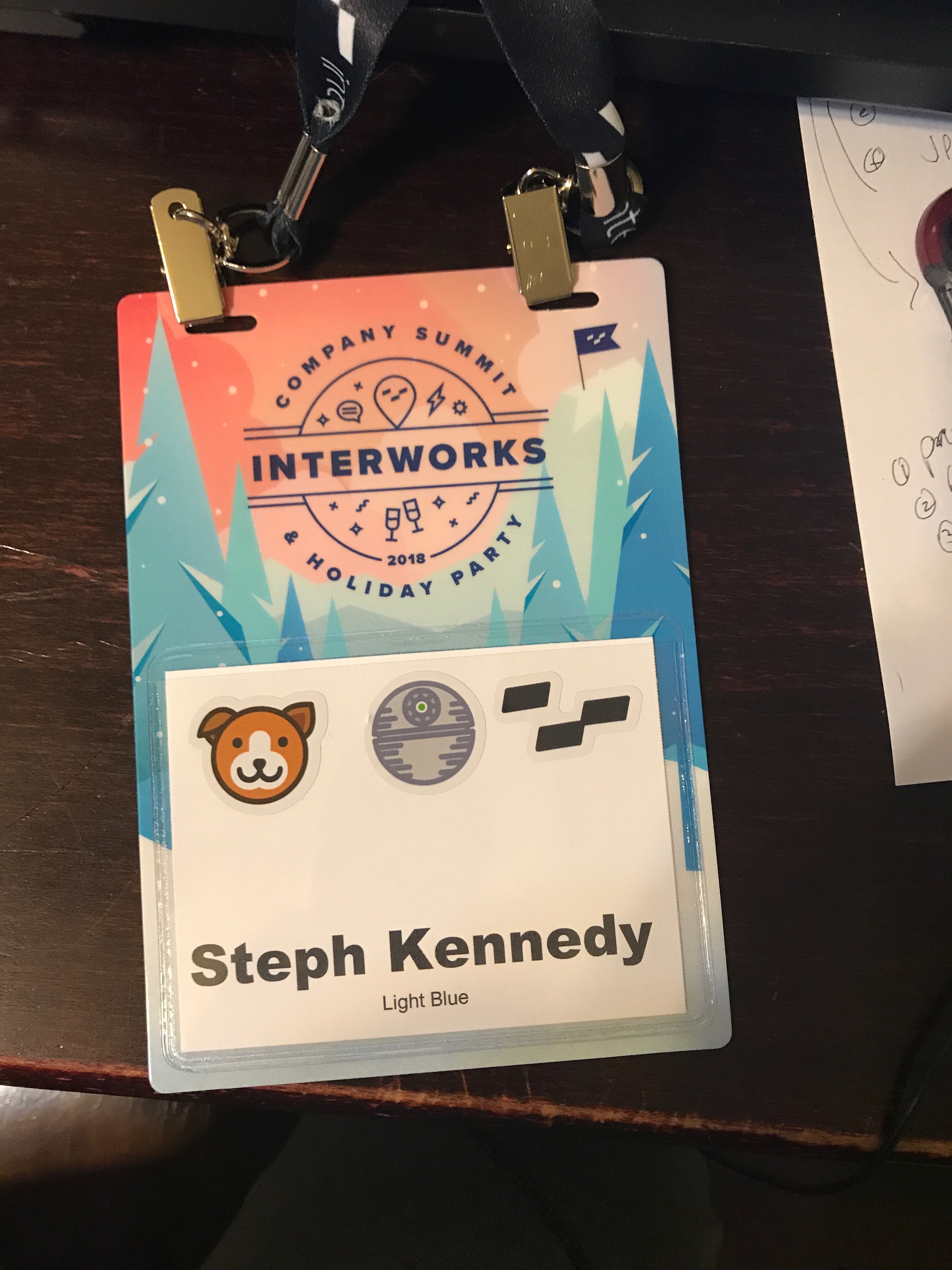 Doggo, because how do you not love doggos? Death Star because I'm the 37th member of the Original Star Wars Fan Club, and InterWorks because #bestpeople #bestcompany.
Sidd Suresh 
Analytics Consultant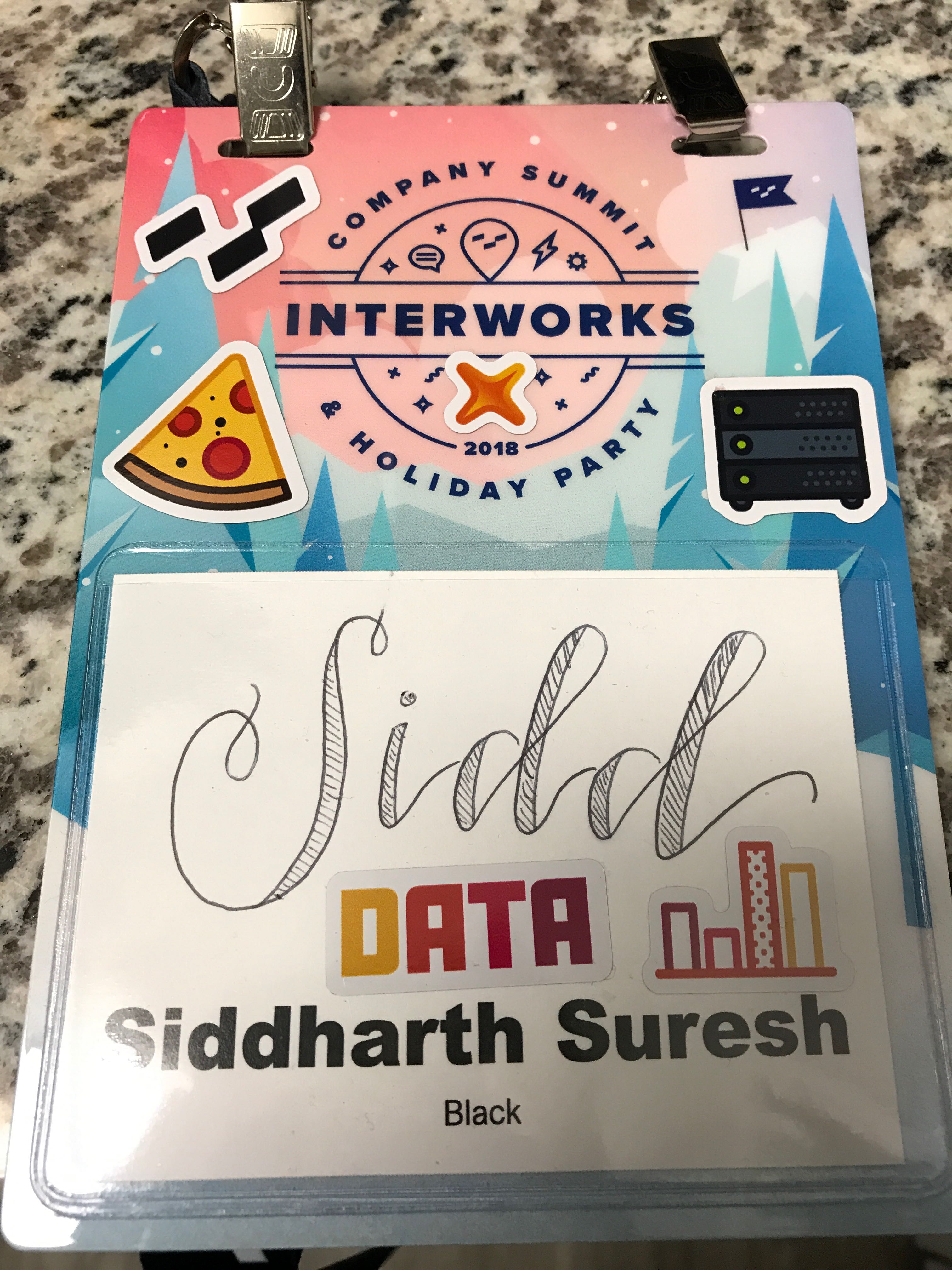 Working at InterWorks doing data analytics with Tableau Server while eating pizza is living the dream, and I'm loving every moment of it!
Tracy O'Connell 
Legal Assistant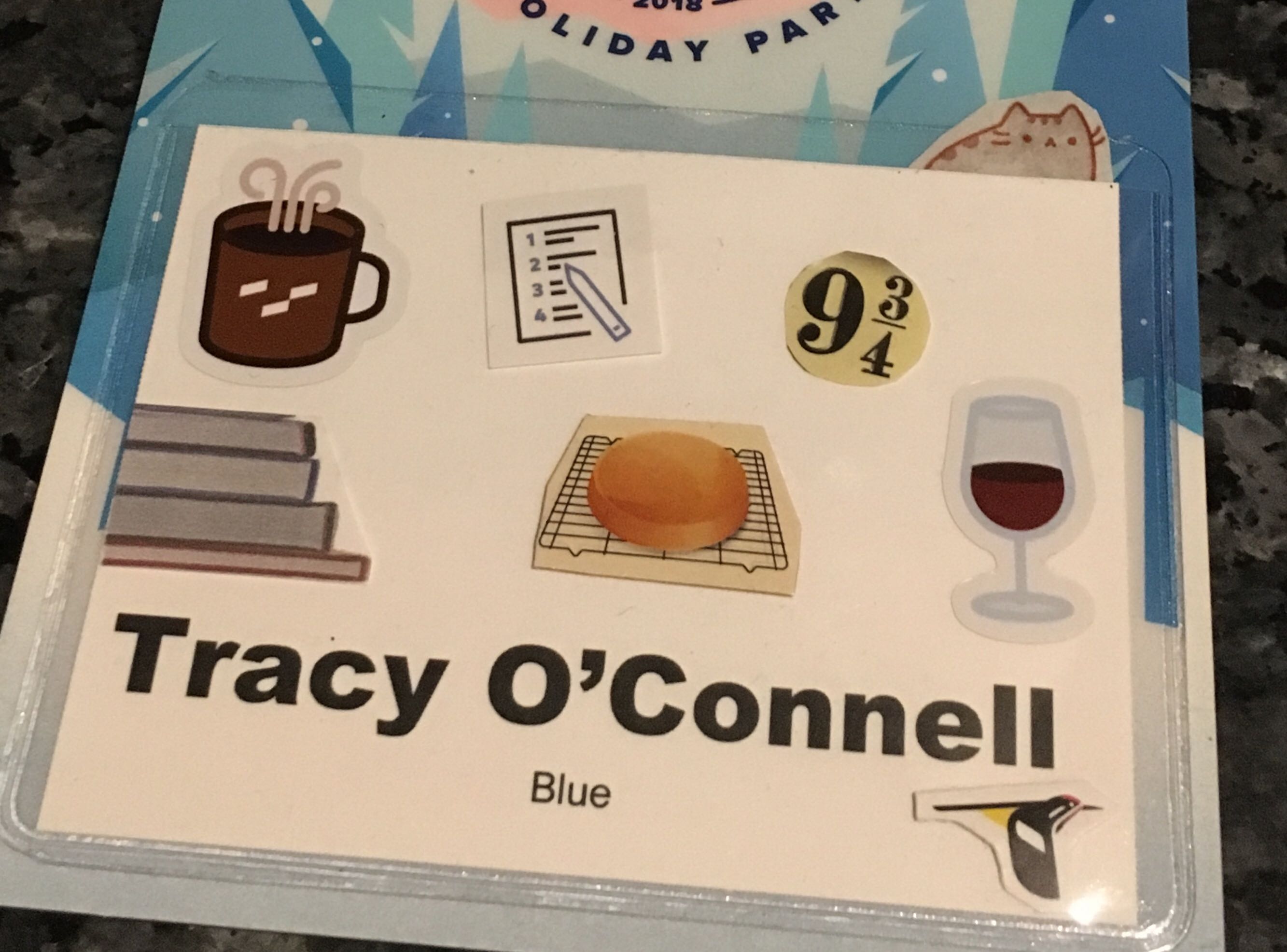 I needed to make my own to represent my less tech-y life: coffee/tea, redlines, Harry Potter, sneaky cat, books, baking, red wine, and a bird (for my natural resources background). I should have put some chocolate on there somewhere…
Tim Rhymer 
Systems Engineer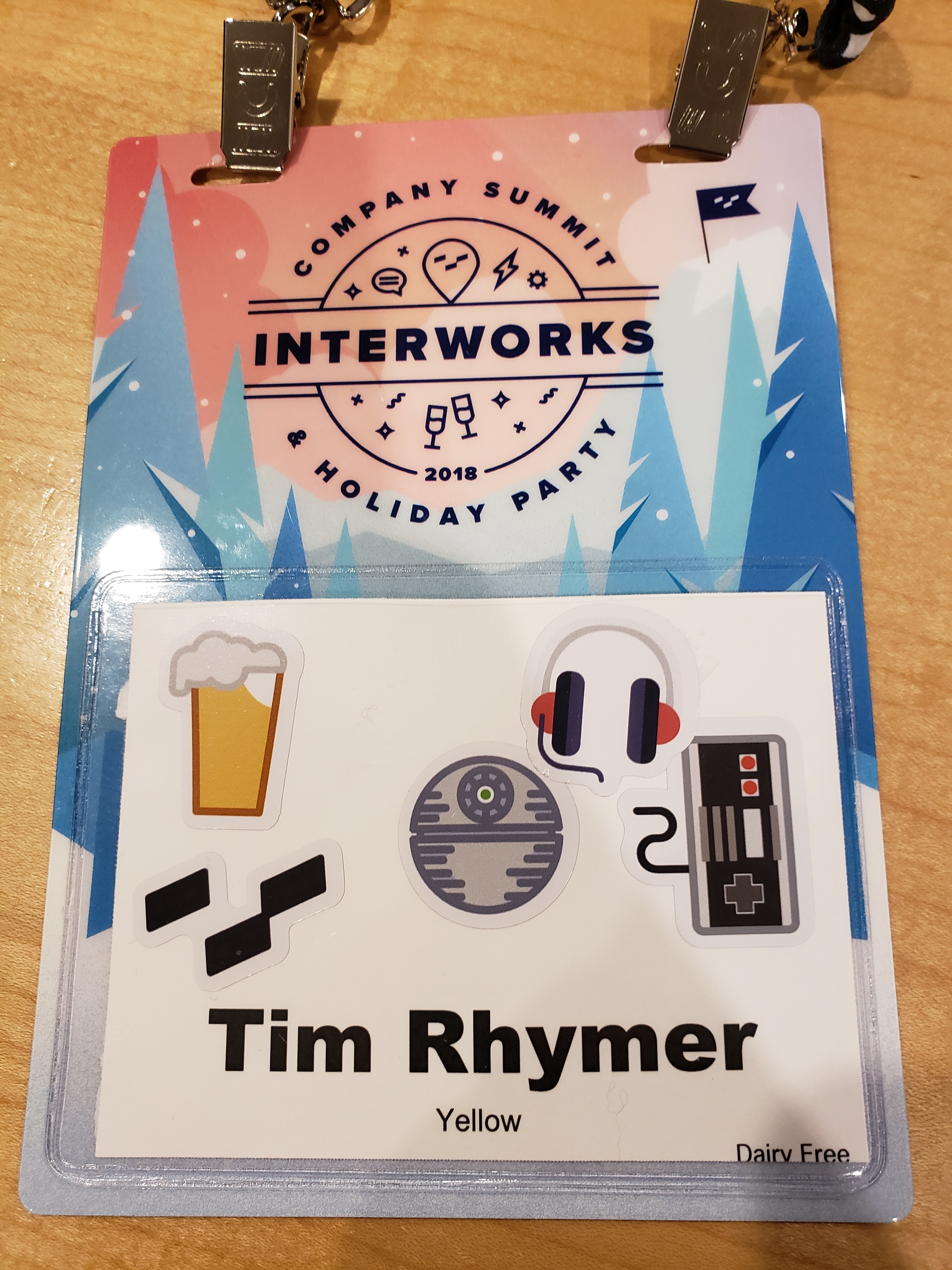 Beer because it's our kickball fuel. Death Star because Star Wars > Star Trek. Headphones because #hobby-audiophiles. Nintendo controller because we like to play hard. InterWorks logo because InterWorks makes all of this happen. Dairy free because … special needs.
Ricki Thompson 
Marketing Generalist
InterWorks with a little sparkle next to it. Coffee, pizza and ping pong are the essentials.
Staci Bejcek and Behfar Jahanshahi 
CFO and CEO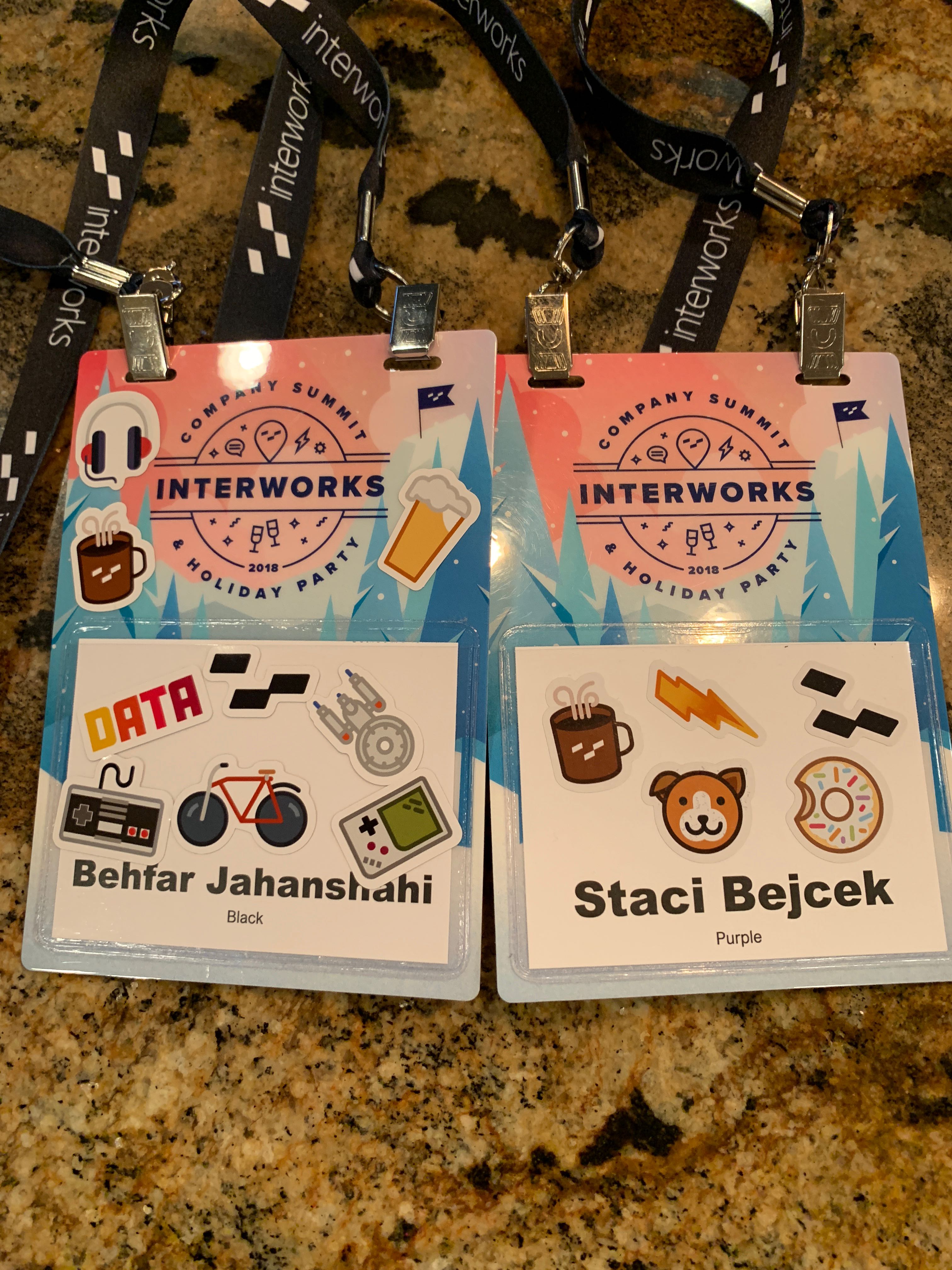 Staci: Mine are coffee because YES, puppy because I love them, donuts because we have a table reserved just for them, and lightning because of Harry Potter. And IW brings it all together!
Behfar: My name badge features vintage gaming system stickers because that's where my love for tech began, a bike because I like to ride when I can, a data sticker and InterWorks logo for obvious reasons, and the Starship Enterprise because it's the best.
This is just a small part of what made the Summit weekend so special, and it's an even smaller fraction of what makes our company culture so unique. It all boils down to our people. We love working here, and a big reason why is because of the team we get to work alongside. We're always striving to do the best work we can—during Summit weekend, that work just so happened to be developing relationships, decorating name badges, playing Rock-Paper-Scissors and dominating in kickball.