It's been very busy over here for the InterWorks Events team lately! Our third and fourth quarters of 2018 have seen some of our largest and most anticipated annual events, and we're even more excited as we look ahead to what 2019 will bring. Here's a debrief of some of the events we were able to participate in these last several months.
Australia / New Zealand Events
The InterWorks ANZ team held a Tableau Data Day Out event in Melbourne. This was a great opportunity for Tableau users to see numerous Tableau dashboards in action with our team on hand to answer questions, explain design elements and lead demonstrations. There were breakout sessions to facilitate a deeper understanding of Tableau and its power, as well as plenty of chances for networking and connecting with other data lovers.
United States Events
Snowflake and Tableau Workshops
Brian Bickell led workshops in California and Oregon that walked participants through Snowflake and showed its accessibility and intuitive design, its power to run large queries in no time at all and how it connects to existing BI and ETL tools. This powerhouse can completely transform data analysis and processes, especially when paired with the power of Tableau and the seasoned expertise of InterWorks.
Kent Sloan also led an introductory Tableau training workshop in Oklahoma City. Participants—most of whom were from organizations in the public sector, including state agencies, education and branches of local government—were walked through the basics of building a dashboard and the foundational elements of Tableau.
Above: The Tableau workshop in Oklahoma City
Dataiku EGG Conference
We were pumped to be able to have a booth at this year's EGG Conference in New York City. This conference from Dataiku brought together some of the brightest minds in the data science industry. Speakers discussed the role of artificial intelligence in business and technology, and conference attendees were led to consider how AI will continue to transform and be incorporated into business practices in the future.
IT Golf Event Series
Earlier in the year, we had a great event series tied to the theme of golf. Matt Clark, Andrew Wooten and Russell Parker spearheaded this series that spanned everything from miniature golf to Top Golf. The focus of this series was VMware, and each distinct event was an awesome opportunity for us to network, share our IT knowledge with others and advocate for an excellent partner (plus, we got to give away some golf balls that featured the InterWorks logo).
Designing for Data
This year, we also talked a lot about how design and data complement each other so well. David Duncan, our Experience Consultant, and Jimmy Steinmetz, Solutions Lead, led an event in New York City that was intended to equip attendees with skills to enhance the aesthetic appeal and user accessibility of their dashboards. Event attendees received a comprehensive user checklist and learned how to simplify dashboards to maximize functionality and design value.
Above: Jimmy and David lead the Designing for Data event in NYC
InnoTech 2018
InnoTech is the biggest conference in Oklahoma, and we were proud to be a Premier sponsor this year. Not only were we there with a booth that included a spin wheel for InterWorks goodies, but we also hosted multiple sessions that discussed everything from IT to BI and were able to work alongside partners like Dell EMC, SOPHOS and VMware. Here are the three sessions our team led:
Digital Transformation through Data Storytelling and Collaboration

: Matt Clark spoke on how organizations are transforming through data analysis and led discussion over key processes, DataViz tools and more.

Handling Security with Today's Evolving Threat Landscape

: Daniel Holm discussed how to maintain security in an age of increasing data creation, storage and transmission.

AI Hype: Where Machine Learning Fits into Your Analytics

: Ben Bausili showed how AI can practically impact your business processes.
Learn more about these sessions and find links to a deeper dive into InnoTech here!
Above: The InterWorks team at our InnoTech booth
Other Oklahoma conferences included the IT Symposium that allowed attendees to connect with fellow executives and learn from industry-leading professionals on how to drive business. The keynote address focused on leadership and cutting-edge IT topics, and there were interactive breakout sessions with national and local IT experts. Plus, there were ample opportunities to network with other professionals throughout the region. We also were a sponsor of the QualTech Conference, an event that centers around health information technology and works to bridge the gap between patient care and technology.
We also were a sponsor of Tech Junction in Tulsa, OK, the premier one-day conference for information technology. This event covers everything from IT infrastructure and security to enterprise communications and is designed to keep consumers up-to-date in the constantly changing industry and landscape of IT. Complete with interactive labs and exhibits, TechJunction stays ahead of the curve when it comes to IT and conference formats, and our own Daniel Holm was among the outstanding session presenters. The tenth annual OGITA Conference was also held this fall and is presented by the Oklahoma Government Information Technology Association. This nonprofit is meant to be a professional resource for the exchange of information, resources, knowledge and experience and is intended for IT professionals and computer/software support personnel alike.
We loved having the opportunity to participate in events so close to our headquarters, but these were only a taste of what we experienced throughout the rest of the country.
Tableau Conference 2018
Our biggest event in the fourth quarter was hands down Tableau Conference 2018. This year, the biggest data enthusiasts in the country flocked to New Orleans and geeked out over all things Tableau. We had the honor of being a Terabyte sponsor at the largest gathering of Tableau users around the world and were thrilled to finally announce our theme of remixing your data experience. Our booth was fully stocked with some of the best swag in the game, including coloring workbooks, colored pencils and fanny packs! Our team was around to give live demonstrations of Portals for Tableau and PowerTools for Tableau, and we also had a role in some conference sessions:
Want to go further into TC18? Find more below: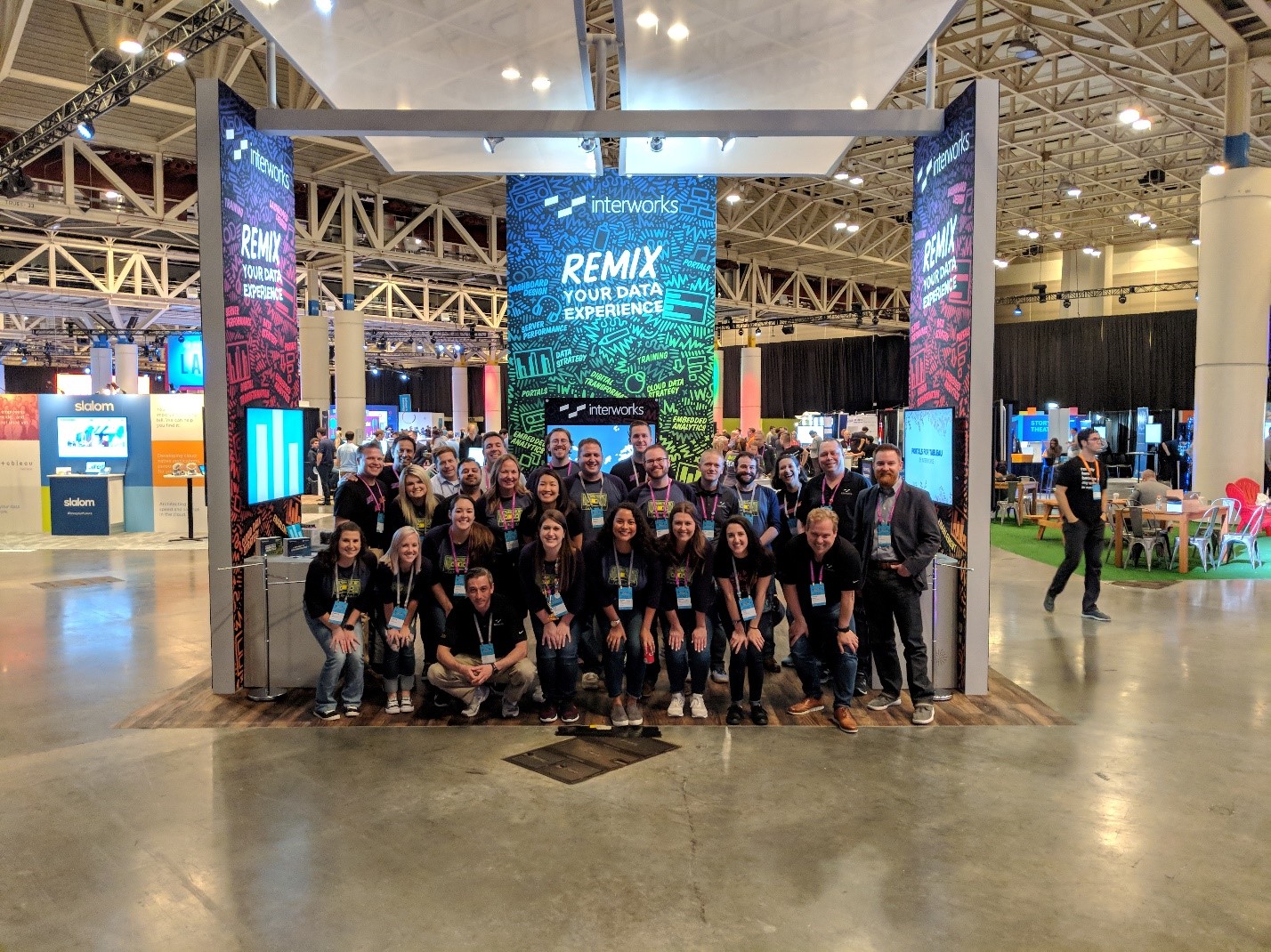 Above: The InterWorks at our Tableau Conference booth this year
Embedded Analytics Events
Meeting at the Alchemist Bar and Lounge, Eric Shiarla spoke on why embedded analytics is so important for your business. In this event that culminated in networking and drinks, they discussed how embedded analytics drives traffic to your visualizations and differentiates your product offering. Beth Tisdale of Genentech also shared how embedded analytics has benefited her company firsthand.
We also hosted several Enterprise Embedded events across the country. These events are designed to show how local companies are using embedded analytics in their business processes. They focus on Tableau and how its visual analytics power has helped companies enhance their own applications to gain a competitive advantage, provide a more engaging customer experiences and create new revenue streams. These events featured Q&A with an expert panel and a networking happy hour to be sure that all attendees' questions were answered, and everyone had the chance to see the myriad benefits of incorporating Tableau into your business.
Europe Events
InterWorks EU has been in the midst of a crazy busy season! The Data Discovery Day event series is always a hit, and the Brewalytics events in Portsmouth and London also saw great responses. In Portsmouth, James Austin talked enterprise success with Tableau Server and gave an overview of Tableau and its latest features. At the London event, David Pires presented on incorporating embedded analytics into your business and showed how Tableau's analytics tools can positively drive traffic and improve your business practices. These Brewalytics events were great opportunities for networking with like-minded people over a strong pint at a local brewhouse.
See You in 2019!
This was an incredible year for InterWorks, our partners and our clients. We're so grateful for the opportunities we had to help support others in their business and data pursuits, and we look forward to an even greater 2019. We hope you join us at an event in the new year!