A week on from the excitement of the 2018 Tableau Conference, I thought it would be good to add to the ever-growing number of blog posts looking back on a week of data, excitement and Tableau.
Getting Started
Before heading out, I spent a bit of time talking with some friends about their upcoming talks at TC and found out some great gems. More on that later. It was great to share the excitement of speaking at TC for the first time with so many people and getting some teasers on some of those talks. You can listen to those here and here.
It's now a tradition that on Sunday night, the best way to get the conference started is to attend the Data + Women event, this time sponsored by Exasol. It's an informal gathering of the Tableau community organized by Emily Chen and gets everyone in the mood for the week ahead. If you are going to TC next year, make sure to attend. It's also a great spot to meet people before the conference starts.
Game Day
The Welcome Reception is always a highlight of the conference, and this year was no exception. Tableau invited Tableau Ambassadors and Zen Masters to join in an amazing parade with dancers and brass bands. I was at the InterWorks booth, and it was amazing to see the faces of the attendees so surprised at this amazing display.
Speaking of the InterWorks booth, I'm biased, but the InterWorks booth was great. Our marketing team did an amazing job on defining a theme for the conference: "Remix Your Data Experience." Remix reflects our thinking behind data in that each and every organization has a different experience with it. Whatever your path, we are here to support and help you.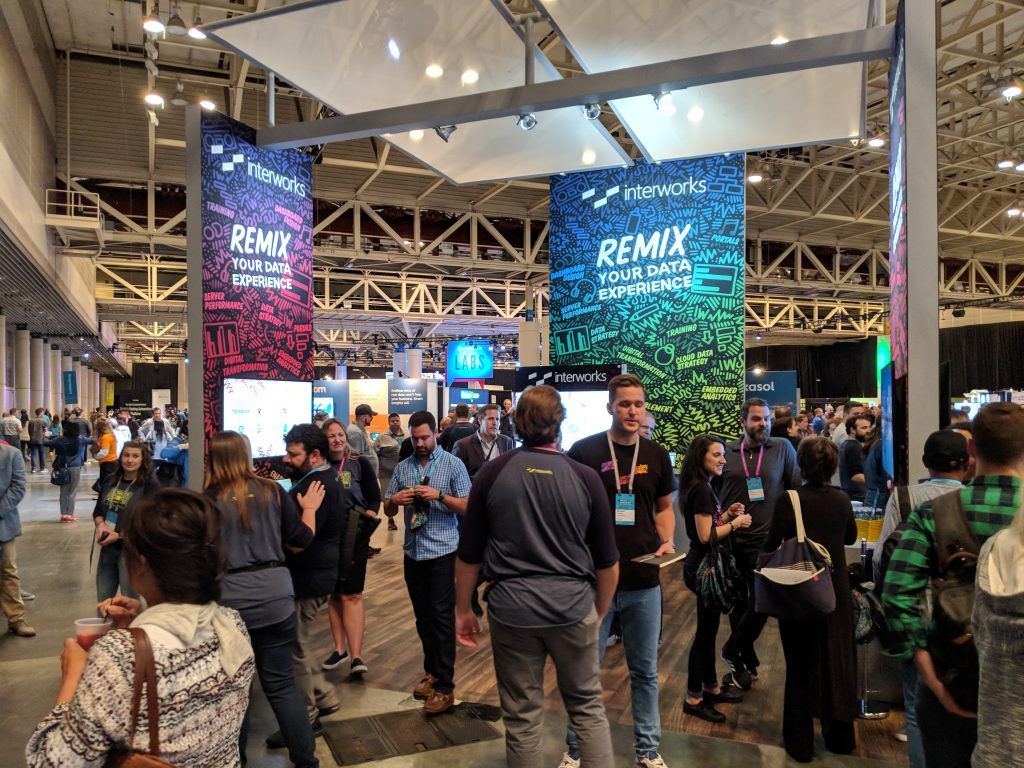 Above: The InterWorks booth at TC18
Monday is always fun for us at the booth: It's super busy with everyone coming on to get some swag, but lots of fun to give away hip-packs and notebooks to be coloured while waiting for your session. The swag literally flew off of the shelves.
At TC, a perk of being around for so long is that you bump into old friends and clients alike, sharing experiences and memories. Often, I heard:
"InterWorks did the training I attended"
"I've worked with you guys at [insert company here]"
"[Insert consultant name here] did an amazing job for us. Are they around? We would love to reconnect."
We enjoy that as much as our clients, see here from Tom McCullough:
"While it was great to catch up with my InterWorks family, what really moved me at TC this year was running into past clients and acquaintances. It was great hearing from people I hadn't seen in three or four years, saying that the work InterWorks did back then still is reverberating through their COEs and BI practices. It was a good reminder of the great work that we do and what level of impact we have on businesses over time."
Jimmy Steinmetz had some nice thoughts on the Tableau community as a whole:
"In small gatherings – Tableau User Groups, roadshows, networking events – the people within this community are always the number one highlight. When you get the whole crew together, it's absolutely incredible. The openness, exchange of ideas and genuine enthusiasm with which people approach this event make it something to circle on the calendar each and every year, and this year delivered in a big way."
The Keynote and Other Sessions of Note
Tuesday at TC cannot start without the usual keynote from Adam Selipsky, in this case talking about refrigerators, then Francois Ajenstat sharing some of the great work the dev team has been doing. It was also a great opportunity for Tableau to bring to the main stage one of their most important social projects, Tableau Foundation. Karl Riddett shared this afterward:
"I LOVED Tableau's $100M financial commitment to the Foundation and to ending Malaria. That speech reminded me of something I would see at the Global Leadership Summit or TED talk. Such. Great. Stuff."
As well as Carly Capitula:
"Seeing Equal Opportunity Schools highlighted by the Tableau Foundation (they had their own "house" in the expo area) and delivering a session was an awesome full-circle moment for me. I had delivered their first Tableau training, and one of the trainees was thrilled to show off the dashboard she's been able to build. They dropped InterWorks in their talk I believe and had an amazing giveaway – a special roast of coffee from Seattle!"
The day flew by with lots of sessions. I didn't get much of a chance to see the sessions, but not too worry, by the end of the week, Tableau had already released all the recorded videos for you to catch up on.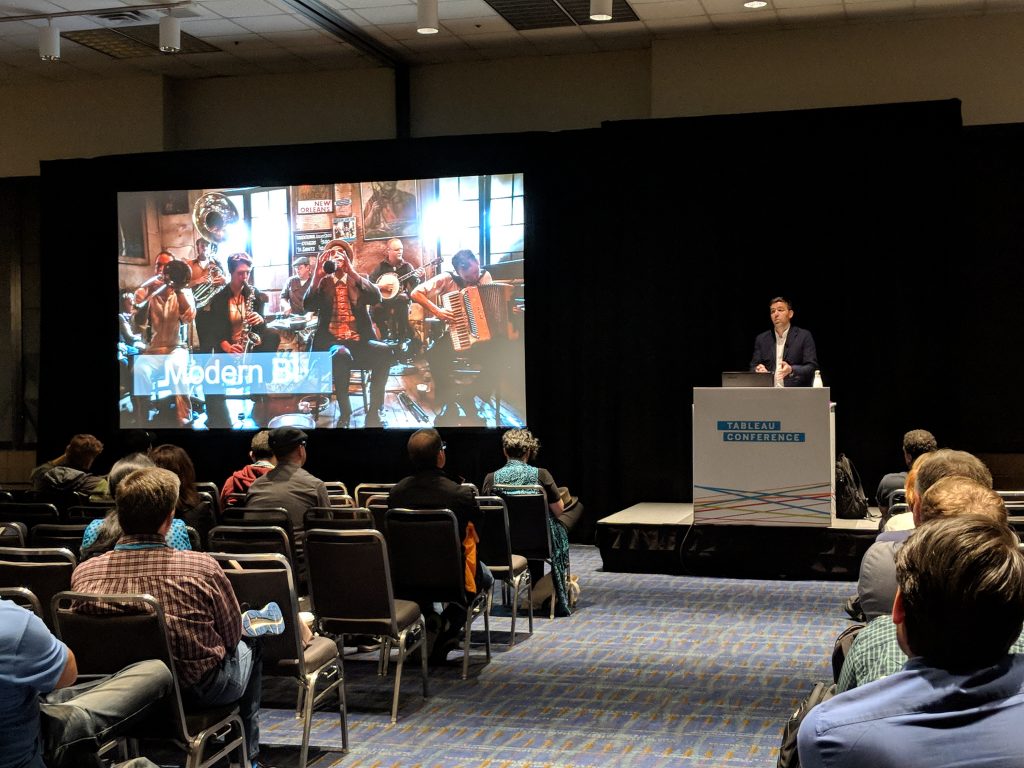 Above: My Tableau Server session at TC18
Wednesday was a big day for me. Speaking at the Tableau conference for the first time, my session was in the afternoon. But before that, we got the chance to see what devs have in store for us with Devs on Stage. More on each of the new features on the next few blog posts. Big hitters were:
Tableau Prep Conductor – or Server for Prep. I think Tableau did a great job on the integration of this with existing Tableau Server, which is great. One less thing to worry about and available in 2019.1 beta already.
Ask Data – NLP, an impressive demo which had a lot of people standing at the edge of their chairs. It was certainly a good one on the teaching our users how to ask business questions from data in a friendly manner. Thumbs Up Tableau!
Developer Program and Extensions – A lot of amazing stuff has been done with extensions already, but the jury is still out on this one. Server admins want to be able to control its usage across large organizations. This is one to keep an eye on.
Automatic phone layouts got a big cheer, and I for one would love to try it out. Making dashboarding easier is a great way for success.
I still managed to attend Jonathan Drummey's session as well as this JLL session from Paul Chapman, which contained an air cannon and many near misses.
Brian Bickell and Mat Hughes from IW also had a well-attended, hands-on session with Snowflake that I thought was great. Brian tells me there were two types of attendees at the session: those who follow the rules and those who break them. Brian was on the side of breaking the rules and pushing Snowflake and Tableau to the max. He tells me Snowflake didn't even break a sweat. The whole exercise with about 40 people costs less than $75, which is amazing. Of course, they also held a discussion about why you'd move Tableau to the cloud, considerations of migrations, data in the cloud, Hamilton College case study, Snowflake hands-on demo, then a lot of Tableau Server in the cloud architecture nuances.
My own session was later on just before Iron Viz – a simple but hopefully useful review on Tableau Server. An advanced session to come next year. 😊
Iron Viz has a special place in my heart, and it was great to see all contestants battling it out on stage within 20 minutes. Congratulations to Timothy on the win.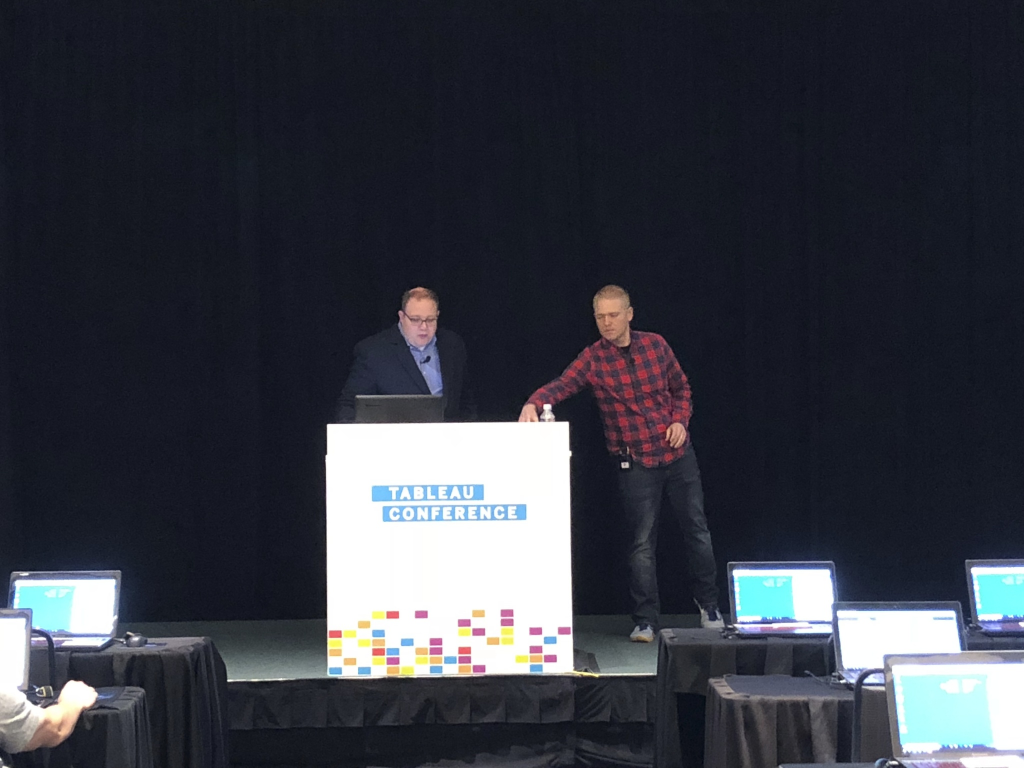 Above: Mat Hughes (left) and Brian Bickell (right) during their presentation
Data Night Out
A party on an NFL pitch, with one of the hottest talents to come from the NOLA music scene in the last few years AND chocolate covered bacon? Yes, that's DATA NIGHT OUT. It was a huge party that ended up on Frenchmen St. when the sun was already coming up.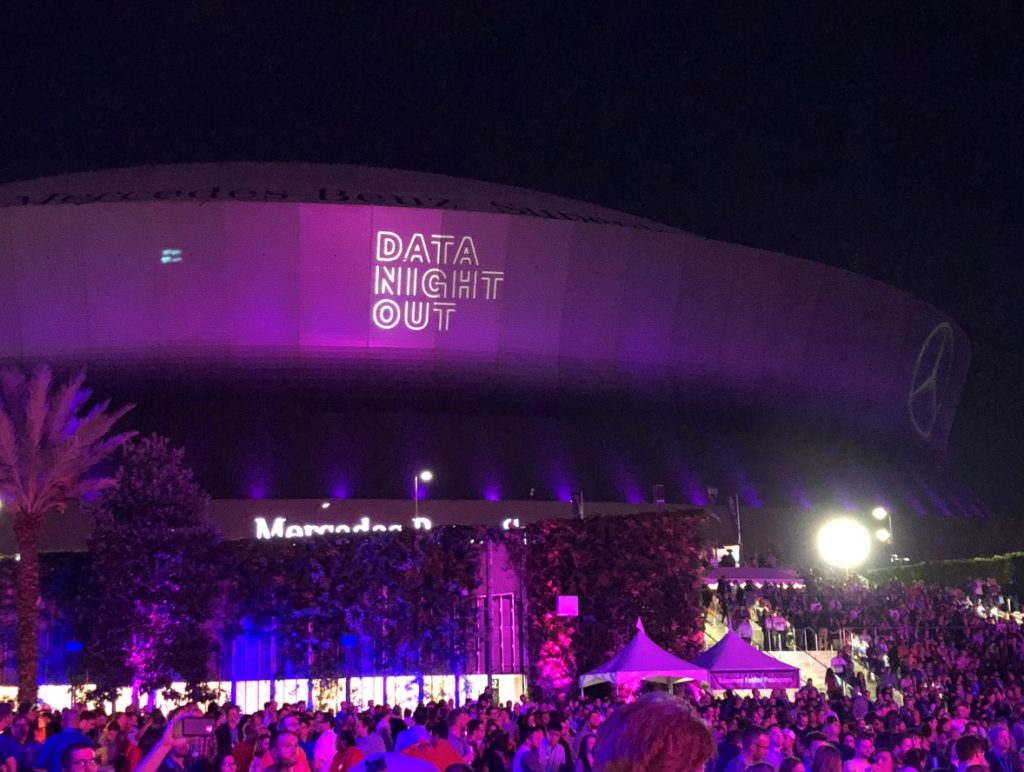 Above: Data Night Out at the Mercedes-Benz Superdome
The Final Day
The last day arrived, and between braindates and more sessions, my favourite was to attend Fanalytics, hosted by Jonni Walker, with amazing speakers. I had the chance to speak to Lindsay Bethzendal and Vince Baumel before about their sessions and it didn't disappoint. It's incredible the impact a small community like Tableau can have on a large number of people. Either by running social projects or harnessing the goodwill from attendees at TC17 after the tragedy that happened in Vegas last year before the conference.
Fanalytics is a great place to witness how people are using Tableau Public, and I had the chance of speaking to a lot of newcomers in a table session held by Mark Edwards. I find it refreshing to try and think back to a time where I had no idea this community existed and how to get the best of it.
All in all, TC18 was another amazing conference with old friends and new. It's a place to get inspired and learn from others, and here at InterWorks, we can't wait to do it all again in 2019 in Las Vegas.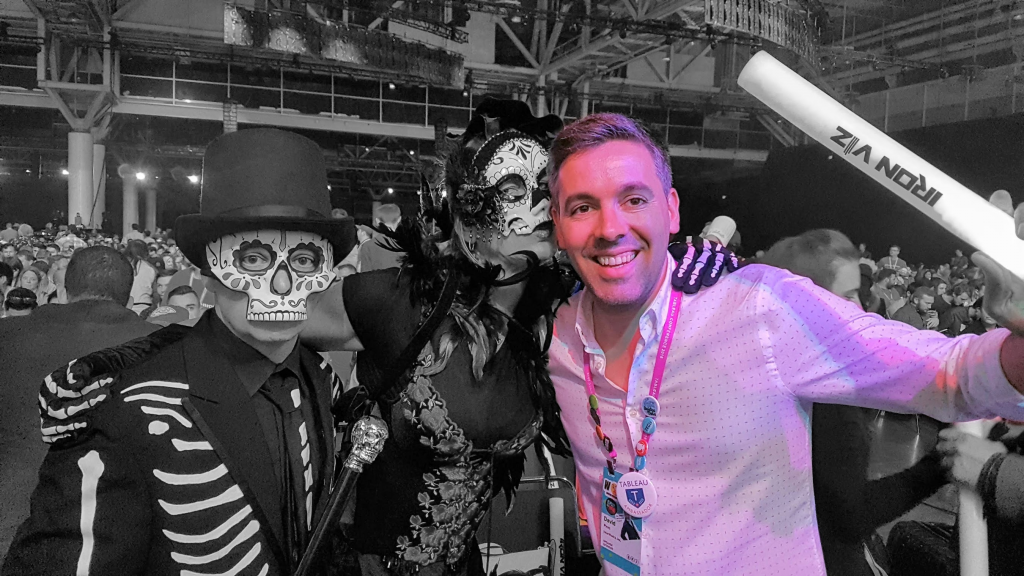 Above: My close shave with the living dead at TC