This is a blog series about our new storage solution: the Discovery Series from DataGravity. It covers why we selected the solution. We'll continue through our initial journey from selection to standardization, deployment and testing.

A Customer's Perspective
As both a customer and partner with DataGravity, I get to see two sides of the intial ordering equation, but trust me, it's very optimized and streamlined. It was refreshing that the quote to order process was exceptionally easy and created no confusion for us. DataGravity handles the quoting, ordering and distribution all themselves. While this might not be a completely scalable approach in some eyes, I feel that it's a strength at this point in time.
We settled on our array size configuration and elected to have 10Gb SFP+ network interfaces. Then, we were off. The quote was easy to obtain, and the order was nearly as easy to process. While not a normal occurence, we received an image of our Discovery Series in the warehouse:
Above: The InterWorks array on a shipping pallet awaiting pickup. 
Just days later, we received the call from FedEx Freight that they were ready for delivery. The driver was courteous with parking, came prepared with a lift gate and handled the professional delivery right into our office. I've had many issues with freight deliveries to us and our customers, so this was pleasant as the boxes were in perfect condition.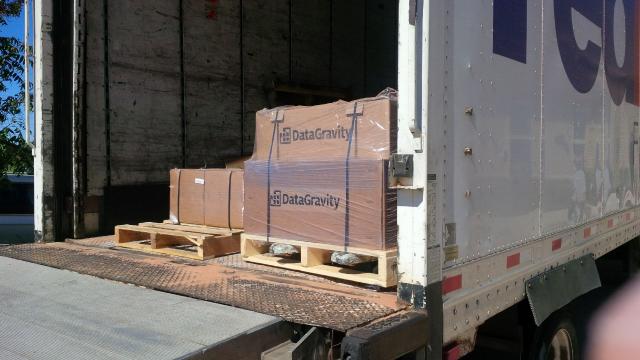 Above: The InterWorks array, ready for unload on the FedEx Freight truck @ 12:19 p.m.
Unboxing
While we didn't have plans to get it installed on the day it arrived, we happened to have a little free time and tore right into the boxes. The computing / flash enclosure was in one box, and the storage enclosure was in another box. The first thing we came across was a letter welcoming us to the family and giving us some basic information.
If you're following this as a setup guide, now's a great time to go ahead and register for access to the Support Portal at http://datagravity.com/support.
The next item we found was a quick start guide on hardware installation. It's roughly 17×13, and it does a great job to walk you through intial processes. Eager to get things going, we tossed the introductory materials aside and went at it our own way.
Racking and Cabling
We have a standard four-post square hole rack, and the rail kit was easy to mount. The 2U computing enclosure went as expected, but be careful with the 4U storage enclosure to line up the bottom shelf with the bottom of the 4U space that you want the storage enclosure to fill. The arrays weigh a standard amount, so the 4U storage enclosure is a little awkward, but DataGravity included easy carrying straps for assistance on the lifting. Run your power cables in a redundant fashion so you can have independent feeds to each side of each enclosure.
When it came time for the SAS cabling, I quickly retrieved the quick start guide and slid the cable through the rack. It was super easy to follow for someone who had never touched the solution before. The network connectivity was cabled with SFP+ copper passive Twinax cables. These connected into 10Gb switches, configured with portfast spanning tree, jumbo frames, flow control and storm control configured for standard storage implementations.
There's a pretty big difference in the network setup for this solution that we'll cover in my next post. From a physical cabling perspective, be sure you split each controller equally between two 10Gb switches so you can sustain a switch failure and not lose your storage network.
Above: The InterWorks array, racked, cabled properly and ready for setup @ 1:07 p.m.
All in all, from when the array was starting to be unloaded to being fully cabled and ready to go, we were there in less than an hour on our first experience. I anticipate future physical installs to be equally or more efficient.
More to Come
The next article in the blog series will cover environmental preparations and network architecture considerations. If you'd like any further information on the solution, please don't hesitate to reach out! We'd love to answer any questions you have, and it doesn't matter where you're located – we're all over the place too!
If you haven't yet, be sure to check out our other posts within this series:
Acquisition / Cabling – Initial Impressions