Our Monthly Event Debriefs summarize our involvement in data and IT events that take place all over the world.
Whether you're a Buddy-the-Elf type or a Scrooge, we could possibly all agree on one thing: December may be the most wonderful time of the year, but it's also the busiest! From family Christmas gatherings, office holiday parties and New Year's Eve, we're still munching on Christmas dinner leftovers, trying to catch our breath.
Our company Summit and Holiday party took up most of our December calendar. If you haven't read the Summit recap, you can do so here! While we were toasting to a successful year and brainstorming how to make 2018 even more epic, we had plenty of time to fit in a few Alteryx training sessions and Tableau workshops. Head to our events page to see what is coming up next in your area, or reach out to our event coordinating team if you're interested in bringing one of these events to you.
Tableau Takeover
Central Virginia TUG Hackathon
December 4 – Henrico, Virginia
This meeting was especially important as the Central Virginia TUG held its very own Tableau-viz hackathon! Analytics Consultant Chris Sanders helped judge the winners and gave a presentation entitled, "30 Tableau Tips in 30 Minutes." To find out when this TUG will meet again, check out their official group page.
Leveraging Tableau for Embedded Analytics
December 6 – Chicago, Illinois
Embedded analytics took the nation by storm in 2017. At these events, attendees learned how to leverage Tableau for embedded analytics capabilities from local companies who have already experienced success with Tableau. InterWorks Principal Consultant and Chicago-local Charlie Sanders gave a talk on how we can help customers start creating new revenue streams with Tableau.
Tableau Workshop
December 7 – London, U.K.
Our U.K. team saw not one but two events on the 7th. With these free hands-on workshops, it's our hope that people and organizations learn how easy and functional Tableau really is. After attending one of these sessions, you'll be able to build a dashboard on your own in no time!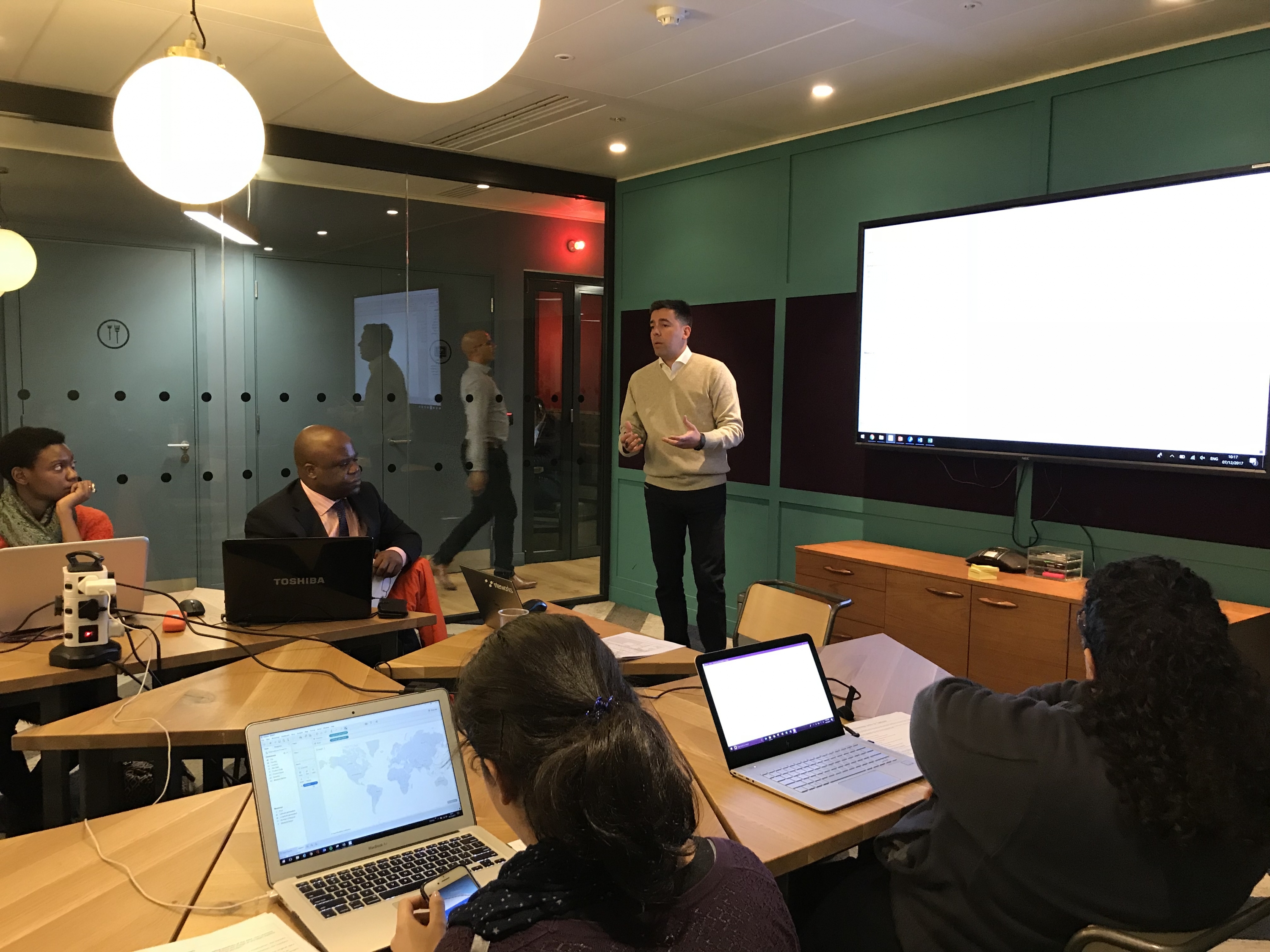 Above: David Pires at the London Tableau Workshop.
D+I+Y: Data, Insight, You
December 7 – Nottingham, U.K.
Our D+I+Y event series focuses on bridging the gap between the data community and a successful analytics practice. Peter Shone of Parexel gave a talk on enabling clinical trials for the future with help from Tableau and Parexel. Analytics Consultant and Lead Trainer Sian Davies also presented on analyzing variations in your data. Be on the look out for the next D+I+Y event!
All About Alteryx
Alteryx Virtual Classroom Training
December 11 and 12 – Webinar
We're proud to be part of these online training sessions to help spread the word about Alteryx. Participants received hands-on experience while being guided by their instructors on how to solve practical business issues. Get in touch with us if you'd like to learn more about our partner Alteryx.
IT Events
"Star Wars: The Last Jedi" Presented with Dell EMC
December 15 – Moore and Tulsa, Oklahoma
Any time we team up with Dell EMC to show an exclusive viewing of a movie, you can count on spots filling up fast. And that's exactly what happened with these two events! Attendees had a chance to watch the highly anticipated blockbuster while getting a first-hand look at Dell EMC's Integrated Data Protection Appliance. Plus, we gave away lightsabers!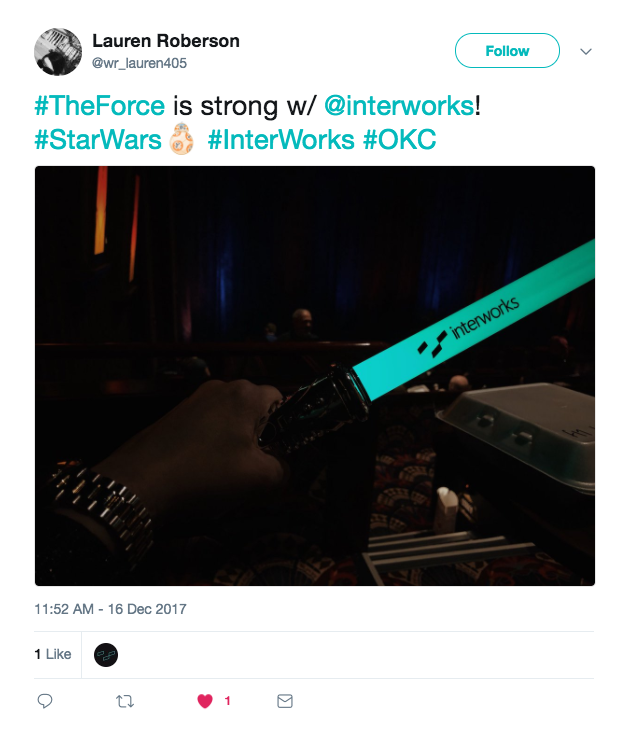 Above: Account Executive Lauren Roberson shows off her lightsaber on Twitter.
You're Invited to Our Next Event!
As you can see, we are active participants in the global data community. Go to our events page to see what's coming up in your area!