Our Monthly Event Debriefs summarize our involvement in data and IT events that take place all over the world.
October reigned supreme with the busiest event of our year: the 2017 Tableau Conference. If you missed the conference, we have many blogs devoted to TC17. Whether you want a keynote analysis or a social media summary, chances are it is on our blog.
But let's step away from TC17 for a moment. Our October event calendar was bursting with workshops, TUGs and IT conferences. In fact, October 12th may have been the busiest day on our 2017 event calendar with not one, not two, but three events taking place in three different countries! Talk about a global reach.
Check out some of the upcoming events on our calendar! 
Above: The InterWorks team at InnoTech Oklahoma.
Tableau Takeover
Lexington TUG
October 5 – Lexington, Kentucky
InterWorks' Mark Bingham gave a presentation on the hottest topic in data: embedded analytics. TUGs are vital to a diverse and active data community. Find a TUG in your city on Tableau's community event page. 
The 2017 Tableau Conference
October 9-12 – Las Vegas, Nevada
TC17 is the busiest week of our year and we wouldn't have it any other way! The sessions, networking, Data Night Out, Iron Viz contest and more all combined to make a truly unforgettable week. If you missed out on all the conference extravaganza, fret not. Tableau kindly uploaded all the sessions and keynotes to their official website.

Above: The InterWorks booth at TC17. 
Tableau Workshop
October 12 – Dusseldorf, Germany and London, U.K.
Who doesn't love free stuff? This free, hands-on training session gave new Tableau users an introduction to data discovery. Our analysts explained key Tableau Desktop features for the attendees to take back to their business and start improving their own data analysis.
Scottish TUG
October 31 – Edinburgh, U.K.
The Scottish TUG meets once a month to update the participants on the latest Tableau features. InterWorks' David Pires spoke at this particular event. Check out Tableau's community page to find out when the Scottish TUG will meet next.
Data Analytics 101
It All Starts with Your Data: The Connected Company
October 19 – Leeds, U.K.
October 20 – Manchester, U.K.
Gaining insight from data isn't exclusive to tech and IT companies. No matter your business, data is the key to a competitive edge. That's exactly what these data-introduction events teach. Data is everywhere and we can help you access it no matter your industry.
IT Events
InnoTech Oklahoma
October 5 – Oklahoma City, Oklahoma
2017 marked InterWorks' 12th year in a row to sponsor InnoTech Oklahoma. As the premier business technology conference in Oklahoma, InnoTech is attended by the industry's top vendors and solutions providers. Team InterWorks was on hand to answer questions and run our popular VR racing contest at the booth!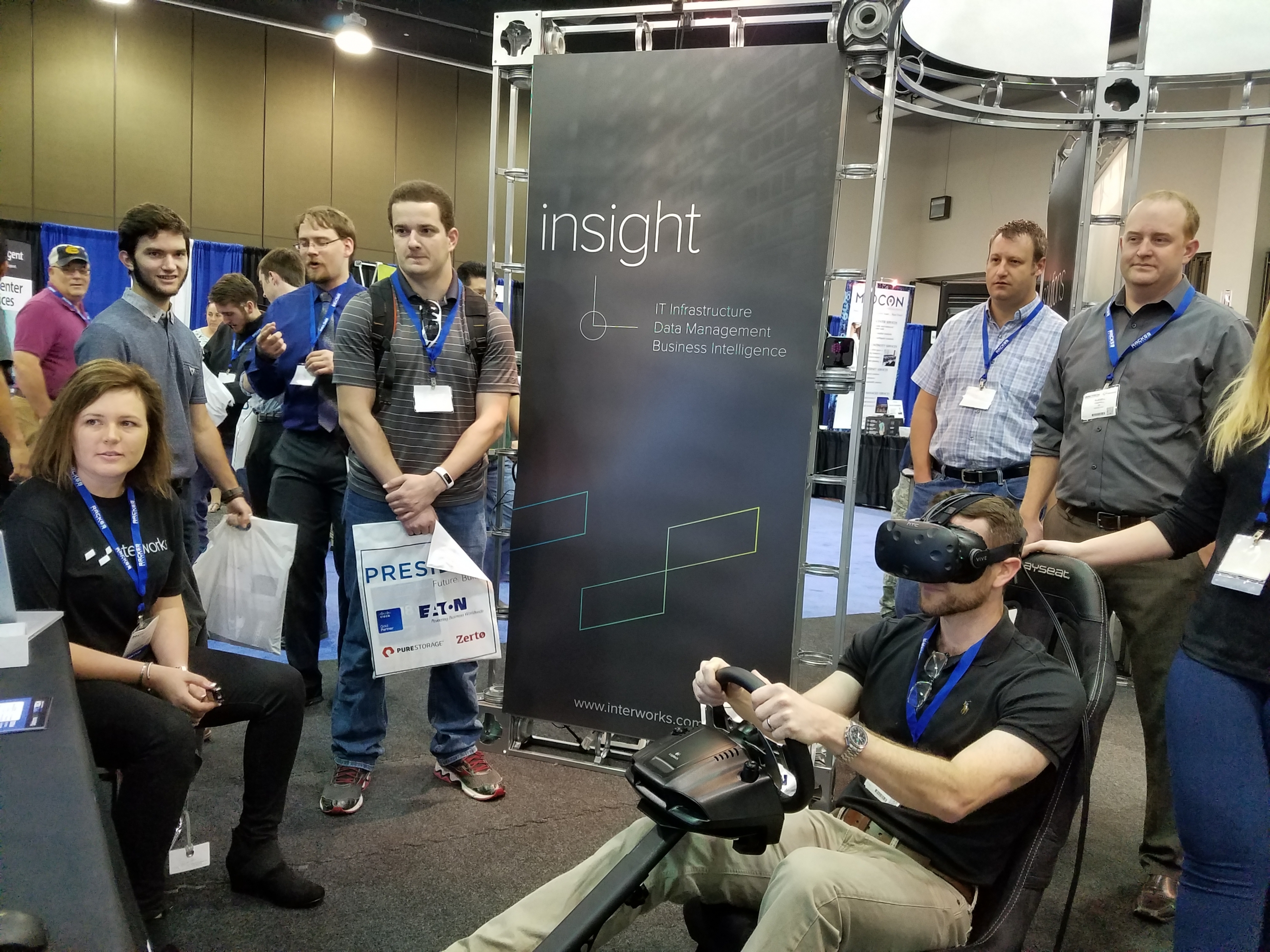 Above: Visitors trying out the VR race at InterWorks' InnoTech booth. 
2017 Northwest Arkansas Summit
October 17 – Rogers, Arkansas
The NWA Technology Summit connects cutting-edge innovation to the business side of technology. Sessions at the summit addressed common challenges tech businesses face and how to combat them with innovative solutions. With industry leaders from all over the country in attendance, this is definitely an event you should put on your calendar for next year.
All About Alteryx
Alteryx Fundamentals for Analysts
October 6 – Denver, Colorado
Mat Hughes presided over this full-day course on the basics of Alteryx. Attendees learned how to revolutionize they way they ingest, blend, clean and transform their data. For events such as these, no prior experience is needed. Simply show up and be ready to learn!
You're Invited to Our Next Event!
As you can see, we are active participants in the global data community. Head to our event page to see what is coming up in your area!