Tableau Driver's Ed is a blog series in which we explain InterWorks' unique take on Tableau Drive, a new methodology for enabling self-serve BI in the enterprise.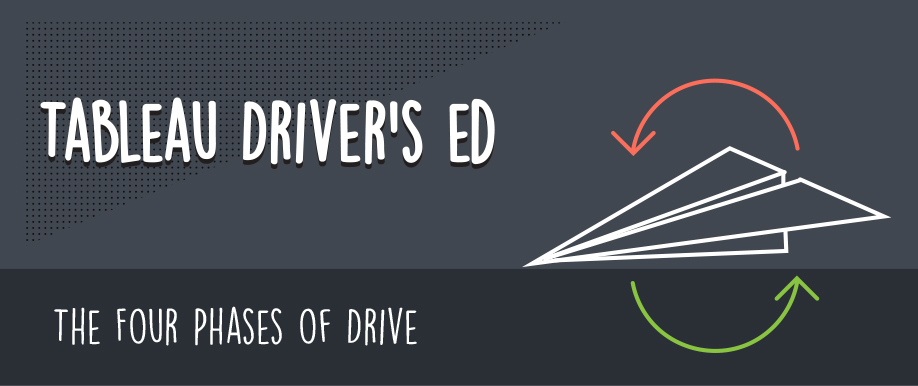 Now that the fundamentals of Tableau Drive have been established with our previous Driver's Ed articles, let's talk about the four phases of Drive. These are the broad steps necessary in building an analytical culture within your organization. 
If these look similar to traditional phases in project management, you're absolutely correct. Building a culture for analytics sounds like an ambiguous task with no means of measuring or milestones. That's the beauty of the Tableau Drive methodology. They have taken a complex task and broken it down into an easy-to-implement process.
Let's get started.
Phase 1: Discovery
Will this work? This is the essential question of the Discovery phase. While the question is simple, it will actually lead you down several different paths required to answer it. The first is to assess what the organization already has in place, known within Tableau Drive as the As-Is Assessment. For brevity's sake, we won't go through the entire checklist here; but it's simply taking inventory of the people, processes, technology and strategies that are necessary for success.
The next path that the basic question of the Discovery phase leads us is "if this works, what will it look like?" This is known as the Future State Vision. The most important thing in meeting a goal is defining the goal. What is success? For Tableau, success most often focuses on a widely adopted, self-service analytics culture that drives insight and innovation through data. You can add more specific criteria to your Future State Vision based on your organization's specific needs and strategies.
Phase 2: Prototyping & Quick Wins
With the Agile Methodology article, we're already familiar with prototyping. The best thing about rapid prototyping is that you get your feet into the game early and can quickly learn while doing. Planning, while important, can also lead to paralysis if it is excessive. Projects need momentum, and Tableau Drive is no different.
The most important aspect is to find the most passionate Drive team members that can champion the use of Tableau dashboards and grow into power users. If there is no one on your team that has a background in Tableau or analytics, your first step might be the Tableau Fundamentals training course.
The initial team should look to create dashboard prototypes for one or two of the most influential stakeholders or groups. It's obviously important that they spend the time to understand the analytical needs of each group, prepare the data for accuracy and meet frequently with each group to create that partnership and collaboration. These prototype dashboards should be ready in a matter of days rather than months. Follow the agile methodology to refine, improve and perfect with each iteration.
Phase 3: Foundation Building
Foundation building is taking the momentum that we've garnered in the organization and preparing a base for scaling out. Building a foundation for Tableau means focusing talent and resources to support this endeavor. To maximize the ROI on building an analytics culture, you need to create a Center of Operations within the IT department.
The CO is essential in supporting the Tableau Desktop users with Tableau Server, deployments, data sources and other technical needs. Nothing will take the air out of your push to create an analytics culture than report creators not having the data, the tools or the technical backing that they need.
The business side of the organization can focus on building best practices, a data dictionary and a community portal to spark creative ideas in dashboard building. The Tableau power users identified (or trained, as the case may be) should have "office hours" or time set aside to offer expert advice or direction for newer users. The business will create a Center of Evangelism, with the purpose of spreading Tableau across the organization. We'll cover the CoE in more detail in our next article.
Phase 4: Scale Out
While the Scaling Out phase is technically one of the phases of Tableau Drive, in truth, it will be an ongoing endeavor to continually improve performance, upgrade your foundation and continually spread Tableau proficiency throughout the organization.
The first step is to broadly introduce Tableau to the rest of the organization now that you have quick wins with different departments in your pocket and the foundation prepared to support an organization-wide analytic effort. Introducing Tableau requires kick-off meetings, demonstrations, mentoring, training and more. Internally within the Drive team, always evaluate your progress and look for new ways to generate adoption and interest. Be dynamic and persistent.
Next Steps
For more detail on the four phases of the Tableau Drive methodology, download the How to Drive manual from the Tableau website. They cover the four phases in a much greater level of detail than is possible within a single article. The important thing to remember is that building an analytics culture is just like any other project with team responsibilities, milestones and planning.
If you need assistance on how to get started, particularly during the Foundation Building phase where you need to make sure that your Tableau Server deployment is sufficient to scale with demand, InterWorks can certainly help.
Contact us today for more information on how we can help you.