The InterWorks Events Team has been quiet over the last few months, but that's not due to inactivity! Rather than continuing our Monthly Event Recaps, we decided to give you a wrap up of our events for each quarter. So, without further ado, let's dive into Q2.
Our Brewalytics series throughout the U.S. went off without a hitch and are still seeing a lot of interest in the hot topic, embedded analytics. Seeing the success of this event, our Australia Team decided they would have their own Brewalytics. Of course, Brewalytics is just the tip of the iceberg. All around the globe, we held all sorts of events ranging from large conference to exclusive movie screenings + workshops. Let's start things off Down Under.
Australia / New Zealand
The InterWorks ANZ team participated at Tableau's Data Day Out in Sydney in May where people could get a hands-on opportunity to see Tableau Dashboards in action along with a great number of breakout sessions. This event was an excellent opportunity for hundreds of Tableau users in the area to network and learn some new things.
The week after this event, the team hosted Brewalytics in Perth – our first Brewalytics event in Australia. This gave attendees the opportunity to network over a drink and get an inside look at how they can have a bigger impact on their data with help from Tableau and InterWorks' team of experts.
Above: The InterWorks ANZ crew at Brewalytics Perth.
Europe
InterWorks EU started their quarter with their popular series of events, Data Discovery Days, that occurred in Frankfurt and Munich, Germany, as well as in London, England. These events are fun opportunities for data folks to learn about the potential hiding in their data.
In May, InterWorks EU hosted a D+I+Y London event where attendees had an opportunity to learn best practices, tips, tricks and new technologies. They also heard inspiring stories from some of the best in the data community who can help you on your journey to delivering successful analytics.
Finally, they hosted their very first London Brewalytics, which featured experts sharing how you can get creative with Tableau and how to differentiate your data with portals.
United States
In the U.S., we were busy planning for conferences, movie events in Tulsa and OKC and a Snowflake Series throughout the nation.
Data for Breakfast
We participated in a tour with Snowflake and Tableau across the United States in places like Denver, Los Angeles, Atlanta and Portland. Attendees enjoyed a breakfast and presentations with data analytics experts to hear about the latest big data technologies.
Alteryx Inspire Conference
Our team was well represented at Alteryx Inspire this year, and they had a ton of opportunities to show off what InterWorks does best! Our very own Alteryx Ace Michael Treadwell spoke at a breakout session about the Alteryx Gallery API and how it could be used to extend the capabilities of the Alteryx Server. Several of our trainers also hosted training sessions at the conference itself.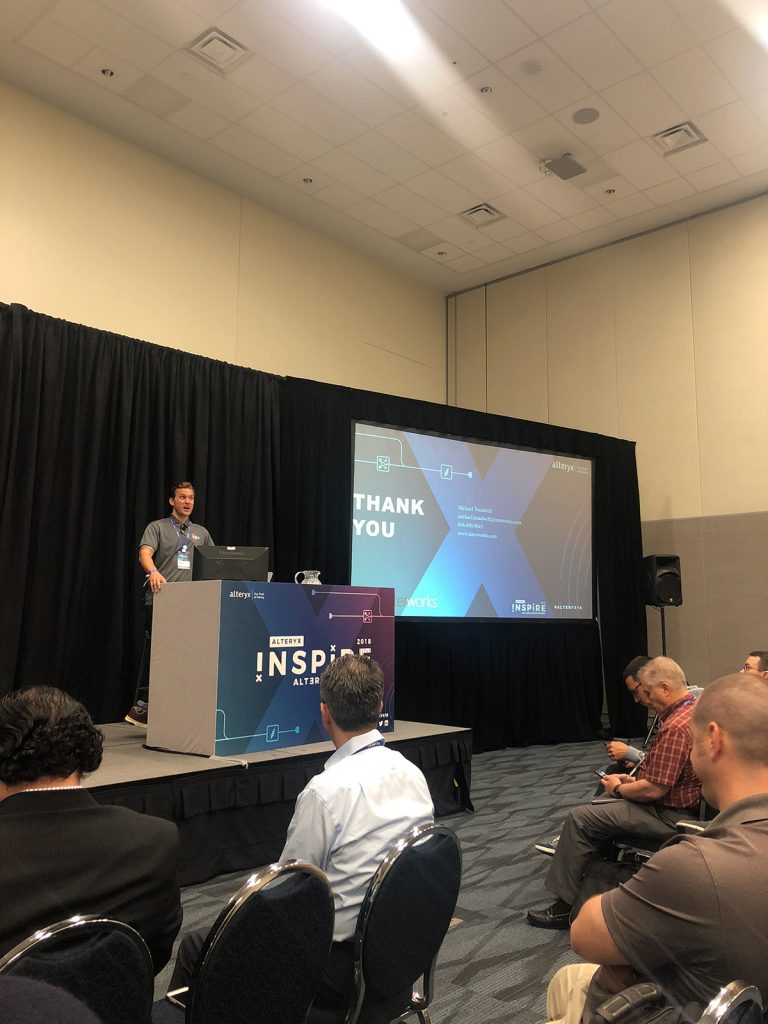 Above: Mike Treadwell presenting at Alteryx Inspire.
Star Wars Movie Events
At our Star Wars movie events this year, we had over 100+ come out to Oklahoma City and Tulsa to hear a little about InterWorks story and what we do in the industry. We all gathered in private theaters with lunch provided to watch "Solo: A Star Wars Story." There was even a little Star Wars humor within the presentation.
Above: InterWorks Account Executive Andrew Wooten presenting at an IT movie event.
Community Events
We participated in many community events during this quarter. Two, however, stood out because they were the first time we participated in them. We had our first VMUG event located at Main Event in Oklahoma City where 50 participants attended from the community. We also helped out with the first Higher Education TUG at the University of Colorado in Denver where Ben Bausili shared performance optimization and Tableau Prep tips and tricks to attendees.
Get Ready for a Busy Q3
If you think Quarter 2 sounds busy, just wait to hear how Quarter 3 turned out. Here's a sneak peek: We will highlight the Tableau Conference – London, a new series on our IT Services side in the United States, an embedded analytics series that took off in Georgia and Texas, and a Data Day Out in Australia. We hope to see you out in the wild at one of our events!