Karl outlines several key steps to maximizing your success in an analytics deployment. He shares practical steps toward analytics adoption throughout your organization, as well as some personal illustrations from his family's own adoption journey.
Welcome back for part 2 of the Success in Adoption series! Last time, I introduced you to my adopted daughter, Tori. This series is comparing the family adoption process we went through to an analytics (or any technology really) deployment. User and corporate adoption is critical for success. In the first post, I introduced you to the five steps critical for success:
Build excitement
Follow a thorough vetting process
Commit to your decision
Get help!
Replace the old with the new
If you haven't read part 1 on building excitement, give it a read it so you can fully follow along.
Do Some Serious Vetting
After that critical conversation with my wife, we started doing some research, or vetting. We soon discovered that there was a lot we needed to take care of as part of this process:
Background: a background check
Learning: parent training classes
Small Commitment: Become foster parents first (Georgia state requirement)
Trial: Conduct home studies and visitations
Communicate: Pray, think and talk as a family throughout the process
In all the successful analytics deployments I've seen, vetting—doing your homework as far as research and preparation is concerned—is critical, too. Before making a decision, it's important to understand the following:
Background: What legacy systems currently exist? What data is currently available?
Learning: What does it mean to implement the Tableau platform? What problems can I solve?
Small Commitment: Work with Tableau or InterWorks on a small license trial or purchase
Trial: Conduct a guided evaluation or POC small in scope
Communicate: Discuss openly and frequently throughout the process
See the similarities?
Background
Before the state of Georgia would allow us to do anything, my wife and I had to have background checks done to make sure we were a safe couple to work with. In your organizations, it's important to identify legacy systems, databases and key people. You probably already know this, but review these carefully as there tend to be key people or databases that get overlooked. This can ultimately hinder things down the road. Just like the state was looking for blemishes on my wife's record and mine, during the background phase, it's also important to know what projects failed to do what you're trying to do. This will help you avoid the mistakes of the past.
Learning
It's a funny thought that a couple with two kids already had to go to parenting class, but we did. While much of what was taught was "review" for us, there were some very valuable things we needed to learn as we prepared to bring another child into our home via adoption. We learned about the things to be sensitive to with kids who come from foster care and group foster homes. Even in the best scenarios, children from these situations can develop behavioral challenges in childhood and adolescence that become very problematic. We learned about resources that could help us during this phase and additional phases beyond adoption finalization: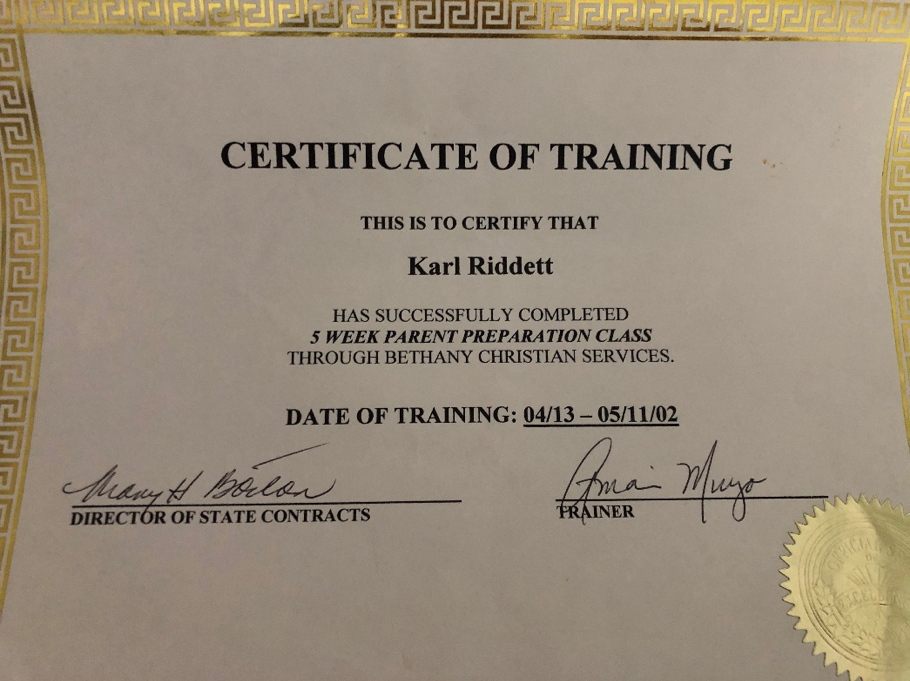 Above: I'm officially trained as a parent!
With platforms like Tableau that are so easy to learn, coupled with someone who is familiar with data and analytics, it can be tempting to skip over the learning phase. I'm not talking about training (yet). I'm talking about understanding what a successful platform will do for your organization. I'm talking about learning from a partner like InterWorks—learning what a new Tableau deployment would mean for my data strategy, to my Excel user base, to my executives and how they view data. Answers to all of these will guide the rest of your adoption.
Small Commitment
How do you eat an elephant? One bite at a time.
The journey of 10,000 miles starts with one step.
We've all seen these quotes, but they ring true in this phase. Because the legal process of adoption can take some time, we had to become foster parents with the state of Georgia so that we could proceed to the next Trial phase. This was a lifetime commitment in our eyes, so taking a short time to do this right was a necessary step for us.
In your analytics journey, don't forget that you can make a small purchase of a Creator license or two or work with Tableau or InterWorks for an extended guided evaluation. This small commitment now doesn't lock you in forever, but it gives you the ability to thoroughly vet yourself and your organization.
Trial
Once we completed the foster process, we were allowed to progressively increase our visitations with Tori. It started by visiting the group foster home, then neutral site visits, then daytime home visits, then overnight weekend visits. All of these were necessary steps before her "Gotcha Day."  One weekend, we had Tori with us, and our oldest son was getting very frustrated. At four years old, it was wearing on him that his soon-to-be sister was screaming her head off in the car as we drove to our house. Very matter-of-factly, he said, "Maybe we shouldn't get Tori." My wife and I laughed and still laugh about that line today. (Tori is loved by her oldest and all of her brothers, by the way)
A Trial is intended to do just that. "Maybe we shouldn't get product X." Before a significant investment is made, a trial period—properly planned and executed—is critical for long-term adoption. There will be the screaming-in-the-backseat moments during an extended trial, but that's healthy. It shows you as the leader what to expect with challenges that will arise and the level of commitment that will be required.
Communicate
During Tori's adoption process (most of which was during the summer that year), we communicated. We talked with our family, we talked with friends, we prayed with each other. It should go without saying that communication is key, but we take it for granted. If we didn't talk about emotions, concerns, etc., during this phase, we probably would not talk about them after the fact either, and they would then grow into secrets and pink elephants down the road.
During your evaluation, talk. Communicate. E-mail. Over-communicate. It should feel annoying to the leader. But you won't regret the extra time taken to hear people out with their concerns. You probably will mitigate at least one or two naysayers down the road by scheduling that 1:1 meeting. Communication also allows for the setting of expectations with leadership, which is critical for success.  After all, your project is about communicating insights and data, so why not get into the habit of doing this well now?
Following a thorough vetting process will be tedious and time consuming but worth the effort. Six months after deployment, your team will be in a much better place if you do these things.
Next, we'll talk about taking the plunge with part 3: commit to the decision!