10 Questions is an ongoing blog series in which Tableau Zen Master Dan Murray interviews some of the brightest folks in the world of data.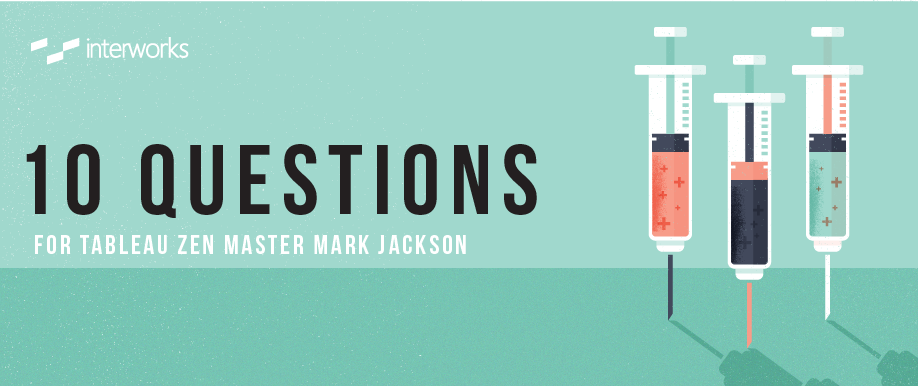 I first became aware of Mark from his Tableau beta program participation. He was putting out excellent performance test metrics out on the Tableau beta website that were very helpful. I've had the good fortune to get to know mark better through the Tableau Conference, the Zen Master program and through consulting work. Mark exemplifies what a Tableau Zen Master should be – helpful to the community, technically proficient and enthusiastic about the finding ways to use data visualization to improve decision-making.
The Questions
Q: When and how did you discover Tableau Software?
Jackson: It was early 2011 with version 6.0. I was the Manager of Business Development and Project Management for Piedmont Healthcare's Heart Institute. I wasn't sold on it at first, but I was willing to give it a shot because the status quo of pulling CSV files into Excel for dashboarding wasn't sustainable. Over the course of about three months, I discovered a lot about Tableau as I migrated my Excel content to interactive Tableau dashboards. At the end of my experiment, I was a believer and dreamed of a day when all of Piedmont would have access to a tool like this for analytics.
Q: How did your professional training help or hinder your learning of Tableau?
Jackson: It helped. I had a ton of experience with Excel and found that a lot of my knowledge of pivot tables and formulas translated easily to Tableau. I was also used to presenting data visually with charts and sparklines in Excel, so I already had an eye for what visuals worked well. Of course, Edward Tufte later taught me that I knew nothing and gave me a completely different perspective on good visual design.
Q: What's your role at Piedmont Healthcare?
Jackson: I'm now the Director of Business Intelligence for the healthcare system. My humble beginnings as an analyst and consumer of Piedmont's data offerings would lead to an opportunity to build a new BI program from the ground up. I'm incredibly thankful for everyone that believed in me and supported my vision of self-service analytics across the company. Now my team is 10 strong, and we have a great partnership with Piedmont's data architecture team to continually push the envelope of what can be done with data to further Piedmont's mission of having a positive impact on the lives of our patients.
Q: How do you see data visualization, big data and Tableau influencing and aiding healthcare providers?
Jackson: I've had a front row seat for how data can impact patient care and improve their healthcare experience. We've observed significant improvement in key patient safety indicators as a result of having immediate access to our performance. Every day, our executive team gets a dashboard with updated information about what happened yesterday for various operational and clinical metrics. When you have the executives focused on the information, that drives the behavior needed to improve the metrics.
Data is also a huge part of the Quality and Process Improvement (QPI) program at Piedmont. This program is designed to teach Lean Six Sigma concepts to leaders throughout Piedmont for the purpose of reducing costs and improving outcomes. Leaders receive a certification at the end of the course after completing a capstone project to redesign or implement new processes that show statistically significant improvement in a particular area where they have influence. The infrastructure we've built makes it possible for many of these leaders to measure the performance of their initiatives.
I think the next place where data will have a big impact on healthcare is with more advanced predictive analytics that get integrated back in to the electronic healthcare record system. We've already started doing some of that work as it relates to producing risk scores for central line infections and predicting heart failure. The future looks bright, and I'm excited to be a part of it.
Q: What has been the most significant impact Tableau has had on your career?
Jackson: I spent six years as a generalist at KPMG and finally started acquiring some deep experience in healthcare when I joined Piedmont. But I really wasn't sure what I wanted to be doing for the rest of my career. Tableau gave me that clarity and changed my life. I'm so happy that I discovered it and thankful for all the wonderful people I've met on this new journey in data visualization. Tableau is the reason I love what I do.
Discover More Interviews
Want to read more insightful interviews like this one? Then you'll love our 10 Questions blog series. Check out the full list of interviews here, and stay tuned for new additions.
Need Help? Let Us Know! 
There you have it. If you need help with your data infrastructure or Tableau, we have the experience, skill, and knowledge to insure your success. Contact us today to learn more.
If you're in college and think you might want to get into this game, head to our Careers page and apply for one of our open jobs. We'd love to hear from you.