Snowflake is very much a global data warehousing company these days, as evidenced by their recent Snowflake Summit World Tour. San Francisco, Chicago, NYC, London and Sydney were all major stops. Each featured informative sessions, great keynote speeches from the Snowflake team and plenty of networking. Though InterWorks was present throughout the tour, the Sydney stop featured a little something special: InterWorks winning an APAC Partner of the Year award!
Snowflake's 2019 "Solution Marketeer"
The specific award InterWorks claimed at Snowflake Summit in Sydney was the "Solution Marketeer" award. That sounds like some sort of Alexandre-Dumas-meets-Forbes type of praise, but what it really means is that we excelled at demonstrating the value Snowflake could bring to our APAC clients' data warehousing efforts. This is something we've been doing for a hot minute stateside, garnering us two consecutive Partner of the Year awards for the USCA region the past two years. Getting recognition for delivering that same quality of work in APAC is immensely gratifying.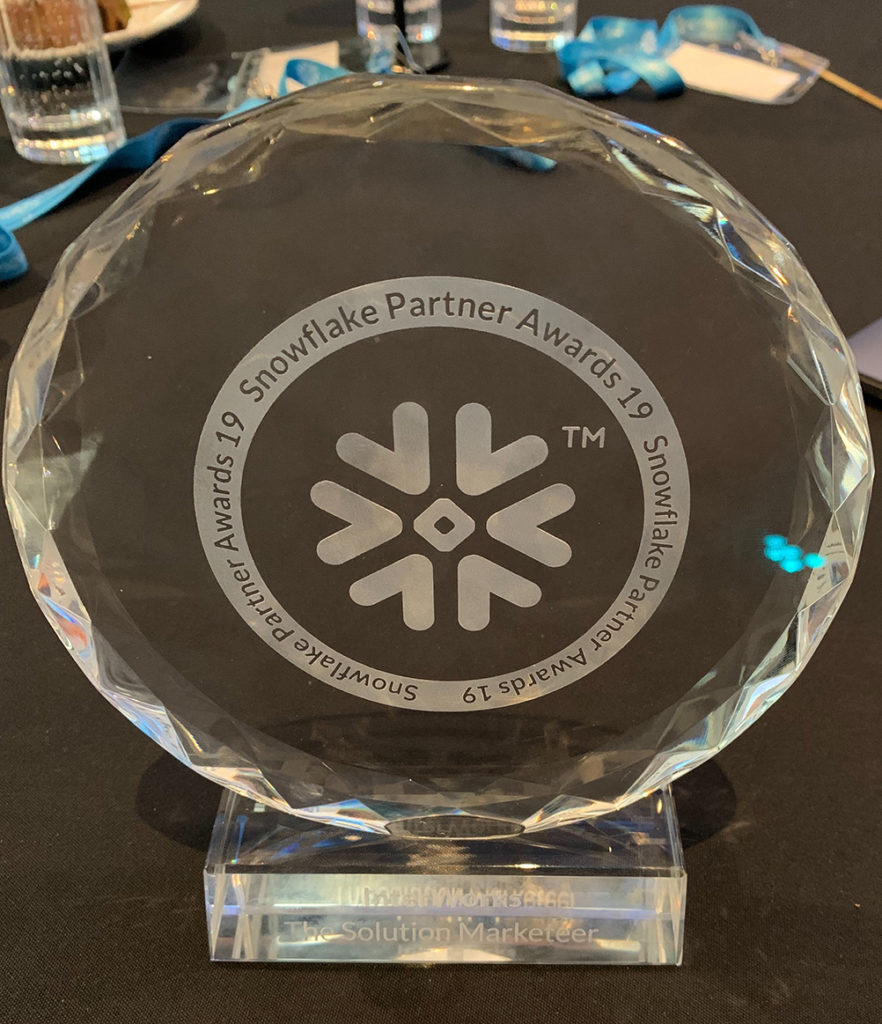 Above: The "Solution Marketeer" trophy bestowed upon us in Sydney.
The Real MVPs? Our Talented Team
There are a lot of people to credit for our Snowflake success in the APAC region. First and foremost, our APAC team consisting of Robert Curtis, Paul Middlewick, Sergej Barkar, Bill Clarke, Jack Faulkner, Jackson Stein, Jia Liu, Benjamin Du, Tom Kern and Breanne Varney all deserve a huge round of applause for being the ones on the ground executing all this great work. With added backing from the global InterWorks "hive mind," they've been able to do big things for clients with blinding efficiency and effectiveness.
Our clients also deserve a huge shoutout for trusting us with their data environments and generally being wonderful people to work with. They're the reason we do what we do, and we love helping them tackle their data challenges with our accumulated knowledge and technologies like Snowflake. Their openness and eagerness to invest in the best is always refreshing.
Above: Sergej Barkar (left) and Paul Middlewick (right) presenting in Syndey.
Finally, none of this would be possible without massive collaboration and coordination with our partners at Snowflake. The success of our clients is truly the result of this tight partnership. Having other partners like Tableau, Amazon, Fivetran and Matillion have also compounded what we've been able to achieve in APAC. They allow us to provide the same full-stack bandwidth we would anywhere else, which is a major advantage for our clients seeking top-to-bottom data solutions.
Here's What's Next
A Snowflake Partner of the Year award is no doubt some sweet recognition, but we're ready to get back to work. That leaves us with two parting thoughts:
We are hiring in APAC – Specifically, we're looking for data engineers who want to work with Snowflake. Peep our current job openings on the Careers page to see if you're a fit.
We'd love to work with your organization – If Snowflake sounds interesting to you, or you want to learn more about any of our data architecture and analytics offerings, drop us a line. We'd love to see where our skills and supported technologies might fit into the puzzle.