It was October 2018, and I'd been at InterWorks for a mere handful of weeks. Starting a new job of any kind is an adjustment, but moving from education to technology was a bigger jump than I'd anticipated. I was having a conversation with a colleague about how much I loved to read and how, frankly, I really missed digging into literature all day every day like I'd done in my previous life as an English teacher. I didn't think that my passion for books could coexist in the tech space, but I was encouraged: "If you want to make it happen, let's make it happen."
Thus, the InterWorks Book Club was born!
A Place for All Your Passions
One of the things I most admire about InterWorks is how you can carve out a niche for yourself. If you're really talented when it comes to adding design flair to client dashboards, you can create a job for yourself that didn't before exist. If you've got a green thumb and an eye for design, you can celebrate Earth Day with a seed pack to give to your fellow IWers. Basically, there is always a way to infuse your interests into your work. The book club follows this same line of thinking. After talking with other folks on the marketing team and gauging interest, a book club Slack channel was created—that's when you know it's real. Books were selected, meetings were scheduled and a love of the written word was soon spread throughout the office.
The book club has been a really fun way to talk about things besides data and technology with my coworkers. It includes people from marketing, BI and IT, as well as local and remote employees, and gives us an opportunity to engage in thought-provoking discussion and get to know each other better. Plus, it helps us read more, which makes everything better. Always.
Below are details surrounding the three books we finished over the last year. Maybe one of these titles will catch your eye.
Kitchen Confidential by Anthony Bourdain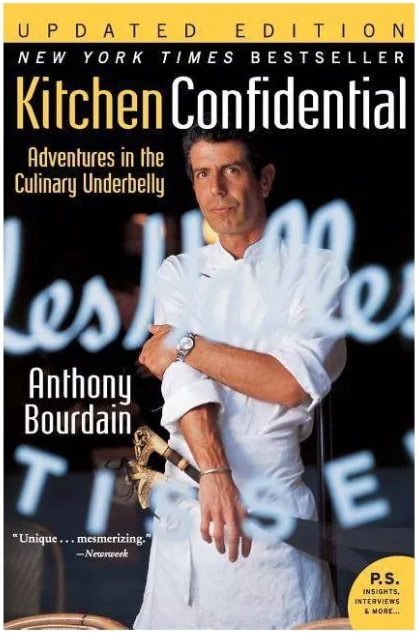 Who suggested it: I did
Why we chose it: Most members of the book club are very interested in cooking and/or have had experience in food service. Many of us also liked Bourdain's TV shows and were intrigued by the journey he took to get to that place in his career. Sadly, it was an especially relevant and poignant choice because of his death in June 2018.
General sentiments: On the whole, the book club members enjoyed reading this memoir. The anecdotes Bourdain included were lively, unfiltered and honest, though sometimes painfully so. The reading experience was indelibly tinged with sadness and melancholy.
"For me, 'Kitchen Confidential' was a favorite. Like many, I grew up watching 'No Reservations' in the wee hours of the morning and thinking Anthony Bourdain had the coolest job in the world. His irreverent yet endearing manner is only magnified in the book, and the entertaining stories abound. In the end, it's a book about authentic experience and pursuing life on your own terms. That really resonated with me."

– Garrett Sauls, Communications Manager
Overall impressions: It was a very eye-opening account of someone deeply entrenched in the food industry. The book was revealing of the dissatisfaction and isolation possible in a chef's life. Very much a provocateur, Bourdain was outspoken about the negative judgments he made regarding "celebrity," which caused him to wrestle with himself once he attained that status in his own life. One analogy from the book resonated most deeply with us: the idea that the food industry is a lifeboat, and those who are weak or dangerous are thrown overboard. The disconcerting reality is that the threat to one's wellbeing can come from outside themselves, as well as from within.
Average group rating: 3.5/5
Becoming by Michelle Obama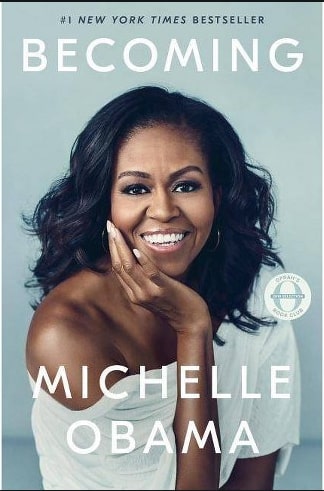 Who suggested it: Jenny Parnell
Why we chose it: We were all very impressed by the way she handled being FLOTUS with so much grace. She also piqued Jenny's interest when she pushed back on Cheryl Sandberg's "lean in" philosophy. Finally, she took her public health agenda seriously, pursued it actively and made a lasting impact on our culture.
General sentiments: This was our highest rated selection of the book club's inaugural year! After reading her memoir, we now love and respect Michelle Obama even more than we did before.
Overall impressions: The concept of duality resurfaced throughout the work: growing up among poverty and hardship but earning privilege; being the First Family while staying grounded and raising her daughters normally; being selfless yet ambitious; maintaining a work life and a home life; forging her own identity while being known in relation to Barack. Ultimately, we found this to be a story of hope and optimism and finding your voice, and once you find it, use it!
Average group rating: 4.6/5
Talking to Strangers by Malcolm Gladwell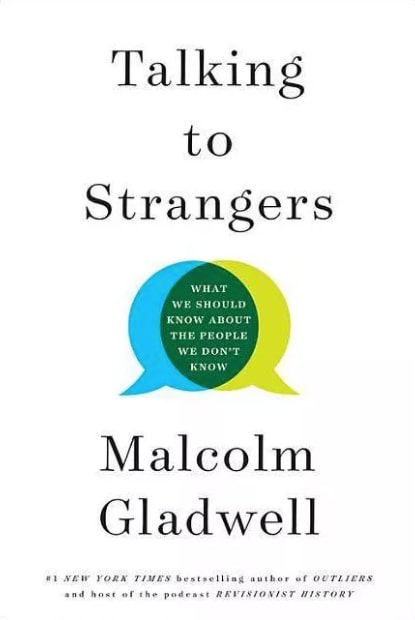 Who suggested it: Ricki Thompson
Why we chose it: It first came onto our radar when it was promoted via the Oprah podcast. We also wanted a book that would elicit thoughtful, interesting and potentially challenging conversation, and many members had enjoyed their previous Gladwell reads.
General sentiments: We're glad we read it, but it was challenge. There was no overall resolution or closure to the tough topics presented by the author, and his arguments raised more questions about these concepts, likely by design.
Overall impressions: Some of the difficult topics we grappled with were trust, prejudice, freedom, personal responsibility and the consequences (intended and unintended) of our decisions. Gladwell presented the idea that people "default to truth" when appraising someone or something, even when that truth seems unlikely. The veracity of all things was called into question, including the author's narration.
Average group rating: 3.3/5
So Many Books, So Little Time
After a successful first year, I can't wait to see what 2020 has in store for the book club! Hopefully, even more people will get involved, more tough ideas will be wrestled with, and we'll forge even closer relationships with our coworkers. It's not just data and tech that connect us here at InterWorks; our passions and the freedom to bring them into the office and explore what form they can take are an important and unique part of our company culture.
Does this sound like the kind of place you'd like to be? We're always looking for exceptional individuals to join our team. Take a look at our job openings, and maybe we'll see you at the next book club meeting.