Tableau has a vast collection of products designed to help you do the most with analytics in your organization: Tableau Desktop, Tableau Prep, Tableau Server, and Tableau Cloud (formerly Tableau Online). There is also a lesser known (and free) software Tableau provides called Tableau Bridge. However, Tableau Bridge has a very specific use–case:
 

You have Tableau Cloud, AND

 

You need to keep data hosted behind a firewall fresh



Therefore, if your organization is considering or has Tableau Cloud AND you have on–premises data (e.g., MSSQL or Oracle SQL Server, CSV files) or private cloud data that you need to build workbooks with and keep refreshed, then Tableau Bridge is a must.
So, you may be asking, "Okay, what exactly is Tableau Bridge and how does it work?"
Tableau Bridge is a software that you install and run on a machine (can be virtual) in your organization's network. Tableau Cloud cannot reach your on–premises or private cloud data directly, so Tableau Bridge acts as a conduit between that data and Tableau Cloud, communicating via an outbound encrypted connection. The sixth blog in our Tableau Bridge series covers Bridge Security in more detail.
Note: In official Tableau documentation and throughout this series, you may see Tableau Bridge referred to as the "Bridge Client." However, if using the term "client" may create confusion, think of it instead as an "instance" of Bridge installed on a machine. Additionally, note that only one "Bridge Client" can be installed on a given machine at any one time. We discuss this more in our third blog in this series, Tableau Bridge: Installation.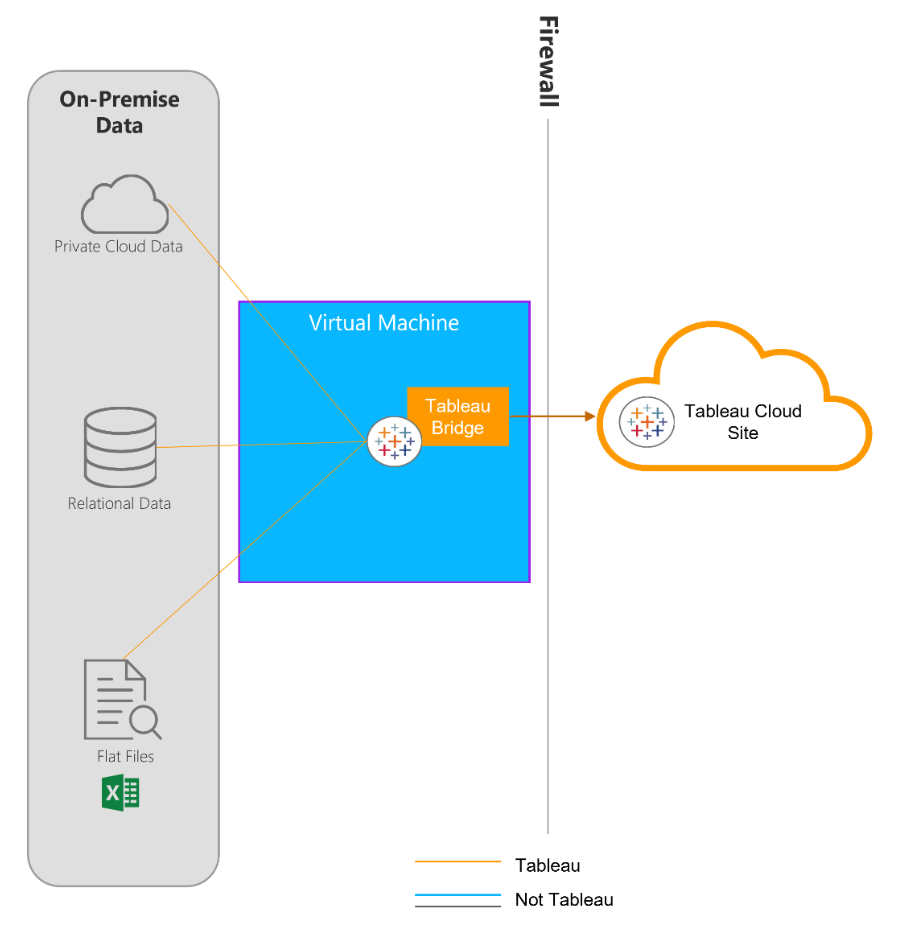 Above: This diagram outlines how your on–premises and private cloud data communicate with Tableau Cloud via Tableau Bridge.
While Tableau Bridge's purpose is to refresh your on–premises or private cloud data, it can only refresh published (sometimes called "hosted") data sources. Therefore, if you have on–premises or private cloud data sources embedded in your workbooks, you will need to convert them to published data sources. Published data sources are published separately from a workbook and can be connected to any number of workbooks on your Tableau Cloud site. Our next blog, "Tableau Bridge: Data Source Requirements"  covers the importance of this requirement and its benefits, such as an opportunity to consolidate data sources across your Tableau environment. We also dive deeper into what data connection types Tableau Cloud does and does not support and the nuances of what connections need to be published as extracts.