So far in our Tableau Bridge blog series, we've identified What is Tableau Bridge and whether you need it for your deployment of Tableau Cloud. We then dove into Setting Up Tableau Bridge and the considerations needed to ensure success in refreshing your private network data, including Pooling . If you've arrived at this article and find yourself feeling uncertain about its relevance to your Tableau environment, we recommend you begin with the first blog in this series, Tableau Bridge: What Is It (and Do I Need It?),which should get you up to speed right away!
Assuming you've now identified Tableau Bridge is required within your analytics environment, you may be asking, "How do I schedule refresh extracts for my on-premises data?" This is a valid question that we'll cover next.
Let's Get Schedule Savvy
To inform our later discussion about Bridge Security, we'll lay the foundation for Bridge Refresh Schedules, which are required to refresh extracts of private network data. It's worth noting that there is a timeout limit for refreshes on Tableau Cloud of two hours.
There are two primary reasons that you might create an extract of your on-premises data:
Tableau requires it for Cloud-compliance. The two sources that fall into this category are File-based data and Statistical files, both of which are supported as Extracts only.
You wish to improve performance of your data or take advantage of functionality not available in your original data. An example of this might be SQL Server, in which Tableau Cloud supports a live connection, but the extract makes your workbooks more performant.
As of the date of publish on this article, Tableau offers two types of refresh schedules: Online or Bridge (Legacy).
As the name suggests, Bridge (Legacy) schedules were the original means of refreshing private network data, with limitations around REST API and virtual connections. Online schedules solved for these needs, while introducing Pooling, which load balances data freshness tasks among available Bridge clients (thereby lessening the intervention required if a given Bridge client can't perform the task). As of Bridge 2021.4.3, Online schedules are also capable of refreshing file-based data sources (previously only conducted by Legacy schedules).
As you plan your Bridge deployment, our recommendation is to use Online scheduling, which now supports all functionality once delivered by Bridge (Legacy) schedules, Pooling, and more.
And possibly the most convicting case for Online schedules?
Tableau has asserted that support for Bridge (Legacy) schedules will eventually be removed.
Though we don't know precisely when, it makes sense to equip your Cloud site with Tableau's more capable and well supported Online schedules.  So, let's take a closer look.
You can set up an Online schedule in one of two ways:
1. At time of publishing…
Create your data source in Tableau Desktop
Select Server > Publish Data Source
Configure options for your data source, making sure to select the option to publish an extract if prompted (Note: if your data source requires an extract by Tableau Cloud – a file-based source for example, you will not be provided options here. Tableau will create an extract by default.)
Click Publish
In the Publishing Complete pop-up, click Schedule Extract Refresh
Configure your schedule and click Create
2. After publishing…
Navigate to the data source page for the source you wish to create an Online schedule
Click the Extract Refreshes tab
Click New Extract Refresh
Configure your schedule and click Create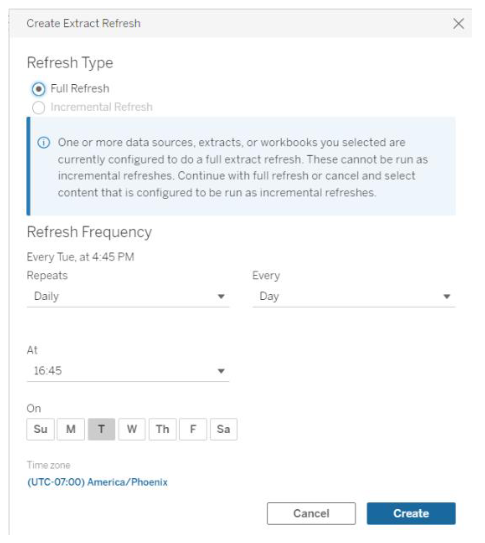 Easy enough!  The process to create an Online schedule is quite straight-forward and will feel native to the publishing procedure for the data source that you create.
If your organization has pre-standing Bridge (Legacy) schedules, you might consider migrating to Online schedules both to mitigate the concern over a loss in future support of your Bridge (Legacy) schedules, and to take advantage of Pooling.
This migration is easily accomplished through three steps:
Navigate to the Extract Refreshes tab of the data source page
Select New Extract Refresh
Configure and Create your Online schedule
How Do I Know if My Pre-Standing Sources are Using an Online or a Bridge (Legacy) Schedule?
The easiest way to identify an extract running on a Bridge (Legacy) schedule is by navigating to the source and clicking the Extract Refreshes tab.  The third column header will either read "Bridge (Legacy) schedule" or "Schedule" (in reference to Online).
This source is using a Bridge (Legacy) schedule:

While this source is using an Online schedule:

What About My Prep Conductor Flows?
If your Tableau Cloud environment is equipped with Tableau Data Management, you may be curious about how to schedule your On-Premises Prep Conductor Flows for Bridge compliance. Let's walk through that here while we're on the topic of schedules.
From Tableau Desktop, establish a connection to the on-premises data.
From Desktop, publish the data source to Tableau Cloud.
Create an Online schedule through the steps defined above, either during or after publish.
In Tableau Prep Builder, connect to the published data source you've just created and build your flow.
From Tableau Prep Builder, publish the flow to Tableau Cloud.
In Tableau Cloud on your browser, schedule the flow task to run in Tableau Prep Conductor.
That about sums up your scheduling options with Tableau Cloud.  Follow us to the sixth and final blog in our Tableau Bridge series to learn about Tableau Bridge security!