If you're following along in our Tableau Bridge blog series, you've likely arrived here having identified that you'll need Tableau Bridge to keep your on-premises data fresh and are looking for next steps.  If so, you're in the right place!  If you've not had a chance to read the first blog in this series, we recommend you start there to build a foundation for Tableau Bridge, including, "What is it?" and, "Do I need it for my deployment of Tableau Cloud?"  In this blog, we'll discuss data source requirements for successful refresh with Tableau Bridge.
Tableau Bridge Data Considerations
Depending on the data source, there are a handful of exceptions and publishing limitations to be aware of before assuming that all of your existing on-premises data source connections will be supported by Bridge.  Let's review the connection types that Tableau Cloud does not support, those that are supported as extracts only through Tableau Bridge and the necessary action to take for your embedded, on-premises data sources.
Removing Tableau Bridge from the equation, you'll want to be aware that Tableau Cloud does not support the following connection types:
Any Cube-based data sources
Published connections using Kerberos authentication
Refreshes of SAP BW data Oracle Essbase, MS PowerPivot and MS Analysis Services data (though you can publish/republish extracts to Tableau Cloud)
Apart from these exceptions, Tableau Cloud supports most other data sources, whether connecting directly from Tableau Cloud in the case of cloud-based data sources, or through Tableau Bridge for on-premises data as we are discussing in this blog series.  We are now keenly aware that on-premises data must use Tableau Bridge for data freshness, however not all on-premises data sources are supported as live connections.
On-premises data types that must be published as Extracts for refresh by Tableau Bridge include:
File-based data (Excel, .csv, .txt)
Google Cloud SQL, OData, Progress OpenEdge and Tableau extracts
Statistical files (SAS (*.sas7bdat))
Snowflake when used with virtual connections
Depending on the database, the following data types can generally be published as Extract or Live connections:
Data hosted on private cloud platform such as Oracle on Amazon RDS
Relational databases such as SQL Server, Oracle, IBM DB2
This brings us to the most important consideration of all as it relates to your on-premises data.  If there is one takeaway from this section, let it be this:
Tableau Bridge only keeps data fresh for published data sources.
In other words…
Tableau Bridge will not keep data fresh for embedded data sources.
Let's elaborate on this because it's very important.  A published data source is published separately from a workbook and may be used as the connection for any number of workbooks.  An embedded data source is one in which the connection has been built inside a workbook and published to the server as part of that workbook.  A data source embedded in a workbook will serve only that workbook and will not be available for use by other workbooks like a published data source would be.  For Bridge to successfully refresh on-premises data, that data must be published to the Cloud site on its own as a published data source.  At InterWorks, we also refer to this type of source as "hosted," because it's hosted on Tableau Cloud for use by subsequent workbooks.  If you're looking at data sources in the upper left pane of a workbook, "Published" data sources will appear beside a Tableau logo, whereas "Embedded" sources are marked with database symbols:

Published data sources are those you connect to when choosing "Tableau Server" in the data source Connect pane, whereas an embedded source is created when you choose a connection "To a File" or "To a Server:"
If you've identified that you have embedded on-premises data sources on your Tableau Server that you wish to include in your migration to Cloud (and ultimately refresh with Tableau Bridge), you must first publish these connections to Tableau Cloud and replace the data source within your workbooks from the embedded to the published source.
Though we know this adds a time-consuming step to your migration process, consider the advantages to Published vs. Embedded sources as shown below.  We prefer to think of this step as an opportunity for consolidation of your data sources, which will serve you well and optimize your refresh tasks in the future: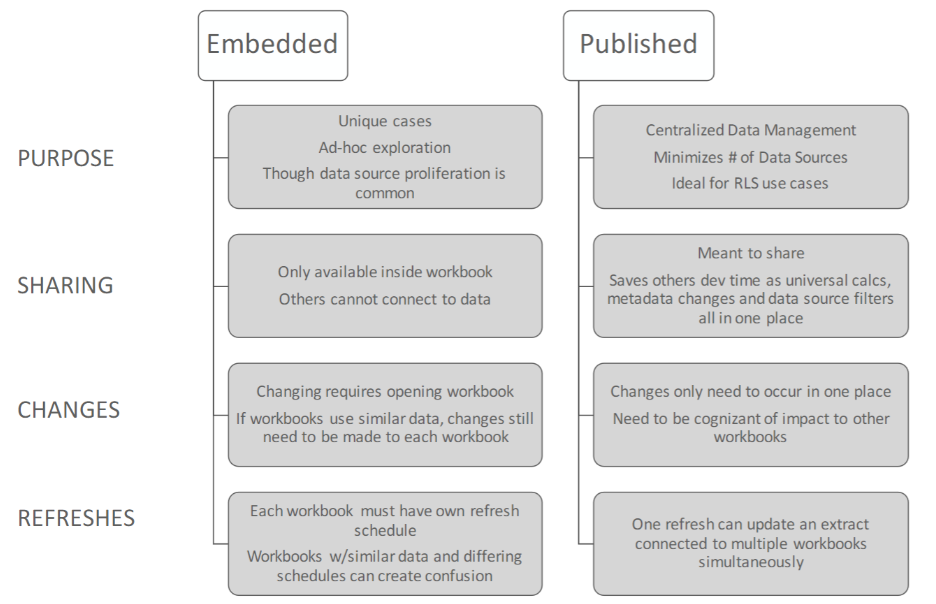 Once you've migrated all embedded connections to published data sources, you're ready to install Tableau Bridge.  We'll explore these steps in the next blog of this six-part series on Tableau Bridge. Meet you there!