At InterWorks, we have always been a group of tinkerers. Near the end of last year, we had the opportunity to launch the Amazon SageMaker for Tableau integration, a production-ready open-source analytics extension that enables organizations to bring the power of machine learning into their Tableau dashboards. The project shed light on the opportunity to integrate AWS services into the world of visual analytics, and we started to think about what other gaps we could fill from Tableau's extensive functionality.

When the DataDev Hackathon was announced, we got to work and designed InterWorks Translate by leveraging our experience building with Tableau's APIs in the AWS ecosystem. InterWorks Translate is a full-featured translation service that allows you to convert your Tableau dashboards into any language directly from a calculated field.
The Team

As is the case with any hackathon, the foundation for success is a great team that can complement each other's strengths and leverage the group's collective knowledge to think about the project from different perspectives. For the hackathon, we really set out to leverage InterWorks' full breadth of expertise by creating a team consisting of employees from our Analytics, Platforms, and Data practices. We also participated in the hackathon as a true global organization bringing in (from left to right above) Chris Hastie from the UK, Sergej Barkar from Australia, Grant Eisenmenger from the US and Holt Calder from the US. Time zones were fun to coordinate, but overall, the project could not have gone any better and speaks to our ability to work across the globe towards a common goal.
The Project
InterWorks Translate is a serverless API service that enables organizations to translate their underlying data into any language of their choosing. The solution consists of Amazon API Gateway, AWS Lambda, Amazon Translate and Amazon Cognito to support translation of any field passed, and the service—combined with Tableau parameters and calculations—creates a flexible environment that allows self-service language translation that's embedded directly into the dashboard: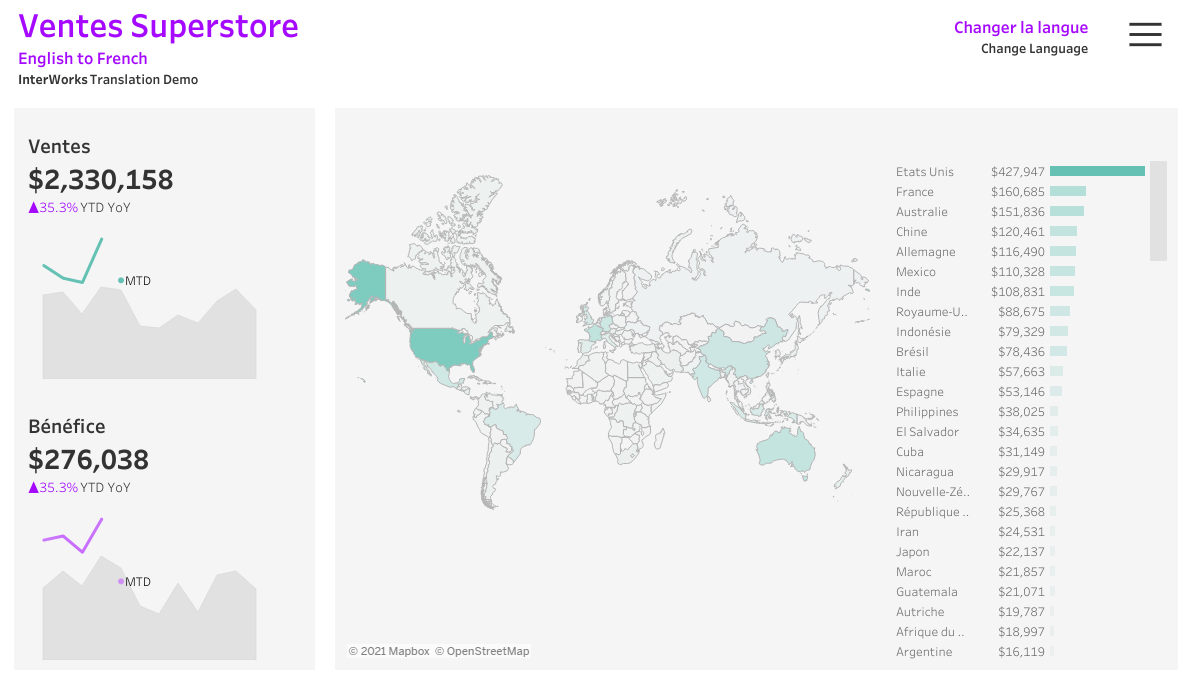 Interaction with InterWorks Translate is handled by Tableau's Analytics Extensions, which allows you to connect to the API service using basic authentication:
Translation is handled via Tableau's calculated fields and, when paired with parameters, allows you to provide embedded language translation: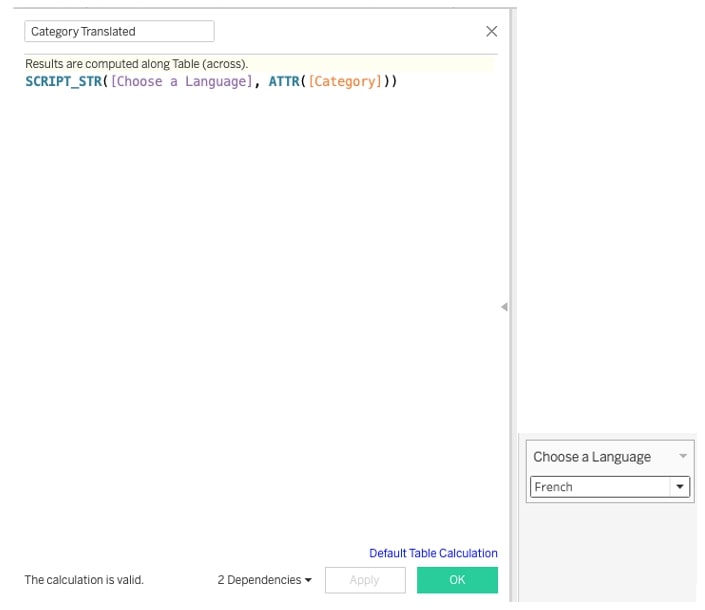 Once a calculation is placed onto the visualization, Tableau begins passing data to Amazon Translate, which automatically detects the source language and transforms the text into the desired language specified in the calculation or the parameter:
The Impact
InterWorks Translate is the perfect example of how Tableau and AWS can come together to provide enhanced functionality to your reporting environment. Real-time language translation is a problem that seems simple but, until now, did not have a simple solution. Using Tableau's DataDev resources, the opportunities are limitless. If you are interested in learning more about how you can leverage InterWorks Translate in your own organization, please contact us.