This year has been one of unexpected twists, and even the best-laid plans have been waylaid by 2020, including ours. At InterWorks, one of the highlights of the year is our annual company-wide Summit where team members from around the globe get together to plan, discuss and celebrate our work. While we had high hopes for an in-person Summit this year, the universe had other plans. But we're nothing if not resilient and flexible. This is the story of how our annual weeklong Summit evolved into a five-week-long Summer Tour.
Introducing the InterWorks Summer Tour
It's no secret that our best asset is our people. It's also no secret that we love celebrating big time with them (Don't believe us? Check out last year's Summit video, or see what it's like to experience Summit for the first time.). This year, we were going to take things to the next level: with Summit planned for the summer, we were gearing up for summer camp a lá InterWorks. However, a global pandemic threw us for a loop and handed us an opportunity to get really creative with our annual Summit experience. Here is just a taste of how our intrepid team went above and beyond to make a virtual event fun:
Bringing in guest speakers like Jeff Henderson, Dan Roam and Summit 2019 featured presenter, Les McKeown
Offering up tons of sessions that ranged from topics like project management and data governance to homebrewing and diversity and inclusion
Making session times global-friendly to accommodate InterWorkers in the U.S., Europe, Singapore and Australia
Hiding Easter eggs in sessions like Bingo games, gift drawings and scavenger hunts
Sending care packages featuring local souvenirs from around the world to every InterWorker
Read on to hear from some of our Summit planners about what it was like going virtual and how we worked to prioritize our quirky company culture and tight-knit relationships.
Q: What was it like taking the in-person Summit completely virtual?
Kelsey Lee, Manager of Talent Development and Outreach
I think moving an in-person event to a five-week-long virtual event really speaks to the adaptability and innovation that is part of our DNA at InterWorks. Although the thought of it was quite overwhelming at first, we gathered together and just made it happen in a fairly short period of time. Additionally, I think that the whole concept went over really well. I think we were all concerned that we would see low engagement for sessions once we had everything mapped out and realized it was going to span over five weeks. I honestly was so surprised to see high engagement (as strong as the first week) even in the last few sessions. I think that is a testament to the InterWorks people and culture.
Brandi White, Global Director of Employee Experience
Opting to go virtual and offering sessions that could be flexible in topic, time and depth of knowledge was predicated on the idea that we would have some involvement from our people. You hope for the best, and you have a vision in your mind of what you want it to look like, but the outpouring of volunteers was more than any of us anticipated. I was floored that SO MANY people raised their hands to be presenters. It was truly a global effort, and individuals who rarely get up in front of people were such good sports to just put themselves out there. I thought it was inspiring and a great reflection of a "safe" culture where everyone feels able to be that vulnerable.
It was truly a global effort, and individuals who rarely get up in front of people were such good sports to just put themselves out there. I thought it was inspiring and a great reflection of a "safe" culture where everyone feels able to be that vulnerable.
Chris Hastie, Data Engineer
It made a huge difference for the EU team as we don't usually get to interact much with the rest of InterWorks, but the Summer Tour gave us a great opportunity to talk to and learn from the rest of the company. This also allowed us to form stronger relationships with individuals and be more immersed in the overall InterWorks culture. It has left me wanting to have a full in-person summer/winter tour with the full company in the future, though I don't think this is logistically possible, and this virtual conference was the next best thing.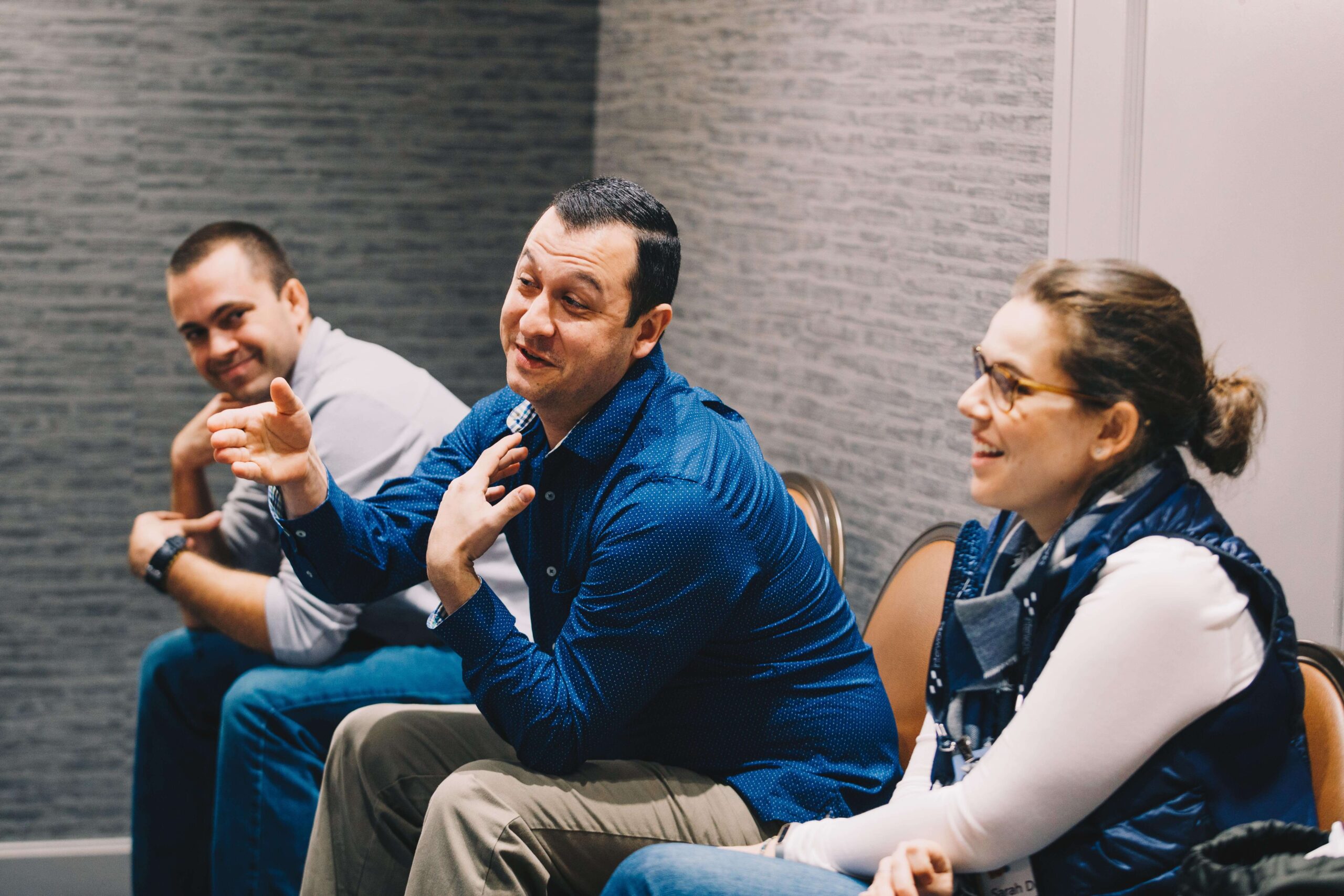 Above: Nicholas Laurenti, Dustin Wyers and Sarah Dorfman at Summit 2019
Q: How did the Summer Tour help our team members stay connected in the midst of the pandemic?
Lyah Barberan, Project Coordinator 
I'd say that this year's Summit made it easier to manage the various talks and events going on throughout the tour than how we've done things in the past. We were able to drill into topics with more detail and get more out of them, too. I still felt like we were getting some level of interaction amongst all the InterWorkers, even if it wasn't at the post-Summit dinners and bar nights. Life had been remote for a few months at this point, so I was pretty familiar with being on Zoom calls and was ready to be engaged and learn alongside everyone. In planning content for IT, we wanted to keep things concise and engaging because we all know how easy it is to tune out when feeling Zoom-fatigue. There was good effort put towards staying present during sessions and staying active in the Summer Tour Slack channel.
Brittany Dunn, Partner Marketing Manager 
I think the Summit was a welcome addition to people's everyday rhythms. We needed and wanted something fresh and new since we weren't seeing people in person or often. The pandemic gave us an avenue to take the Summit both virtual and truly global. We've been working around the challenge of creating a unified experience for people around the globe for a long while. The pandemic allowed us to connect in new ways and make people who don't usually feel that in-person excitement and connection really feel it. Even from region to region things are different, and to be able to deliver a united energy and experience across the entire company was really special.
BW: I think the timing was absolutely perfect in terms of people having reached their limit on working from home and feeling disconnected from each other. We were able to really socialize and enjoy ourselves for the first time in a while. It felt very InterWorksy – especially the running commentary in Slack. Plus, it has spurred so many good ideas in the way we do onboarding, the kinds of projects we take on, the way we work together. I am 100% happy with the concept, execution and the legacy of this event.
KL: I really think that everyone felt more connected, and it was a fun, unique way to get to know more about each other. I loved joining a session just to see who was also in the session and following along with the Slack channel. I think we heard from quite a few individuals that sometimes wouldn't normally participate in "in-person" events.
Reflecting Company Culture and Values
Q: What are some of your biggest takeaways from the Summer Tour?
LB: We did the most with what we had and still managed to create a fun learning environment for ourselves. It took a village to pull off and required active participation from everyone. I think one of the ways InterWorks is great is the way we can rely on one another for support when we need it.
CH: I think for me personally, the Summer Tour felt like a welcome respite from the current world stage, and I'm not the only one who wishes it could have carried on for longer. The number of requests to continue the Summer Tour have been numerous, and I'm really excited to get started planning the next one!
KL: I'm really excited to see how some of the content that was presented—as well as recurring patterns about mentoring, cross-practice pollination and learning from each other—will extend into the future. It really is next to impossible to find a time where people from the USA, Australia and Europe can connect. However, because of the best people, we made it happen during Summer Tour multiple times.
BD: The most fun part of my work this year was getting to create the Summer Tour. Even having to work out the little hiccups was fun because we were all coming together to solve a problem with a solution that would serve the company. Even after my seven years here at InterWorks, my favorite things I've ever done are the internal events. The people that we work with bring this company's culture up to a certain standard, and getting to convey that in an event, whether in person or virtual, is such a hard thing to do, but people are always so grateful when it happens. I usually walk away thinking, What more could I have done? But this time I walked away knowing that it was the people who made it great, and they really were the reason it was so special and successful.