Please note that Portals for Tableau are now officially known as Curator by InterWorks. You can learn more at the official Curator website.
For a large part of the world, work looks very different right now. With social distancing implemented, the workforce is grappling with how best to accomplish day-to-day tasks away from the office and without the convenience of gathering with coworkers to hash out project details or troubleshoot roadblocks that come up. The challenges of remote assistance, performance management and data access may be new, but you can't afford to let them derail your progress. You're in luck! InterWorks has three Tableau solutions that can help you keep your analytics on track no matter where you are.
Assist by InterWorks
Assist by InterWorks provides you with direct access to technical experts right when you need it. This remote service connects you to a team of Tableau and data gurus ready to support you from anywhere in the globe. With live, instant and direct help available, you'll be able to jump right back into your work and find speedy assistance to your trickiest data challenges. Learn more about Assist, and discover how they can help you.

ServerCare by InterWorks
ServerCare by InterWorks offers a package of managed services for your Tableau Server infrastructure to keep things running smoothly. Our dedicated team is ready to come alongside you and ease the burden of platform maintenance and updates. From 24/7 performance monitoring and frequent health checks to hosting and more, explore all the ways ServerCare can help your organization.

Portals for Tableau
Portals for Tableau is a fully customizable web-based solution that provides a centralized hub for your analytics. With the flexibility to streamline analytics and an elevated focus on design, Portals provides a top-tier data experience for both internal and external users. Find out how Portals can meet your specific needs.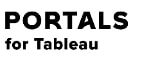 Connect with Us
These three solutions are available to help you right now, wherever you may be, and they're just the beginning of the different ways we can support you in your data and analytics efforts. We'd love to help you overcome whatever tech challenge you may be facing, so don't hesitate to reach out to our team today!