The 2015 Tableau Conference is just a few days away. While it isn't the first time the conference has been in the City of Sin, it will be the first conference for many of you and possibly your first trip to Vegas. During my years in the casino world and continued consulting in that space, I have made dozens of trips to Las Vegas; and I'd like to share some of my tips for surviving in the neon desert.
Firstly, just because Vegas is in the desert and is notoriously hot doesn't mean you can bet on the weather (figuratively; literally, you can bet on the weather there, of course). If you're coming in on Sunday, you've got a big storm; but we should have nice weather during the week. More importantly, Vegas can get chilly at night (desert). Be sure to take at least a light jacket with you when you head out for dinner. Here's the current (as of the 16th) forecast:
Above: From weatherunderground.com
Gaming in Vegas
Ostensibly, the entire point of Vegas is gambling. In reality, casinos (especially in Vegas) generally make huge chunks of revenue from their non-gaming operations: food and beverage, exotic hotel rooms, resort offerings (golf, spa) and especially retail. However, after some drinks, few things sound better than gambling. Here are some of my insider tips for gambling like a pro:
If you're playing to win, you'll need to play the long game at the poker tables. Your best odds of winning are not against the house but against everyone else. Though you'll often see completely full poker rooms, they actually aren't much of a money maker for casinos (if they make any at all). The strategy instead is to get the husbands into the casino while the wife plays slot machines.
Your next best odds are craps and blackjack (craps has an edge, but it's close). That doesn't mean just start throwing money at the table. If you want to win, you need to play smart to maximize your odds.

In craps, you'll generally want to keep to the Pass and Come bets with max odds. All the bets in the middle of the table are generally high payout with VERY poor probability and should be avoided. When tipping, ask the dealers if they'd prefer a bet or straight tip.
This site isn't pretty, but it's a straightforward walkthrough:
When you play blackjack you should consider sticking to "Basic Strategy." This is a fairly simple set of responses to the dealer card and your hand; there is always one action based on the combination of those cards. Don't try counting cards. It's complex, and you'll probably be asked to leave the casino (though it isn't a crime unless you use an assisting device). If you're new and don't play as quickly as experienced players, be sure to avoid the seat closest to the dealer's right. That seat influences the dealer hit card the most. If you make a bad hit, you may cause everyone else to lose.
You can read more about "Basic Strategy" here.
Don't be afraid to ask the dealer what the best play is! It may seem counterintuitive that the dealer, an employee of the casino, would tell you your best option, but they make the vast majority of their income from tips. That means they WANT you to win. They know the games inside and out and will typically tell you the best option.
There are many other table games, but your odds of winning decrease quickly after the games listed above. Still, don't be afraid to play for fun!

Most of the slot machines you'll see on the floor have a small range of expected hold percentages, and Vegas as a whole holds around 5-7% (they keep only that percent of all cash ran through the machines). Additionally, you aren't likely to detect a difference machine to machine over the extremely small sample size that your number of spins represents. Your odds are better on higher denomination games (better odds on a $5 game instead of a penny game). Those games obviously cost more to play, so you may not be able to play long enough to hit many winning spins. I don't play slots to win, but I do run a little money through for fun. I play themes (games) like Ghostbusters, Top Gun, Star Wars, etc. I never expect to even break even when I put $20 in a slot machine.
In all cases, you should be anticipating losing and consider the money you're donating to the casino as entertainment spend and not an investment. Don't gamble more than you'd spend on a typical night out.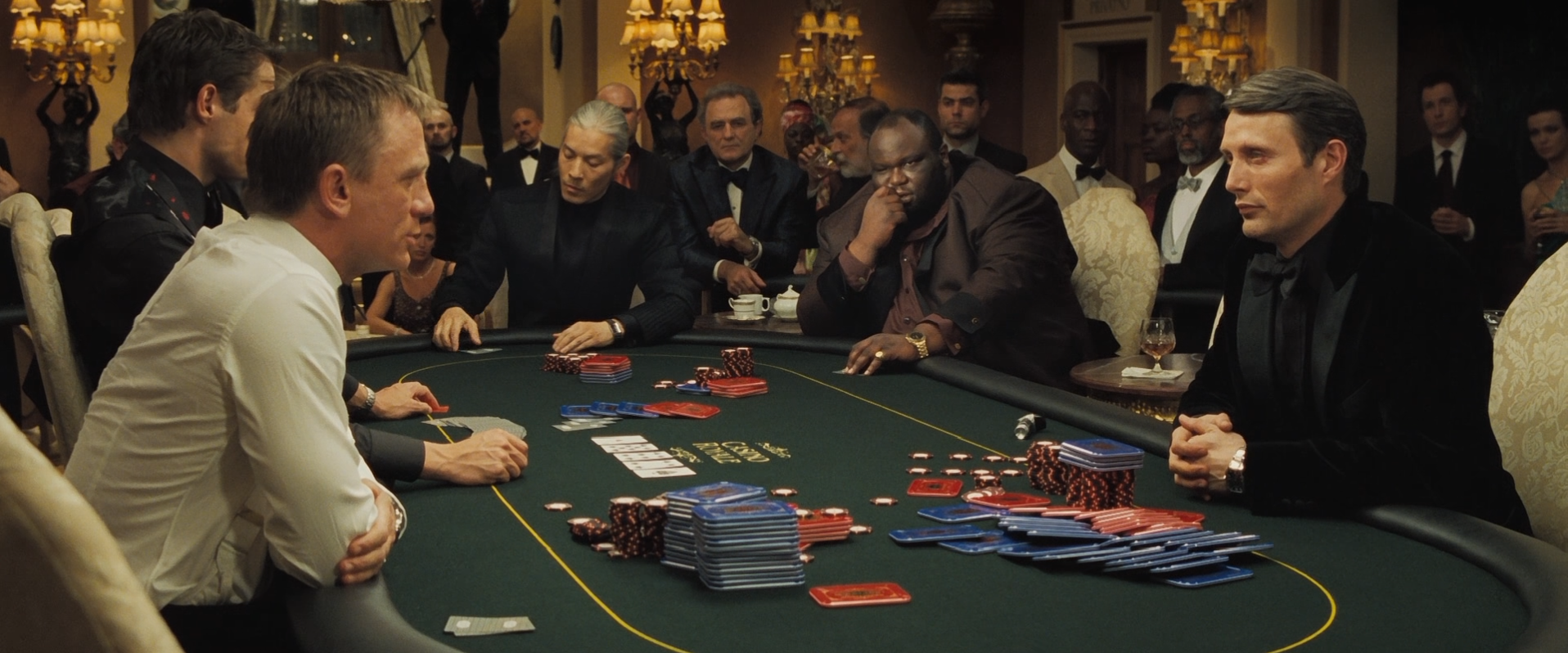 Above: Poker is where it's at. Take it from Bond.
Eating in Vegas
This will surprise many, but Vegas has some of the best restaurants in the country. Many famous chefs have restaurants there, and you can find all kinds of amazing steakhouses and trendy burger bars. One of the best meals I've ever eaten was at the Tao in the Venetian (years ago). Don't take a concierge's word for it (no offense, MGM concierge folks). Do a little research and prepare to spend a little more than you'd think. I promise there are truly incredible meals to be had. There are some special meals away from The Strip, as well. Don't be afraid to take a cab for a good bite. Even some of the casino buffets make for terrific meals. Caesar's, for example, has a famous buffet. Don't fill up on free goodies at the convention or hot dogs. Spend a little time and try and to get a great meal at least one night.
Getting Around
If you're planning on getting a rental car, forget it. Vegas can be tricky to navigate because it tends to get very crowded. On The Strip, there aren't a ton of places to turn around if you miss your turn (which is easy to do). Instead, plan on taking cabs or Uber (I haven't used Uber in Vegas yet, but I use it everywhere else). You'll most likely be consuming some, if not vast, quantities of alcohol. Why bother driving yourself? Rental cars in Vegas are oddly expensive in my experience. While cabs aren't free, you'll be surprised how often you'll be able to walk or take a short cab ride. The monorail is a good option as well and is worth a trip at least once for the views.
Wear comfy shoes! The Strip is long, and you'll generally be walking through casinos to get around. No one cares what you wear at the show (I'll be in jeans and tees/polos with running/basketball shoes), so stay comfy. You'll be walking a bunch already at the convention and that much again at night.
Above: See Vegas from a different perspective on the monorail.
General Tips
Get out there and check out Vegas! Even if you only stay on The Strip, get out there and walk around (especially at night). Don't, however, take anything people are handing out. It may seem funny to collect all the cards for escorts, but millions of people also thought it would be hilarious. Trust me, you only end up carrying 100 cards around all night and throwing them away when you leave. Be polite to the people passing them out, though. It's a living. If you take pictures with the people dressed up as Transformers, the Simpsons, Elmo, etc., be prepared to tip or be told there's a flat expense. Again, it's a living.
Tip for almost everything. Carry a sack of singles around with you at all times. Valet? Tip. Concierge? Tip, Dealers? Tip. Free drink? Tip.
If you're budgeting your trip, be sure not to blow your allotment on the first night you're there. You have several days and nights to fill with tons of interesting people!
I can't wait for next week, both for the show and for another trip to Vegas! I'm looking forward to meeting all 8,000+ of you. Be sure to stop by the InterWorks booth (#634). Just a reminder, if you need help picking and scheduling your sessions, check out my earlier blog post.