On a recent early-morning bike ride with a good friend and co-worker, I found myself defending my choice to use a VPN on all my personal devices. I realized that my arguments were anything but iron clad and while I could mentally justify the added protection, I could not even begin to explain why I would need such a thing. Who am I to think my personal information is important enough to justify the added expense of funneling all my internet traffic through an encrypted server located in another country?
I promised him at that point that I would write a blog in an attempt to explain my choice and try to prove why you should be using a VPN too.
First Things First, What Is a VPN?
A VPN is a virtual private network that uses a public network to connect users and computers. It encrypts the data leaving your device, ensuring that anyone who intercepts the digital content cannot read it. Think of it like a private road that only you can drive down with walls on the top and bottom, so no one can look in. (I think I just described a tunnel …)
Many businesses use VPNs to allow remote employees to access company resources from outside of the corporate network. It creates a secured tunnel into the network from the user's machine ensuring nothing falls into the wrong hands.
Aside from your office providing a VPN tunnel into their network, many companies on the internet have begun selling VPN services that allow the general public to route the traffic of their digital world through servers that they have either set up or contracted with all over the world. This means that if you connect your mobile device to a third-party VPN service, you will receive an internet address from the country you route your traffic through. At that point, my computer appears as though it is sitting, not at my home, behind my local ISP's router, but in the country or city where I chose to connect. More on why this is cool later.
Because the data that is sent out over the VPN tunnel is encrypted from end to end, anyone that was to intercept the traffic can do nothing with it. This is extra important in this day and age when everything is online, from your bank, to the DMV, to your medical records. Much of your private, personal information is being accessed from your computer or mobile device, and most of us have never considered how easy it would be for someone to swipe those packets of data from your insecure internet or wireless access point.
Have you ever joined a public WiFi network at a coffee shop, restaurant or other establishment? You cannot begin to know what level of protection that company has set on their device that is hosting your free access to the web. Chances are, little to no measures are in place, so you are on your own to secure your data.
Another great reason to use a VPN is to access websites that you may not be able to browse to from the country you are located. Case in point, the Tour de France just wrapped up. The U.S. coverage of the sport is spotty and less than stellar. I know many other countries offer free streams of the race, so I told my VPN to connect to a country with free streaming and now my computer looks as though I am sitting in a flat in East London. I did not miss a moment of the action and did not have to pay the unreasonable fee to the U.S. television station selling season passes to watch the race.
One final reason you may want to consider a VPN is to protect yourself if you download media (presumably legally) via torrents. I downloaded one video several years back of an episode of a television show I could not find streaming online. Weeks later, I received a letter from our local ISP with a decree to remove all downloaded material, torrent software and illegal streaming services from my PC. Needless to say, it spooked me. I did as the letter demanded and I have not touched a torrent service since. If I were to ever consider installing such a service again, I would ensure I was shielded behind a VPN.

What Makes a Good VPN?
I have tried a bunch and there are several things to look for. First, consider the price. You should expect to pay some money for a service. While there are free VPNs, they typically have very small data limits, or they are on unreliable servers where speed is not guaranteed. They also typically log the user's data. The last thing you want to do is connect to a VPN to protect yourself but not be able to surf the internet because the data transfer rate is too slow.
Look for a service that has lots of remote servers or exit locations. If a service only provides servers in the U.S., you will not be able to use it for getting around U.S. streaming restrictions. Typically, you want a VPN service that has servers located in a variety of countries.
Finally, look for a service that does not log your browsing history. This is important because a government entity can subpoena or request data from a VPN provider. No data logged, nothing to give. Whether or not you are doing anything nefarious, it begs to reason you are using a VPN for the anonymity of the service and logging is extremely counter to that concept. Some countries are more privacy-friendly than others. Romania has long been considered one of the most privacy-friendly nations. A VPN located in this country (the service I use and will talk about below) is hypothetically more secure and less likely to be influenced to give up any user data.
What VPN Do I Use?
I have tested almost every free and fee-based VPN out there. Recently, I settled on CyberGhost VPN for a myriad of reasons. As I mentioned above, reliability of free VPNs is often questionable. I wanted a service with solid performance and speed while meeting the other objectives laid out above. Review after review listed CyberGhost as a leader in both speed and number of exit locations, as well as a veritable HARD ASS when it comes to protecting their user's data. They do not log any identifiable information and, being based in Romaina, are under no obligation to provide the logs to any government entities that request it.
"Log data: CyberGhost keeps no logs which enable interference with your IP address, the moment or content of your data traffic.We make express reference to the fact that we do not record in logs communication contents or data regarding the accessed websites or the IP addresses.

CyberGhost VPN records exclusively for statistical purposes non-personal data (such as for example, data regarding the utilization degree of the servers), which do not represent in any moment a danger for your anonymity. Such serve exclusively for the improvement of the service quality."
The next contributing factor for me was that CyberGhost built what they call a no-spy proxy data center using an Indiegogo campaign. Since 2014, the NSA-proof datacenter has been fully functional and secure. By doing this, CyberGhost has COMPLETE control of the encryption process from end to end, including the hardware, protocols and facilities, ensuring the highest level of security and protection.
For less than $50.00, I was able to sign up for a year of CyberGhost Unlimited and put VPN tunnels on up to seven devices. The mobile device is easy to use, as is the Windows app, each with dedicated profiles for the most common uses for VPN users.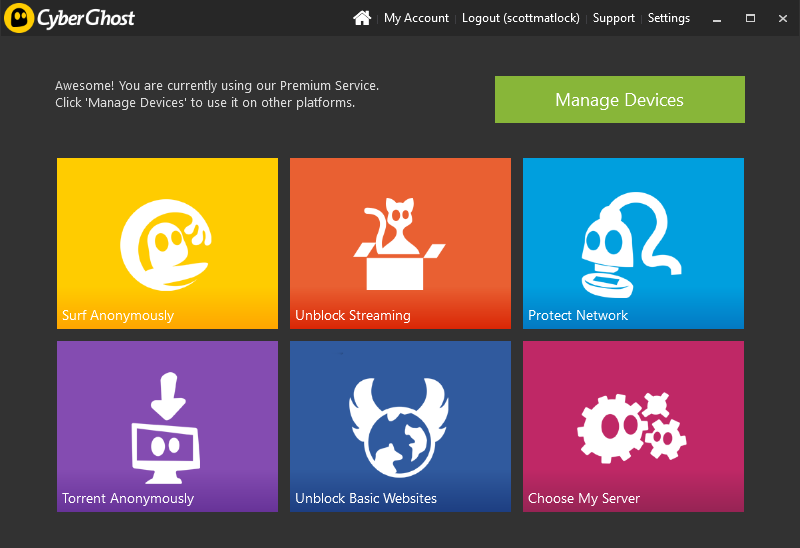 When testing speed, my computer and mobile experienced the same network speeds on and off the VPN. This was one of the biggest factors for me, as many of the services I tried before would greatly reduce, if not cut, my data speeds in half.
Getting to the Point
In one paragraph, here is the answer I tried to convey in my ramblings above. The internet is a big and scary place. While you may not think your banking info or medical records would be very valuable to someone, they don't know that until they have stolen it and damaged you in some way. Stop it before it happens by encrypting your internet traffic with a VPN. Just like LifeLock protects your social security number and credit information, a VPN is insurance for your internet privacy.
If you are interested in trying CyberGhost, hit me up and I will send you a 30-day trial invitation so you can try it for yourself (only three available). One more thing, I have not been paid or endorsed to write this blog by CyberGhost or any affiliates. It is just who I chose after the great VPN trials of '18.