That's right, folks! For the seventh consecutive year, InterWorks has been named by The Journal Record as one of the "Best Places to Work in Oklahoma!" And we are just as excited as ever! With only 24 companies earning a spot on this prestigious list, we are honored to be recognized by the state InterWorks calls home. InterWorks received the news as part of a recent awards luncheon, ranking #13 in the Small/Medium category.
Check out the full announcement and list of honorees.
Why Is InterWorks So Great?
If you ask any of our employees what makes InterWorks one of the best places to work, you are sure to receive diverse answers! In fact, we did just that a few months ago for a different award. Back in May, Inc. Magazine included InterWorks on their national Best Workplaces of 2017 list. To celebrate our new title, we asked everyone what they love most about InterWorks. As expected, we received some varied responses! But hey, that's just how we roll.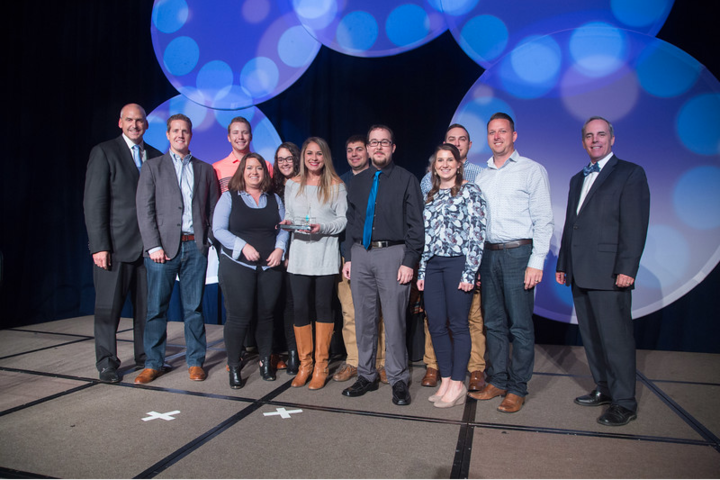 Above: InterWorks accepts their award at the Best Places to Work luncheon. 
Some people love the fully stocked snack bar while others enjoy the ability to work from home. Consistently though, everyone said they genuinely enjoy the challenge their work brings. Whether it's building a solution from the ground up or providing clients with our expert services, we genuinely enjoy the work we do and the people we get to work alongside. 
There are many contributing factors as to why InterWorks has maintained its status as one of the best places to work in Oklahoma for the better part of a decade. The biggest of these is that when you work with other challenge-lovers, work becomes fun! And to be named as one of the best places to work in the state, well, that's just icing on the proverbial cake.