Every December, the whole InterWorks family gathers in Stillwater, Oklahoma, for a company Summit. Each year, it offers a chance to catch up with friends, meet new ones and strategize about the next year. It's a great time, filled with friendly competition and valuable conversations around the technologies we're using, lessons learned from trainings and projects, and InterWorks overall, including how we can continue doing great work with great people.
Diversity in Tech
My favorite breakout session from the Summit was titled Diversity in Tech. The session opened by highlighting why diversity is important, as Keith Dykstra emphasized in his blog post for Viz for Social Good, "Dear Tech People." Diverse teams solve problems more effectively and are simply a good thing to have as we work toward building a more inclusive world.
We talked about industry trends (Mavis Liu's viz on Gender Diversity in Tech Giants was a great place to start) and had a space to share ideas and experiences around diversity initiatives. All areas of our business were represented, along with all levels of leadership, to create 30+ voices speaking about what diversity means to them and how we at InterWorks can champion it. While we're a tech company, we're also a company that has the best people—and creating a company that supports all of those people allows us to innovate and continue doing the best work.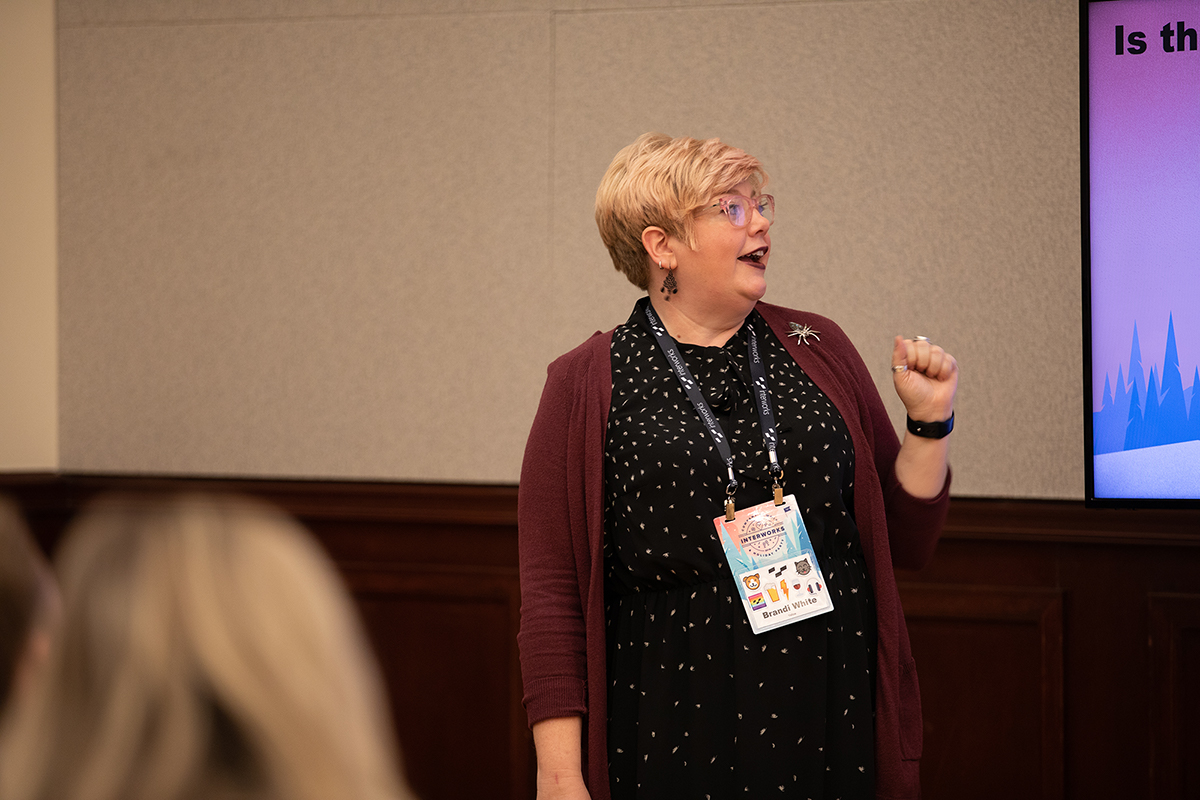 Above: Brandi White, Director of Employee Experience, presenting the Diversity in Tech session.
The session, like the rest of the Summit, also created a space for connections and conversations that may not have otherwise occurred. After the session, I talked to a few people who participated and asked them to share some of their insights or takeaways. Below are some of their responses:
Diversity in Tech Session Takeaways
Zion Spencer | Marketing Analytics Manager 
"The Diversity in Tech session at this year's Summit was one of the most encouraging discussions that I've seen in all my years of working at InterWorks. Given the type of people that are drawn to calling a place like InterWorks their professional home, it made sense why this became one of the most talked-about sessions at Summit this year. We are people that don't want to just practice equality. We want to make it known that equality is one of the most important pursuits as individuals and as an organization. Our past experiences have informed us that the only way to prevent discrimination and see diversity flourish is by actively giving examples of how a workplace is safe for people of all backgrounds. It makes me proud to know that InterWorks is serious about taking those steps."
Rob Curtis | Analytics Consultant / ANZ Practice Lead 
"Our goal should be to create a world where people of all backgrounds are valued for their ideas and cherished for their diversity. Let's start by trying to create that ideal at InterWorks."
Bill Barnes | Data Engineer 
"The more we step into these discussions, the easier it is to keep having them. The phrase 'We can't know what we don't know' is a very real thing, and it helps to see things from someone else's point of view."
Debbie Yu | Analytics Consultant 
"I was really appreciative of having a space to hear from my colleagues, many of whom shared vulnerable experiences. It was also really clear that people wanted to continue having dialogue about the topic since we all wanted to keep talking after the session was over. This conversation alone has helped me create stronger friendships with colleagues I didn't know as well before, and that has me feeling energized and thankful."
Ravi Nemani | Analytics Consultant 
"Addressing diversity could take both a top-down approach and a grass-roots approach within an organization. I'm glad InterWorks has taken steps to use language that is much more inclusive, such as phrasing on the website. Our company is a reflection of the community and the world we live in, so having this dialogue is important to continue bringing a variety of perspectives and experiences to the table."
Brenden Goetz | Analytics Consultant 
"We have our own individual experiences and lenses through which we see the world, and it takes a lot of intentional effort to recognize that other people experience the world differently than you do. Maybe this is obvious, but it struck me so hard to finally see clearly that sometimes people don't know or don't care because it's not an issue for them. We have different groups of people experiencing different things, and we need to do a better job of recognizing, celebrating and caring for those experiences."
Next Steps Toward Inclusion
Many of my sentiments reflect those of my colleagues above: having discussions around creating a workplace that is supportive and welcoming to everyone allows us to see and learn from other people's perspectives. Plus, it opens up a dialogue that makes us an even stronger and more inclusive company.
Overall, this session and the Summit overall stirred my excitement for 2019. We've got exciting partnerships and projects coming up, and we'll tackle those as a diverse team, with ideas and people you'll be hard pressed to find elsewhere.
Above: Me with some of the InterWorks APAC team's support at our annual Summit.