If you never get a second chance to make a first impression, then a company's onboarding process is a great opportunity (and risk). By creating an inviting, exciting and unforgettable experience for our new hires, we get the chance to permanently imprint our values and culture. If it goes wrong … well, then we've started a new hire off on the wrong foot and have to work extra hard to get them back on track.
The Old Way
In the past, InterWorks didn't have an extensive onboarding process – I think the phrase "drinking from a firehose" has been used more than once to describe an employee's first few weeks on the job. After making it through the final interview, a new hire would pretty much get to work without much ceremony or context. This didn't have as much of an impact when we were hiring four to five new people a year; we could just teach them as they went along. Plus, back in the olden days of InterWorks, these hires were local – any resources they needed were never too far from home.
Building an Experience
But today? Well, this month alone, we are onboarding nine new hires from all over the globe, and from all walks of life. Part of my job is to make this week in Stillwater, Oklahoma, a fantastic experience for each one of them. We need to anticipate what they need to hear, whom they need to meet and give them a peek into our daily life. Onboarding is a week-long, multi-disciplinary experience in which new hires learn just about everything they need to know before heading out into the world as representatives of InterWorks.
So, what does that look like for us?
Arrive to swag bags full of InterWorks goodies.
– Feel the Love
Meet with our CEO, Behfar, to hear about company history and vision.
– Understand the Values
Meet with me to learn about 401k, benefits and other HR items.
– Take Care of Essentials
Meet with our CMO, Dalton, to hear about InterWorks' marketing and culture.
– Understand Who We Are
Meet with our General Counsel, Will, to learn about risk management.
– Learn the Responsibilities
Meet with Eli of Internal Support for a hands-on marathon about our systems.
– Learn How to be an Employee
Meet with Aaron C., Director of Sales, to learn about our Tableau partnership, Dell partnership and sales philosophy.
– Learn How We Do Business
Meet with James, Global BI Practice Director, to understand our Business Intelligence practice.
– Affirm Our Place in the Market
Meet with Aaron R., IT Services Manager, to understand our IT business.
– Understand All Sides of the Business
Meet with Staci, CFO, to go over expenses and receipts.
– Okay, Now Learn How to be a Good Employee
Meet with various members of Marketing, BI and IT Services for all the details that are left.
– Make Connections
Go out to lunch with employees to hear their perspectives.
– Start Building a Tribe
Go to dinner, have a drink, hang out with your onboarding class.
– Solidify the Cohort
Check in with me and the Employee Experience team at the end of the week.
– Know You Are Supported Going Forward
That's a sampling of an entire week of onboarding. Beyond all the learning, our primary goal is to make new hires feel welcome and excited. Some of them go on to Consulting Boot Camp, some may dive right into client work in IT Services or begin their work in a support role. But everyone should leave with a sense of how they fit into the InterWorks framework and feel part of the InterWorks family.
We've made a lot of strides in our onboarding process, but we're not done improving it yet. Our focus now is on more cross-departmental education. As we grow, these first few days become more and more crucial to the health of our company. We've got one chance at this first impression, and we want it to be exceptional – just like us.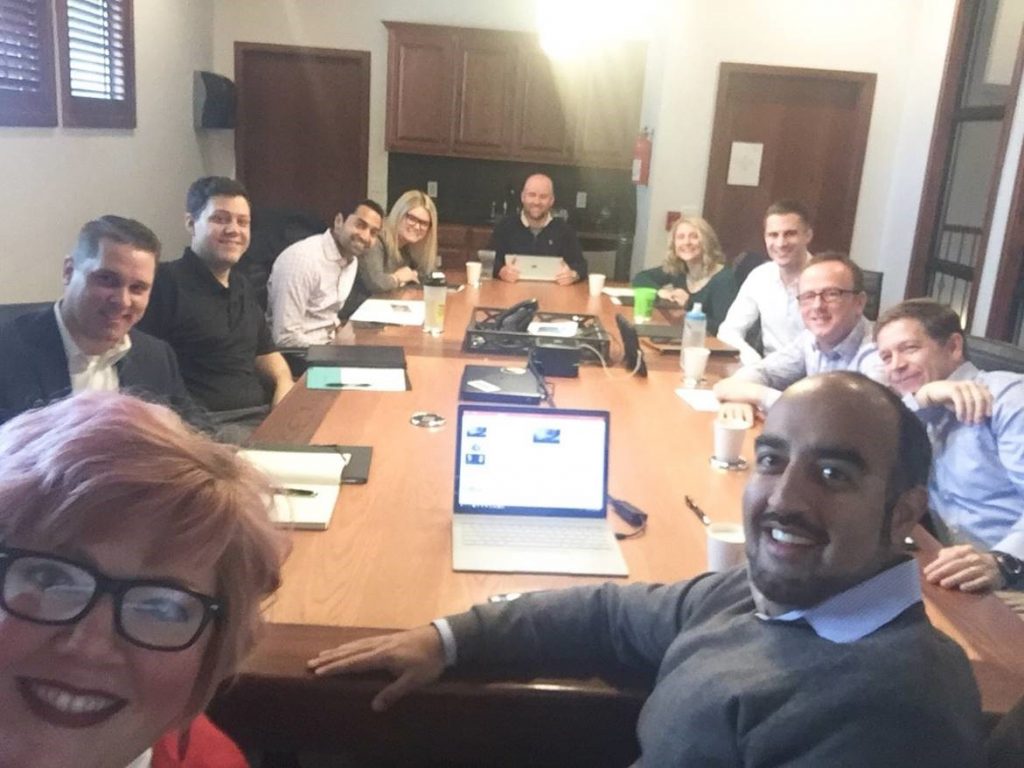 Above: This week's "Mega Onboarding Class" meeting with Behfar and me.