Following the tremendous success of Brewalytics events across the US, Europe and Australia, InterWorks was extremely eager to bring Brewalytics to Singapore! Brewalytics brings together beer, analytics and amazing data people for a premier networking event. For those who do not like beer, there was also an awesome selection of wine, soft drinks or juices, along with great food, so anyone could join. Snowflake and Alteryx partnered with us to co-host this amazing event, and a special thanks goes out to their marketing teams for driving much of what made this event successful.
Fast and Light Analytics
I also had the privilege of delivering a 30-minute talk on the unique approach InterWorks takes with analytics. We began with an analogy by showing a map of the Singapore MRT system and rideshare cars. Just like people have to move around a city, data also moves around an organisation. The difference between the MRT and a rideshare is very similar to the difference between large single-stack ERP systems and self-service analytics.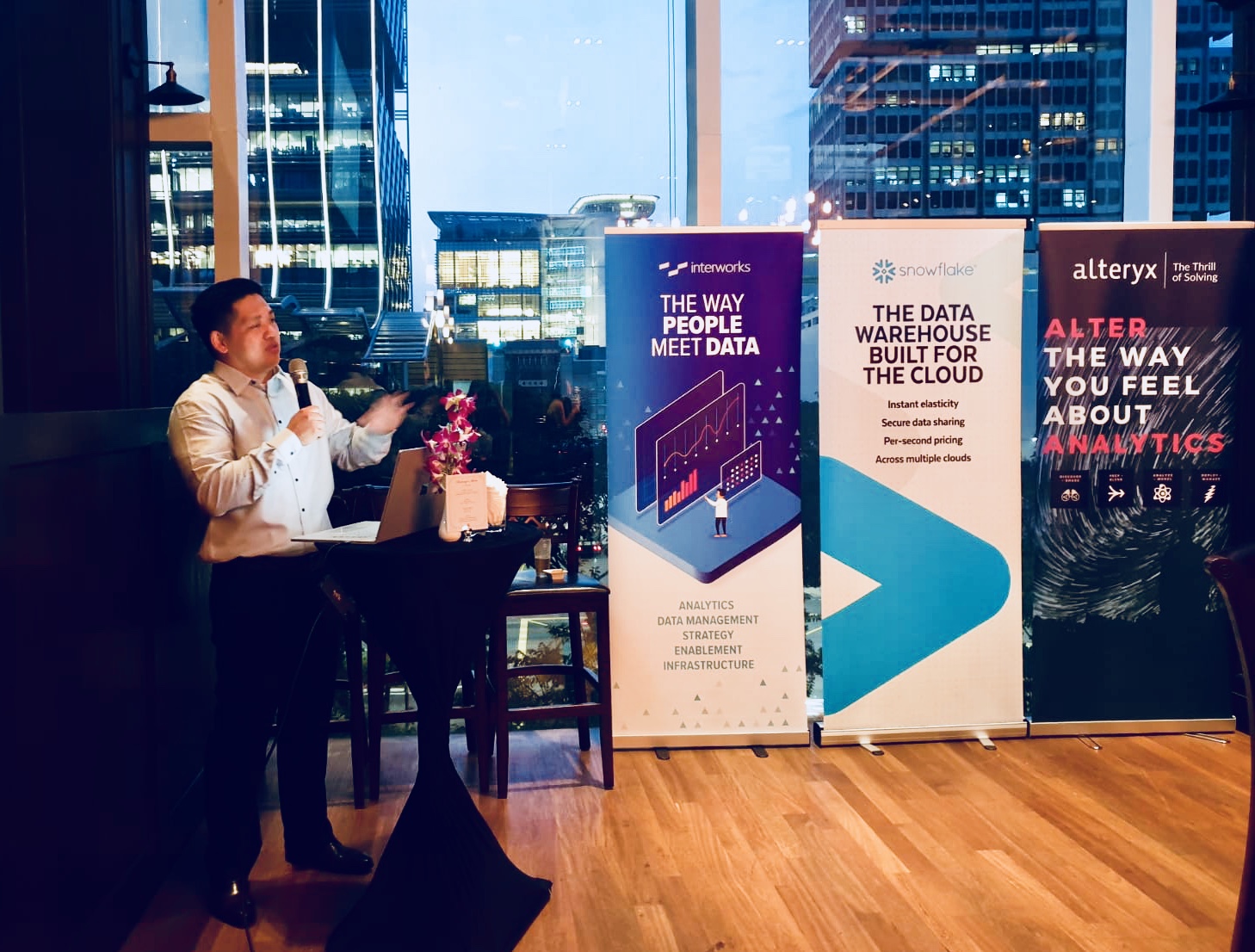 Above: My presentation at the Brewalytics event
Just like the MRT, heavy and expensive systems have a place when tasks are predictable, but analytics is not about doing the same thing every day at 9am or at the beginning of the month. Analytics is about understanding where the business should go, exploring information to make decisions and experimenting with what would happen. Analytics needs to be fast and light, not slow and heavy. For decades, companies have been trying to do analytics with expensive systems that are slow to deploy, costly to maintain and nearly impossible to change.
Data Citizenship
We also used the analogy of citizen journalism, a phenomenon we have seen over the past ten years where members of the public are now taking an active role in collecting, distributing and analysing news. Citizen journalism is made possible entirely by technology. Smart phones and online platforms like Twitter or YouTube allow billions of people to take and distribute video footage of spontaneous events like natural disasters or terrorist attacks long before the mainstream media.
What is the lesson here? Simply that every organisation has armies of people who can make a meaningful contribution with data if they are given the right tools. The democratisation of analytics means that the power of data (which was once centralised) is now being spread throughout the people of an organisation: its data citizens. These individuals may not have analyst in their title, but they can use data to help make decisions and do their jobs better with tools that feel fast and light. Self-service analytical tools must be fast to deploy, easy to use and have a relatively low cost of entry.
The Right Tools
That is why it was so important for us to partner with Snowflake and Alteryx for this event. We believe these two technologies can completely change the game for your data citizens.
Snowflake is a cloud data warehouse that is completely elastic, easy to use and fast to deploy. Its key distinguishing feature is that storage and compute are independently managed and completely separate. This allows users to scale compute resources up or out as needed and suspend them automatically, eliminating both concurrency issues and capacity overbuy. Its data is optimised for analytic queries, and administration is minimised because it does not have any indexing, partitioning, vacuuming or distribution keys. Better yet, it natively handles semi-structured data like JSON, XML, Avro, Parquet or ORC. When you democratise data and unleash it to your data citizens, they will need a database that is simple to use, optimised for queries and flexible in how it scales. Snowflake is exactly that.
Alteryx is a self-service data transformation and analysis tool that turns business people into data people. It provides a drag-and-drop, no-code or low-code user interface that allows non-developers to transform data and perform analysis with over 200 tools. Its suite of predictive and spatial analysis tools also can turn these citizen analysts into citizen data scientists that can tackle problems that previously would have required advanced degrees and a heavy infrastructure investment. Spreadsheets were invented in the 1970s, and in 2019, there are still armies of Excel ninjas out there running large businesses with error-prone Excel models. Using Alteryx would help all of them level up and make data work for them, rather than have them work for data.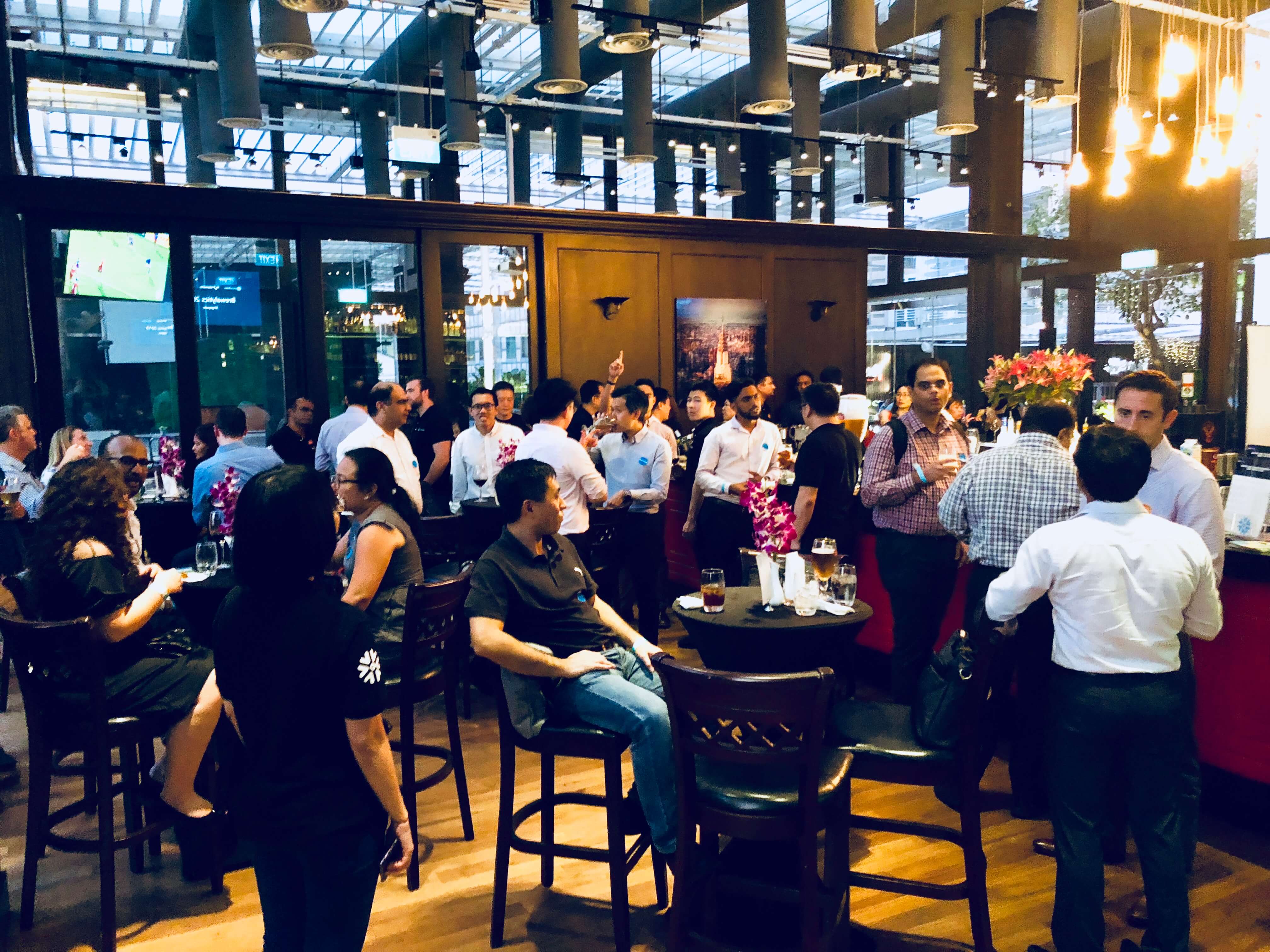 Above: It was a packed house for Brewalytics Singapore
The Next Steps with InterWorks
Both Snowflake and Alteryx offer free trials. If you think one or both of these softwares would be key in meeting your analytics needs, or you're interested in a demo, do not hesitate to reach out. We were so pleased by the success of this event that we will surely do another one soon. See you there!