The third and final segment from our Podcast Your Data focused on women in tech consists of a conversation between Marketing Generalist, Ricki Thompson, and Lyah Barberan, a project coordinator in our IT Services department.
Be an Agent of Change
With a lifelong curiosity surrounding technology, Lyah has seen firsthand the drastic tech revolution of the last 15 years. Seeing her favorite movies go from VHS tapes to DVDs and now to streaming devices has reinforced the truth that tech is always changing, and she loves being part of an industry that so consistently evolves and determines the future.
Lyah began her time at InterWorks working at the front desk. Through intentional mentorship from her manager, Staci, and consistent encouragement and opportunities to pursue her interests, she was able to forge her path into IT. Now, as a project coordinator, Lyah gets a bird's-eye view of projects and orchestrates all the different pieces, from informing stakeholders and meeting deadlines to streamlining communication and tracking all details.
"[Staci] was always very supportive and really helped me get that leg up that I needed to stand on so I could reach out and say, 'I want to be in IT. What do I need to do to make this happen?' And so we made it happen."
As a woman in tech who watched her female classmates dwindle the deeper she got into her major courses at university, Lyah's no stranger to being underestimated and challenged in a male-dominated field. But she is a force to be reckoned with, as she believes all women are. One of her inspirations is Katherine Johnson, a mathematician at NASA whose calculations safely sent the U.S. to space (her story is the focal point of the novel and film Hidden Figures).
The Best Way to Accomplish Your Goals? Do Them!
While every professional faces setbacks, professional women encounter pushback more often than not. Lyah is a huge proponent for being your own biggest fan. If there are low expectations, go above and beyond to exceed them and raise the bar for yourself. Whatever the goal is—no matter how many people are by your side championing you—start working toward it.
Some other highlights from Lyah's interview:
Accepting things as they are is stagnation.
Diversity is crucial in disrupting the status quo and making progress.
There's no better way to say, "I told you so" than accomplishing your goal.
If you know what you're talking about, no real arguments can stand against you.
Women: we are our best support system, so support each other and keep crushing it!
Check out the Full Conversation
If you think you're feeling inspired now, listen to the full podcast episode and hear firsthand the wisdom, grace and inspiration shared by all three of the women featured.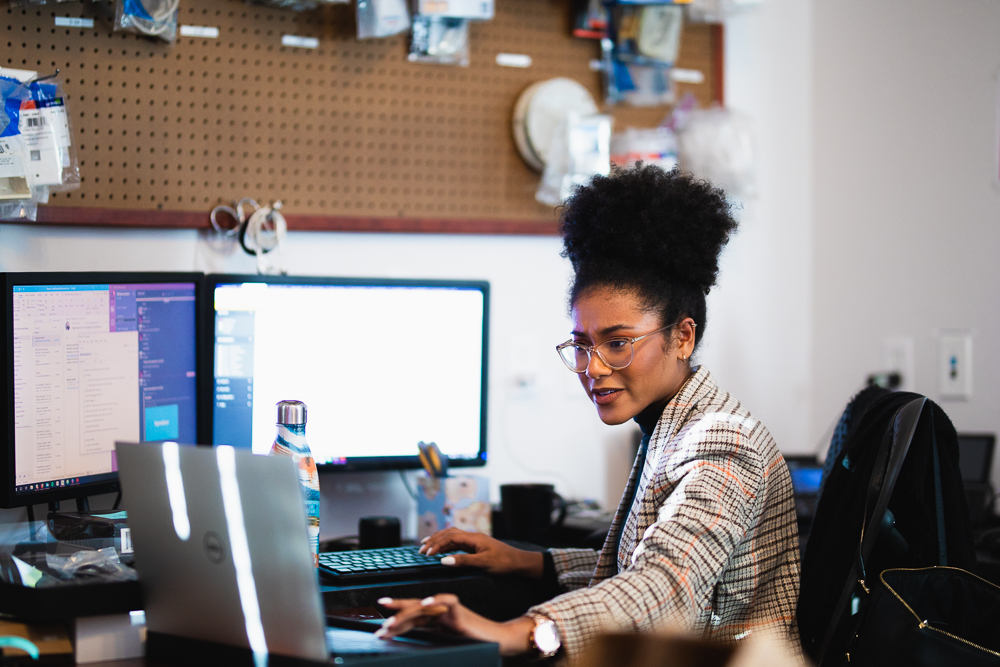 Above: Lyah in the IT Services room