Welcome to the second post in a series of three on Tableau Governance solutions!  Here we're exploring ways that we used the core Governance Principles to guide clients towards taking control of their Tableau environment and creating stronger self-service analytics. Our first governance solution revealed how the principles can be applied flexibly to create organizational transparency across projects and sub-projects. Now let's see how those same principles came together to serve a client with a different set of governance needs.

Situation: Organization experienced rapid growth, right away
Context: Technology company with dozens of Creators and 2000+ Viewers
Our Recommendation: Delegation and Accountability
Guiding Principles:

Our next solution presented in a client who experienced very broad adoption of Tableau, very fast. While this deployment resulted in widespread acceptance of Tableau, its rollout in the absence of a strong governance model created a free-range environment that lacked clarity around where users should go to get their insights. With goals to expand Tableau to the whole organization, we worked with them to develop a data strategy.
Given the pace of new content development and a vision for how this content would be managed for years to come, a top priority was to replicate the project structure recommended in Principle 1 for each business unit within the organization. A Sandbox, DEV and PROD space were created under each parent project representing a business function.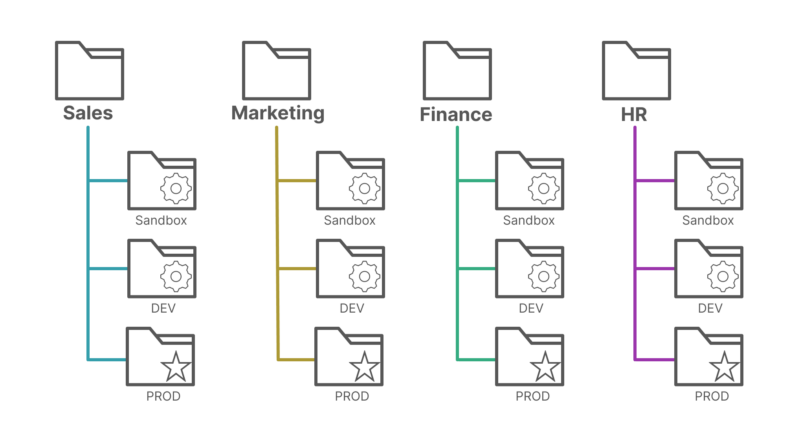 Responsibilities within each project fell to their respective business unit managers, who became points of contact for issues and questions surrounding the content in the project they managed (Principle 4). Matters of extract failures, stale content management and adherence of the approval process to promote content to production were upheld by those business unit managers in their role as site administrators (Principles 2 and 3). This also simplified communication, as server administrators could now turn to any one of the business unit managers if there was a concern for how long an extract was taking to refresh, how much stale content was sitting in a given project ,and other messages more easily communicated to the business unit owners who could relay to the developers creating content in the project they managed.
This strategy also included an educational piece to aid project owners in taking new development requests and moving content through the publishing process, as this role involves managing business expectations and unifying the understanding between requestor and developer. We've found that the best way to structure this thinking, particularly around ad hoc requests, is through the lens of urgency, accuracy and performance. It's near-impossible to optimize for all three ideals, so it's necessary to gain agreement on the two most important points for each requirement and ensure that developers are aligned with these goals.
As the visual depicts, there can be strong overlap in any two of the three attributes, but the intersection of all three invites a decision about what to prioritize (see "Decision Zone"). At the close of a business quarter, for example, leadership may seek a quick variation on a report to slice performance in a new way. In this situation, it's likely that data integrity is a first priority. They can't report on bad numbers. And due to the impending end of quarter, there is likely some degree of urgency on the turnaround for the request. Realistically, equal attention may not be given to the speed of the dashboard.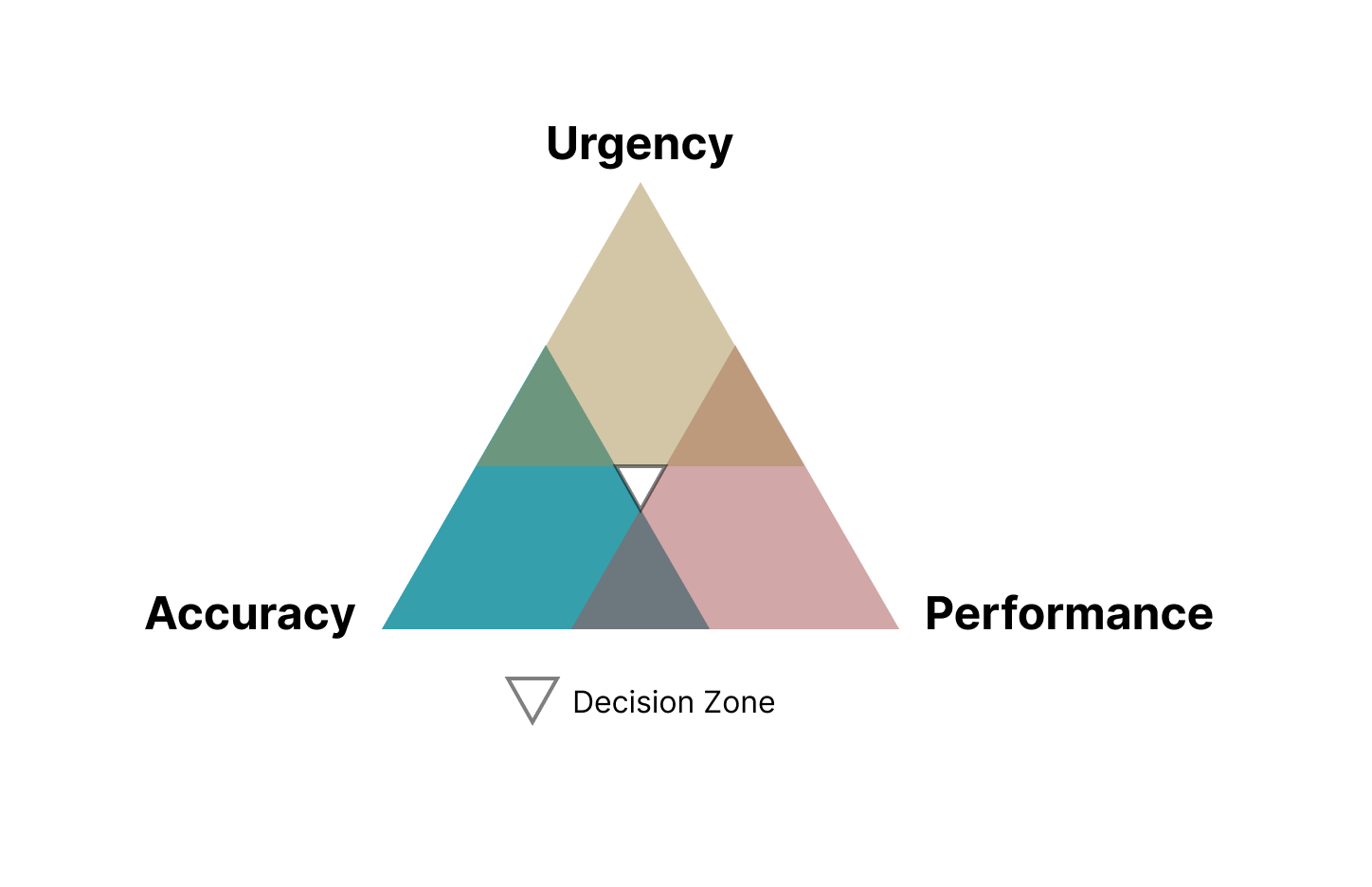 This concept is not to suggest that performance is completely absent given a focus on urgency and accuracy, but that it will have to come secondary to data integrity on a short timeline.  Establishing these priorities should help streamline development efforts.
Finally, this client demonstrated that organizations who see rapid adoption of Tableau or widespread use of the platform across Business areas will need to be more intentional about promoting new and updated dashboards on the server. Principle 5 suggests that content in Production should be treated like products, with considerations for training, change management and marketing.  Treating dashboards like products can also mitigate duplication of efforts that arise when one part of the business may be asking similar questions of Tableau as another. With this in mind, we used Principle 5 to encourage a strong COE, responsible for documentation, e-learnings and tutorials to support its Tableau users.
The viz below illustrates a content launch cycle with factors that should be considered for success. Discover each of these in more detail here.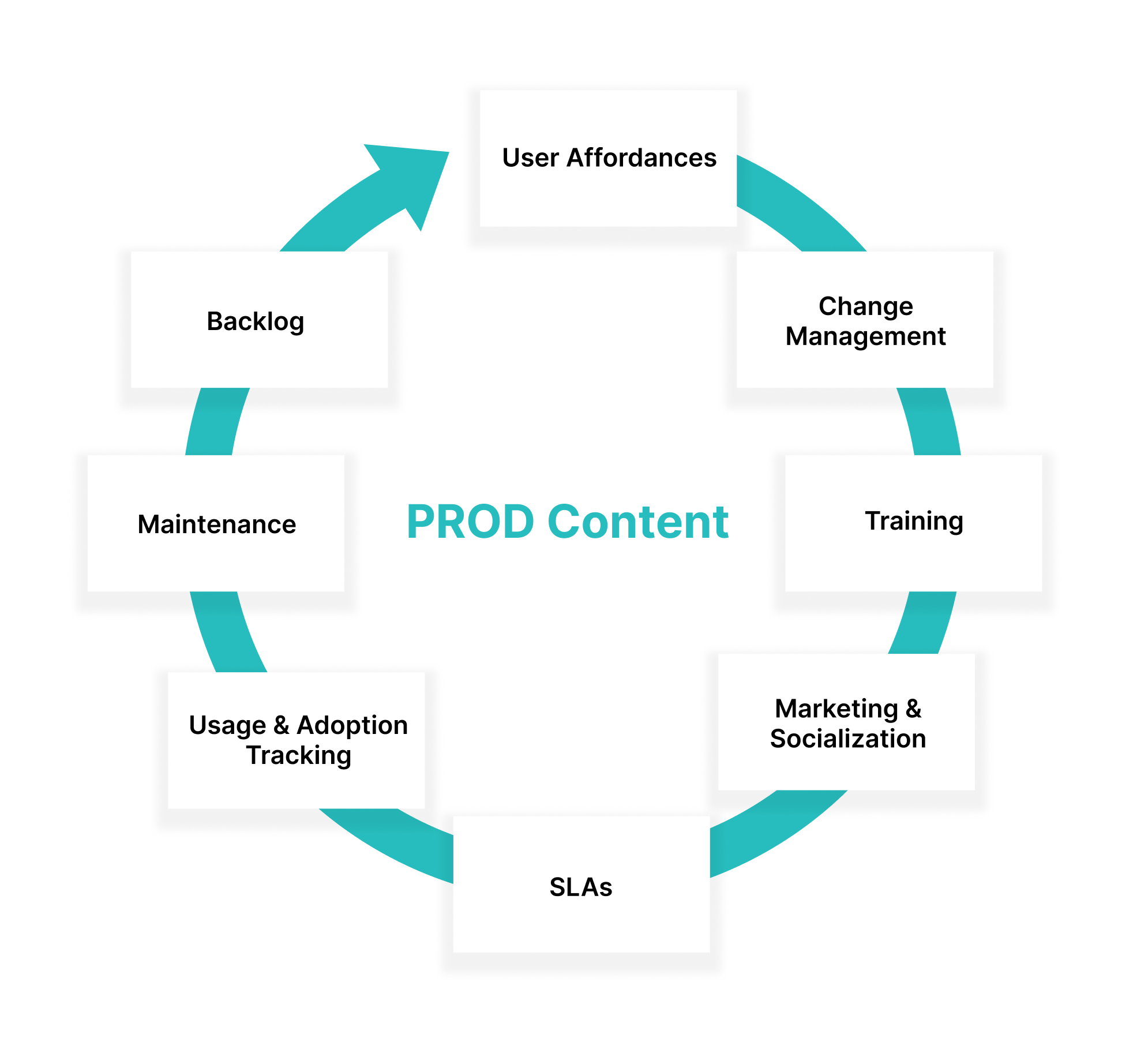 Decentralizing responsibilities across the business helped to make the understandably daunting task of governance more approachable for this large organization. Next up in our "Customizing Your Tableau Governance" series, we'll explore the importance of documentation and process consistency for any organization that wants to ensure their governance model is supported over time. Have your own special case for Tableau governance? Consider Governance 360 by InterWorks and let our experienced team customize a solution that enables data-driven decision making throughout your organization!