Vision and direction – top leadership needs to give a sense to everyone what has value, what has no value, what is the roadmap and how it should look.
To arrive at these answers, Simon Sinek suggests you start with why: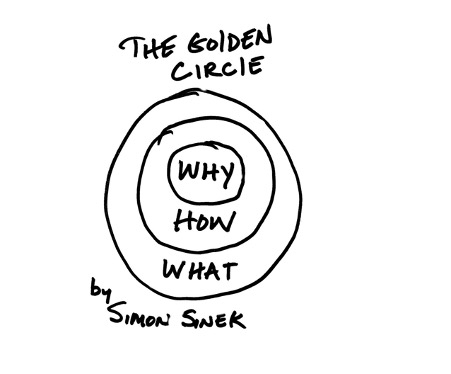 Through this idea, Sinek is referring to companies and how clear their purpose of existence is (and you can read more about it in his book of the same title). He links the ability to articulate why a company exists to its level of success. While this holds true in the world of leading a successful business, there is a parallel to be drawn to implementing good analytics.
Start with "Why" to Get at the Core of Your Vision
In a good analytics implementation, top leadership has and expresses a clear vision of what they want to achieve with analytics in their organisation. Doing this is both important for the overall enterprise, as well as for individual business units or smaller businesses.
My experience with clients is that there are so many detailed questions that have an effect on how analytics are used. If your CEO's vision is to have a data-driven business with widespread adoption of data tools like Tableau or ThoughtSpot, that vision has a big impact on a number of factors, including:
how much and what type of IT capacity you need to work through
the associated workload in deploying that
how you set up your permission management
governance processes
While we cannot share client names here, I do want to share some experiences that illustrate examples of how this can go right and how it can go wrong.
Clear Vision Leads to Success
A client we work with currently has the task at hand to roll out their visual analytics platform from 2000 users to 10,000 users. They want to give the entire organization the ability to make data-driven decisions. Their platform management currently has a very weak governance structure, and they foresee chaotic content management and instability for the platform if they grow to those high numbers. Our work with them is to prepare those roles, responsibilities and processes that will be required to strengthen their governance. Only by the virtue of having a really clear direction from C-suite executives have we been able to make many decisions ourselves without involving that management layer beyond final presentation. The concept, of course, needed some tweaking, but the broad direction reflected the C-suite imagined. So by being explicit (top-down) from the start, the working layer was enabled to do a great job.
Unclear Vision Stymies Progress
Another client example works differently. The platform has shared ownership between several large parties. There is not a single executive who has the power to give a clear vision or direction.
Therefore, the teams have been struggling for months to make meaningful progress in improving the platform performance. The most critical pieces are aspects nobody dares to make a decision on. Sometimes, decisions are uncomfortable, but they're crucial so that a central platform can be decided on and moved forward with. Without a clear and decisive authority, direction or vision, there is no boundary to stay within or pathway by which to make progress, rendering the work nearly impossible to complete, not to mention the team confused and frustrated.
Do you recognise this in your own company? If you want to learn what good analytics look like and why you need it, our passion is to equip you to achieve the best analytics solutions possible and help drive your organisation toward success and autonomy. Reach out to see how InterWorks can help.