Heading into December, it feels like a great time to reflect on everything that has happened this year—things that have changed, people we have met, learning we have acquired, situations we have endured and all the personal and professional growth these experiences encompass.
One year ago, I didn't know much about InterWorks. Today, I can say I'm super grateful to be here surrounded by high-quality humans that are also brilliant, knowledgeable professionals willing to share their expertise and passion. Thinking about what makes me feel so grateful, I think it's fair to try and tie it back to situations, concepts or moments from this year.
A Caring Culture
Before I officially started in January 2020, I was invited to the Interworks Holiday Party in December 2019. This was perfect because in a matter of just a few days, I got to experience the avalanche of excitement, caring and passion from the InterWorks family. The very first trip from Sydney to Oklahoma started out a bit strained as my ticket was canceled, and I was stuck in airports for some hours. However, what really warmed my heart was that after all the mishaps that led me to arrive at 4 AM to Oklahoma City, OK, Kelsey Lee still came to pick me up early in the morning and take me to the hotel. Caring culture at its best!
Above: Kelsey and me at last year's Holiday Party
Welcome Home
Getting to know people from around the world that have a passion for technology and great data solutions is already fantastic, but when you top that with an advocacy for inclusion, sustainability (like brainstorming ways we can make our company carbon neutral) and serving the community, this is pure gold. Here, people share their day-to-day lives through Slack channels where you can get your fix of pet pictures for the day or talk about books, TV shows and podcasts. There are even channels you can join where you do yoga together via Zoom! This is a company where people can share what makes us human, and you're guaranteed to make some friends along the way.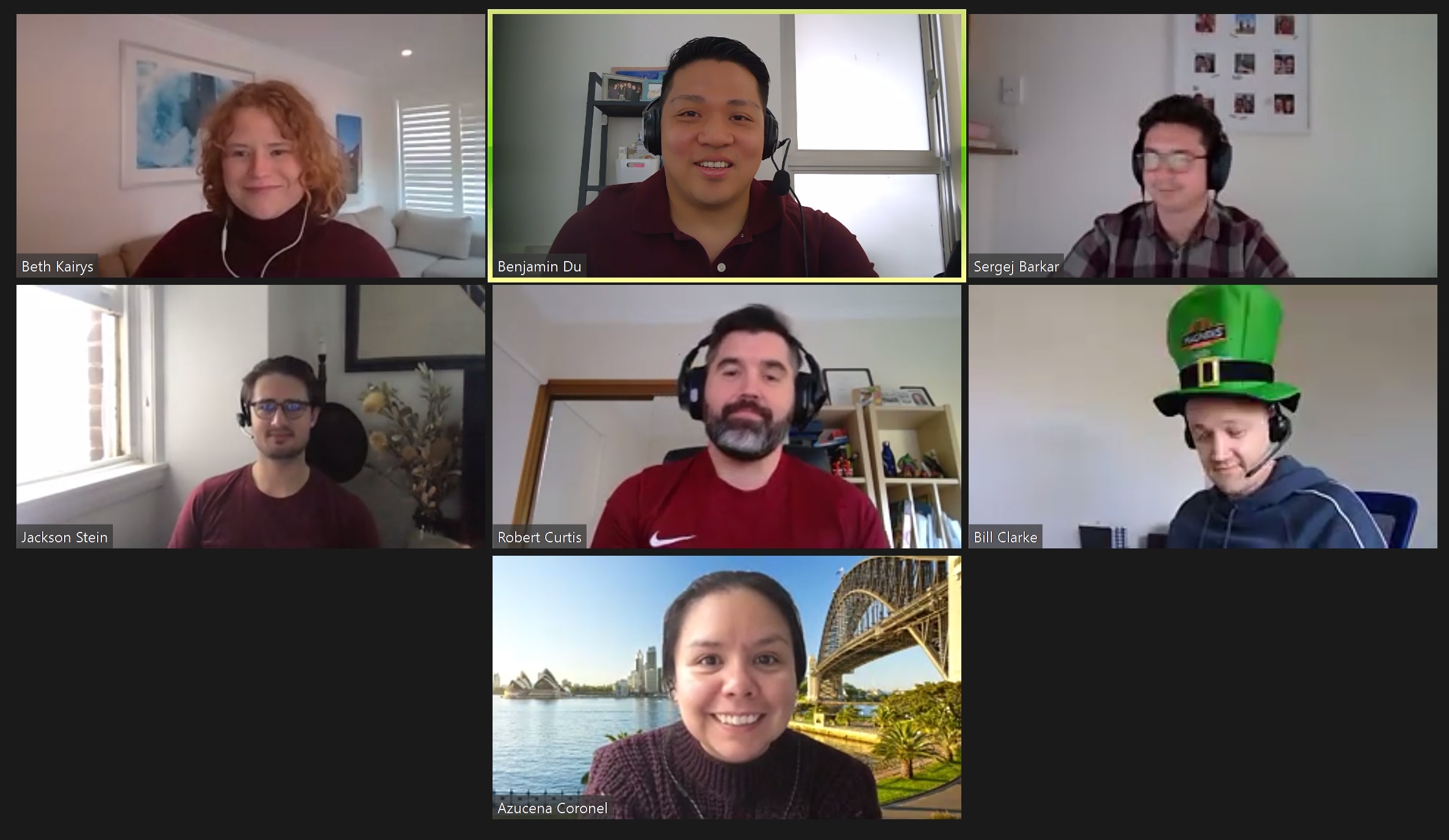 Above: The APAC team chatting over Zoom
Walk the Walk
I've always been inspired by authors delivering talks about personal and company growth, but sadly, that excitement generally lasts just a few days – maybe weeks if we're lucky – before vanishing. During the 2019 InterWorks Company Summit, Les McKeown presented on the stages of a company's lifespan and how to achieve predictable success. As much as I enjoyed that talk, what surprised me even more was that the lessons and warnings Les shared are quite embedded in our company culture. And things didn't even there: we saw Les again during the Summer Tour 2020! I could gladly appreciate that his strategies are something we embrace and apply, not just something we read about in a book or hear during a presentation.
A Sharing Culture
I've learned so much this year, and a big part of that is because the people at InterWorks are so generous in sharing their knowledge and their time to explain things. From conversations about our tech stack to cyber security and network troubleshooting—even real estate landscape in Australia and random things like movies , podcasts, holidays, books and the like—InterWorkers love to share their knowledge. And what better way to grow together!
If I think about all these heartwarming truths, on top of all the professional growth and learning this first year, it's no wonder I feel so grateful to belong to this company. This 2020 was super weird, no doubt, with the COVID-19 pandemic and all the struggles that came with that: being unable to travel overseas to see family, worried about how people far away are coping, stressed about lockdowns and health. All this truly felt easier to cope with alongside my fellow InterWorkers as we shared Zoom calls, developed ideas like DataWomen, learned cool tech and implemented solutions that helped clients. Putting everything in perspective, 2020 was really not a bad year at all. It was my first year of hopefully many more to come!