Tableau 2020.3 has recently been released with several exciting new features that have been recapped by my colleague Robin Schouten.
Two other features I wanted to focus on will be useful to anyone who builds Tableau dashboards on a regular basis. They might not be the most powerful features in the new release, but they are ones that will make dashboarding a smoother, more user-friendly experience.
Filter and Search
A feature that has always come in handy on Tableau worksheets is the search bar in the Data pane, above your dimensions and measures. This allows you to search for the relevant fields you are looking to edit or bring into the view.
However, if you're anything like me, you can often find yourself forgetting what the names of your fields are, which can be especially true for calculated fields you have created yourself or in datasets where a large number of dimensions and measures are being used.
Without knowing the name of the field—and if you haven't grouped your calculated fields together—you might have to scroll down to look for the =# sign signifying the name of the field.
With the new filter search feature, you can filter out measures, dimensions, calculated fields and comments. In the example below, we can quickly isolate the fields that have been created in the workbook by typing in C: , then isolate even further to only include those fields with the word sales:
Although this feature might only be saving you a few seconds at a time, this can really add up if building out views in Tableau is something you are doing regularly. Also, if you are inheriting a workbook from someone else, which is something that happens often, being able isolate fields more easily can help you get to grips with what work has already been done, so that handover can be a more user-friendly experience.
Clear Parameter Values
Another new feature that I think will make the user experience a lot smoother is the ability to clear parameter actions. Parameter actions came in Tableau 2019.2 and gives users the option to drive the parameter value from clicking on a mark within the view.
One potential issue with parameter actions has been that you can't automatically clear the view to a default value. The value remains the same until you select a new mark. You can set the default value for a parameter for when the workbook opens, but sometimes you want to reset it to a specific value while you are in the workbook.
Here is an example that shows sales by month with a parameter driving the reference line shown on the chart. Currently, that value is set at 50,000. Using a parameter action, we can change the position of that reference line by clicking on the chart. However, when we click off the chart or press Esc, the value stays the same as the last data point clicked:
However, there can be situations where, when clicking off, we might want a certain value to show—in this case, our original amount of £50,000. There have been ways to do this in previous versions, but they involved creating a custom reset button: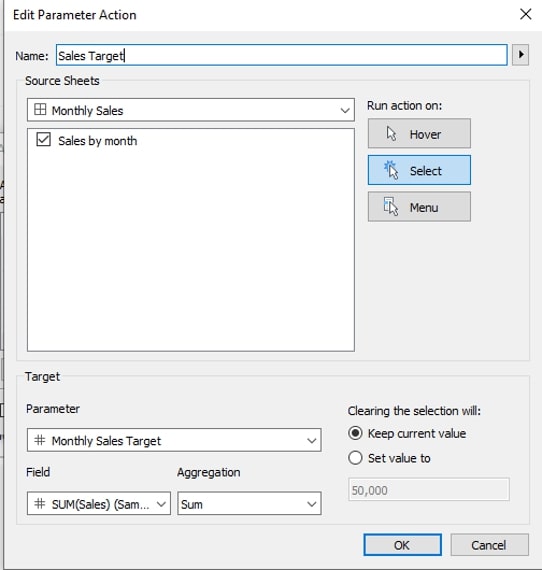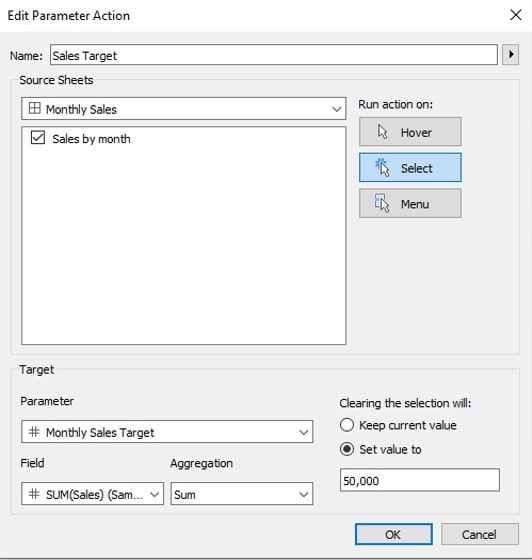 However, now when you are setting up your parameter action, you have a section on the side that lets you specify what will happen when clearing the selection. Keeping the current value means the action will work in the same way as it always had, but setting the value to a specific amount means that will be the default value when you click off the chart:
Now when we click off the chart after changing, the parameter the value reverts to 50,000.
I personally think this feature is a very powerful addition. It allows you to reset to a default view without reloading the whole workbook each time. This is especially helpful when you are working in a dashboard with multiple filters, parameters or sets applied on a dashboard in a Server or Online environment, as you can reset your selected parameter without refreshing the dashboard and clearing those other actions.
Faster, Simpler Dashboard Buildouts
I hope you enjoy exploring the new features and functionalities in Tableau 2020.3! Reach out to us here at InterWorks if there's anything we can do to support you in your efforts.