Yesterday, Veeam released Veeam Backup and Replication 7, which contains some significant improvements such as backup to tape, parallel backups (simultaneous backups with the same job), SureBackup for replicas, and more. The full list can be viewed either at http://go.veeam.com/v7 or http://www.veeam.com/vm-backup-recovery-replication-software.html?ad=men…
This article provides a step by step guide for an upgrade from Veeam 6.5 to Veeam 7. 
Downloading New License Keys
With Veeam removing the tiered licensing and with the introduction of the Enterprise Plus licensing, it is no surprise that the old license file no longer works. However, the new license file is easy to get and only takes a few minutes acquire.
Login the Veeam portal with the user that was registered with the product. Once logged in, select MY ACCOUNT.
The license can immediately be downloaded or can be sent to the licensed user(s).
If Veeam was previously owned in version Veeam B&R 6.X, the same licensing tier will already be available for Veeam B&R 7. i.e. in this case Veeam 6 Enterprise was purchased, so Veeam 7 Enterprise was available.
To see what features are available with the different licenses, visit: http://www.veeam.com/vm-backup-recovery-replication-software.html?ad=menu
Download Veeam 7 B&R
The next step will be to download Veeam 7. 
Note: The Veeam 7 download is now an ISO versus the Veeam 6 zip/exe downloads. Also, you must have a x64 bit OS for Veeam B&R. Requirements can be found here: 
VMware http://www.veeam.com/vmware-backup/help-center/vsphere/index.html?system_requirements.html
Hyper-V http://www.veeam.com/vmware-backup/help-center/hyperv/index.html?system_requirements.html
Running the Installer
If your server contains both Veeam B&R and Veeam Enterprise Manager, it is required that you install Veeam Enterprise Manager first.
If you try to upgrade Veeam B&R without running the Veeam Enterprise Manager install, a prompt will appear and force you to install Enterprise Manager first.
Next, a screen will appear and show the products that will be upgraded. If the Enterprise Manager upgrade had to be completed first, the Backup Catalog will show as being on version 7.X.
The next screen will require the new license file. If the old license file is used, the license will be flagged as invalid. If Enterprise Manager was already upgraded and is on the local machine, the new license file will already be applied by default.
Veeam will run a quick systems check to verify all the required components are installed; Veeam will attempt to install all missing components.
On the next page, a prompt will appear for the Service Account Credentials. It is strongly suggested that a service account with permissions be used instead of the default domain administrator account. If the default domain admin was used, this is a great opportunity to create a new account.
Since this is an upgrade, by default the Use existing instance of SQL Server will be checked, and Veeam will detect the existing database in use. For my example, I removed the SQL Server name.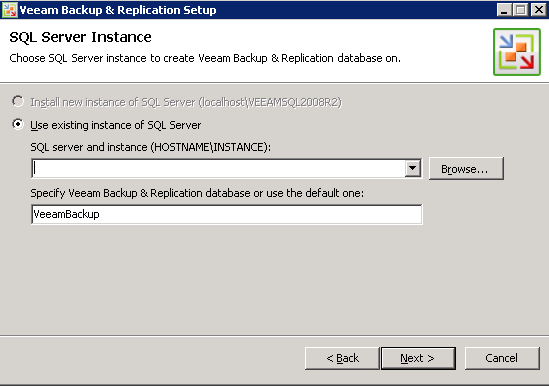 A prompt will appear, regarding connecting to the selected database. This will upgrade the existing database if an upgrade is needed.

Once yes is selected, Veeam will prompt to install the upgrade.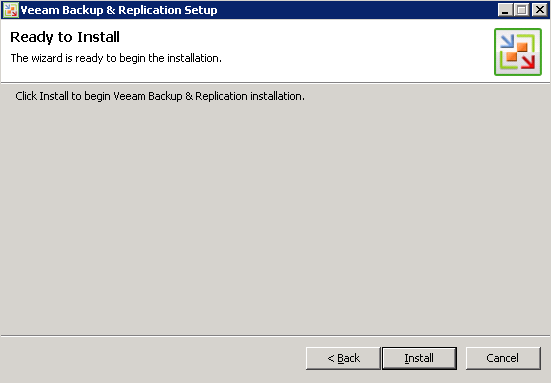 The upgrade took about 15 minutes to complete.
Once the upgrade completed, a prompt appeared to reboot the the Veeam server to finalize the installation. 
Note: On one of the many upgrades I performed, I had the install freeze at ~95-100%. Upon rebooting the server, the new Veeam 7 Splash screen appeared, however, the Veeam Service would not start. A repair install immediately fixed my issue and everything worked as expected.
Post Reboot
Once the reboot completes and Veeam has been opened, a new splash screen will appear and show the registered user as well as the number of days remaining on Support.
Upon opening Veeam, a prompt will appear to update the proxies.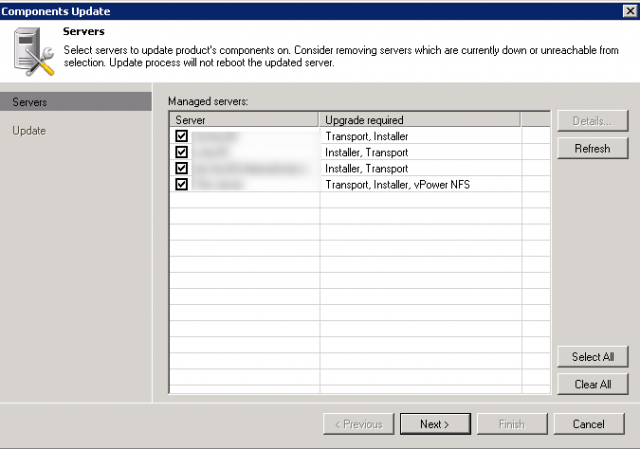 Unlike the Veeam 5.X to Veeam 6.X upgrade, Veeam 7 does not require new job creation or any architecture changes for your existing backups and replication to work. If there are dedicated Veeam servers in the environment, now is a good time to upgrade those servers, otherwise, Veeam is now ready to use.
Note: One of the notable features, parallel processing, is disabled by default with an upgrade, but are enabled with a fresh installation of Veeam 7. To enable this feature, navigate to Options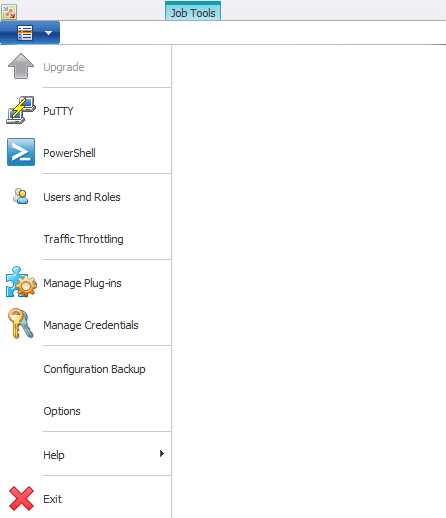 Under the Advanced, check Enable parallel VM and virtual disk procsesing