We're at the height of the 2016 award season, and InterWorks just raked in two new awards this week! Ok, well, they're not technically new, considering we've won both for multiple years in a row now, but they are new for 2016! What are these awards? Being named to the Oklahoma City Metro 50 and the "Best Places to Work in Oklahoma."
The Metro 50
On Monday night, InterWorks was recognized by the Greater Oklahoma City Chamber of Commerce as one of the fastest-growing business in the Oklahoma City area based on annual growth from the previous three years. Oklahoma City Mayor Mick Cornett revealed the 2016 honorees during an awards banquet held at the National Cowboy & Western Heritage Museum. This was the sixth year in a row that we were recognized on the Metro 50 list, a feat shared by few others.
"Making the Metro 50 is always an honor. Oklahoma is filled with great businesses, and we're proud to be among the ones that remain consistently successful."
– Behfar Jahanshahi, CEO, InterWorks
Best Places to Work in Oklahoma
Wednesday night, InterWorks was recognized by okc.BIZ as one of the "Best Places to Work in Oklahoma." InterWorks ranked No. 7, and this also marked the sixth year we've won this award. This prestigious list was compiled using the results of both an employer survey and employee surveys from Best Companies Group – a national organization that excels in gauging workplace quality.
"We're particularly thrilled about this award because we put a lot of effort into making InterWorks a place that people want to come to every day. We've seen the benefits of an employee-driven company culture in our business, and it's nice to have those efforts backed up by data from outside organizations."
– Behfar Jahanshahi, CEO, InterWorks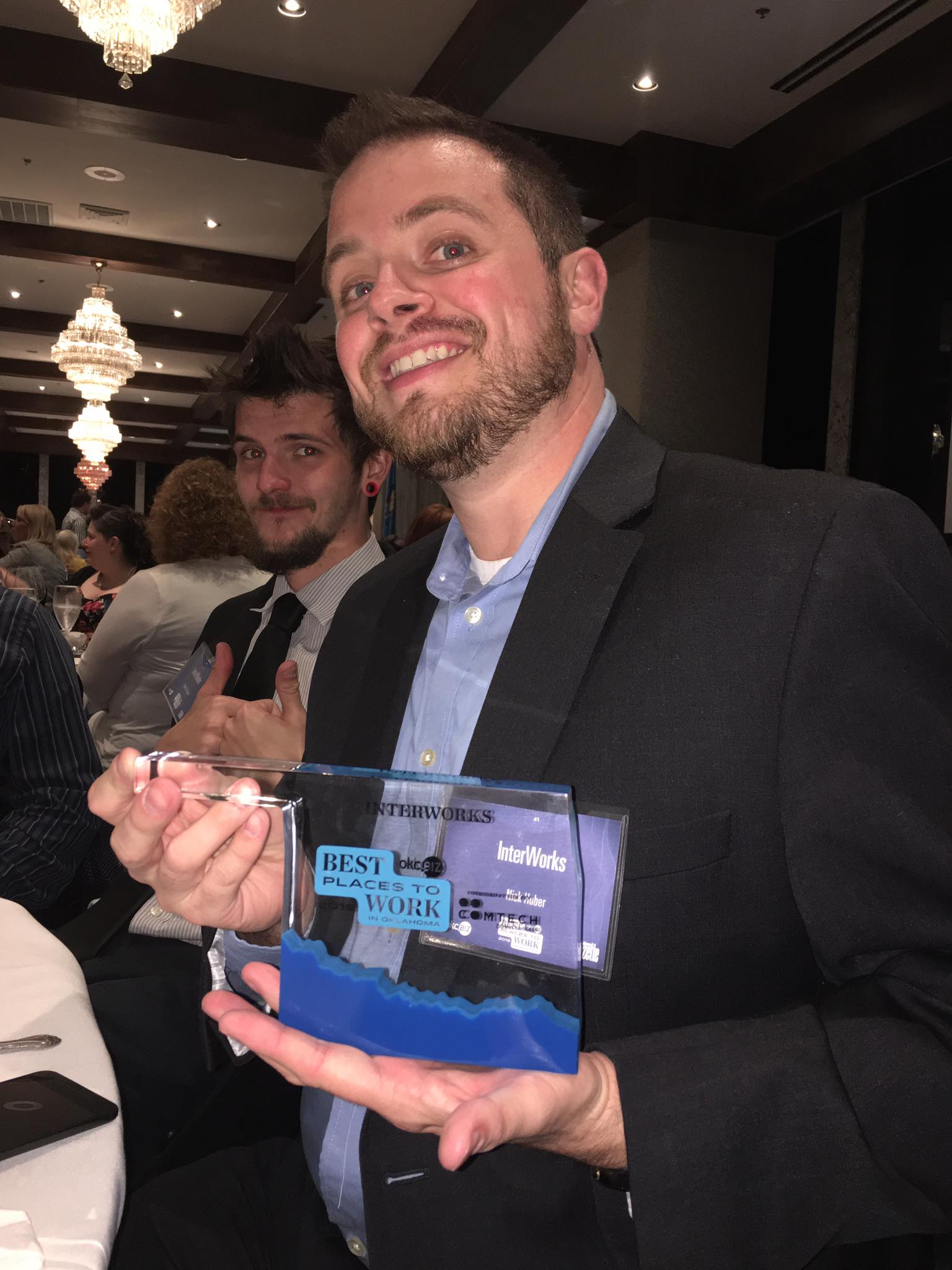 Can't Stop, Won't Stop
If you've been paying attention to InterWorks this year, you know these aren't our first awards for 2016. Whether it's these, the Inc. 5000 or being named the "Best Information Technology Company in Oklahoma," we haven't stopped working hard to excel in everything we do. That said, we don't do what we do for continued awards or recognition – we do it because it's the absolute best way to run our company.
Early on, we decided that we wanted to be different. We wanted to do work we love for clients we like, all while having fun in the process. Sounds like a pipedream, but we've put in the hard work to match our ambitious vision, and it's payed off. This hasn't changed these past 20 years. We still cling to those same values, and it's the reason we grow more successful with each passing year.
By keeping our clients happy, we create more business opportunities with them and with new clients by word of mouth. In turn, this keeps us growing externally. By keeping our employees happy and at the center of everything we do, we ensure that we're enabling them to produce their best work and have a stake in the business as whole. This keeps us growing internally. It's all connected and part of the same cycle, and we plan on keeping this cycle going for many years to come.
Let's Work Together!
Want to learn more about what makes InterWorks different? Interested in seeing our dedication to client satisfaction firsthand by working with us? Get in touch today! We'd love to help your business excel with technology.