Over the past few days, Tableau held their annual Partner Summit in Austin, Texas. During this event, partners gathered to reflect on the past year and plan for the coming year. But on Wednesday night came the moment that all these partners (including InterWorks) have been anxiously awaiting: partner award announcements for 2015. You know where this is going, so let's get to it:
InterWorks claimed not one but TWO partner awards: VAR Partner of the Year and Tableau Training Partner of the Year! Here's the official release. Below are some words about InterWorks from Tableau Partner Manager Mark Rhoden during the VAR award presentation:
"They're one of our most tenured partners, also one of our most visible. They drive me and make me better, and I'm blessed to work with a lot of good partners. In 2015, they were part of over 400 transactions; instrumental in many key wins across the commercial and enterprise space."
InterWorks' CEO Behfar Jahanshahi replied in turn, thanking Tableau for their support:
"A big part of this award goes to Mark. Scott Jones has been instrumental in making Tableau, as an organization, more partner friendly. It's always been their agenda and their mission. We've seen a lot of change in the past year, and you've been key to that. Thank you again to the entire Tableau team."
Award #1 – North & South America VAR Partner of the Year
The first and biggest of these awards is the North & South America VAR Partner of the Year award. This award goes out to the Tableau partner that adds the most overall value to Tableau, be it through training, consulting or supporting products. This is also an award that we've won for three consecutive years!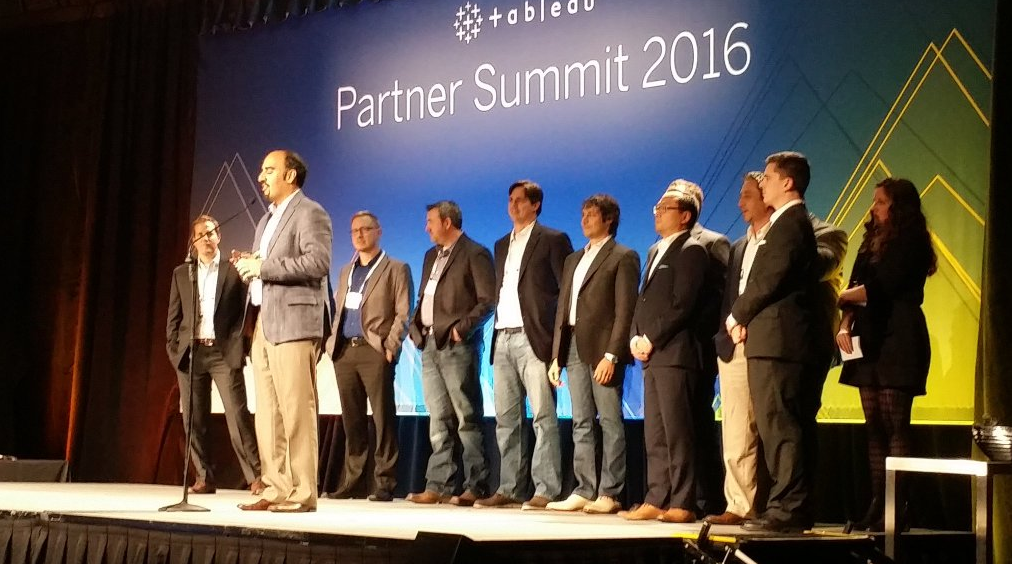 Above: Behfar and the InterWorks team onstage at Tableau Partner Summit.
So, how exactly does InterWorks add value to Tableau unlike any other partner? To start, we offer consulting and training services at every level. Our consulting services expand well beyond just Tableau and into the entire data environment. They include things like data warehousing, data preparation, ETL, portal development, center of excellence creation and much more.
We've outlined our capabilities in these functional areas in what we call "The Data Journey." We've even developed tools like Power Tools for Tableau that enhance what Tableau users are capable of.
This full-spectrum approach is a big reason why clients choose InterWorks. Quite simply, we do it all. But it's not just the breadth of our offerings that differentiate us. Our considerable experience also comes to play. As the first Tableau Gold Partner, we've been evangelizing Tableau for years across virtually every industry.
Award #2 – Tableau Training Partner of the Year
The second award is the Tableau Training Partner of the Year. As the name suggests, this award goes out to the top Tableau training partner. This was the first time such an award was presented by Tableau, and we're honored to be the first to receive it. We've done a lot in the past year to deliver better training than ever. In 2015, our trainers trained over 5,000 users, all while receiving the highest ratings of any partner. That's A LOT of people trained, and teaching these soon-to-be Tableau gurus the joys of Tableau is reward in itself.
Above: InterWorks announced as Tableau Training Partner of the Year.
Our training cred extends well beyond the physical classroom, though. We've taken our commitment to education to the next level with informative blog series like Tableau Essentials, Questions from Tableau Training and our Tableau Performance Checklist.
Along with these online resources, Tableau Your Data!, the definitive Tableau guidebook written by our own Dan Murray, has become the curriculum of choice in data classrooms around the world. In fact, the 2nd edition will hit the presses very soon!
What's more, another InterWorker joined Dan in the Tableau Zen Master ranks this year. Robert Rouse has made quite the impact in the Tableau community over the past year and is a prime example of what just one of our 50+ passionate Tableau consultants and trainers are capable of.
How We Keep Holding It Down
Winning Tableau's VAR Partner of the Year for 2015 is impressive enough in itself, but to win it for three years in a row is something we're particularly proud of. We've talked at length in previous announcements about what sets InterWorks apart and why we continue to succeed.
In summary, we are where we are because we continually strive to be better in everything we do. Our commitment to delivering the best solutions to our clients and always doing right by them is our core driver, and it's clear that such a methodology just works.
Even so, we'd like to give more credit where credit is due. The truth is that Tableau does a fantastic job of supporting partners like us. Our success is truly a joint effort, and we want to thank them for not only being a great partner but for also developing such phenomenal software.
Tableau's intuitive design and broad appeal make things like training and consulting infinitely easier. Plus, when you partner with a company that shares your commitment to continued excellence, it's no surprise that great things can happen.
Here's to 2016!
With everything said about 2015, we'd like to express our thanks yet again to Tableau. We also want to thank all of our clients who are a joy to work with. Of course, we can't forget to thank every InterWorker for their hard work in keeping us at the top of the Tableau world. We have a lot to be thankful for, and we also have much to celebrate. It's been a hell of a year, but we won't celebrate too long!
True to InterWorks form, we're already working to make 2016 even better than 2015. We're confident that our partnership with Tableau will grow even stronger, which will in turn help us to serve our clients better than ever before. That's what it's always been about, and we don't plan on stopping anytime soon.
Interested in seeing how InterWorks can help your organization get further with Tableau? Contact us today!