It must be award season! Just a few weeks ago, InterWorks was recognized as part of the 2015 Metro 50. Ran by the Greater Oklahoma City Chamber and The Journal Record, these awards recognize Oklahoma City's fastest-growing, privately owned companies. Honorees and their respective rankings were announced at an awards banquet held at the National Cowboy & Western Heritage Museum in Oklahoma City. This year, InterWorks came in at No. 36 on the list.
View the full list of honorees.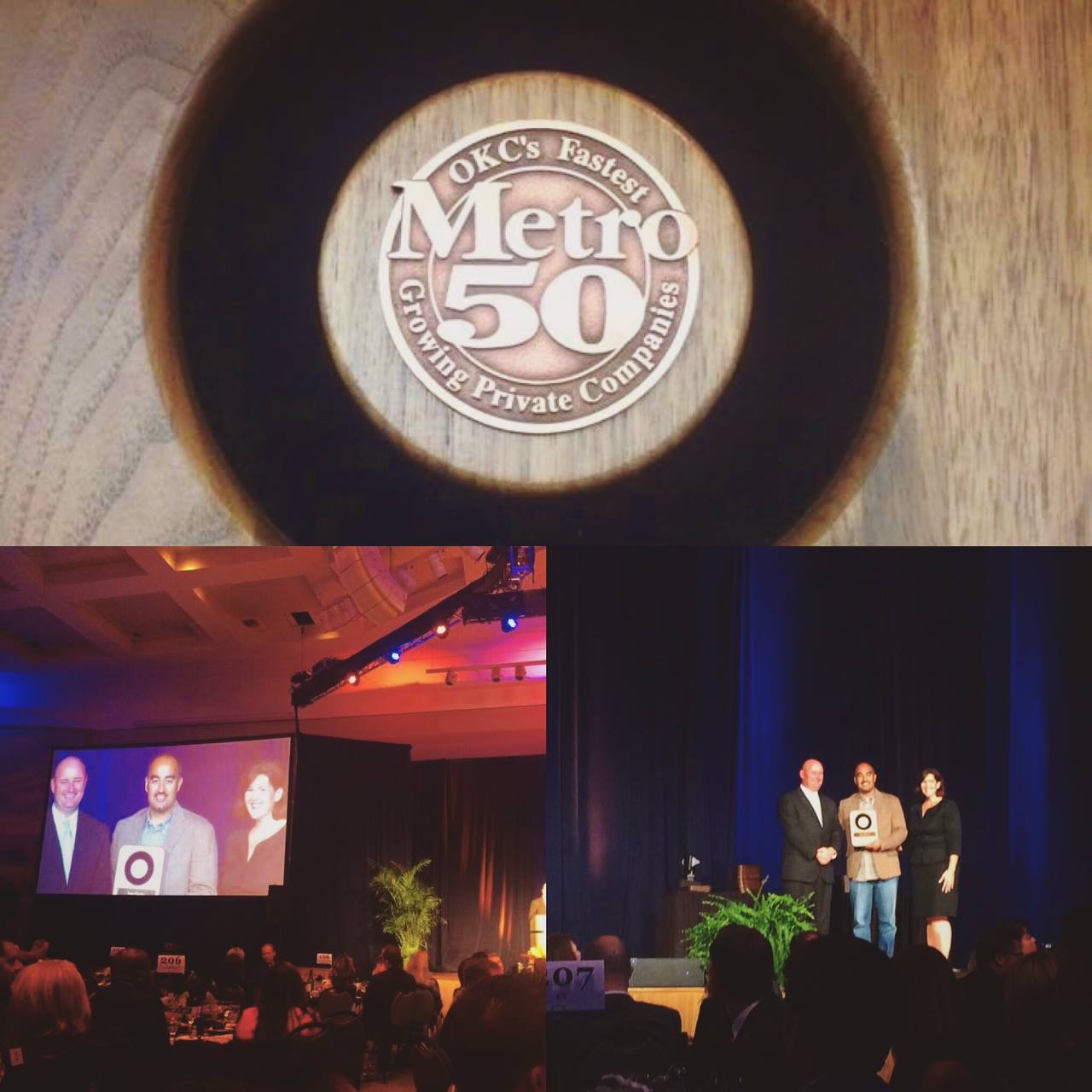 Above: InterWorks CEO Behfar Jahanshahi accepting our Metro 50 award. Oh, and the award plaque.
How Metro 50 Works
Recurring each year, the Metro 50 measures the fastest-growing companies with a presence in the Oklahoma City metro area by two-year revenue growth. Companies must also be privately held and have at least $1 million in revenue for the previous year.
Growing in OKC and Beyond
It's no surprise that InterWorks has grown like crazy these past few years. We've been fortunate to make the Metro 50 yet again and have even raked in several other awards at the state and national levels. While our reach is global, we do have a special place in our hearts for Oklahoma City.
Case in point, we celebrated seven years in Oklahoma City earlier this year and even moved into a larger Bricktown office to accommodate our ever-growing team. Some of our best clients also hail from the metro area, including Sonic, LifeChurch.tv and the Oklahoma City Memorial Foundation.
But what keeps us successful in Oklahoma City and beyond? Well, there are a lot of contributing factors. The short answer is quality people and quality relationships. We've elaborated on that a bit in recent award announcements (here, here and here), so be sure to check those out. We're confident that by staying true to the same principles that got us here in the first place, we'll continue to grow for years to come.
Grow With Us!
Interested in growing with us? Then we've got great news for you: We're hiring! If you think you've got what it takes to excel at InterWorks, head over to our Careers page to view our open positions.