A week or two ago, we received notice from the folks over at Inc. that InterWorks would again be listed on the annual Inc. 5000 list of Fastest Growing Private Companies. For those counting, this will be our eighth year making the cut, and we came in at #2,600. That's pretty significant and definitely worth sharing. But as I sat here pondering how we should tell the world of our achievement (#humblebrag), I thought, "What should people really know about InterWorks?"
I didn't think cranking out some cookie-cutter press release seemed quite like our style, so instead of going through the motions and making you suffer through a list of achievements, I'll be sharing what it is that keeps InterWorks growing. Let's start at the beginning.
In the Beginning
The story of InterWorks starts with none other than CEO Behfar Jahanshahi in Stillwater, Oklahoma. After a brief stint in stuffy corporate IT, Behfar decided that there had to be something better. So, he decided to create that something better and founded InterWorks in 1996. The idea behind this new company was simple: Deliver quality IT solutions while having fun. This clearly caught on with clients and other IT-minded people, and it wasn't long until Behfar's one-man operation began to grow.
Above: The ribbon cutting for our current Stillwater HQ in 2008. We've since added locations across the U.S. and Europe
Rethinking Growth
InterWorks' growth was modest in the early years, but for good reason. Far too often a company shoots up overnight, hires like crazy, does well for a time and then fizzles out into obscurity. We've never wanted that InterWorks. Instead, we identified early on that our growth needed to be calculated and, most importantly, sustainable. How exactly does a company ensure that? There are likely many right answers, but ours can be summed in this phrase:
"Best work, best clients, best people."
Allow me to elaborate on each part of this phrase.
Best Work
As said before, InterWorks was founded on the idea of providing the absolute best work for our clients. We take the time to truly listen to our clients' needs and provide them with the right technology to get the job done. Adding to that, we make sure our services meet the highest standards and that clients are actually happy with the work we've done. By keeping them happy and facilitating their continued success, we've won repeat business and built a solid reputation.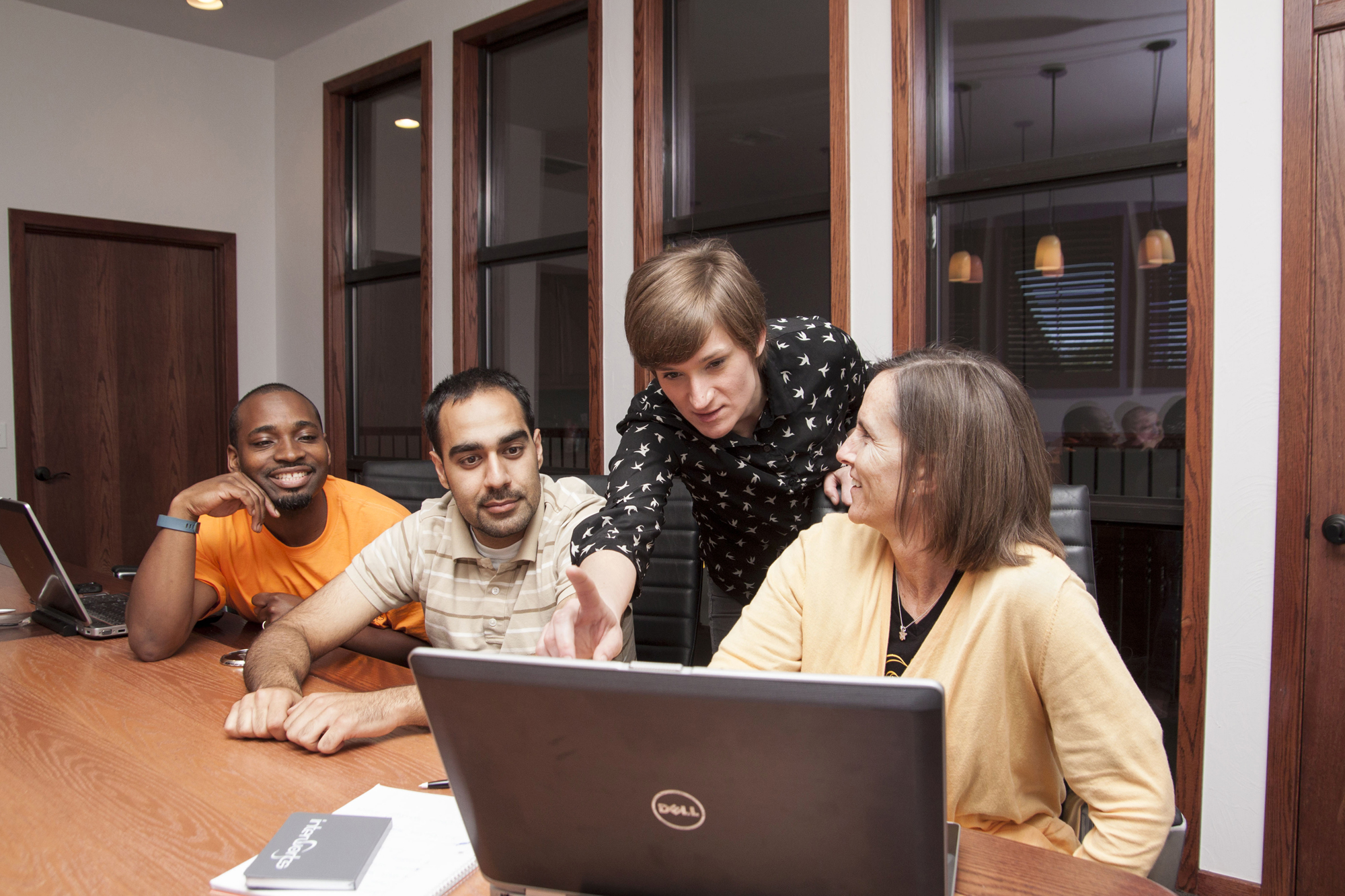 Above: InterWorkers are always learning from each other, which helps us provide the best work to clients.
Best Clients
Who you work for is often an underrated factor in running a business. There's no denying that we love working with big names, but name recognition often has little bearing on whether or not a client is good or not. In fact, some of our very best clients are smaller local businesses. So, if name recognition isn't our measure of good, what traits do make for a good client in our eyes? Clear communication, respect for our time and knowledge, and just being genuinely easy to work with are all major contributors. Most of all, good clients are those who are just as committed to maintaining a relationship as we are. Relationships, not transactions, are what contribute to our sustainability. Obviously, the more great relationships we build, the more we grow.
Best People
This may be the most important factor of the three. At the end of the day, our success comes down to people. Without our insanely talented and diverse team, there's no way we'd be able to deliver quality work or build solid client relationships. By focusing on hiring the right people as opposed to simply filling our office with warm bodies, we've managed to maintain a high standard of quality. This can be difficult when demand is high (as it usually is) and we need more hands on deck, but bringing on people we truly want here, few though they may be, has always produced better results than simply hiring an army of average people.
(You can read more about our hiring philosophy here.)
By cautiously bringing on people who fit into our culture and share our values, we've ensured that we continue to grow in the way that we want to grow. Not to mention that by hiring such people, you actually end up enjoying going to work. What a thought! Another interesting thing about hiring the right people is that you tend to get more of the right ideas moving in your business. These ideas, as you might've guessed, feed right back into the growth cycle.
Above: Inside and outside of work, InterWorkers are thick as thieves.
InterWorks Today
There you have it. By doing the best work for great clients with an extraordinary team, we've built something pretty special at InterWorks. Years of fine-tuning this process have led us to where we are today, and the results speak for themselves. We're doing work for dozens of amazing clients across the world, hiring an increasing amount of talented people, constantly expanding our scope of services, raking in tons of awards and, best of all, we've remained an astoundingly fun place to work.
As stereotypical as it may sound, if you were to ask anyone here to sum up InterWorks in one word, the most common answer would likely be: family. In the end, that's our secret. We treat each other and the people we do business with like family. Turns out, that's at the heart of what keeps us growing.
Want to be part of the InterWorks family? Head to our Careers page and drop us an application.