Last week, InterWorks' leadership returned from the 2015 Tableau Partner Summit in Las Vegas with an impressive piece of hardware: Tableau's 2014 VAR Partner of the Year for North and South America award!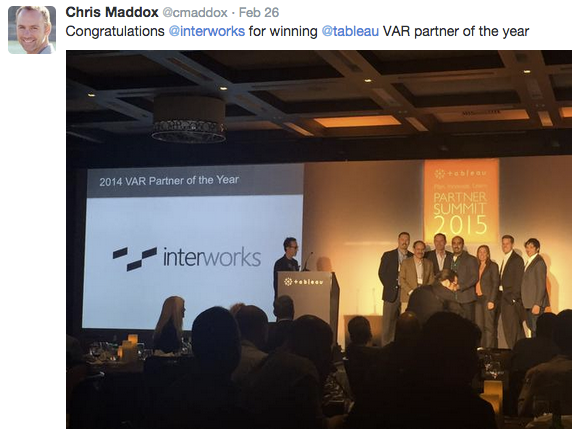 That makes 2014 the second consecutive year in which we've been recognized for delivering the best Tableau services around. Still, we've been setting the bar for Tableau VARs for quite some time now.
Redefining VAR
For those of you not familiar with the acronym, VAR stands for value-added reseller. The primary goal of a VAR is to deliver added value to an already awesome solution like, say, Tableau Software. But what exactly is that value?
In our opinion, added value comes from effectively identifying what a client truly needs and delivering solutions that make a noticeable impact. At InterWorks, that's exactly what we do. Here's how:
First, We Do It All
As a Tableau Gold Partner, we're not kidding when we say we do all things Tableau, whether it's sales, strategy, consulting or training. In fact, that's just the tip of the iceberg.
For instance, when the Tableau world needed a definitive Tableau guidebook, we wrote the best-selling "Tableau Your Data!" Or, when Tableau users needed an easier way to perform complex tasks, we developed Power Tools for Tableau, a Tableau power user's dream come true.
Still, our capabilities extend well beyond the realm of Tableau. As a comprehensive IT and data company, we're well versed in database administration, custom development, IT infrastructure and much more. This gives us a full-spectrum view of our clients' needs, allowing us to help them more effectively.
We Also Do It Big
It's one thing to do all of the things, but it's another to do all of the things on a grand scale. We've led some of the largest Tableau deployments in some of the world's most renowned organizations; just ask our friends at Facebook, Cisco and Dropbox.
But We Put Client Satisfaction Above All Else
Of all the things we do, keeping clients completely satisfied is by far the most important. We've said this a million times before, but we've learned that their success is directly linked to our own. So, how do we help our clients succeed?
We build quality relationships with them.
To do this, we listen carefully to their needs and give them the specialized attention they deserve, never a canned or sub-par solution. If the work we do doesn't noticeably improve their work, we do everything in our power to set it right.
Our People Tie It All Together
People, people, people. That's the real secret to what we do. If we didn't have an enormously talented group of genuinely great people, we couldn't do half of the things that we do. Their hard work and dedication is what really allows us to exceed client expectations. They get pretty fired up about it, too:


Want to learn exactly how our team can help you with your Tableau needs? Contact us today! We'd love to chat.