Tableau purchased Power Tools in 2019. Contact Us for more information.
Can you say, three-peat? Gartner just released their annual Magic Quadrant for Business Intelligence and Analytics, and wouldn't you know it, Tableau was listed as a Leader yet again. That makes this the third consecutive year in which Tableau has landed in the Leaders category.
If you know Tableau in the slightest, you know their continued recognition on the Gartner Magic Quadrant comes as no surprise – they've created some of the finest data visualization software around! But, let's clarify something here: Tableau didn't just "make the list," they crushed it. Take a look below:
Who Is Gartner, and What Is the Magic Quadrant?
Since 1979, Gartner has been the leading authority in independent technology research. They spend a lot of time analyzing what technologies and companies are making the biggest impact on businesses worldwide. Each year, Gartner sums up this research in several "Magic Quadrants," one for each major market within the greater technology sector. Each Magic Quadrant, as you can see above, is a visual representation of the relative position of top-performers within a given market.
The purpose of a Magic Quadrant is to identify how these companies are positioned for the coming year based on a uniform set of evaluation criteria. Companies can fall into one of four categories: Leaders, Visionaries, Niche Players and Challengers. Which category a company lands in is determined by their "ability to execute" as well as their "completeness of vision."
Tableau's Continued Excellence
As you can see in 2015's Magic Quadrant, Tableau blew the competition out of the water in their ability to execute. A big part of that comes from their consistent delivery of useful and asked-for improvements with each new version of their data visualization software. With the feature-packed Tableau 9 just around the corner, this trend shows no sign of stopping.
Another factor working in Tableau's favor is increasing demand in the marketplace for more user-friendly platforms that can also be easily integrated with existing technologies. Tableau was created with these considerations in mind, and each year they make even bigger strides in these areas, a progression illustrated in the past three Magic Quadrants: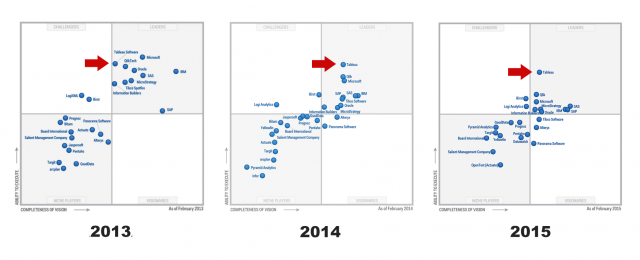 The Biggest Advantage of All: Community
We could list a million other reasons why Tableau excels, but there's one distinct advantage that puts them in a league all their own: their incomparable and fanatical user community. This isn't just a group of people who happen to use the same software; it's a bustling exchange of knowledge and helpfulness that makes Tableau that much easier to use.
A cornerstone of this community is a network of dedicated partners like InterWorks whose primary goal is to help users get the most out of their Tableau investment. With top-notch consulting and training services readily available as well as a host of complementary software tools like Power Tools for Tableau, the added value Tableau's partners bring to the table only elevates their position as the analytics platform of choice.
Want to learn more about what makes Tableau and their support system so great? We'd be happy to chat with you! Give us a shout, and we'll get back to you ASAP.